Last Updated on February 28, 2023
Based on H.E. Bates' novels, the popular comedy drama, "The Larkins" returns for a second series this spring on March 20, 2023.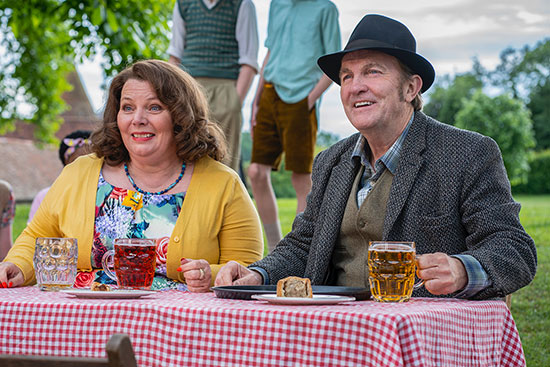 ---
To help keep this site running: Willow and Thatch may receive a commission when you click on any of the links on our site and make a purchase after doing so. 
---
Look for some new cast members, and that familiar feel-good British period drama charm. Read on for details about "The Larkins" (Season 2), and to watch the trailer.
After that, there's a link to watch the 1990s adaptation of the Larkins' adventures, "The Darling Buds of May," currently streaming for free with ads. If you want to catch up on Season 1, read about it here, and start watching it here.
---
---
Filmed in the summer of 2022 within the idyllic and beautiful Kent countryside, this 1950s-set television adaption of H.E. Bates' iconic novels sees Bradley Walsh and BAFTA award winner Joanna Scanlan return as the much-loved Pop & Ma Larkin.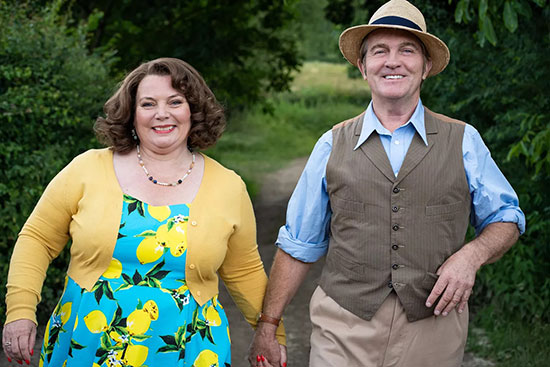 The new seasons includes the arrival of a new Reverend in the village and, in stark contrast to the old Vicar, he set hearts a flutter, including Primrose Larkin's (Lydia Page).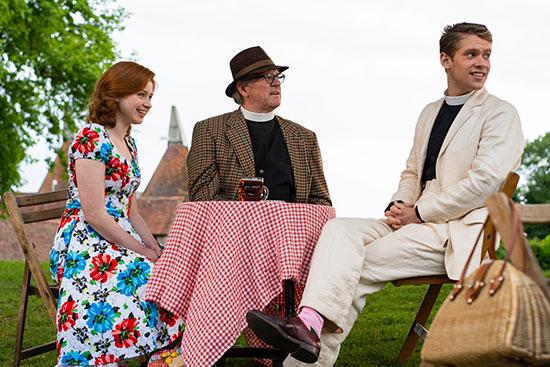 Primrose, now finished with school, is intent on taking the journalistic world by storm, but could it be love with the handsome Reverend Candy (Maxim Ays, Sanditon)? Ma sure hopes so.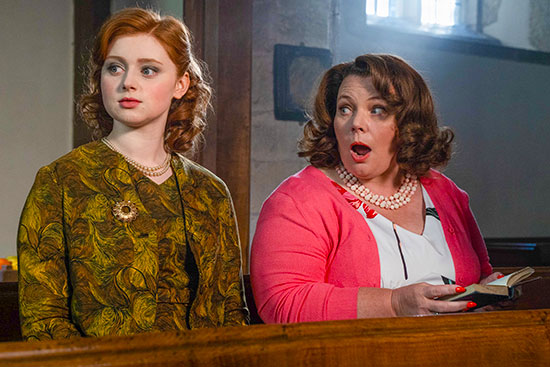 Meanwhile, following the excitement of Mariette (Joelle Ray) and Charley's (Tok Stephen) wedding, the local gossip quickly turns to the other new arrivals in the Village. (Season 2 sees a cast change for leading lady Mariette, who was played by Sabrina Bartlett in the first season.)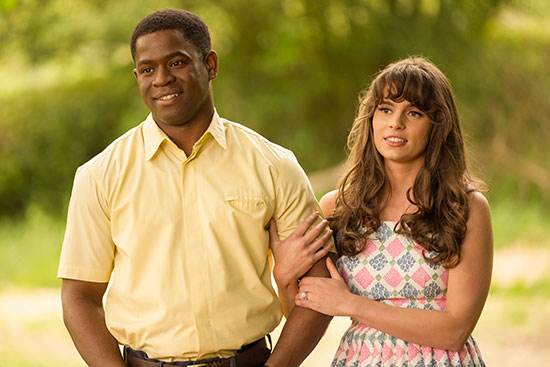 A new out-of-town family, the Jerebohms (Morgana Robinson and Julian Rhind Tutt, with Hector Batemen Harden and Lucy Allix as their children) have no sooner made their introductions than they are at war with Ma and Pop, with devastating consequences for the Larkin clan. 
Season 2 of the British series premieres in the US on Acorn TV on March 20, 2023.
Also returning for the new series are Peter Davison (the Vicar), Kriss Dosanjh (Brigadier), Amelia Bullmore (Miss Edith Pilchester), Seeta Indrani (Miss Chand), Robert Bathurst (Johnny Delamere), Francesca Wilson Waterworth (Libby Fothergill), Barney Walsh (PC Harness), Tony Gardner (Alec Norman), Natalie Mitson (Pauline) and Selina Griffiths (Norma Norman).
Completing the Larkin family on screen will be Liam Middleton (Montgomery Larkin), Lola Shepelev (Victoria Larkin), Summer Miller (Zinnia Larkin) and Sienna Miller (Petunia Larkin).
"The Larkins" is AVAILABLE to STREAM
---
---
Want to watch the earlier adaption? The book and its sequels were last adapted 30 years ago as "The Darling Buds of May" and became one of ITV's all time highest rated television comedy dramas winning critical acclaim and audience approval.
The popular – and charming – 1990s British period drama followed the Larkin family for three seasons over 20 episodes, and stars David Jason (A Touch of Frost) and Pam Ferris (Call the Midwife) as Pop and Ma Larkin, and Catherine Zeta Jones as their eldest daughter Mariette, in her breakout role. Stream it here.
---
Author H. E. Bates was born in 1905 in Northamptonshire. He worked as a journalist and clerk on a local newspaper before publishing his first book, The Two Sisters, when he was twenty. In the next fifteen years he acquired a distinguished reputation for his stories about English country life. The Darling Buds of May (1958), the first of the popular Larkin family novels, was followed by A Breath of French Air (1959), When the Green Woods Laugh (1960), Oh! To Be in England (1963) and A Little of What You Fancy (1970). His books are available here. 
---
If you enjoyed this post, wander over to The Period Films List. Also see the list of Period Dramas on Acorn TV in 2022.