Last Updated on February 28, 2023
The latest adaptation of H.E. Bates' novel, The Darling Buds of May, returns for a second season this spring on March 20, 2023. If you haven't started watching Season 1, let's catch you up.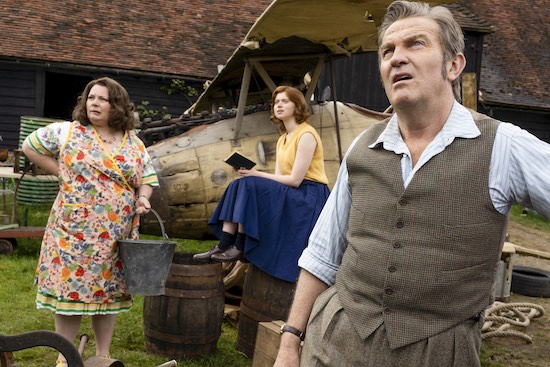 ---
To help keep this site running: Willow and Thatch may receive a commission when you click on any of the links on our site and make a purchase after doing so.
---
"The Larkins" is AVAILABLE to STREAM
Watch the trailers for seasons 1 and 2 below. After that, there's a link to watch the 1990s adaptation "The Darling Buds of May," currently streaming for free with ads. 
---
---
A 2021 television adaptation of H.E. Bates' 1958 novel The Darling Buds of May, "The Larkins," written by acclaimed screenwriter Simon Nye (The Durrells in Corfu), aims to capture the warmth, optimism and escapism of the Larkin family for a modern generation.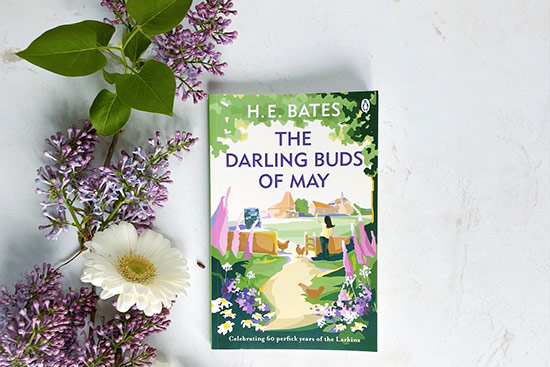 Nye says that Bates' short novels are "… hilarious and magical." He and the team have expanded "the Larkins' world a little" and immersed themselves "in this glorious countryside idyll."
Set in the late 1950s, "The Larkins" is the story of a working-class family led by the golden-hearted wheeler dealer Pop Larkin and his wife Ma, together with their six children, including the beautiful Mariette. 
In Season 1, Sabrina Bartlett (Siena Rosso in Netflix's period drama Bridgerton, Keren in Poldark) takes on the iconic role of Mariette Larkin opposite Tok Stephen (Grantchester) who stars as Cedric 'Charley' Charlton. Bartlett says the period drama is "the perfect dose of escapism we all need right now." In his role, Stephen hopes to "impress fans of the original novels with our version."
They join Bradley Walsh (Coronation Street) and Joanna Scanlan (Girl with a Pearl Earring) who play Pop & Ma Larkin in the six-part comedy drama series. Walsh says that being part of the Larkin family is "a hoot," and Scanlan shared "What better comfort could there be… than the rolling laughter and outsize hugs of Ma and Pop?"
Fiercely loyal to each other and their community, each Larkin family member has a strong work ethic, alongside a disinterest in authority.  
In the idyllic and beautiful Kent countryside, known as the Garden of England, The Larkins have achieved a small patch of paradise where nothing is wasted and they enjoy life to the full. 
There's an overwhelming sense of plenty in their lives and a lot of joy and raucous laughter, as Ma Larkin provides a seemingly endless supply of delicious, hearty meals. And no matter what time of day, The Larkins and their guests aren't averse to enjoying the odd cocktail or two!  
The Larkins are fundamentally good-hearted people who are always happy to share what they have with others, despite the fact that what they have is sometimes obtained by unusual means!  In a rather mean-spirited way their good heartedness is not always shared by certain members of the local community.
From government officials and snobbish second homeowners to aggressive urban developers, The Larkins often deal with threats to their idyllic way of life – but they never take things lying down.
Alongside their weekly battles with authority and snobbish villagers, "The Larkins" follows the love story between Mariette and village newcomer Cedric 'Charley' Charlton. Charley arrives in the village as an unworldly and officious accountant from the city, there to investigate the Larkins' tax affairs. 
He is soon distracted by the beautiful Mariette, with whom he falls head over heels in love. However, he quickly discovers that he has a romantic rival in the form of the handsome and mysterious Tom Fisher. Mariette, on the other hand, may have plans of her own, which don't involve men.
Season 2 of the British series premieres in the US on Acorn TV on March 20, 2023. Bradley Walsh and Joanna Scanlan reprise their roles as the beloved couple Pop and Ma Larkin. Sabrina Bartlet will not be returning as Mariette; Joelle Rae has been cast to play the eldest Larkin daughter in the new season.
New cast members for the second season include Julian Rhind-Tutt (Britannia) as Mr. Jerebohm, Morgana Robinson (Stuck) as Pinkie Jerebohm, and Maxim Ays (Sanditon) as Rev. Candy, a possible suitor for Larkin daughter Primrose (Lydia Page).
"The Larkins" is AVAILABLE to STREAM
The book and its sequels were last adapted 30 years ago as "The Darling Buds of May" and became one of ITV's all time highest rated television comedy dramas winning critical acclaim and audience approval.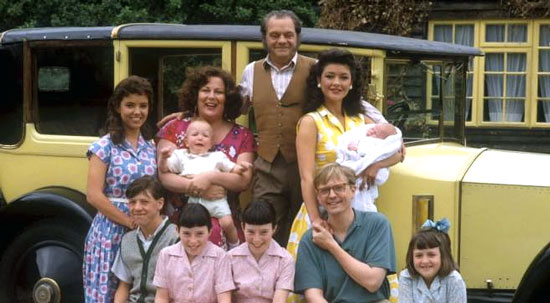 The popular – and charming – 1990s British period drama followed the Larkin family for three seasons over 20 episodes, and stars David Jason (A Touch of Frost) and Pam Ferris (Call the Midwife) as Pop and Ma Larkin, and Catherine Zeta Jones as their eldest daughter Mariette, in her breakout role.
---
Author H. E. Bates was born in 1905 in Northamptonshire. He worked as a journalist and clerk on a local newspaper before publishing his first book, The Two Sisters, when he was twenty. In the next fifteen years he acquired a distinguished reputation for his stories about English country life. The Darling Buds of May (1958), the first of the popular Larkin family novels, was followed by A Breath of French Air (1959), When the Green Woods Laugh (1960), Oh! To Be in England (1963) and A Little of What You Fancy (1970). His books are available here. 
---
If you enjoyed this post, wander over to The Period Films List.