Last Updated on June 22, 2023
We have your period drama line-up for what's new to streaming on Netflix in the US this spring – and also what's leaving.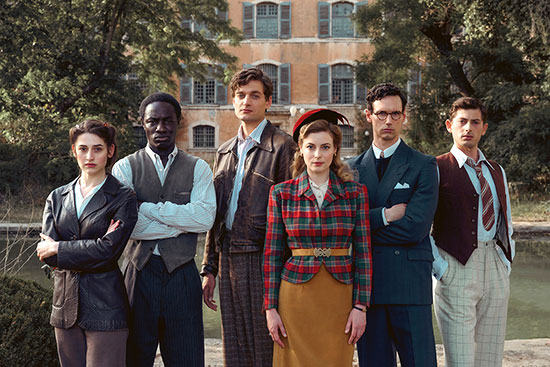 ---
To help keep this site running: Willow and Thatch may receive a commission when you click on any of the links on our site and make a purchase after doing so.
---
This list will be updated all spring: it will house all the costume, historical, and period dramas added to Netflix in March, April, and May 2023, that we think you'll enjoy.
New titles – from British period dramas to romantic television series, international films and biopics –  will be added alphabetically to the appropriate areas all throughout the months, as soon as we learn of them. If you recognize a title from the service, it's because movies and series often get pulled off for a period of time, and then they come back.
You can click through to watch the trailers where available – they may save you from watching something you'll wish you hadn't (or help you find something you nearly skipped over).
We've also curated some other non-period feel-good movies and TV series including comedies and romances, that are coming to Netflix that you might like. See the "You May Also Like" section for these additional suggestions of what to watch.
Period dramas leaving Netflix this spring: Leaving March 3: Lee Daniels' The Butler. March 31: Brokeback Mountain.
The summer list for Netflix is here. The spring list for Prime Video is here.

Those who are new here should know that Willow and Thatch also has a special section for period dramas that have been added recently to different streaming services. See the "New to Streaming" drop-down menu at the top of the page.
---
---

Period Dramas Added in March 2023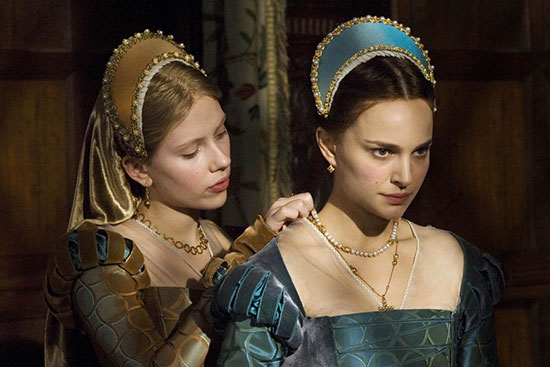 ---
---

Carol (2015)
Aspiring photographer Therese spots the beautiful, elegant Carol perusing the doll displays in a 1950s Manhattan department store. The two women develop a fast bond that becomes a love with complicated consequences. An adaptation of Patricia Highsmith's seminal novel The Price of Salt.
Starring Cate Blanchett, Rooney Mara, Kyle Chandler, Sarah Paulson.
Rated R for a scene of sexuality/nudity and brief language.
Available March 20
---

The Other Boleyn Girl (2008)
Ambitious Boleyn sisters Anne and Mary compete for the heart of powerful but intemperate King Henry VIII. Based on the best-selling novel by Philippa Gregory, "The Other Boleyn Girl" is a captivating tale of intrigue, romance and betrayal.
King Henry VIII lacks an heir. Seeing this as an opportunity for personal gain, the Duke of Norfolk and Sir Thomas Boleyn persuade Thomas' daughter Anne to seduce the king. But Henry falls in love with Anne's sister, Mary, instead. When Mary becomes pregnant, she's confined to bed, and charges Anne to keep the king from straying — but the plan backfires when Anne seeks the king's affections for herself. 
Staring Natalie Portman, Scarlett Johansson, Eric Bana, David Morrissey, Mark Rylance.
Rated PG-13
Available March 1
---

Out of Africa (1985)
Initially set on being a dairy farmer, the aristocratic Karen Blixen travels to Africa to join her husband, Bror, who instead spends their money on a coffee plantation. After discovering Bror is unfaithful, Karen develops feelings for hunter Denys, but realizes he prefers a simplistic lifestyle compared to her upper class background. A series of events force Karen to choose between her love and personal growth. Based on the life and writings of Baroness Karen Blixen, in the years set around World War I, and breathtakingly filmed on location.
Starring Meryl Streep, Robert Redford, Klaus Maria Brandauer.
Rated PG
Available March 1
---

Seven Years in Tibet (1997)
An Austrian mountain climber's escape from a WWII POW camp brings him to Tibet, where he builds a transformative friendship with the young Dalai Lama. This biographical wartime drama is based on the 1952 book of the same name, about Harrer's time in Tibet between 1939 and 1951.
Starring Brad Pitt, David Thewlis, BD Wong.
Rated PG-13
Available March 1
---
---
Period Dramas Added in April 2023
---
---

A League of Their Own (1992)
Recruited to join a women's baseball league in the 1940s, two sisters learn to love the sport with encouragement from a rough-around-the-edges coach. With baseball lineups and locker rooms left empty during World War II, the newly-founded All-American Girls Baseball League brought talented women to the big leagues—and brought fans to the stands. The indomitable Dottie Hinson finds herself leading a rag tag group of players who end up winning over the heart of their has-been coach, Jimmy Dugan. Based on the true story of the pioneering women who blazed the trail for generations of athletes.
Rated PG
Starring Tom Hanks, Geena Davis, Lori Petty, Garry Marshall.
Available April 1
---

Hatfields & McCoys (2012)
Two close friends return to their neighboring homes after the Civil War, but building tensions and resentments soon explode into desperate warfare. 3 episodes.
Rated TV-MA
Starring Kevin Costner, Bill Paxton, Matt Barr.
Available April 1
---

Seven Kings Must Die (2023)
Feature film based on the underlying series "The Last Kingdom." Alexander Dreymon reprises his lead role as the great warrior Uhtred of Bebbanburg, who must ride once more across a fractured kingdom with several of the series' much-loved returning characters, as they battle alongside, and against, new allies and enemies.
Following the death of King Edward, a battle for the crown ensues, as rival heirs and invaders compete for power. And when an alliance comes seeking Uhtred's help in their plans, Uhtred faces a choice between those he cares for most, and the dream of forming a united England.
Starring John Buick, Ross Anderson, Alexander Dreymon, Ingrid Garcia Jonsson, Rob Hallett.
Rated TV-MA
Available April 14
---

Transatlantic (2023)
A seven-part television limited series based on the novel The Flight Portfolio by Julie Orringer. Marseille 1940-1941."Transatlantic" is inspired by the true story of Varian Fry, Mary Jayne Gold and the Emergency Rescue Committee. Risking their lives to help more than 2000 refugees escape occupied France, including many artists on the Nazis' most-wanted list, an international gang of young superheroes and their famous charges occupy a villa at the edge of the city, where the threat of mortal danger gives way to unexpected collaborations and intense love affairs. Also see: Making Transatlantic (2023).
Starring Deleila Piasko, Ralph Amoussou, Lucas Englander, Gillian Jacobs, Cory Michael Smith, Amit Rahav.
Rated TV-14
Available April 7
---

War Sailor (2023)
Alfred Garnes is a working-class sailor, who has recently become the father of a third child. He and his childhood friend Sigbjørn Kvalen are working on a merchant ship in the middle of the Atlantic Ocean when World War II breaks out. They are unarmed civilians on the front lines of a war they never asked to join. The two men struggle for survival in a spiral of violence and death, where at any moment German submarines may attack their valuable vessels. The war sailors have one goal: to survive–and to return home.
Meanwhile, Alfred's wife Cecilia struggles through the war alone in Bergen, raising three children on her own, not knowing whether she will ever see Alfred again.When British aircrafts attempt to bomb the German submarine bunker in Bergen, they instead hit the primary school at Laksevåg and civilian homes at Nøstet, resulting in hundreds of civilian deaths. When the news reaches Alfred and Wally in Canada, they wonder if they have anything left at home to return to.
3 episodes, a limited series adaption of "War Sailor," one of Norway's biggest theatrical hits from last year, based on true stories of Norwegian merchant sailors and their families during and after World War II. 
Starring Alexandra Gjerpen, Pål Sverre Hagen, Kristoffer Joner, Ine Marie Wilmann, Henrikke Lund-Olsen.
Rated TV-MA
Available April 2
---

Where Hands Touch (2018)
During WWII, a mixed-race girl in Nazi Germany struggles to assert her identity while passionately falling in love with an officer's son. A romantic wartime drama from Director Amma Asante.
Starring Abbie Cornish, Amandla Stenberg, George MacKay.
Raed PG-13
Available April 6
---
Also: April 1: I, Frankenstein (2014). April 25: The Hateful Eight (2015). April 28: The Patients of Dr. García (Season 1).
---
---
Period Dramas Added in May 2023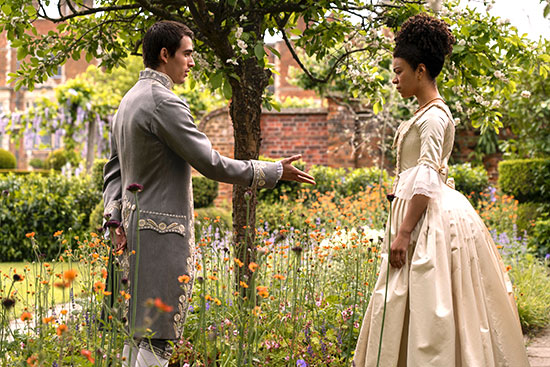 ---
---

Legends of the Fall (1994)
In this Oscar-winning romantic wartime drama and epic family saga, the three sons of a Montana rancher are swept up in the violence of World War I and their love for the same woman.
Starring Brad Pitt, Anthony Hopkins, Aidan Quinn.
Rated R for violence, and for some sexuality and language.
Available May 1
---

Queen Charlotte: A Bridgerton Story (2023)
Ready for another romantic British period drama series? Centered on Queen Charlotte's rise to prominence and power, this Bridgerton-verse prequel tells the story of how the young Queen's marriage to King George sparked both a great love story and a societal shift, creating the world of the Ton inherited by the characters in Bridgerton.
Starring India Ria Amarteifio, Corey Mylchreest, Arsema Thomas, Golda Rosheuvel, Ruth Gemmell.
Rated TV-MA
Available May 4
---

The Young Victoria (2009)
In this romantic biography and lush period film from Julian Fellowes, eighteen-year-old British royal Victoria ascends to the throne and is romanced by future husband Prince Albert.
Starring Emily Blunt, Rupert Friend, Paul Bettany.
Rated PG
Available May 1
---
Also: May 1: American Gangster (2007), The Curious Case of Benjamin Button (2008), Marshall (2017). Also see the docudrama Queen Cleopatra (2023), available May 10. May 26: Blood & Gold (2023), The Portrait (2017).

---
---
You May Also Like
This section contains a curated list of movies and TV series new on Netflix, that are NOT period dramas. We think fans of historical and costume dramas will enjoy them just the same.
Available in March: March 1: Sleepless in Seattle (1993), The Dark Knight (2008). March 3: Love at First Kiss (2023). March 8: Faraway (2023). March 16: Still Time (2023). March 17: Maestro in Blue (Season 1). March 29: Wellmania (Season 1). March 30: Unstable (Season 1).
Available in April: April 1: 28 Days (2000), American Hustle (2013), Born on the Fourth of July (1989), Brüno (2009), Friday Night Lights (2004), Greenberg (2010), How to Lose a Guy in 10 Days (2003), Marnie (1964), Matilda (1996), Psycho (1960), The Birds (1963), Murder Mystery 2 (2023). April 16: The Mustang (2019). April 19: The Fisherman's Diary (2020). April 20: The Diplomat (Season 1). April 21: A Tourist's Guide to Love (2023). April 22: Whitney Houston: I Wanna Dance with Somebody (2022). April 26: Workin' Moms (Season 7). April 27: Firefly Lane (Season 2 – Part 2), Sweet Tooth (Season 2).
Available in May: May 1: Home Again (2017), Peter Pan (2003), Pitch Perfect (2012), Steel Magnolias (1989), Lemony Snicket's A Series of Unfortunate Events (2004), The Glass Castle (2017), The Wedding Date (2005). May 3: Great British Baking Show: Juniors (Season 7). May 6: A Man Called Otto (2022). May 11: St. Vincent (2014). May 12: Call Me Kate (2023), Mrs. Chatterjee vs Norway (2023). May 19: Kathal – A Jackfruit Mystery (2023). May 26: Where the Tracks End (2023). May 31: Heartland (Season 15).
---
If you enjoyed this post, be sure to see The Period Films List, with the best British period dramas, historical and costume movies and TV series sorted by era.