Last Updated on August 17, 2020
In 2020 PBS celebrates its 50th anniversary; in 2021 Masterpiece joins the party. We thought it a perfect time to look back on the period dramas that have aired on Masterpiece, season by season, one post at a time.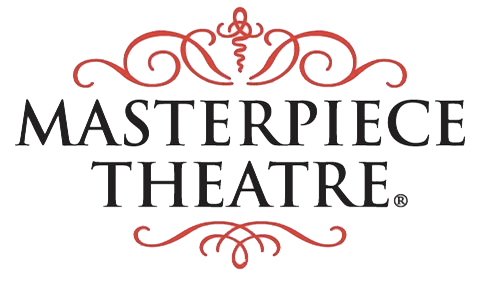 Masterpiece Theatre logo 1971 – 2007 TM and © PBS, Inc., all rights reserved
---
To help keep this site running: Willow and Thatch may receive a commission when you click on any of the links on our site and make a purchase after doing so. 
---
Below, we list the period drama line-up for the eleventh season of Masterpiece Theatre, which aired in 1981 – 1982. 
Some of the earliest PBS Masterpiece programming is still available to stream or own, and in the following descriptions, we will let you know when it is (and we'll also link to the books that inspired the adaptations).
Let's take a stroll down memory lane, and see how the choice of British costume dramas and historical series on Masterpiece has evolved over the years. Titles are listed in order of their air date.
For some history of PBS Masterpiece, and the programming in other seasons, see this page.
---
---
Period Dramas on PBS Masterpiece Season 11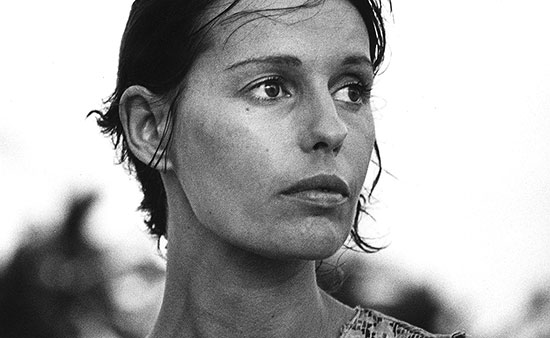 A Town Like Alice (1980)
This mini-series directed by David Stevens, based on the international bestselling novel of the same name by Nevil Shute, tells an epic love story that begins in Malaya during the Japanese occupation during the Second World War. The six-part British TV adaptation first shown in the US on PBS' Masterpiece Theatre followed a 1956 theatrical movie version of the story.
A young Englishwoman, Jean Paget (Helen Morse), is a prisoner-of-war in Malaya at the time of the Japanese occupation (1941-45). On an enforced trek across the country she meets an Australian soldier, Joe Harmon (Bryan Brown). When the cruel Captain Sugamo (Richard Narita) discovers that he has been helping her and her companions, he forces the women and children to watch as Joe is beaten and left to die. The group is ordered to move on until they reach a small village where they shelter for the duration of the war.
Joe Harmon survives and searches for Jean in London but she has returned to Malaya with a gift of gratitude for the people of Kuala Telang. It is there she discovers that Joe is still alive. Being closer to Australia than London, she proceeds to Alice Springs in the hope that someone there will remember him and know where he is.
Reunited, Jean and Joe settle in Willstown, in Queensland's Gulf Country where Joe manages a property that will one day be theirs. They'd both like to live in Alice Springs – a town first mentioned by Joe in one of their earliest conversations, giving Jean an enduring impression of order and beauty in a savage landscape. Living in Alice is as much a dream here as it was in the jungles of Malaya. Not, however, for the entrepreneurial Jean who sets about turning Willstown into "a town like Alice."
"Jean Paget is played by Helen Morse with a careful intelligence and luminous warmth in what is an almost perfect performance. As well, Bryan Brown seems born to play Joe Harmon, so convincing is he in the role but it would be a mistake to think that he succeeds merely on instinct." – Anne Lucas
6 episodes; Read more about the production here.
Starring Helen Morse, Bryan Brown, Gordon Jackson, Dorothy Alison, Richard Narita, Yuki Shimoda, Lucy Bell, John Howard, Patrick Dickson.
Currently only available on VHS
First aired on Masterpiece in 1981
---

Edward and Mrs Simpson (1978)
Edward VIII's liaison with Mrs. Simpson scandalised the country and led to his abdication. The series portrays both the romance between King and divorcee, and the political manoeuvring involved.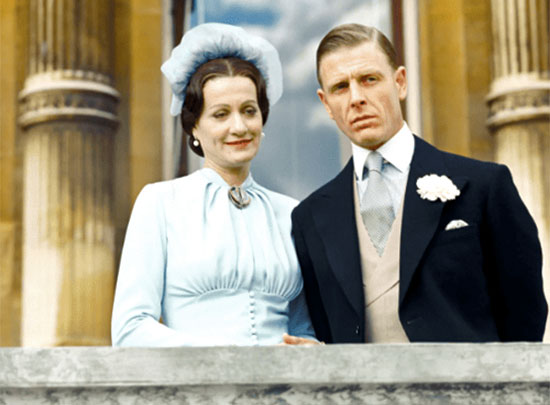 Episode 1: The Little Prince: Edward, the Prince of Wales, is charming and has romances with Freda Dudley Ward and Thelma Furness. Thelma introduces him to Wallis Simpson. When Thelma leaves for America with Ward nursing a sick child, Edward becomes smitten with Wallis.
Episode 2: Venus at the Prow: Rumors swirl as Edward and Wallis' relationship crosses the boundary between friendship and love. He introduces her to his parents, King George V and Queen Mary, but the King does not approve of their relationship.
Episode 3: The New King: In the wake of his father's death, Edward is knighted King and becomes frustrated with his new duties since they keep him away from Wallis. He starts to show intent to marry her and convinces her to divorce.
Episode 4: The Divorce: The King's Private Secretary, Major Hardinge, meets with Edward to discuss the relationship with Wallis. If she divorces before the Coronation, she could be crowned Queen. Global press headlines their relationship, while British Press remains silent.
Episode 5: The Decision: With the silence of the British Press about to break, Edward is forced to tell the royal family about his intentions to marry Wallis. He is warned about the consequences of the marriage, but is in love and willing to lose the crown to wed her.
Episode 6: Proposals: The Cabinet is firmly against the marriage between Edward and Wallis, but a possible solution is found. They can wed only if the marriage is morganatic. She could never become Queen and their children would never sit the throne.
Episode 7: The Abdication: At the risk of losing his crown and being exiled from his home country for life, Edward makes an ultimatum. The Cabinet must allow the marriage with Wallis or he gives his crown to his brother, Albert, The Duke of York.
Starring Edward Fox, Cynthia Harris, David Waller, Peggy Ashcroft, Nigel Hawthorne, John Shrapnel, Jessie Matthews, Charles Keating.
First aired on Masterpiece in 1981
---

The Flame Trees of Thika (1981)
When a young Edwardian family leaves the shores of England to build a home in the wilderness of East Africa, what they encounter is beyond their imagination, but forever remembered through the eyes of their 11-year-old daughter.
Based on the beloved memoir by Elspeth Huxley, "The Flame Trees of Thika" brings to life the color and adventure of turn-of-the-century Kenya. In 1913, Robin and Tilly Grant arrive in Kenya with the dream of transforming a barren plot of land into a thriving coffee plantation. But torrential rains, relentless insects and murderous animals, as well as relations with natives and other settlers, challenge their ambitions.
Will England call them back? Or will the wide-eyed wonder of young Elspeth help unlock the mysteries of a foreign land and open the doors into the pleasures and rewards of a new home?
From the creator of "Upstairs, Downstairs,""The Flame Trees of Thika" is an enchanting, critically acclaimed mini-series featuring all seven episodes authentically shot on location.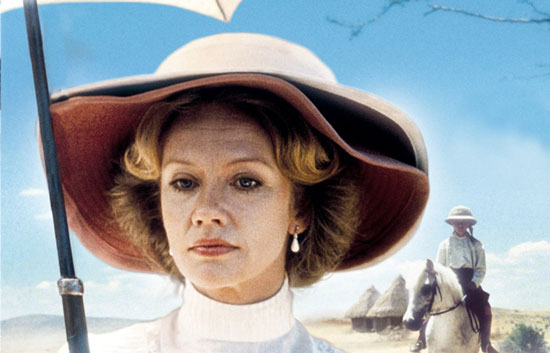 Episode 1: The Promised Land: Young Elspeth arrives in Thika, Kenya, with her optimistic parents who have purchased an unpromising plot of land in hopes of establishing a coffee farm.
Episode 2: Hyenas Will Eat Anything: The Grants get new neighbors when Hereward and Lettice Palmer arrive, but neither seem prepared for the hardship they must face.
Episode 3: Happy New Year: At the end of 1913, Tilly and Robin travel to Nairobi with the Palmers to ring in the new year. They leave Eslpeth in the care of Mrs. Nimmo, whose husband is still away.
Episode 4: Friends in High Places: Elspeth and Sammy are in put in danger when they face a herd of rampaging elephants. Mrs. Nimmo attends to Sammy's wife after a miscarriage. When Nimmo recommends that the woman be transported to the hospital in Nairobi, the family brings in the local medicine man instead.
Episode 5: A Real Sportsman: Hereward is worried about Lettice and whether she has the stamina to bear living in Africa. As their marriage begins to disintegrate, it is apparent to almost everyone that Ian and Lettice are in love.
Episode 6: Safari: With Robin and Elspeth staying behind at the farm, Tilly joins the Palmers and Ian on safari. Lettice finally admits to Ian that she loves him. Things come to a boil between Ian and Hereward but Crawford's bearer Ahmed intervenes.
Episode 7: The Drums of War: With Robin away, Tilly decides to go to Nairobi to help with the war effort. Elspeth must go live with the Robinsons, a wealthy merchant family who need a resident governess for their children.
Starring Hayley Mills, David Robb, Holly Aird, Sharon Maughan, John Nettleton, Nicholas Jones, Ben Cross, Carol MacReady, Mick Chege.
Available on DVD (Highly recommended!)
First aired on Masterpiece in 1982
---

I Remember Nelson (1982)
Worshipped as a national savior, Vice-Admiral Horatio Nelson masterminded the naval victories that thwarted Napoleon's plans to invade Britain. Yet, in the midst of public adulation, rumors swirled about his private life.
Nelson took a friend's wife as a mistress and even fathered a child by her in secret. This lavish historical drama examines Nelson through the eyes of four people close to him: his wife, who feels bitter and betrayed but ultimately loving; his friend, who helplessly loses his wife to a hero; his captain, who admires Nelson's bold leadership but disdains his lifestyle; and an ordinary seaman, who turns to his commander for inspiration while facing death.
What emerges is an unconventional portrait of a complex figure and a study in the effects of fame.
Watch for Geraldine James (Anne with an E)!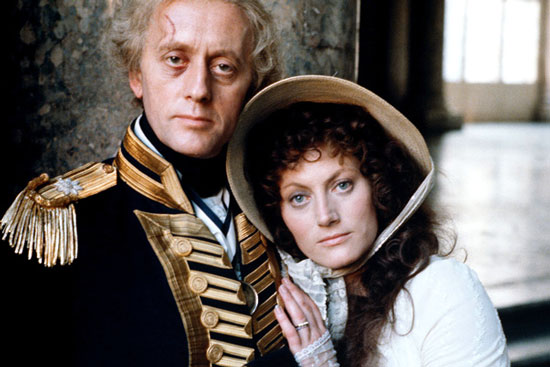 Episode 1: Love: Nelson–already a hero after his defeat of the French at the Battle of the Nile–returns to London in 1800 to the adulation of the public and the suspicions of his wife. Aware of rumors about her husband and Lady Hamilton, Lady Nelson feels her man and their marriage slipping away.
Episode 2: Passion: In 1798, with Naples beset by revolutionaries and threatened by the advancing French army, British envoy Sir William Hamilton sees Nelson as the kingdom's only salvation. But the aging diplomat also observes his vivacious, much younger wife's obvious attraction to the admiral–as well as a distinctly ungentlemanly side to Nelson's character.
Episode 3: Duty: In 1805, Thomas Hardy–captain of Nelson's flagship, Victory–visits his commander's country estate to help plan a final blow to the French fleet. There, the straight-laced officer is shocked by Nelson's social-climbing new friends and vulgar new wife, precipitating a confrontation between the captain and his commander.
Episode 4: Battle: Twenty-one-year-old William Blackie had a choice: debtor's prison or the Royal Navy. Now, in October 1805, manning a cannon on the lower deck of the Victory, the young man and his mates prepare for the decisive Battle of Trafalgar and look to their commander for courage and inspiration.
Starring Kenneth Colley, Tim Pigott-Smith, Geraldine James, Raf Vallone, Paolo Bonacelli, Vernon Dobtcheff, Anna Massey, Liza Sadovy.
First aired on Masterpiece in 1982
---

Love in a Cold Climate (1980)
Adapted by Simon Raven (The Pallisers, Edward & Mrs. Simpson), "Love in a Cold Climate" is based on Nancy Mitford's bestselling novels The Pursuit of Love and Love in a Cold Climate which draw on her own experiences as a child of Britain's aristocracy between the two world wars.
Linda Radlett, daughter of Lord and Lady Alconleigh, follows her heart in and out of adventures, marriages, and dalliances, much to the dismay of her parents. Her dear friend Polly Hampton maintains a cooler head (and some say, a colder heart) in her romantic entanglements.
Seamlessly weaving together the two women's tangled love affairs, this "literate…and entertaining" (People) drama is set against a backdrop of the English nobility's golden age, and a looming world conflict that would alter that life forever.
This 8-part miniseries starring Judi Dench and Lucy Gutteridge was produced by Thames Television; a 2001 BBC mini-series adaptation stars Elisabeth Dermot Walsh, Rosamund Pike, and Megan Dodds.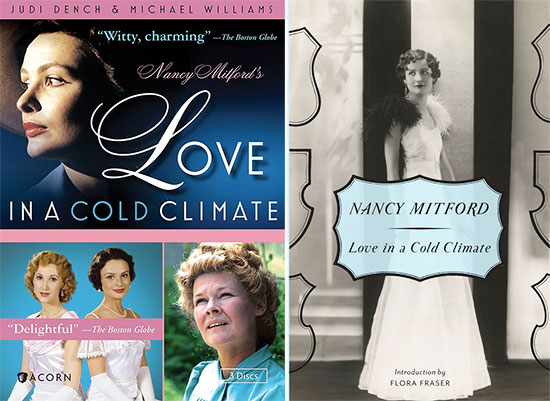 Episode 1: Child Hunt: The gaggle of Radlett girls and their friends are filled with excitement of the season and an unquenched curiosity about married life. Their eccentric childhood includes Lord Alconleigh "hunting" his offspring with bloodhounds for exercise.
Episode 2: Coming Out: Polly Montdore has grown into a haughty beauty, aloof to everyone, but dear to the Radlett girls. As her coming-out ball and the following year progress, Polly and her confidante Linda Radlett pursue matrimony–but not with the men their parents selected.
Episode 3: Rings and Things: Despite disapproval from both families, Linda and Tony are determined to marry. Sonia's patience is strained as her daughter and husband stand their ground. Meanwhile, Polly resists her mother's meddling to pick a husband–until she meets Boy Dougdale.
Episode 4: The Merry Widower: Linda is trapped in a loveless marriage, and her in-laws refuse to let her to spend her pregnancy with her family. Polly's wedding to Boy Dougdale dissolves into disaster as Lady Montdore faces her estate's title falling into the hands of an unknown heir.
Episode 5: Heir Apparent: Cedric Hampton arrives at Hampton, thrilled and determined to make Lady Montdore a decent companion. Polly retreats to Sicily with her new husband but finds the heat stifling as her marriage cools. Christian Talbot, a penniless communist, wins Linda over.
Episode 6: Foreigners Are Fiends: Lady Montdore throws a Venetian ball featuring more than one startling revelation. The success buoys her mood enough to reconcile with Polly, who is consoling the loss of Boy's baby with a new admirer. Linda follows Christian to a refugee camp in France.
Episode 7: Monsieur le Duc: Penniless and stranded in Paris, Linda struggles to recover from her second failed marriage. A stranger at a train station offers aid, sparking a friendship. As the chance of a full-blown affair blooms, the onset of war threatens to separate the lovers.
Episode 8: In Love and War: In 1940, the Radletts are all doing their part for the war effort: Aunt Sadie stores crates for the Museum; Uncle Matt drills Defense Volunteers; and in London, Linda waits for Fabrice, despite his pleas that she retreat to the countryside for safety.
Starring Judi Dench, Michael Aldridge, Michael Williams, Lucy Gutteridge, Vivian Pickles, Rosalyn Landor
First aired on Masterpiece in 1982
---

Flickers (1980)
Set in 1914 as the silent screen gained momentum, "Flickers" follows the trials and tribulations of a brash movie pioneer who began as a traveling film showman, and ends by creating his own studio and producing pictures.
Forty-year-old Arnie Cole is a movie pioneer, showing films in makeshift cinemas during the first quarter of the twentieth century – a long way ahead of the golden age that will be more glittering than his wildest dreams.
But opportunities are opening up all the time, and Arnie's true ambition is to produce films of his own. Financial backing is, inevitably, the stumbling block. But it comes his way in unexpected form when he is introduced to Maud, the snobbish, rather plain sister of a well-to-do acquaintance; at first, Maud finds Arnie brash and vulgar, and he is equally unimpressed with her – but having discovered that she is pregnant, she makes him an offer that he finds hard to refuse…
While keeping creditors at bay, squabbling actors on task, and an egotistical director under budget, Arnie and Maud try to build a business based on make-believe.
The comedic "Flickers" was written by Roy Clarke, and was nominated for a Primetime Emmy Award for Outstanding Limited Series. New York Times called "Flickers" "marvelously wacky," adding that it was "one of the daffiest and most hilarious original screenplays written for television." Clarke later created and wrote the much-loved British comedy "Keeping Up Appearances."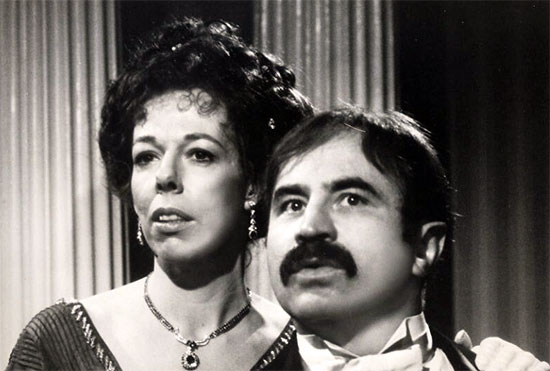 Episode 1: Cockney entrepreneur Arnie Cole schemes to become a movie mogul in Britain's fledgling film industry.
Episode 2: Arnie spends his first day of married life making deals, while Maud passes hers waiting for him — and steaming.
Episode 3: A feud between a star and a director threatens Arnie's newly formed movie company.
Episode 4: Arnie begins a lavish costume drama. (Go, Arnie!)
Episode 5: Arnie plans to use Letty as a lure to attract a lecherous banker.
Episode 6: Dauntless Arnie Cole is staring bankruptcy in the face once again after a disastrous fund-raising party.
Starring Bob Hoskins, Frances de la Tour, Fraser Cains, Philip Madoc, Sheila Reid, Dickie Arnold, Jim Hooper, Maxine Audley.
First aired on Masterpiece in 1982
---

If you enjoyed this post, wander over to The Period Films List. You'll also want to check out our list of Masterpiece Classics Streaming on Prime Video.