Last Updated on June 18, 2021
Just a quick post to let you know that if you have a Prime Video membership, and have always wanted to subscribe to the PBS MASTERPIECE Add-On Channel, now is the moment.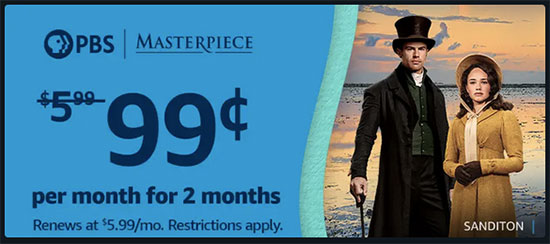 ---
To help keep this site running: Willow and Thatch may receive a commission when you click on any of the links on our site and make a purchase after doing so.
---
PBS Distribution has announced that leading up to and during Prime Day on June 21 and June 22, the PBS MASTERPIECE Prime Video Channel is available for $0.99/month for two months.
---
---
It's a great deal and a fantastic way to explore the channel at a more leisurely pace than with the free trial, but you'll need to act fast. Amazon Prime members who are not already subscribed to the PBS MASTERPIECE Add-On Channel will be able to take advantage of the $0.99/month deal just until June 22, 2021.
Having the channel is like having the best of MASTERPIECE at your fingertips, ready whenever you are.
As you might expect, the PBS MASTERPIECE Prime Video Channel offers world-class British period dramas like "Sanditon," "Miss Scarlet and the Duke," and "All Creatures Great and Small," and other historical and costume drama series such as "Jamestown," and "Atlantic Crossing," as well as award-winning series from around the globe through Walter Presents.
After the special rate of $0.99 per month for the first two months, if you keep your subscription you'll be billed the standard subscription rate of $5.99/month with your Amazon Prime membership.
To see all the period dramas currently available with the PBS MASTERPIECE Prime Video Channel, browse the offerings here. If you are ready to subscribe, click on "Learn more," here. 
---
If you enjoyed this post, be sure to see The Period Films List, with the best British period dramas, historical and costume movies and TV series sorted by era, and see the list of period dramas on Prime Video Summer 2021 here.