Last Updated on May 5, 2017
Home Fires – the historical period series now airing on PBS Masterpiece, is a women-led drama set in a rural English town against the backdrop of the Second World War.
Samantha Bond (Downton Abbey) and Francesca Annis (Reckless, Cranford) star in this heartwarming story of courage, friendship, and holding onto light in our darkest moments.
The inspiration for the period drama came from historian Julie Summers non-fiction book Jambusters (Home Fires in the US), the story of the Women's Institute during the Second World War.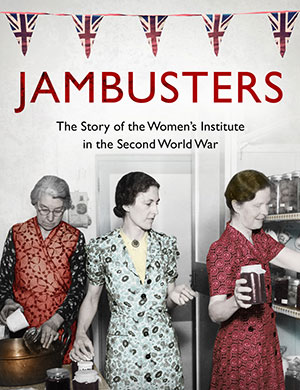 The Second World War was the Women's Institute's finest hour. The whole of its previous history – two decades of educating, entertaining and supporting women and campaigning on women's issues – culminated in the enormous collective responsibility felt by the members to 'do their bit' for Britain.
With all the vigour, energy and enthusiasm at their disposal, a third of a million country women set out to make their lives and the lives of those around them more bearable in what they described as 'a period of insanity'. Jambusters tells the story of the minute and idiosyncratic details of everyday life during the Second World War. Making jam, making do and mending, gathering rosehips, keeping pigs and rabbits, housing evacuees, setting up canteens for the troops, knitting, singing and campaigning for a better Britain after the war: all these activities played a crucial role in wartime.
Screenwriter Simon Block (The Physician) read Jambusters after he and Summers met in 2012, and thought it would make powerful television drama.
Things moved quickly. Simon Block created Home Fires the period drama for ITV Studios, and Julie was retained as historical consultant to the scripts, providing, when required, "both the progress of the war and the situation at any given point in time of the WI." Block later told Summers that
The book opened my eyes to the great extent WI women mobilised to make such a huge contribution, generating a fantastic spirit of 'community'. The fact that this was largely unknown (as is often the case with women's history) left me feeling it was a significant episode in British culture that should be more widely recognised. Plus, it offered a fantastic opportunity to write about a lot of women in their own right, and not merely as adjuncts to – or victims of – various men, which is so often how women are portrayed in television drama.
Now, in the US, viewers are deep into the final Season of Home Fires "when conflict takes hold. As the separation from their husbands, fathers, sons and brothers becomes more painful, the women rely on one another and the friendships forged through village life. It will take calm, fortitude, and creativity to bring the diverse women of the village together, and to help the community survive what is to come."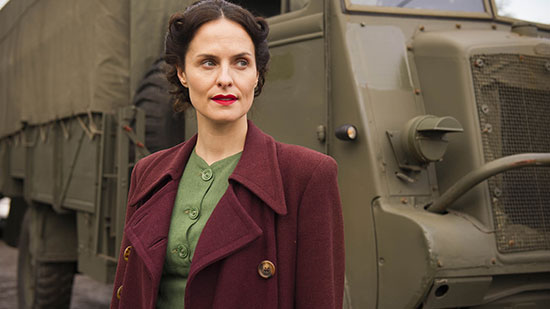 In the fifth episode of this season: It's harvest time, but time is running out to meet the quota required, and Steph risks losing the farm. Sarah finds herself in a dangerous situation, whilst Teresa has a big decision to make. Alison discovers the real reason behind the parachute accidents – but can she warn Frances before it's too late?
Each week, Jambusters / Home Fires author Julie Summers will introduce us to the coming episode of Home Fires. Here she shares some historical context that will be helpful to have before you watch the period drama's fifth episode of the second season, airing Sunday, April 30th, 2017 at 9 on PBS MASTERPIECE.
No spoilers, she promises, just some background detail to add to the enjoyment of the series.
How is it possible that we only have two episodes left?
You can check back on Willow and Thatch for each installment, or sign up for the newsletter now.
If you haven't already read about the characters and a wide historical background for this entire season, you can do that now here.
You can read the history behind each episode of Season 2 here: episode 1, episode 2, episode 3, and episode 4.
You can order Season 2 of Home Fires on DVD here.
Fur and Friction
When I am asked what it is about the Second World War that fascinates me so much I reply that it is not war but people who excite my interest: how individuals cope in a time of emergency and how such events impact upon their later lives. One of the practical aspects that had to be considered was clothing and it is something I am regularly asked about in regard to Home Fires. Just to be clear, I am not involved in the production of the drama – my involvement stops with the scripts – but I did have the great good fortune to talk to the series costume designer, Lucinda Wright, in the lead up to filming series 1 and she took me round the fabulous collections of clothes at Angels Costumes. Their website claims they have over one million items and eight miles of hanging costume. Well, I didn't see them all but Lucinda and I did discuss colour and fabrics in some detail.
I have been involved in researching the Second World War for the best part of fifteen years and fashion and clothing are a fascinating aspect of the social history of that era. It was a time of uniformity on the one hand and individual expression on the other. What people wore and how they felt about it – whether smart in battle dress or tatty in patched and darned clothes – said much about the spirit of the time. What people wore in the countryside was no less expressive than outfits seen in the towns and cities.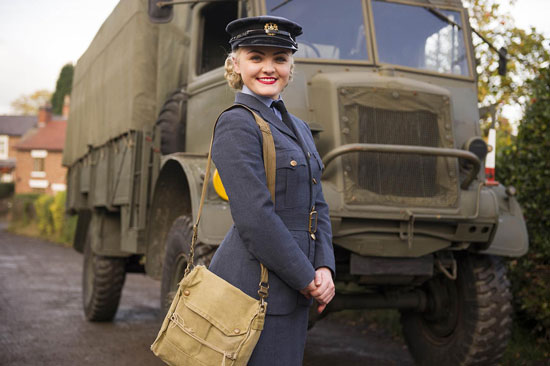 Everyone in Home Fires is dressed to their status. Steph Farrow wears dungarees in the fields but once she arrives at a WI meeting she is scrubbed clean and wearing a patterned dress, as would have been the case in the 1940s. Edith Jones, the wonderful diarist whose jottings form the golden thread through Jambusters, would always change into a frock in the evening for supper, even if it was just her and Jack eating dinner together. She is similar to Steph in many ways.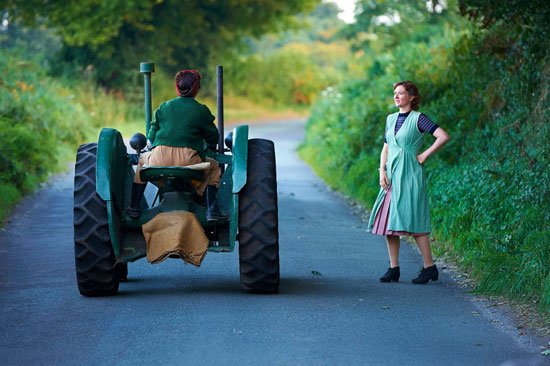 At the other end of the spectrum is Joyce Cameron. Always meticulously turned out and often wearing fur. Until the 1970s when there was a huge animal rights' movement against fur coats, women of a certain standing would have one, two or even three fur coats in their wardrobe: a mink for the evening, a pine-marten for day use and a fox stole to wear over a tweed coat.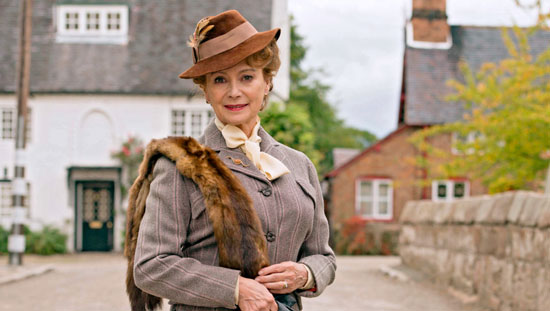 Hats were de rigeur for church, shopping and most social outings, though as the war progressed a certain degree of informality crept in and some women went bare-headed. Although they were never rationed, hats were not always easy to find in the shops after 1941 but for the summer of 1940 there would still have been plenty in evidence.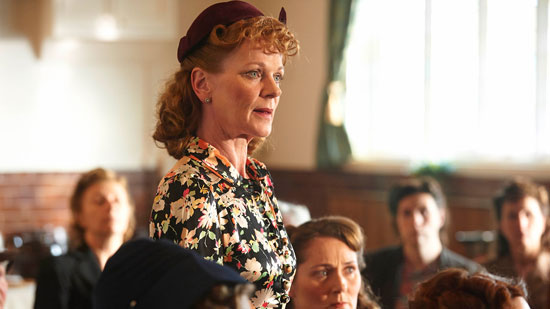 One major change in Britain during 1940 was the proportion of people wearing uniform. You might not have noticed the change between series 1 and series 2 but it is striking and absolutely reflects what was happening in the country. About a third of the population of Britain were entitled to wear uniform during the Second World War. This would give a figure of somewhere in the region of 15 million people, a large number of whom were women. So we have in Great Paxford a mixture of RAF, Army and women's service uniforms – that much is obvious. But then there are the women working in the Barden's factory who all wear pinafores over their own clothes to protect them. Clare wears a uniform when she is working for Frances Barden as a maid, though not on her days off with Spencer. House coats, such as those worn by Pat, were popular and a sensible way to keep the wear and tear of ordinary clothes to a minimum.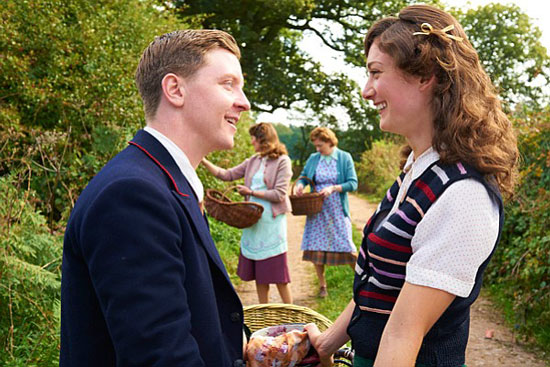 With so many people wearing them, it is unsurprising that the general public knew how to 'read' uniforms across a street or at the scene of an incident, and could identify at a glance a man or woman's job, rank and status. And it was very important to know and trust the person who was issuing an instruction, especially during the Blitz, when people needed to know who to listen to or appeal to in a crisis. Aside from emergencies, uniforms had a hierarchy with implications on many levels, some of them more personal than official.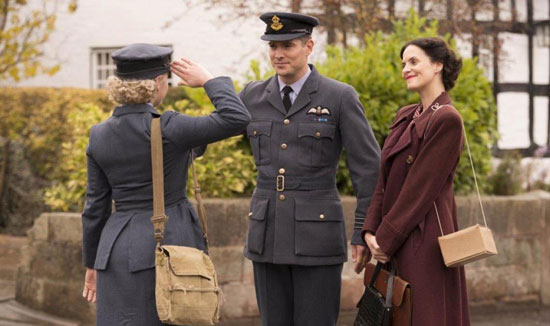 Some uniforms, such as the Royal Air Force blue, gave men real status in women's eyes. This was partly because it comprised a smaller body of men than the army, and their jobs, especially the pilots, were considered heroic and extremely dangerous. They were known as 'Our Glamour Boys'. The PBI (Poor Bloody Infantry) suffered in their khaki uniforms from being the least admired of the three services by the general public. Members of the women's services (just over 100,000 in June 1941) were said to grade potential boyfriends in an order of eligibility in which 'RAF officers rated tops, being classified in turn by rank and number of decorations; naval officers came second and brown jobs a long way behind'.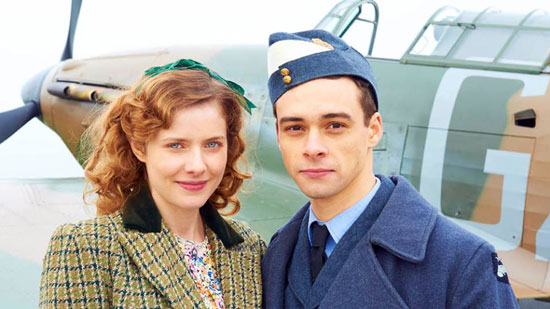 So as you are watching Episode 5 of Home Fires, it is worth looking out for the distinctions of dress and the way different people react to it. That is, if you have time to notice that level of detail when there is so much drama going on around you. This is another breathtaking hour where I lurched from near tears of enchantment to gasping with horror.
Enjoy Sunday evening! – Julie Summers
Scroll down for video teasers of episode 5 of the final season.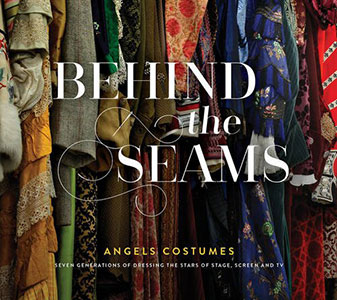 Angels Costumes is the largest privately owned collection of costume for film, theatre and television anywhere in the world. Their book Behind the Seams gives exclusive access to what really goes on at Angels, and tells the story of the biggest dressing-up box in the world.
This is a unique insight into 175 years of the entertainment industry in London, and the evolution of a family business now into its seventh generation. Now you too can step behind the dressing room door and see how the magic unfolds.
Behind the Seams reveals extraordinary secrets about the costumes and their creators. With lavish photos and close up details of trims, lace and fabrics, it's also visually stunning and a joy to dip into for inspiration or escapism.
Many of the biggest names in theatre cinema & TV Theatre have walked through the doors at Angels including Noel Coward, Laurence Olivier, Elizabeth Taylor, Michael Caine, Judy Dench, Daniel Craig, Gwyneth Paltrow, Damian Lewis, Cate Blanchett, Johnny Depp, Helen Mirren, Benedict Cumberbatch, Keira Knightley and Eddie Redmayne to name but a few. All have been dressed and undressed by the Angel's costumiers who share some of their secrets and tips of the trade in this exclusive backstage pass.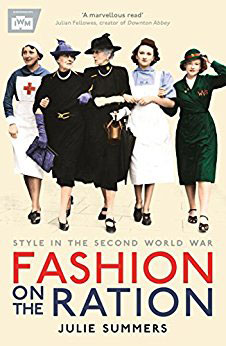 Julie Summers' book Fashion on the Ration: Style in the Second World War has been listed in The Times review as one of their History Books of the Year in 2015, and it will help you better understand what constraints the women in Home Fires were experiencing.
Julian Fellowes called the book "A marvelous read."
Fashion on the Ration was commissioned by the Imperial War Museum, London, to accompany an exhibition of the same name. I worked closely with the curator so that most of the stories in the book were also illustrated in the exhibition. Initially I was not sure I wanted to write about fashion as it seemed rather a light-hearted topic but as I got into the research I realised it was of immense significance in government thinking. What people wore and how they felt about their clothes influenced their mood. The government wanted women to be well-dressed and made up in defiance of Hitler and out of respect for all the young men and women in uniform. The amount of fashion exported during the war more than quadrupled, bringing in vital foreign currency. So in the end I was very glad to have had the opportunity to write it and was thrilled that Julian Fellowes was so complimentary about it too.
I didn't have a direct influence on the costume department but I did spend quite a lot of time with Lucinda Wright, who was in charge of the costumes, and we talked particularly about colour. I was very keen, as was she, to emphasise the fact that there was no restriction on colour during the war. We see most pictures in black and white, thus wrongly concluding that clothing was drab. It became drab later in the war when there was so little to buy in the shops after clothes rationing and coupon culture took over. People could only buy the equivalent of one new outfit a year by the middle of the war, so old clothes were refurbished and mended. At the beginning, however, people were still well-dressed and that is reflected in the clothing worn by all our characters. – Julie Summers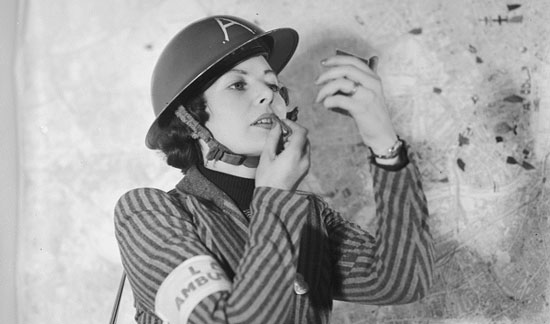 If you are in the UK, you can visit the Fashion on the Ration: 1940s Street Style exhibit at IWM North exhibit until May 1, 2017.
Each installment in this series of the history behind each upcoming episode will be on Willow and Thatch the Friday before the episode airs.
Watch each of the 6 episodes of the much-anticipated final season of this beloved series on Sundays, April 2nd – May 7th, 2017 at 9/8c on MASTERPIECE.
Need to catch up? Season 1 is available to stream for free with Amazon Prime. If you don't already have Prime, you can get a free trial here.
The period drama Home Fires is created and written by Simon Block and inspired by Julie Summers' book Home Fires which tells the true story of the WI on the home front from 1939-1945.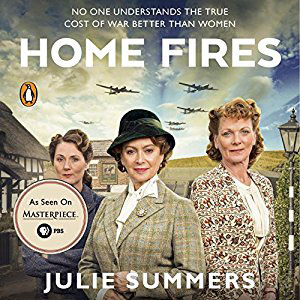 The Audible version of Home Fires: The Story of the Women's Institute in the Second World War is free with an Audible trial. Get it here.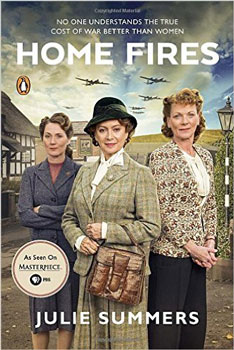 About the book Home Fires / Jambusters: Away from the frontlines of World War II, in towns and villages across Great Britain, ordinary women were playing a vital role in their country's war effort. As members of the Women's Institute, an organization with a presence in a third of Britain's villages, they ran canteens and knitted garments for troops, collected tons of rosehips and other herbs to replace medicines that couldn't be imported, and advised the government on issues ranging from evacuee housing to children's health to postwar reconstruction. But they are best known for making jam: from produce they grew on every available scrap of land, they produced twelve million pounds of jam and preserves to feed a hungry nation.
Home Fires, Julie Summers's fascinating social history of the Women's Institute during the war (when its members included the future Queen Elizabeth II along with her mother and grandmother), provides the remarkable and inspiring true story behind the PBS Masterpiece series. Through archival material and interviews with current and former Women's Institute members, Home Fires gives us an intimate look at life on the home front during World War II.
Julie Summers has written six books about the Second World War era including Stranger in the House: Women's Stories of Men Returning from the Second World War, and When the Children Came Home: Stories of Wartime Evacuees.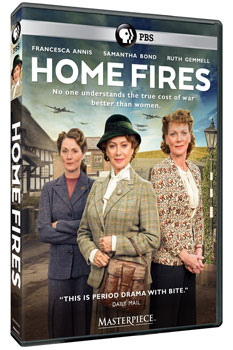 Home Fires is available on DVD: The Masterpiece PBS mini-series follows a group of inspirational women in a rural Cheshire community with the shadow of World War II casting a dark cloud over their lives. The isolated village couldn't feel further away from the impending bloodshed and battlefields and yet it is not immune from the effects of war. As the conflict takes hold, and separates the women from their husbands, fathers, sons and brothers, the characters find themselves under increasing and extraordinary pressures in a rapidly fragmenting world. By banding together as the Great Paxford Women's Institute, they will help maintain the nation's fabric in its darkest hour, and discover inner resources that will change their lives forever.
In the second season, Great Paxford's eclectic band of women return for more stories from the home front as they deal with imminent threat during the Battle of Britain. As the nation finds itself increasingly beleaguered, relationships, friendships, and loyalties within the community will be tested as never before. The women find they must heighten their efforts to boost morale amidst the chaos and uncertainty enveloping the village.
You can order Season 2 of Home Fires on DVD here.
About Julie Summers: I was born near Liverpool and grew up first on the Wirral and then in Cheshire. Although the greater part of my childhood was spent outside pursuing any number of outdoor activities, I have always wanted to be a writer. For the first twenty years of life after university I worked in the art world but was drawn inexorably towards writing. Finally, in 2004, I gave up my job and began writing full-time. It was the best decision I have made in my career. I am passionate about writing and unembarrassed to be so. I love researching my books, especially when they involve meeting people and talking to them about their lives.
People often ask me why I am so fascinated by the Second World War. My answer is that it is not war that interests me but the way people coped. In extreme situations such as war or mountaineering ordinary people find extraordinary strength and courage. That is what I enjoy learning about.
I have a little study in the attic of our house with one of the best views in Oxford – the dreaming spires seen from Iffley. I write in the mornings and find the problem is not sticking to the routine but tearing myself away from writing at the end of the day. My companions are two Border Terriers who keep me entertained and fit. They sleep in two old wine boxes under the window in my office.
I describe myself as a biographer and historian but the most important thing for me is to be a story-teller.
If you enjoyed this post you'll want to wander over to the Period Films List – the best costume and historical period dramas, romantic period movies, all sorted by era and theme. You may want to see the interview with Julie on Willow and Thatch.