Last Updated on April 22, 2017
Here's the period drama line-up for what's new to streaming in February 2017 on NETFLIX Instant in the U.S. You'll also see which of these historical films and costume dramas are available to download from Netflix.

Before we look at what is new, there is some sad news to share.
North & South, The Buccaneers, Copper, Elizabeth, Frida, Robin Hood and There Will Be Blood are all leaving Netflix February 1st. 
Land Girls is leaving February 15th. Clueless is leaving February 28th. You've got some watching to do.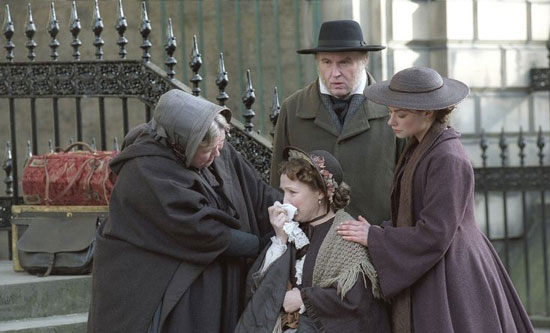 May we please have a moment of silence for the departure of our beloved BBC mini-series North & South?
…
Please, try to compose yourself.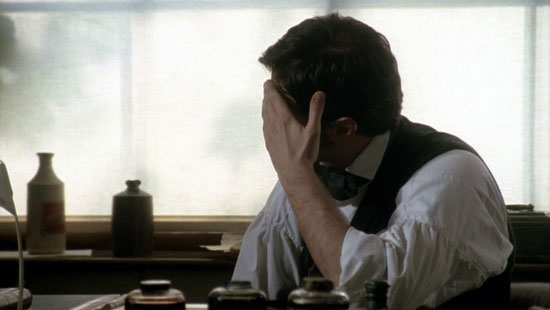 It's high time you owned North & South

on DVD anyway. You can even get a copy (to watch over and over) as part of The Elizabeth Gaskell Collection which also includes Wives and Daughters and Cranford. The DVD includes commentary on episodes 1 and 4 by Kate Barlett, Brian Percival, and Sandy Welch, a specially recorded interview with Richard Armitage, deleted scenes and more. 
Things will be okay. 
UPDATE: The removal dates for the following have shifted – the current information is that BBC period drama series North & South is leaving Netflix March 31. The Buccaneers, Copper and Robin Hood are leaving Netflix April 1. They must have heard our sobs.
And, there is good news for fans of When Calls the Heart! 
---
---
Coming to Netflix in February

Babe (1995)
It's the award-winning story of a shy little pig who doesn't quite know his place. With the help of an assortment of barnyard friends, Babe discovers that he can be anything he wants to be!
Though Babe isn't set in any specific time period, the family friendly drama has a period feel: "The obscuring of the specific time and location in which the film takes place roots the story in the fantasy genre, which demands that viewers suspend their disbelief, in this case of the talking animals. There are no clues in the production design, narrative, sound design, characterisation or dialogue (other than the use of 'big butt-heads!') to identify time and place." – Australian Screen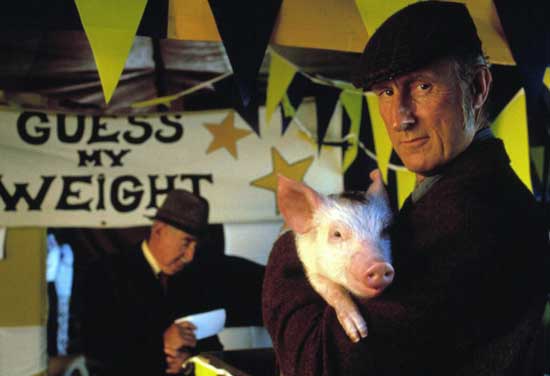 Starring James Cromwell, Christine Cavanaugh, Danny Mann.
Rated G
Babe: Pig in the City (1998) is also available.
Available 2/1/2017
Available to DOWNLOAD.
---

The Chronicles of Narnia: The Lion, the Witch & the Wardrobe (2005)
Four siblings play a game of hide and seek and wind up entering a magical land. Once there, they discover a world inhabited by beasts, dwarfs, and giants and find themselves in a battle to defeat a witch. Set during the Second World War.
Starring Georgie Henley, Skandar Keynes, William Moseley.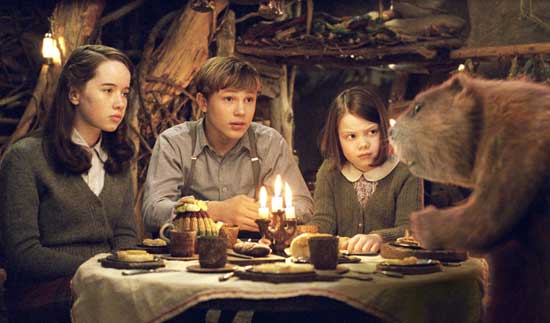 Rated PG
Available 2/1/2017
---

The Five Heartbeats (1991)
Five friends leave their poor neighborhood and head for a new type of music – Motown. Set in the 1990s and throughout the 1960s.
Starring Diahann Carroll, Leon, Robert Townsend.
Rated R
Available 2/1/2017
---

The Longest Day (1962)
Allied forces prepare for a massive D-Day assault upon the beaches of Normandy during World War II. The events of June 6, 1944 are told on a grand scale from both the Allied and German points of view in this historical period drama.
The Longest Day is a vivid, hour-by-hour recreation of this historic event. Featuring a stellar international cast, and told from the perspectives of both sides, it is a fascinating look at the massive preparations, mistakes, and random events that determined the outcome of one of the biggest battles in history. Winner of two 1962 Oscars® (Special Effects and Cinematography), The Longest Day ranks as one of Hollywood's truly great war films.
Starring John Wayne, Robert Ryan, Richard Burton, Henry Fonda, Robert Mitchum.
Rated G, but this "predominantly accurate" historical film is filled with violence.
Available 2/1/2017
---

Woman in Gold (2015)
Helen Mirren and Ryan Reynolds star in the remarkable true story of one woman's battle against the establishment to recover her family possessions that had been seized by Nazis during WWII. Among them is Klimt's famous painting Portrait of Adele Bloch-Bauer I. With her inexperienced but plucky young lawyer Randy Schoenberg (Ryan Reynolds), she embarks upon a major battle which takes them all the way to the heart of the Austrian establishment and the U.S. Supreme Court, and forces her to confront difficult truths about the past along the way.
Set sixty years after she fled Vienna during World War II, and in the Interwar and Second World war eras.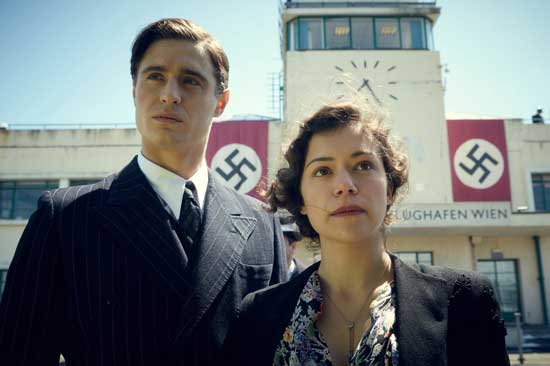 Starring Helen Mirren, Ryan Reynolds, Daniel Brühl, Katie Holmes, Tatiana Maslany, Max Irons, Charles Dance, Antje Traue, Elizabeth McGovern.
Rated PG-13
Available 2/1/2017
Available to DOWNLOAD.
---

When Calls the Heart: Season 3 (2016)
When Calls the Heart tells the captivating story of Elizabeth Thatcher (Erin Krakow), a young teacher accustomed to her high society life, who receives her first classroom assignment in Coal Valley, a small coal mining town where life is simple, but often fraught with challenges. Lori Loughlin plays Abigail Stanton, a wife and mother whose husband, the foreman of the mine, along with a dozen other miners, has just been killed in an explosion. The newly widowed women find their faith is tested when they must go to work in the mines to keep a roof over their heads. Elizabeth charms most everyone in Coal Valley, except Constable Jack Thornton (Daniel Lissing) who believes Thatcher's wealthy father has doomed the lawman's career by insisting he be assigned in town to protect the shipping magnate's daughter. Living in a turn of the century coal town, Elizabeth will have to learn the ways of the frontier if she wishes to thrive in the rural west on her own.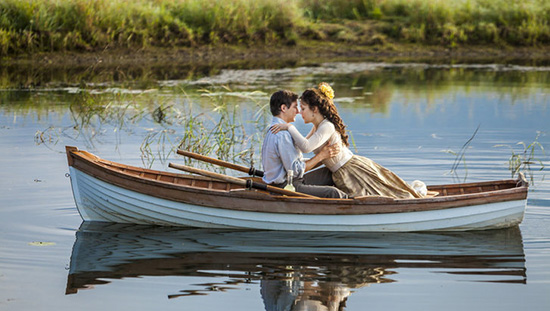 The series is inspired by Janette Oke's bestselling book series about the Canadian West.
In Season 3, Elizabeth and Jack's romance in Hope Valley continues to develop as we follow the adventures of other townspeople. In particular, two newcomers arrive, changing the lives of both Frank and Abigail and challenging their relationship; Lee and Rosemary's bond deepens as they reconcile their strong personalities; and Bill Avery's future remains uncertain.
"A beautiful story with roots in relationships, self-empowerment, and the enduring power of love." – Common Sense Media
Starring Erin Krakow, Daniel Lissing, Lori Loughlin, Jack Wagner.
Rated TV-G
Available 2/19/2017
Available to DOWNLOAD.
---

Night Will Fall (2016)
When Allied forces liberated the Nazi concentration camps their terrible discoveries were recorded by army cameramen, revealing for the first time the horror of what had happened.
Night Will Fall is the story of the incredible efforts made by British cameramen to film and document the unbelievable atrocities the Allies encountered during the Liberation of the German Concentration camps in 1945 at the end of World War II. The Ministry of Information's Sidney Bernstein collaborated with Alfred Hitchcock to make a documentary that was to provide undeniable proof that these frightful crimes actually happened. For a number of reasons that Andre Singer's powerful film explores the film was ultimately shelved and languished in British archives for years until the Imperial War Museum completed the film in 2014.
Starring Helena Bonham Carter, Jasper Britton, Leonard Berney, George Leonard, Branko Lustig.
Not rated but contains difficult subject matter.
Available 2/26/2017
---
If you enjoyed this post, you'll also want to be sure to see 75 Period Dramas to Download From Netflix and BritBox: BBC and ITV Streaming in the US. And be sure to wander over to The Period Films List, with the best historical dramas sorted by era.