Last Updated on April 22, 2017
There are some big changes afoot in the realm of video streaming – and they impact lovers of British television and period costume dramas. It's all good news, because the very best programming in our favorite film genre is becoming more available to us, when and how we want it.
Here are some of the recent and upcoming developments in subscription-video-on-demand services:

Netflix began allowing the downloading of some of its streaming content, like these 75 period dramas and became more invested in creating original programming, like the The Crown. 

A new on-demand service subscription service named FilmStruck was launched by Turner Classic Movies and The Criterion Collection, with instant streaming access to critically acclaimed films and hard-to-find gems (including period films) from the world's greatest independent film libraries.

PBS launched Passport, a new member benefit from participating PBS stations that gives eligible donors and supporters extended access to a video-on-demand library of quality public television programming online. The PBS Passport library currently offers members more than 1,000 episodes to watch, with new PBS programs being added weekly. The library features episodes from Masterpiece, and at the time of this writing includes access to favorite period dramas like Poldark, The Durrells in Corfu, Indian Summers, Home Fires, Mercy Street and all six seasons of Downton Abbey. You'll also find The Crimson Field, Wolf Hall, Death Comes to Pemberley and more.

The much-loved Acorn TV streaming service had a record year in 2016, doubling its passionate (British and period film watching) subscriber base to more than 400,000 subscribers. The new year starts off on another high note for them with two exclusive US Premieres in January: Murdoch Mysteries, Season 10, and Acorn TV Original Agatha Christie's A Witness for the Prosecution starring Toby Jones, Andrea Riseborough, and Kim Cattrall. The newest adaptation of the short story from the best-selling novelist of all-time was called by UK paper Metro "The best TV event of the year."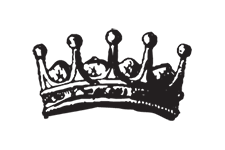 And now there is news that BBC Worldwide and ITV have partnered to bring a British television streaming service to the United States.
The ad-free subscription video-on-demand (SVOD) service will launch in the US sometime before the end of March 2017. 
It's called BritBox.

So far we know that BritBox will feature:
• An array of drama premieres never-before-seen in the US, including the costume dramas Tutankhamun (2016) from ITV and The Moonstone (2016) from the BBC.
Tutankhamun is based on the compelling story of Howard Carter and his discovery of the tomb of one of Ancient Egypt's forgotten pharaohs, the boy-king Tutankhamun. Lord Carnarvon is the dashing eccentric who keeps faith with Carter and continues to back his expeditions when no one else will.
The four-part miniseries stars Max Irons (The White Queen, Woman in Gold) and Sam Neill (Peaky Blinders) and was written by Guy Burt, who brought us Jekyll & Hyde and The Bletchley Circle.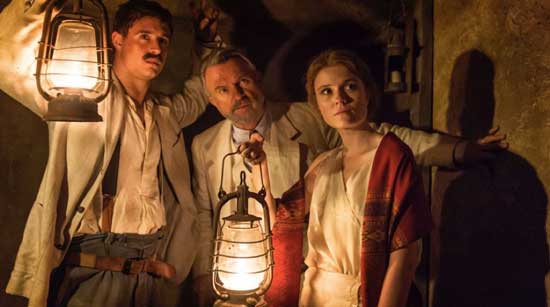 The Moonstone is a five-part adaptation of Wilkie Collins' famous book, telling the story of a diamond that goes missing after a party at an English country house, and its numerous suspects with a motive for its disappearance. Think of it as a Victorian investigative drama and a love story rolled into one.
"The Moonstone is a powerful romance: Collins hit on the brilliant conceit of tying the fate of the missing diamond to Franklin's quest to win the heart of Rachel Verinder, the woman he loves. It matters desperately that the diamond's been stolen – not because it is valuable, but because the shadow of the theft hangs over the Verinder family, and destroys their trust and former happiness. And alongside the love story, The Moonstone is also an astonishingly modern commentary on Colonialism, the English class system, religion and the position of women in society." – John Yorke, Executive Producer, The Moonstone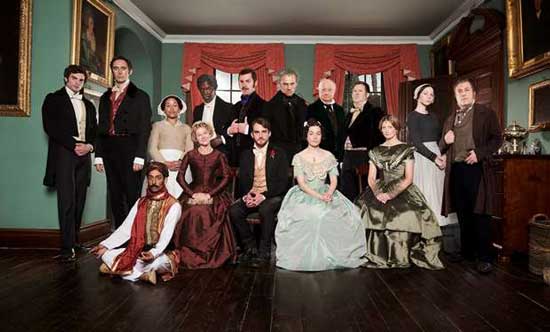 • A "Now" category with a selection of soaps and series that will be available as soon as 24 hours after their UK broadcast. Depending on which period dramas are included in the "Now" category, this could be an amazing addition to our streaming options. 
• A British classics collection from ITV and the BBC, featuring iconic period dramas Brideshead Revisited, Pride and Prejudice and Upstairs Downstairs and many more.
The BBC Worldwide/ITV partnership will allow British producers and talent to reach a wider audience in the world's largest media market. And it follows that you, dear reader, are at the top of the list of who BritBox wants to please.
Which British historical period and costume dramas would you like to stream on BritBox? You can use the comment field below to let them know; Willow and Thatch will be sure your thoughts are seen. 
According to Ann Sarnoff, President, BBC Worldwide North America, "BritBox will offer a streaming experience like no other, with thousands of hours of programmes across a wide variety of genres – some of which will be available right after their UK broadcast. This will be a must-have service for lovers of British television."
BritBox will be available on responsive web / desktop, mobile devices (iOS and Android), Roku, AppleTV, and Chromecast at launch in the US.
There is also ambition to roll out the service in other international markets, so those of you hoping BritBox will come to your country as well may be in luck.
AMC Networks, who operates AMC, IFC, SundanceTV, WE tv, IFC Films channels as well as BBC America through a joint venture with BBC Worldwide, is investing in BritBox with a non-voting minority interest. BBC Worldwide and ITV share an equal majority stake in the joint venture.
This unique streaming service will celebrate the very best of British TV, and offer the most comprehensive SVOD collection of British content in the market today. For decades, BBC and ITV have produced iconic British television series, and for the first time these shows will be combined in a single, curated service allowing fans to find the classic shows they love and discover new hit series.
Full details of the BritBox service, including additional titles and price, will be released at launch.
Britain produces some of the best television in the world and we're delighted to be bringing the creative might of the BBC and ITV together for the first time in this exciting new streaming service for US fans. BritBox will be the best and most comprehensive British streaming service in the US; a rich catalogue of classic, new, and exclusive shows easily accessible to US viewers all in one place. ITV is now a global production and distribution business and this marks the first step in our international ambitions for BritBox. – Simon Pitts, ITV

Many fans of historical costume dramas based in the US know about the BBC, but aren't as familiar with ITV, so let's get you up to speed and look at some of their historical / costume / period dramas. 
ITV Studios is the largest production company in the UK and produces programming for ITV's own channels and for other broadcasters such as the BBC. They are what you call an integrated producer-broadcaster, operating the largest commercial family of channels in the UK. Through ITV Studios they produce content (period dramas!) for both their own channels and third parties in the UK and increasingly overseas. Their distribution business sells finished programs and formats worldwide. In addition to broadcasting the programs on television, ITV programs can be found across multiple platforms and through direct content deals with services such as Amazon and Netflix.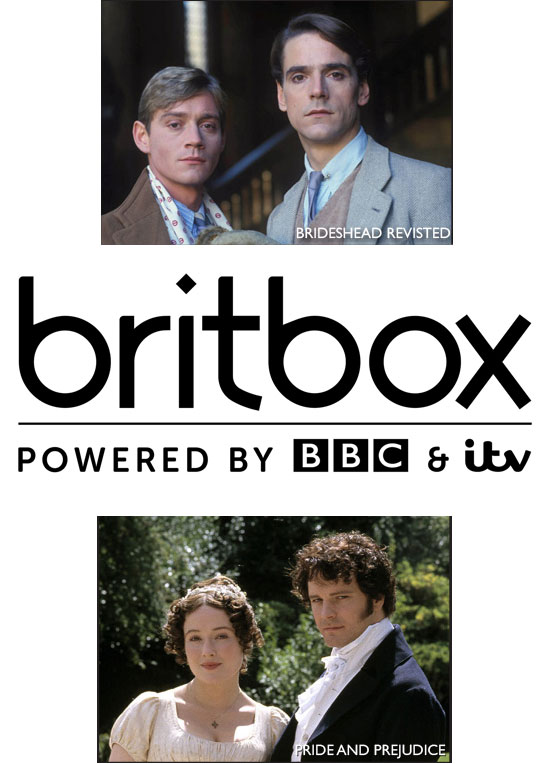 Without knowing where they came from, you may already be familiar with many ITV Studios period dramas because they were available on PBS Masterpiece or on US streaming services. Talking about BritBox, RadioTimes said that "the Corporation is insistent that it will not affect the BBC's existing relationship with US partners" like Netflix and Amazon. They added that the BritBox offerings will "complement" the BBC and ITV programming we already have in the US.

To give you a better idea about the quality of programming (and the type of period dramas) we should expect from the ITV end of the BritBox partnership, here are some of the current and previous costume dramas ITV Studios has commissioned, produced, or co-produced. Also included in the list is a sampling of the "heritage" period television series that ITV has broadcast and distributed. 
Beowulf: Return to the Shieldlands (2016): Kieran Bew leads a stellar cast in ITV's epic re-imagining of one of literature's greatest and most enduring heroes Beowulf.
Downton Abbey (2010): A chronicle of the lives of the British aristocratic Crawley family and their servants in the early 20th Century.
The Durrells (2016): The Durrells is based upon Gerald Durrell's classic trilogy of Corfu memoirs including the much-loved 'My Family and Other Animals'.  Set in 1935, this timeless drama is full of warmth, humour and fun.
Endeavour (2012) : Set in the 1960s, the show follows Endeavour Morse in his early years as a police constable. Working alongside his senior partner DI Fred Thursday, Morse engages in a number of investigations around Oxford.
Home Fires (2015): The historical period drama follows a group of inspirational women in a rural Cheshire community where the shadow of World War II is casting a dark cloud over their lives. The isolated village couldn't feel further away from the impending bloodshed and battlefields and yet it is not immune from the effects of war. As the conflict takes hold, and separates the women from their husbands, fathers, sons and brothers, the women find themselves under increasing and extraordinary pressures in a rapidly fragmenting world.
Houdini & Doyle (2016) : At the turn of the 20th century the Metropolitan Police were overwhelmed with bizarre cases so they turned to outsiders including Houdini and Doyle, who collaborated with New Scotland Yard on some unsolved and inexplicable crimes.
Jekyll and Hyde (2015): This 10-part drama is set in 1930s London and focuses on Robert Jekyll, the grandson of the original doctor. The period series follows Robert Jekyll's quest to discover his real identity and the true nature of his family's cursed history.
Jericho (2016): Rough, rustic and remote with a carnival atmosphere, Jericho is a community of pioneers, settlers and outcasts, people with secrets to hide and those looking to start again. Set in the Yorkshire Dales in the 1870s.
Mr. Selfridge (2013): Based upon the life of flamboyant American entrepreneur Harry Gordon Selfridge, who founded the world‐renowned store on London's Oxford Street in 1909.
Mrs. Biggs (2012): The true story of Charmian Brent (née Powell), the rebellious product of a strict 1950s upbringing, and her whirlwind romance with Ronald Biggs leading to a descent into crime, most infamously 1963's Great Train Robbery.
The Suspicions of Mr. Whicher (2014): Set against the backdrop of mid-Victorian England and inspired by the real life career of celebrated 19th century detective Jonathan 'Jack' Whicher. Based on detailed research into the crimes and passions of Victorian England, The Suspicions of Mr Whicher takes the audience into emotionally deep and psychologically intriguing territory, in the company of a complex and flawed hero who is on his own journey of escape and discovery.
Agatha Christie's Marple (2004): An elderly spinster living in the village of St. Mary Mead helps her friends and relatives solve mysterious murders.
Agatha Christie's Poirot (1989): From England to Egypt, accompanied by his elegant and trustworthy sidekicks, the intelligent yet eccentrically-refined Belgian detective Hercule Poirot pits his wits against a collection of first class deceptions.
Arthur & George (2015): Martin Clunes plays the celebrated novelist and physician Sir Arthur Conan Doyle in a three-part adaptation of Julian Barnes' acclaimed novel, Arthur & George, for ITV.
The Bletchley Circle (2012): Based on the lives of four extraordinary and brilliant women who worked at top-secret HQ Bletchley Park during World War II.
Churchill's Secret (2016): Michael Gambon and Lindsay Duncan star as Sir Winston Churchill and Clementine Churchill in this feature-length film.
Dark Angel (2016): Dark Angel is a new two-part drama starring Downton Abbey's Joanne Froggatt, based on the extraordinary true story of the Victorian poisoner Mary Ann Cotton.
Doctor Thorne (2016): Tom Hollander, Rebecca Front and Ian McShane star in Doctor Thorne, adapted by Julian Fellowes, from one of his favourite novels by Anthony Trollope.
Foyle's War (2002): As WW2 rages around the world, DCS Foyle fights his own war on the home-front as he investigates crimes on the south coast of England. Later series sees the retired detective working as an MI5 agent operating in the aftermath of the war.
The Frankenstein Chronicles (2015): Inspector John Marlott investigates a series of crimes in 19th Century London, which may have been committed by a scientist intent on re-animating the dead.
Grantchester (2014): In 1953, a Cambridgeshire clergyman finds himself investigating a series of mysterious wrongdoings in his small village of Grantchester.
Harry Price: Ghost Hunter (2015): Set in 1920s, two-hour film about Britain's most famous real-life ghost hunter and sceptic Harry Price, who investigated tales of the paranormal and supernatural.
The Forsyte Saga (2002): This period mini-series chronicles the lives of three generations of the upper-middle-class British family, the Forsytes, from the 1870s to 1920.
Murder on the Home Front (2013): Set during the London Blitz of 1940, this is a world where people live life in the moment. It is also a world where criminals can use the blackout and devastation to hide their darkest activities.
Victoria (2016): The early life of Queen Victoria, from her accession to the throne at the tender age of 18 through to her courtship and marriage to Prince Albert.
Most recently, ITV commissioned The Halcyon, which is premiering on ITV in January 2017. Though Willow and Thatch can't confirm this, it may be one to look for when BritBox launches. 
The Halcyon (2017): Two of the UK's most acclaimed actors, Steven Mackintosh and Olivia Williams (Anna Karenina, Hyde Park On Hudson) join forces in a brand new ITV drama series, The Halcyon. Set in 1940, The Halcyon shows London life through the prism of war and the impact it has on families, politics, relationships and work across every social strata with a soundtrack of music from the era.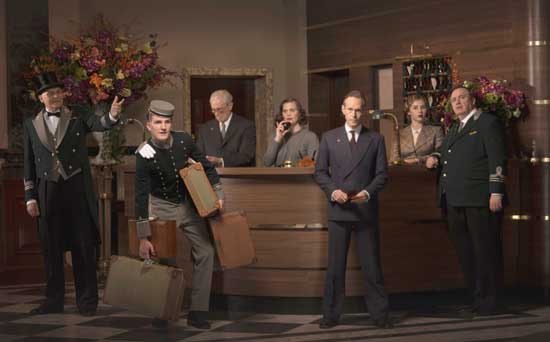 The Halcyon tells the story of a bustling and glamorous five-star hotel at the centre of London society and a world at war. The eight-part drama series also features Kara Tointon (Mr Selfridge, Sound Of Music Live), Alex Jennings (The Queen), Matt Ryan (Constantine), Hermione Corfield (Knights Of The Roundtable: King Arthur, Pride and Prejudice And Zombies) and Mark Benton.

The US market for SVOD services is estimated to reach 110 million subscriptions by the close of 2016, so it would seem that there is plenty of room for a new streaming service. When it comes to having greater choice about which of our favorite British period dramas to stream, Willow and Thatch thinks it's a case of the more the merrier.
How about you? Are you an Anglophile already excited to add on BritBox? Or do you first need to see the complete list of costume dramas and British television series that are included at launch?
Sign up for the newsletter from Willow and Thatch to hear the latest about period dramas on BritBox, and submit your contact information at http://www.BritBox.com to receive further details about the service when it becomes available.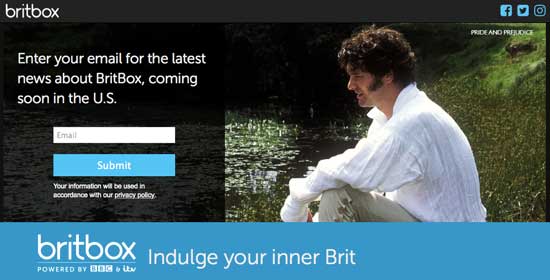 If you enjoyed this post, you'll want to wander over to The Period Films List, with the best historical dramas sorted by era. You'll especially like the Best Period Dramas: BBC Classic Drama Collection List. You can read about how the collection came into existence in Celebrate BBC in Classic Darcy Style.