Last Updated on January 15, 2019
Downton Abbey, the chronicle of the lives of the early 20th Century British aristocratic Crawley family and their staff, enjoyed six delightful seasons.
If you followed along all those years and are missing the costume drama, here are 10 ways to ease the pain. 
You'll find suggestions of what to watch (including 50 period television series!), read and do: consider this a sort of post-Downton Abbey survival guide.
We also look inside a 120 year old photo album of Highclere Castle, that could be yours for the right price. 
Scroll down to #7 for news about Downton Abbey: The Exhibition.
---
To help keep this site running: Willow and Thatch may receive a commission when you click on any of the links on our site and make a purchase after doing so. 
---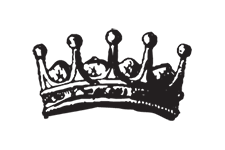 1. Watch another costume drama like Downton Abbey.
While there is no perfect replacement for the ITV television series, there are other shows that have important elements of Downton Abbey.
Willow and Thatch looked closely at what may have made you fall in love with Downton, and found 50 fitting period television series and mini-series to watch now that Downton Abbey is over.
In the spirit of Downton Abbey, the following multi-part costume TV dramas are filled with family drama, romance, privilege, class issues, and sweeping vistas in gorgeous locations in the UK and beyond. Some span generations and look at a changing British society and the rise and fall of the aristocracy.
Most of the following period series were shown on BBC, ITV or PBS Masterpiece, and many are available to stream for free with an Amazon Prime membership or 30 day free trial – click on the title to check its availability. (FYI students can watch the same movies with Prime Student at no cost for six months, and then half-price membership.)

A Dance to the Music of Time (1997): A brilliant adaptation of a literary masterpiece, A Dance to the Music of Time chronicles a half century of British upper-class life through the eyes of protagonist Nicholas Jenkins. From the 1920s through the 1960s, friendship, adultery, ambition, and failure play out against the backdrop of London's social, political, and artistic life. Four-part adaptation.

A Horseman Riding By (1978): Wounded Boer War veteran Paul Craddock (Nigel Havers, Chariots of Fire) arrives at Shallowford House in 1902 to establish himself as squire of Sorrell Valley. With the assistance of property manager John Rudd (Glyn Houston, The Mystery of Edwin Drood), Paul learns the ropes and tries his best to balance running a successful estate and being a compassionate landowner. This gripping miniseries pays tribute to the last days of traditional English country life through almost two decades of joyous occasions, devastating losses, and enduring love.

A Place to Call Home (2013): A mysterious woman is perched between the harsh legacy of World War II and the hope of a new life in Australia. A thoroughly addictive drama brimming with secrets, passion, romance, class issues and intrigue, A Place to Call Home explores the ties that hold families together and the betrayals that can tear them apart.

Aristocrats (1999): Decades of history unfold in a dazzling saga of privileged lives and sisterly devotion: 18th-century England and Ireland viewed through the eyes of four beautiful high-born sisters – Caroline, Emily, Louisa, and Sarah Lennox, great-granddaughters of a king, daughters of a cabinet minister, and wives of politicians and peers. With characters, drama, and romance vivid enough for a masterwork of fiction, this story is all the more fascinating because it is true. Based on Stella Tillyard's acclaimed biography that "made history sexy again" (London Sunday Times), it paints an intimate portrait of 18th-century upper-class life in England and Ireland through the eyes of four beautiful high-born sisters. Caroline, Emily, Louisa, and Sarah Lennox were great-granddaughters of a king, daughters of a cabinet minister, and wives of politicians and peers. Well-educated, strong-minded, and distinctly individual, they take charge of their own lives, tempting scandal with their unconventional ideas about love, marriage, education, and fidelity.

---
---

Berkeley Square (1998): Three young women from very different backgrounds meet, become friends and share experiences when they all gain positions as nannies in the wealthy households of London's exclusive Berkeley Square. A classic coming-of-age tale on par with Anne of Avonlea and Little Women, Berkeley Square is worth watching over and over again. This 10-episode British miniseries will awe you with its erudite script, wonderfully believable characters, high-caliber production values, meticulous Edwardian details, and topnotch acting.

Bleak House (2005): A suspenseful tale about the injustices of the 19th Century English legal system. From its glittering heights to its very lowest depths; a skilfully crafted thriller; an epic feast of characters and storylines; and a passionate indictment of the legal system that is as searingly relevant today as it was in the mid 19th century.

Brideshead Revisited (1981): Based on the acclaimed novel by Evelyn Waugh, this epic drama tells of love and loss amid the fading glory of the British aristocracy in the interwar period.

The Buccaneers (1995): Deemed nouveau riche and shunned by elitist New York society, sisters Nan and Virginia St. George, along with their friends Lizzy Elmsworth and Conchita Closson (Mira Sorvino), try their luck in London. The girls' New World spontaneity and impertinence constitute nothing less than a social invasion of Old World society and they soon find themselves courted by a coterie of fascinated admirers. But as the old and new worlds come to clash, something has to give.

Camomile Lawn (1992): In 1939, young Oliver, Calypso, Polly and Walter visit friends and family in Cornwall. Spanish Civil War is over and WW2 has begun, so they enjoy their love life while they can. Decades later, they gather again, this time for a funereal.

The Cazalets (2001): In the shadows of WWII, one family is blessed with privilege, prestige and unspeakable secrets. It's 1937 and the storm clouds of World War II gather across Europe. Tensions also simmer beneath the seemingly charmed lives of the Cazalet family. While this grand family saga commences during an idyllic summer at the Cazalet's Sussex country estate, the years that follow will see birth, death, marriage, adultery, dementia, intrigue, and war play significant roles.

The Collection (2017): Scandal and betrayal unfold in a family's relentless pursuit for success. Set in a post-war Paris fashion house, the series exposes the grit behind the glamour of a rising business run by two clashing brothers. The staff may have survived one war, but others loom; rivalries and romances pit family against family, protégés against mentors, and the past against the future. Series Premiere February 10, 2017.

Cranford (2007): In the 1840s, Cranford is ruled by the ladies. They adore good gossip; and romance and change is in the air, as the unwelcome grasp of the Industrial Revolution rapidly approaches their beloved rural market-town. Also see Return to Cranford: Cranford, where everything changes and all remains the same, and Miss Matty's house is full of bustle when her maid Martha gives birth to a daughter. Elsewhere the shadow of the new railway still looms. Miss Matty is concerned about a young girl who lives in an isolated cottage with her mother and domineering brother. Her worries open a Pandora's box and fears that Cranford will never recover.

The Crown (2016): The early reign of Queen Elizabeth II of the United Kingdom is portrayed in a Netflix original series. Based on the award-winning play The Audience, this historical series tells the inside story of Queen Elizabeth II (Claire Foy), beginning with her marriage to Prince Philip (Matt Smith). Just as she's settling into life as a young wife and mother, her beloved father, King George VI (Jared Harris), passes away.

Daniel Deronda (2002): Set in Victorian London, Gwendolen Harleth is drawn to Daniel Deronda, a selfless and intelligent gentleman of unknown parentage, but her own desperate need for financial security may destroy her chance at happiness.

Doctor Thorne (2016): From the creator of Downton Abbey. Dr. Thorne lives a quiet life with niece Mary in Greshambury, home of the wealthy Gresham family. Unbeknownst to others, the Greshams have lost their fortune and matriarch Lady Arabella has a scheme to regain it via an arranged marriage with her son and an American heiress. However, her son plans to elope with Mary, which complicates Lady Arabella's plans.

The Duchess of Duke Street (1976): Louisa Trotter works her way up from being a skivvy to being the Queen of cooks, cook to the King, and owner of the Bentinck Hotel. Her life and happenings among the guests and staff of the Hotel make up the 31 episodes.

Emma (2009): Beautiful, clever, and rich Emma Woodhouse is convinced she is good at matchmaking after her older sister and her governess both marry suitable husbands. Certain of her talents, Emma plays a dangerous game as she persuades her new friend, the young, pretty and socially inferior Harriet to reject an advantageous marriage proposal to a local farmer in favor of dashing Mr Elton. So begins a story which challenges Emma's naivety and her social preconceptions. Fresh and funny, this perceptive adaptation brings Jane Austen's comic masterpiece to life.

Flambards (1979): England in the early 1900s. The story begins as Christina (Christine McKenna) is sent to live with her domineering, crippled Uncle Russell (Edward Judd – The Hound of the Baskervilles) and her cousins Mark (Steven Grives) and William (Alan Parnaby – The Pickwick Papers) at Flambards, a rambling, decaying mansion. Life at Flambards is a conflict of cultures, with Mark and his father clinging to a traditionalist obsession for horses, whilst William, clever and sensitive, dreams of a career in the new technology of aviation. It is into this class-conscious, male-dominated household, fraught with family friction, that Christina arrives – and her presence generates a changing pattern of events and relationships.

Forsyte Saga (2002): Based on John Galsworthy's novel of the same name, The Forsyte Saga chronicles the lives of an English family over 34 years from the Victorian era through World War I. Superior, arrogant and confident, the Forsytes are the ultimate power family.

The Grand (1997): As the most opulent hotel in Manchester, England, during the decadent Roaring '20s, The Grand is more than a building. It's a nexus for schemes, scandals, romance, and intrigue. For owner John Bannerman, The Grand symbolizes a tradition of luxury and elegance begun by his father. For Marcus Bannerman, it becomes a risky investment and a way to entice his brother's wife into bed. And for the maids and porters employed there, it represents a possible escape from their hardscrabble past–and an endless source of backstairs gossip. This addictive period drama in the tradition of Upstairs, Downstairs and The Duchess of Duke Street. Divided by class and circumstance or tied together by love and loyalty, the myriad characters who populate The Grand prove unforgettable.

Grand Hotel (2011): 1905. Julio, a young man, arrives at the Grand Hotel, an idyllic place in the middle of the countryside, to investigate the disappearance of his sister. He gets a job as a waiter and comes across the sexy wealthy daughter of the owner. He falls in love with her and starts a dangerous affair while she becomes the only person who will help him to discover the truth about his sister's disappearance. Find out all the secrets and mysteries hidden in the wonderful Grand Hotel.

The House of Eliott (1991): In stylish 1920s London, two beautiful sisters struggle to the top of the fashion world. From the creators of Upstairs, Downstairs comes an addictive drama series set in the era of flappers and suffragettes. Louise Lombard and Stella Gonet star as Evangeline and Beatrice Eliott, sisters born into wealth and privilege who must support themselves after their profligate father dies and leaves them penniless. They have no education or training, just a passion for fashion design. As suitors try to woo them and scoundrels try to trip them up, they make independent, exciting lives for themselves and the women they employ in their house of haute couture.

Indian Summers (2015): Set in a subtropical paradise during the twilight era of the British Empire, Indian Summers explores the collision of the ruling class English with their Indian subjects, and the intricate game of power, politics, and passion that ensues. Told from both the English and Indian perspectives, the drama of Indian Summers unfolds as illicit agreements, romance, and revolution abound. Though the English socialites are having the time of their lives in Simla, the local Indians have started to call for national independence, a path which is quickly rendering the world's greatest empire helpless. As pressure builds, the two sides alternately clash and merge in a passionate and dangerous game.

Jane Eyre (2006): After a wretched childhood, orphaned Jane Eyre yearns for new experiences. She accepts a governess position at Thornfield Hall, where she tutors a lively French girl named Adele. She soon finds herself falling in love with the brooding master of the house – the passionate Mr. Rochester. Jane gradually wins his heart, but they must overcome the dark secrets of the past before they can find happiness. When Jane saves Rochester from an eerie fire, she begins to suspect that there are many mysteries behind the walls of Thornfield Hall. Her fears are confirmed when Rochester's secret past is revealed, destroying her chance for happiness, and forcing Jane to flee Thornfield. Penniless and hungry, she finds shelter and friendship in the shape of a kind clergyman and his family. But she is soon shocked to uncover the deeply hidden truth of her own past. This lavish and sensual new version of Charlotte Bronte's classic novel is modern and moody, timeless and romantic. Starring Toby Stephens as Mr. Rochester, Ruth Wilson as Jane, and Francesca Annis as Lady Ingram.

The Jewel in the Crown (1984): Adapted for television in 1984 from the four novels by Paul Scott, "The Raj Quartet," this stunning series is set in northern India in the last uneasy years of British rule, when rioting and violence heralded the granting of independence. It is the story of the men and women of both ruling and ruled classes trying, amidst the turmoil, to come to terms with the drastic changes taking place around them. Their lives will never be the same again.

Lark Rise to Candleford (2008): An adaptation of Flora Thompson's autobiographical novel set in 19 century Oxfordshire, in which a young girl moves to the local market town to begin an apprenticeship as a postmistress. Rich, funny and emotional, the first series follows the relationship of two contrasting communities: Lark Rise, the small hamlet gently holding on to the past, and Candleford, the small market town bustling into the future. Seen through the eyes of young Laura, their inhabitants endure many upheavals and struggles as the inexorably change comes; their stories by turns poignant, spirited and uplifting.

Lilies (2007): Liverpool, 1920. Three girls on the edge of womanhood; a world on the brink of change. Iris, May, and Ruby come of age in a time when life is lived on the breadline. Alongside their sorrowful, overbearing father and war-tormented brother, these young women struggle through poverty, passions, and disappointments-sustained by the fortifying power of family. Filmed for BBC One, this original eight-part drama by acclaimed screenwriter Heidi Thomas (Madame Bovary) is full of period detail and a wonderfully modern wit.

Little Dorrit (2008): The series tells the story of Amy Dorrit, who spends her days earning money for the family and looking after her proud father, who is a long-term inmate of Marshalsea debtors' prison in London. Amy and her family's world is transformed when her boss's son, Arthur Clennam, returns from overseas to solve his family's mysterious legacy and discovers that their lives are interlinked.

Love in a Cold Climate (2001): Set during the period from 1929 to 1940, the story largely takes place in an English country estate presided over by Matthew Radlett, for whom the word "eccentric" must have been coined. When she isn't being "hunted" by her zany uncle for sport, Matthew's niece Fanny (Rosamund Pike), who serves as narrator, looks on compassionately while her cousin Linda (Elisabeth Dermot-Walsh) and her friend Polly (Megan Dodds) desperately seek out worthwhile and decent husbands, only to be thwarted at every turn by deceitful, duplicitous, dissolute, disagreeable, and otherwise unsuitable young swains.

Love on the Branch Line (1994): Jasper Pye a refined civil servant is sent to the rural Suffolk/Norfolk counties border to close the Office of Output Statistics which has outlived its usefulness. Instead he becomes seduced by the small idyllic world he finds there, making his task rather more difficult than he had imagined. He soon finds himself becoming entangled with the local aristocrat's three beautiful daughters.

Mansfield Park (1983): Jane Austen's story of virtue and vice tells of young and impoverished Fanny Price who arrives at the elegant country estate of her uncle, Sir Thomas Bertram. True virtue triumphs over superficiality in this distinguished BBC production of Jane Austen's celebrated novel. Snubbed by everyone except her cousin, Edmund, Fanny begins her long struggle for acceptance by her shallow relatives who believe wealth automatically means quality.

Middlemarch (1994): 19th century Great Britain. The Industrial Revolution brings both the promise and fear of change. In the provincial town of Middlemarch, the progressive Dorothea Brooke desperately seeks intellectual fulfillment in a male-dominated society and is driven into an unhappy marriage to the elderly scholar Casaubon. No sooner do they embark on their honeymoon than she meets and develops an instant connection with Casaubon's young cousin, Will Ladislaw. When idealistic Doctor Lydgate arrives, his new methods of medicine sweep him into the battle between conservatives and liberals in town. He quickly becomes enamored of the beautiful, privileged Rosamond Vincy, a woman whose troubles seem bound to destroy him.

Mr. Selfridge (2013): At the unfashionable end of Oxford Street in 1909 London, an upstart American retail tycoon arrives to jettison fusty British tradition and open one of the finest department stores the world has ever seen: Selfridges. Jeremy Piven stars as Harry Gordon Selfridge, the flamboyant entrepreneur and showman seeking to provide London's shoppers with the ultimate merchandise and the ultimate thrill.

North & South (2004): Elizabeth Gaskell's tale of love across the social divide is brought to life this powerful adaptation. When Margaret Hale exchanges her rural life for a northern mill town, she witnesses first hand the poverty of the working classes. She also meets John Thornton. Initially, Margaret despises him while he finds her wilful and proud, but they are increasingly drawn to each another.

The Pallisers (1974): This sprawling BBC saga follows an aristocratic family through three generations of power, wealth, intrigue, and scandal in Victorian England. The period drama series is based on the six political novels by Anthony Trollope.

Parade's End (2012): A British aristocrat becomes caught up in an era of social upheaval and the onset of World War I in this compelling five-part HBO miniseries. In the dying days of the Edwardian Empire, Christopher Tietjens enters into a destructive marriage with the beautiful but cruel socialite Sylvia. Valentine is a young suffragette who lives with her mother, a novelist. She bursts into Christopher's life when she ambushes a cabinet minister and needs his help to escape. Smart, passionate and idealistic, she is terrified when Christopher goes to war, and frustrated that he cannot be honest about his feelings for her.

The Paradise (2012): Made homeless by the death of her father and with nothing to live on but her wits, Denise comes from the country to work in the spectacularly glamorous Ladies Paradise, England's first department store. So begins our rags-to-riches story of a young girl who falls in love with the intoxicating and dangerous charms of the modern world.

Poldark (2015): Ross Poldark returns home after American Revolutionary War and rebuilds his life with a new business venture, making new enemies and finding a new love where he least expects it.

Pride & Prejudice (1995): Jane Austen's classic novel about the prejudice that occurred between the 19th century classes and the pride which would keep lovers apart. Elizabeth Bennet charms smouldering, haughty Darcy against a backdrop of a picture postcard countryside, small-town assembly rooms and stately English homes.

Sense & Sensibility (2008): Sisters Elinor (Hattie Morahan) and Marianne Dashwood (Charity Wakefield) have opposite approaches when it comes to the pursuit of love. One is tempered and rational, the other impulsive and full of youthful passion. The sisters attract a trio of suitors — handsome Edward Ferrars (Dan Stevens), heroic Colonel Brandon (David Morrissey), and effusive John Willoughby (Dominic Cooper). But are the men as genuine as they seem? A romantic odyssey full of seduction and abandonment unfolds in Andrew Davies's bold adaptation of Jane Austen's classic novel.

Strumpet City (1980): Dublin life set against the background of the 1913/14 "Lockout" – the second city of the British Empire but where, for a large percentage of the population, grinding poverty and appalling housing conditions were the order of the day. Strumpet City is a Dublin on the edge. Ordinary folk are barely surviving, festering in squalid tenements, whole families living in a single room. The war against Germany is looming and talk of rebellion against the British can be heard on every street corner. The mistreated workers in the factories are forming strong unions, and the city is about to boil over. The television min-series is based on the novel by James Plunkett.

Thomas Mann's Buddenbrooks (1979): The sweeping tale of the rise and fall of a wealthy German merchant family, Buddenbrooks dramatizes the conflict between family loyalty and personal freedom. This stimulating adaptation of Thomas Mann's most famous work is brought to life with magnificent costumes and unforgettable performances. (Note: This series is fantastic with high production values and doesn't feel dated at all.)

To Serve Them All My Days (1980): After barely surviving the trenches of World War I, an embittered young soldier takes a teaching post at Bamfylde, an elite boarding school in the uplands of West Devon. It is an unlikely job for a Welsh miner's son without a degree, but David Powlett-Jones (John Duttine) proves to be a rare schoolmaster, as passionate about learning as he is about teaching. Through two tumultuous decades, Powlett-Jones inspires his students with his courage and idealism, qualities that help prepare him to send another generation of young men off to fight yet another war. A beloved PBS Masterpiece Theatre classic adapted by Andrew Davies from the novel by R. F. Delderfield.

Upstairs, Downstairs (1971): Upstairs: the wealthy, aristocratic Bellamys. Downstairs: their loyal and lively servants. For nearly 30 years, they share a fashionable townhouse at 165 Eaton Place in London's posh Belgravia neighborhood, surviving social change, political upheaval, scandals, and the horrors of the First World War. The most popular and successful British drama series in television history, Upstairs, Downstairs won seven Emmy® Awards, a Golden Globe, and a Peabody. This epic saga of life and love in Edwardian England captivated viewers for five heart-tugging, humorous, and satisfying seasons.

Upstairs, Downstairs (2010): It's 1936, and six years since parlor maid Rose left Eaton Place, fate brings her back as housekeeper to its new owners, Sir Hallam and his wife Lady Agnes. Rose soon finds she has her work cut out as she recruits a new 'downstairs' family to help run the elegance and finery if the 'upstairs' world, it soon becomes apparent there lies a labyrinth of secrets, lies and scandal.

Victoria (2016): The early life of Queen Victoria, from her accession to the throne at the tender age of 18 through to her courtship and marriage to Prince Albert. The PBS Masterpiece series is written by Daisy Goodwin.

War and Peace (2016): As the Russian conflict with Napoleon reaches its peak, five aristocratic families face the possibility of their lives being changed forever.

The Way We Live Now (2001): The Way We Live Now captures the turmoil as the old order is swept aside by the brash new forces of business and finance. Based on the novel by Anthony Trollope, this satire of Victorian society contains the trials and tribulations of young love, the pettiness of the upper class life, the raw energy and excitement of the most powerful city the world had ever seen, and the greed and corruption that lay just below its glittering surface.

When the Boat Comes In (1976): Set in the shipbuilding and mining district of Tyneside, northern England, former army sergeant Jack Ford and the Seaton family cope with the aftermath of World War I: the lack of jobs, the great depression of the 1920s, trade union activists and an uncaring society. Ford has had his fill of struggle in the trenches and is now determined to make something of himself in this brave new world.

Wives and Daughters (1999): The daughter of a country doctor copes with an unwanted stepmother, an impetuous stepsister, burdensome secrets, the town gossips, and the tug on her own heartstrings for a man who thinks of her only as a friend.
Short descriptions of the films are either the official synopses, and/or are from Amazon or IMDB.

Beyond the 50 television series listed here, look for the following Downton-esque themes and commonalities when you are choosing a costume drama to watch from The Period Films List:
♥ Costume period dramas from ITV, BBC and PBS Masterpiece: Why? Because you trusted and enjoyed the quality of Downton Abbey, its production values and fine costumes, and especially appreciated that it was a mini-series that gave you a chance to connect with the characters. You may want to see the  BBC Classic Dramas List and Masterpiece Classics on Amazon Prime.
♥ Similar settings – England, the classic Georgian country house, and all the mood that goes with it: Highclere Castle in north Hampshire was used for exterior shots of Downton Abbey and most of the interior filming. Outdoor scenes were filmed in the village of Bampton in Oxfordshire. Look for series shot on location in the UK in the countryside which include manors and castles.

---
---
♥ Period dramas that include bits of factual representation: A 'tremendous amount of research' went into recreating the servants quarters at Ealing Studios because Highclere Castle, where many of the 'upstairs' scenes are filmed, 'was not adequate for representing the "downstairs" life at the fictional abbey'. Researchers visited 'nearly 40 English country houses' to help 'inform what the kitchen should look like', and production designer Donal Woods said of the kitchen equipment that 'Probably about 60 to 70 percent of the stuff in there is from that period'. Mrs Beeton's Book of Household Management is an 'important guide' to the food served in the series.'

♥ A time period that you are interested in: Set between 1912 and 1925, Downton Abbey spans the Edwardian Era, World War I, and the Interwar era. The first series of seven episodes explores the lives of the fictional Crawley family and their servants beginning the day after the historic sinking of the RMS Titanic, April 1912. The second series comprised eight episodes and ran from the Battle of the Somme in 1916 to the 1918 flu pandemic. Series three spans through the year 1920, and ends in 1921. Series four covers February 1922 into the spring/summer of 1923. Series five covers the months from February to December 1924. Series six picks up six months after the end of Series 5, in 1925. The final episode ends on New Year's Eve, 1925. You could start with the Best Period Dramas: Edwardian Era List which will bring you up until 1914 to coincide with season 1 of Downton. 
---
---

2. Watch a period drama that features one or more of your favorite Downton Abbey cast members. 
Willow and Thatch put together a comprehensive list of these period dramas, that you can see in a post called Downton Abbey Cast in Other Period Dramas. Once there, you can enlarge the info-graphic below that shows which period dramas have more than one cast member in the movie or television series. There is also a list of period films and television mini-series written / produced by Julian Fellowes, creator of Downton Abbey.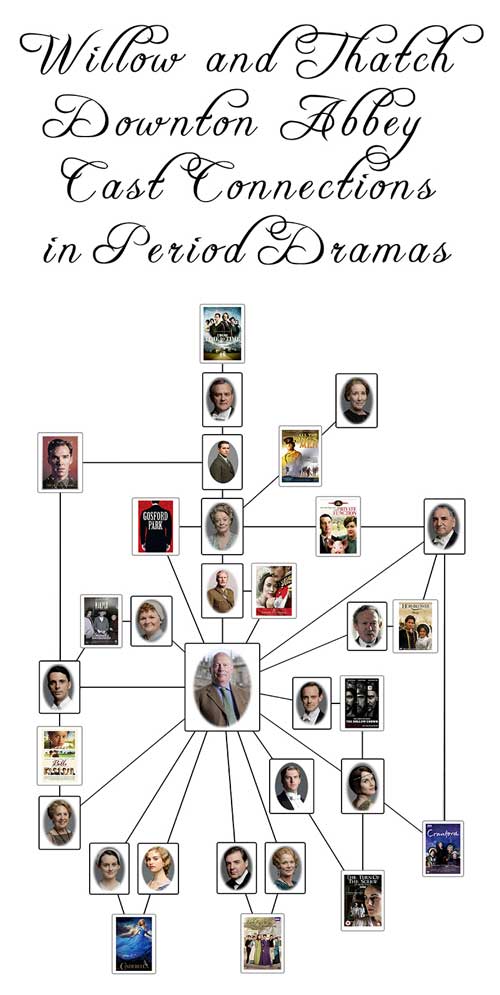 ---
---

3. Watch one of the documentaries about the series Downton Abbey.
The Manners of Downton Abbey: Join Alastair Bruce, historical advisor to Downton Abbey, as he reveals the secrets of how the aristocratic set dined and dressed, how they married and made money, how they interacted with the servants, and above all why they behaved as they did in 1900s Britain.
How to Make a Dress: Go behind-the-scenes at the Downton Abbey costume workshop to see firsthand how designers transform vintage finds into 1920s couture.
More Manners of Downton Abbey: Return to the world of manners with Alastair Bruce, Downton Abbey's historical advisor. Featuring exclusive interviews with the series' leading cast members such as Hugh Bonneville and Michelle Dockery, this documentary navigates the social protocol of aristocrats and servants in the 1920s and the age of jazz.
There is also the radio interview "Downton Abbey Historical Adviser Alastair Bruce On Filming, Manners Special" here. 
---
---

4. Get ready for Downton Abbey, the movie.
Julian Fellowes has a plot for the movie, and the script is reported completed, but not even the cast has seen it as of January 2017. Jim Carter (Mr. Carson) recently told Good Morning Britain that "We've been asked to keep ourselves available for dates in the future." so that's a very good sign that the movie really is happening. 
According to Radio Times (1/16/17) "A production source has disclosed that writer Julian Fellowes remains very keen, "the financing ducks are being lined up very nicely" and that an announcement could be "imminent."
To date, there has been buzz about Maggie Smith (Dowager Countess), Hugh Bonneville (Robert Crawley, Earl of Grantham), Michelle Dockery (Lady Mary), Laura Carmichael (Lady Edith), Penelope Wilton (Isobel Crawley), Lily James (Lady Rose), Jim Carter (Carson) and Joanne Froggatt (Anna) all being excited about being in the movie that should pick up some time in or after 1926.

UPDATE 3/17: The script for the Downton Abbey film is now complete, and it has been sent out to members of the cast! No word yet about a production date. Jeremy Swift (Spratt) revealed "It's supposed to be happening, filming, this year but it hasn't been locked down yet." Here's the reveal:
You'll also be excited to know that The Gilded Age, set in the 1880s in New York where "you had this double-sided society" is in development. It should be a terrific new historical drama from Julian Fellowes.
While you are waiting for the theatrical release date of the Downton Abbey movie to be announced, you can look to the near future and enjoy the Spring of 2017 PBS and Masterpiece Period Drama Line-up. 
---
---

5. Stream the PBS documentary Secrets of Highclere Castle. 
Secrets of Highclere Castle is the true story of one of the world's most famous homes, Highclere Castle in England. Famous as the location backdrop to the hugely-popular costume drama Downton Abbey, the castle also has its own extraordinary tales to tell. The show explores Highclere's illustrious history and reveals that truth can often be stranger than fiction. Many of the events played-out in the fictional Downton Abbey are based-upon true tales from Highclere's past. Just like its television counterpart, the castle was, for example, a military hospital that played a vital role in the First World War. The hospital, complete with operating theater, was set-up and run by the fabulously wealthy Lady Almina, the 5th Countess of Carnarvon, who traded the trappings of her comfortable aristocratic life for the chance to nurse wounded officers brought home from the battlefront.
You may also like Great Houses with Julian Fellowes: This two-part series follows Msterpiece Downton Abbey writer Julian Fellowes on his quest to discover the real stories of Britain's great houses. As he uncovers personal stories hidden behind the walls, he realizes these aren't just homes for posh people — they hold history. Right now it seems to only be available as part of the Downton Abbey: Complete Limited Edition Collector's Set.
---
---

6. Read something connected to Downton Abbey.
Lady Almina and the Real Downton Abbey:The Lost Legacy of Highclere Castle tells the story behind Highclere Castle and the life of one of its most famous inhabitants, Lady Almina, the 5th Countess of Carnarvon. Drawing on a rich store of materials from the archives of Highclere Castle, including diaries, letters, and photographs, the current Lady Carnarvon has written a transporting story of this fabled home on the brink of war. Much like her Masterpiece Classic counterpart, Lady Cora Crawley, Lady Almina was the daughter of a wealthy industrialist, Alfred de Rothschild, who married his daughter off at a young age, her dowry serving as the crucial link in the effort to preserve the Earl of Carnarvon's ancestral home. Throwing open the doors of Highclere Castle to tend to the wounded of World War I, Lady Almina distinguished herself as a brave and remarkable woman.This rich tale contrasts the splendor of Edwardian life in a great house against the backdrop of the First World War and offers an inspiring and revealing picture of the woman at the center of the history of Highclere Castle.
The World of Downton Abbey, written by Jessica Fellowes, is a lavish look at the real world–both the secret history and the behind-the-scenes drama–of the spellbinding Emmy Award-winning Masterpiece TV series Downton Abbey. You can see the other Downton related books by Jessica Fellowes here.
Behind the Scenes at Downton Abbey: Expertly crafted with generous inside knowledge and facts, this book will delve into the inspiration behind the details seen on screen, the choice of locations, the music and much more. Step inside the props cupboard or the hair and make-up truck and catch a glimpse of the secret backstage world. In-depth interviews and exclusive photos give insight into the actors' experiences on set as well as the celebrated creative team behind the award-winning drama. Straight from the director's chair, this is the inside track on all aspects of the making of the show.

---
---
Darcy's Hope: Beauty from Ashes, the latest work of historical fiction by Ginger Monette is a wholesome First World War era historical romance. It's a Pride and Prejudice variation, but was inspired by Downton Abbey. Read more about it here.

You may also like Julian Fellowes's Belgravia: Julian Fellowes's Belgravia is the story of a secret. A secret that unravels behind the porticoed doors of London's grandest postcode. Set in the 1840s when the upper echelons of society began to rub shoulders with the emerging industrial nouveau riche, Belgravia is people by a rich cast of characters. But the story begins on the eve of the Battle of Waterloo in 1815. At the Duchess of Richmond's n0w legendary ball, one family's life will change forever.
The plot devices of "Belgravia" will be familiar to anyone who has a passing acquaintance with Victorian fiction: There are missing papers, duplicitous ladies' maids, gambling debts, dubious marriage lines and long-lost heirs. The novel's chapters originally appeared online as individual "episodes," each ending with a cliffhanger. It's a device that is, of course, a mainstay of the television serial drama, but in the 19th century it was used by novelists whose works were printed chapter by chapter in magazines like Dickens's Household Words, a device intended to keep readers coming back for more. "Belgravia" is an unashamed homage to the Victorian serial novel: There are echoes of Anthony Trollope's Lizzie Eustace from "The Eustace Diamonds" in the amoral Susan Trenchard, and of Sir Felix Carbury, from "The Way We Live Now," in the villain John Bellasis. The novel opens at the Duchess of Richmond's ball on the eve of Waterloo, which happens to be the scene of Becky Sharp's triumph in ­Thackeray's "Vanity Fair." – New York Times
---
---

7. Get to know the costume drama better.
Willow and Thatch has put together a powerful playlist filled with Downton Abbey interviews, panel discussions and commentaries (along with clips from the series) on the Willow and Thatch Period Drama YouTube Channel.

You can also join Downton Abbey Fans on Facebook, run by women's contemporary fiction author Barbara Hinske, who adores all things English, and especially all things related to Downton Abbey. You may recognize Hinske's name from her Rosemont series of novels. If the visceral connection between people and place resonates with you, if starting your life anew in a stately manor house — much like Downton — appeals to you, the Rosemont series will delight and entertain you and welcome you home.
Here's an 4/17 update that should REALLY help you to be better acquainted: Downton Abbey: The Exhibition is coming to the US in 2018. Fans will be immersed in Downton Abbey as never before through an interactive experience of the characters and costumes, the locations, previously unseen footage, British society and the historical events of the 1912 – 1920s period. Visitors will even get to walk through some of the sets, including Mrs. Patmore's hectic below-stairs kitchen, the glamorous state rooms and the servants' quarters.
A "journey through the grand home of Downton Abbey," the exhibit from NBCUniversal International Studios and Imagine Exhibitions launches June 17 at Marina Bay Sands in Singapore and will continue as a multi-year international tour. Strangely, there are "no plans at this stage" to bring the exhibition to the UK.
"Viewers around the globe have avidly followed the adventures of the Crawleys and those that served them for six seasons. Now, for the first time, Downton Abbey: The Exhibition will give fans the amazing opportunity to travel back in time to step inside the world of Downton Abbey." – Gareth Neame, Managing Director of Carnival Films and executive producer of Downton Abbey
You can stay informed of tour dates and pre-register for tickets here.
---
---

8. Be the highest bidder on this photo album of Highclere Castle, where Downton Abbey was set. 
On February 3, 2017, a 1895 photo album of Highclere is up at auction. The magnificent Highclere Castle, in Hampshire, was home to George Herbert, fifth Earl of Carnarvon, and his wife Almina Herbert in the late 19th and early 20th century.
Part of the Books, Maps, Manuscripts & Photography auction at the UK's Lawrences Auctioneers, the album's estimate is set at 300 – 500 pounds, or about 365 – 600 dollars. 
You may have heard about the album, but not known that the album comes from the attic of a lady in South Dorset whose in-laws had owned a carriage business that was patronised by the Royal family in the late 19th Century. It seems that it was a gift to the family, possibly in gratitude for years of loyal service, and records the Royal visit to Highclere.
J. W. Righton of Newbury photographed the house, staff and estate of Highclere in 1895. The 44 mounted photographs each measure about 9 x 11 inches and are in a leather album that is marked "Highclere" beneath a crown.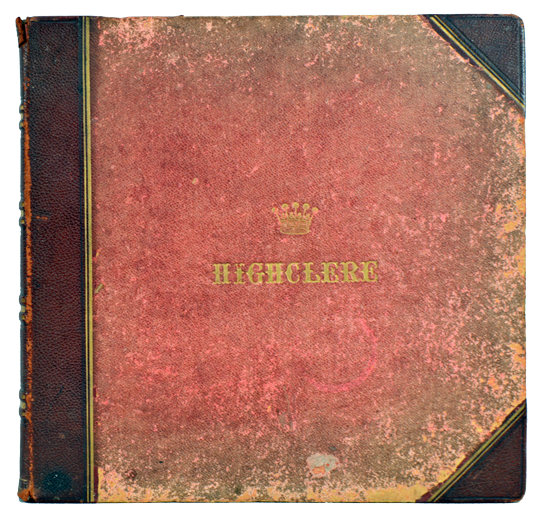 "It is intriguing to see how life was lived on a great British estate across a span of 120 years," observes Lawrences' consultant, Robert Ansell. "Mr. Righton was evidently kept busy recording formal and informal events at Highclere and the album even includes photographs with house staff so that the full social mix at Highclere can be understood at a glance."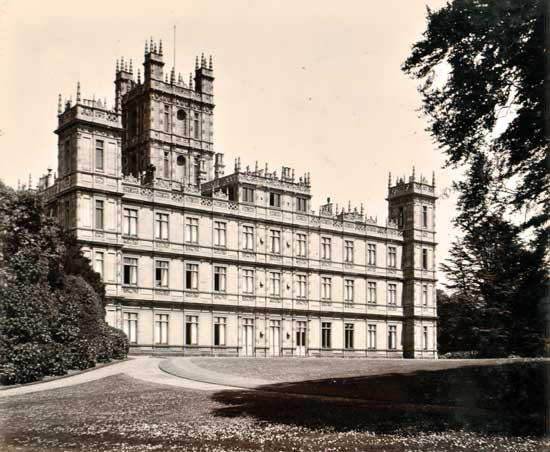 The photographs that reveal the real Downton Abbey are an intimate set of portraits taken at Highclere in the Victorian era. Included are images of Carnarvon with his wife Almina, various shooting parties including one involving Prince Edward (the future Edward VII) and the house staff.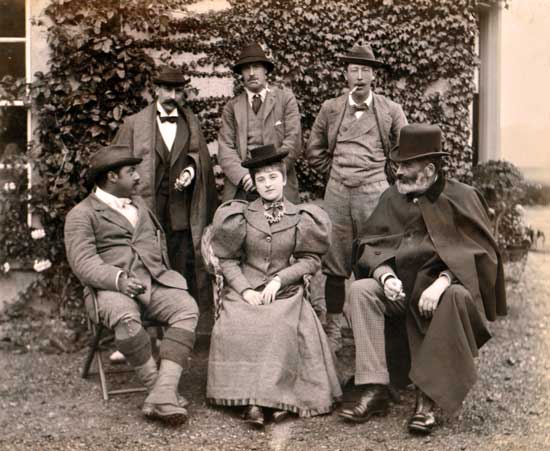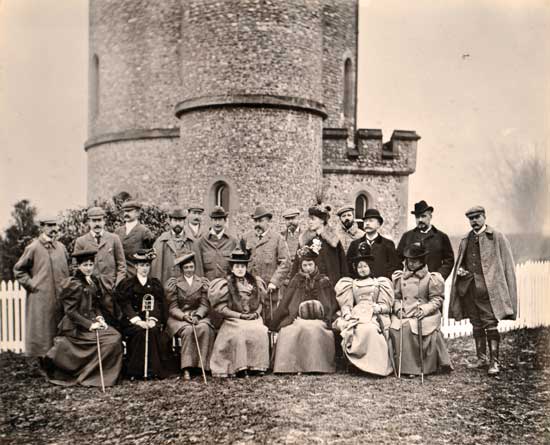 Several photos show the interior of Highclere, including the drawing room.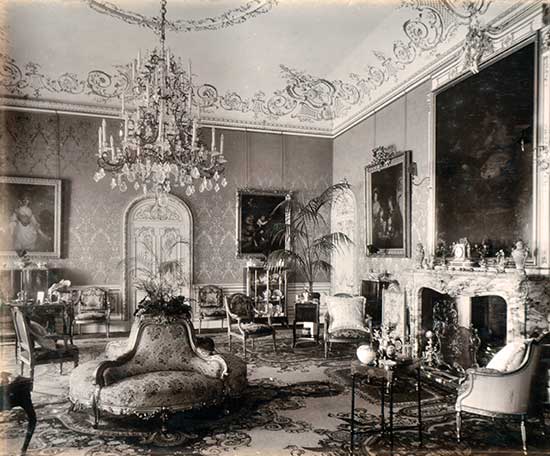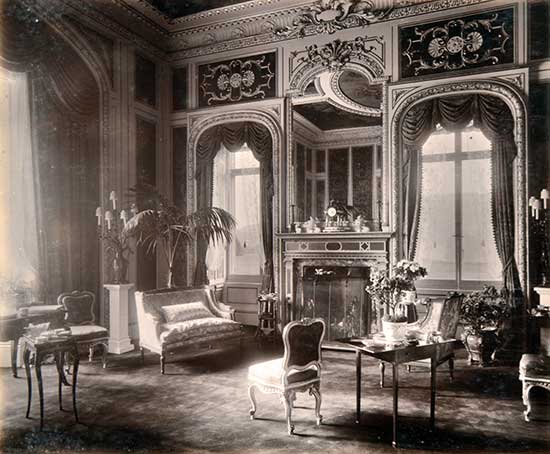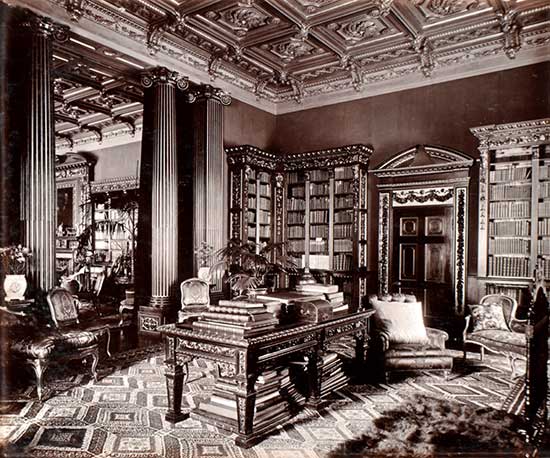 Pictured below is the staff at Highclere, including Carson, Mrs. Hughes, Anna, Mr. Bates and Daisy. Maybe not, but these are their real life equivalents.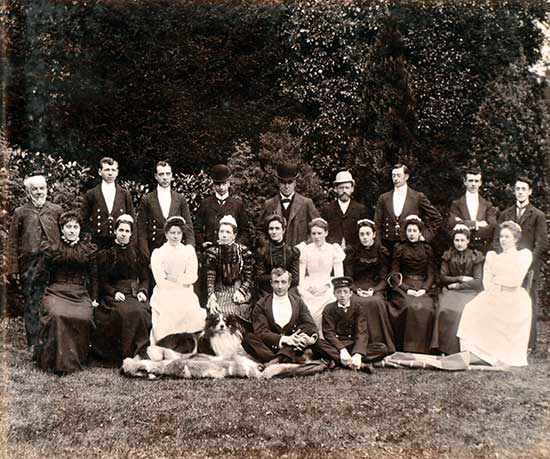 The album also includes photos of the grounds at Highclere, showing the Temple of Diana, an image of the long driveway and gates, a view of the main house across the gardens, and others.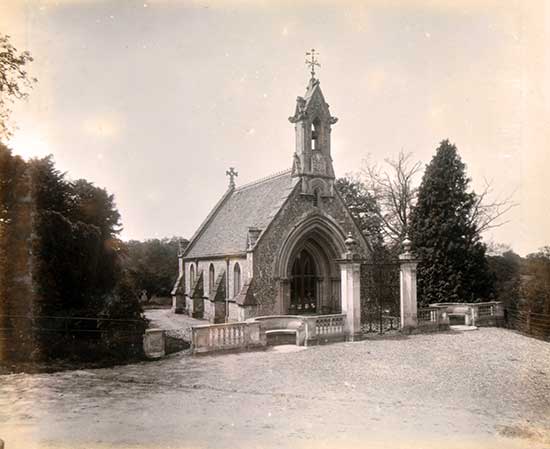 Mr. Ansell said "The 5th Earl was particularly notable as the sponsor of Howard Carter's excavations in Egypt that resulted in the discovery of Tutankhamun's in tomb in 1922. That fabulous story was also dramatised on ITV at the end of last year, so we may expect to receive bids from many different collectors. After so many years, it never ceases to surprise us how many good things may still be found in attics and already we have received expressions of interest from abroad."
---
---

9. Visit the Downton Abbey filming locations.
This map will help you discover over 70 unique Downton Abbey filming locations across the UK. Click on the icons below for more information on each location, for an overview of all of the film locations click on the pull-out tab to the left of the title.
Map courtesy of Wayfair.co.uk
If this isn't in budget, there's still a chance for you to visit the Downton Abbey filming locations, if you win the Masterpiece 2017 Sweepstakes. 
Through March 15, 2017, you can enter daily for a chance to win a 7-day, 6-night trip for two adults from the U.S. to Great Britain. Go behind the scenes of MASTERPIECE film locations—visit Yorkshire and London sites for Victoria (York Minster, Castle Howard, Harewood House, Newby Hall, and Kensington Palace), London film site for Sherlock (Tower of London), and Downton Abbey's iconic Highclere Castle for a tour with resident owner, Lady Carnarvon. The Grand Prize also comes with MASTERPIECE merchandise from shopPBS, including the Downton Abbey Complete Limited Edition Collector's Set DVD, Sherlock Seasons 1-3 on DVD, and Victoria Season 1 on DVD.
Economy class round-trip travel out of a British Airways operated U.S. gateway city at the time of travel to London Heathrow Airport. Travel to take place July 1, 2017 to July 8, 2017, subject to flight availability. ARV $9,300. Itinerary arranged by VisitBritain. Enter here. 
---
---

10. And of course, start from the beginning and watch the television series again. 
All of the seasons are available to stream free with an Amazon Prime membership, and you can also buy the Downton Abbey: Complete Limited Edition Collector's Set, which includes all 52 episodes and over 5 hours of brand-new bonus video. The bonus videos are The Story of Downton Abbey; 7 Character Documentaries; Downton Abbey Creators Favorite Scenes; 9 Supercuts; and Great Houses with Julian Fellowes; The Manners of Downton Abbey & More Manners of Downton Abbey.

Remember to wander over to The Period Films List, with the top historical dramas sorted by era.