Last Updated on October 29, 2018
PERIOD DRAMAS ON NETFLIX STREAMING: EDWARDIAN ERA
Wondering what period dramas are available to watch online now? Here is a list of Edwardian era period dramas that are currently available TO STREAM on NETFLIX and Amazon in the United States.
The TITLE links you to the film / movie / television miniseries STREAMING on NETFLIX.
The PHOTO links you to the  film / movie / TV miniseries STREAMING on AMAZON.
There are also text links.
Willow and Thatch spoke with NETFLIX Streaming who said that each film is licensed for a specific time period, so in the future some of these titles may become unavailable; similar agreements are in place for Amazon Video / Instant / PRIME. The titles are listed alphabetically.
This list is fairly comprehensive for full episodes of Edwardian era period films that are currently available to watch online on NETFLIX in the United States – some have been received better than others – but there's enough here that you should discover something you like, that you can watch right now.
Follow the Amazon links to view trailers.
"The Edwardian Era in its strictest form, lasted from 1901 to 1910, during which Edward VII (1841-1910) reigned as King of the United Kingdom of Great Britain and Ireland and of the British Dominions and Emperor of India. However, in its broader interpretation, the spirit of the Edwardians—-which was indelibly inspired by Edward VII during his tenure as Prince of Wales—-stretched from 1880 until the outbreak of the Great War in 1914. In the Western world, this time period was both one of great social change and of a solidifying the power and luxury of the ruling elite. With their elegant and perceptive turns of phrase, the French characterized the years between 1880 and 1914 as La Belle Epoque (the beautiful epoch) and Fin de siècle (a period of degeneration, but at the same time a period of hope for a new beginning), and certainly no other time has witnessed such decadence and pessimism, and optimism and hope. In America this time period was known as the Gilded Age and the Progressive Era." – Edwardian Promenade

---
---
A Room with a View (1985): Set in Italy and England at the beginning of the 20th century.
Merchant Ivory Productions, led by director James Ivory and producer Ismail Merchant (Howards End), became a household name with A Room with a View, the first of their extraordinary adaptations of E. M. Forster novels. A cherubic nineteen-year-old Helena Bonham Carter plays Lucy Honeychurch, a young, independent-minded, upper-class Edwardian woman who is trying to sort out her burgeoning romantic feelings, divided between an enigmatic free spirit (Leaving Las Vegas's Julian Sands) she meets on vacation in Florence and the priggish bookworm (Lincoln's Daniel Day-Lewis) to whom she becomes engaged back in the more corseted Surrey. Funny, sexy, and sophisticated, this gargantuan art-house hit remains a touchstone of intelligent romantic cinema.
Starring Maggie Smith, Helena Bonham Carter, Daniel Day-Lewis, Simon Callow, Judi Dench, Denholm Elliott.
Streaming on NETFLIX. Streaming on AMAZON. Available on DVD.
---
Cheri (2009): Set in 1900s Belle Epoque Paris, France.
A  seductive and provocative drama about a scandalous love affair, set during the opulent decadence of pre-World War I Paris. The ravishing Lea (Pfeiffer), famed courtesan to the rich and famous, is contemplating her retirement, when her archrival (Bates) asks her to teach her spoiled nineteen-year-old son Cheri about women. It's an adventure that becomes a heated and passionate affair that results in power struggles over sex, money, age, and society- and unexpectedly, love itself- as a boy who refuses to grow up collides with a woman who realizes she cannot stay young forever. Based on Colette's novel of the same name.
Starring Michelle Pfeiffer, Frances Tomelty, Tom Burke, Rupert Friend, Hubert Tellegen, Joe Sheridan, Kathy Bates, Toby Kebbell, Felicity Jones.
Streaming on NETFLIX. Streaming on AMAZON. Available on DVD.
---
Finding Neverland (2004): Set in London, England in 1904.
This charming account of a period in the life of author J.M. Barrie (Johnny Depp) reveals the real relationships and events that served as the basis for the author's most iconic work, "Peter Pan." After Barrie develops a platonic relationship with the widowed Sylvia (Kate Winslet) and her four sons, he is inspired to write a play about a group of children who don't want to grow up. The work proves a hit and winds up bringing Barrie and the children together in a way he had never expected.
The film was nominated for several Oscars, including Best Picture, Best Adapted Screenplay and Best Actor for Johnny Depp's portrayal of J. M. Barrie, and won the 2004 Academy Award for Jan A. P. Kaczmarek's musical score. Winner of Best Picture by the National Board of Review Awards 2004.
Starring Johnny Depp, Kate Winslet, Julie Christie, Radha Mitchell, Dustin Hoffman.
Streaming on NETFLIX. Streaming on AMAZON. Available on DVD.
---
Golden Door / Nuovomondo (2006): Set at the dawn of the 20th century in Italy and the United States.
In 1904, Sicilian peasant Salvatore yearns for a better life, one he believes exists only in the fabled land known as America where carrots grow taller than men, rivers flow with milk and golden coins rain from the trees. He sells everything he owns to make the trans-Atlantic passage with his two sons and elderly mother. On the perilous steamship crossing, Salvatore meets a mysterious, worldly Englishwoman, Lucy (Charlotte Gainsbourg), and an unexpected romance unfolds. But neither Salvatore nor Lucy is prepared for the arrival at Ellis Island, where families are inspected, interrogated and split apart. They will have to bravely face their personal and collective dilemmas in order to become part of the American dream.
In Italian and English with English subtitles.
Starring Charlotte Gainsbourg, Vincenzo Amato, Filippo Pucillo, Ernesto Mahieux, Ilaria Giorgino, Isabella Ragonese, Natale Russo.
Streaming on NETFLIX. Streaming on AMAZON. Available on DVD.
---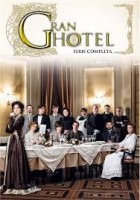 Grand Hotel / Gran Hotel (2011) Set in 1905 and after in northern Spain.
Filmed at the Palacio de la Magdalena in Santander, the series is set in an early 20th century aristocratic hotel during the reign of King Alfonso XIII and is centered on the mysteries that involve the owner family and the hotel servants.
Gran Hotel follows the mysterious happenings within the elegant hotel halls and gardens after the disappearance of one of the maids, Cristina Olmedo. The story spotlights Cristina's brother, Julio Olmedo, secret lover and close friend to the owner's daughter, Alicia Alarcon. A second protagonist, Alicia's younger brother, Javier Alarcon, is shown as alcoholic, irresponsible, immature, and philandering. Next, we have Alicia's sister, Sofia Alarcon, who plays their mother's game of secrets to protect the hotel's reputation and keep the family wealthy and of good name. Diego Murquia, fiancé to Alicia, as well as hotel manager, partners up with the Gran Hotel's owner, la Senora Alarcon, to cover up the attempted murder of Cristina and keep a vital letter hidden. In this letter, information is contained that would mean losing possession of the hotel for the Alarcon family, the letter having been left by the late Senor Alarcon to his wife and discovered by Cristina…
In Spanish with English subtitles.
Starring Yon González, Paula Prendes, Llorenç Gonzalez, Amaia Salamanca and Pedro Alonso.
Streaming on NETFLIX. Available on DVD.
---
Houdini (2014): Tells the life story of Houdini (1874-1926), so some time before and after the Edwardian era is included.
The two-part television series from the History Channel follows the man behind the magic as he finds fame, engages in espionage, battles spiritualists and encounters the greatest names of the era. The drama will chronicle the life of a man who can defy death through his stunts, his visions and his mastery of illusion. His ability to escape from handcuffs, straitjackets, and water tanks is legendary breaking the shackles of his past proved more challenging.
Starring Adrien Brody, Kristen Connolly, Evan Jones.
Streaming on NETFLIX. Streaming on AMAZON. Available on DVD.
---
Like Water for Chocolate (1992): Set in Mexico during the Mexican Revolution (1910 – 17) with scenes as early as 1895.
Tita and Pedro want to get married; but Tita has to take care of her aging mother & is not allowed to marry. Pedro marries Tita's sister; but lets Tita know he only married her sister to be closer to her. When Tita is forced to make the wedding cake the situation creates much tension in the family, and Tita's powerful emotions begin to surface in fantastical ways through her cooking. As the years pass, unusual circumstances test the enduring love of Pedro and Tita.
Like Water for Chocolate is in the style of magical realism based on the popular novel by first-time Mexican novelist Laura Esquivel and was the highest grossing Spanish-language film ever released in the United States at the time.
In Spanish with English subtitles.
Starring Marco Leonardi, Lumi Cavazos, Regina Torné, Mario Iván Martínez, Ada Carrasco.
Streaming on NETFLIX. Streaming on AMAZON. Available on DVD.
---
The House of the Spirits (1993): Set in Chile, spanning 50 years, probably between 1910 and 1973.
Based on Isabel Allende's best-selling novel, The House of the Spirits is a hauntingly romantic epic tale spanning three generations of the Trueba family. At its core is the stormy yet passionate relationship between the supernaturally gifted Clara and her controlling husband Esteban, who resists change both politically and personally.
Starring Maria Conchita Alonso, António Assunção, Glenn Close, Julie Balloo, Frank Baker, Antonio Banderas, João Cabral, Carlos César, Sarita Choudhury.
Streaming on NETFLIX. Streaming on AMAZON. Available on DVD.
---
The Making of a Lady (2012) PBS: Set in England at the turn of the century around the late Victorian and early Edwardian era.
Based on the 1901 novel by celebrated writer Frances Hodgson Burnett, this is the story of the educated but penniless Emily. During her duties as a lady's companion for Lady Maria she meets her employer's wealthy widower nephew, Lord James Walderhurst. Accepting his practical if unromantic marriage proposal, Emily finds solace in the company of Walderhurst's nephew Alec Osborn and his glamorous wife, Hester, after Lord James leaves to rejoin his regiment. Emily, alone with the Osborns, increasingly comes under their control. She begins to fear for her life.
Starring Lydia Wilson, Joanna Lumley, Linus Roache, James D'Arcy, Maggie Fox, Hasina Haque.
Streaming on NETFLIX. Streaming on AMAZON. Available on DVD.
---
The Wings of the Dove (1997): Set in 1910 in England and Italy.
An impoverished woman who has been forced to choose between a privileged life with her wealthy aunt and her journalist lover, befriends an American heiress. When she discovers the heiress is attracted to her own lover and is dying, she sees a chance to have both the privileged life she cannot give up and the lover she cannot live without.
Kate is secretly betrothed to a struggling journalist, Merton Densher. But she knows her Aunt Maude will never approve of the match, since Kate's deceased mother has lost all her money in a marriage to a degenerate opium addict. When Kate meets a terminally ill American heiress named Millie traveling through Europe, she comes up with a conniving plan to have both love and wealth. Based on the 1902 novel of the same name by Henry James.
"The Wings of the Dove was filmed in a wide variety of English locations, from Kensington Gardens to the Old Royal Naval College, as well as the Shepperton Studios and – most stunningly – in the crowded canals, cobbled roadways, and matchless buildings of Venice, filmed by Eduardo Serra with an unsentimental intelligence that suits the subject to perfection. Amini manages to condense 500 pages of nuanced Jamesian prose into less than two hours of well-crafted dialogue and articulate actions, rarely hitting a false or artificial note, although it's unclear why he and Softley updated the story to around 1910, some years after the period laid out in the novel. Perhaps they felt the approach of World War I would lend subliminal resonance to the psychology of the tale; or perhaps they simply wanted to start the movie on a London subway train, a likely place for Kate and Merton to make mischievous eyes at each other in full view of uncomprehending strangers." – TCM
Starring Helena Bonham Carter, Linus Roache, Alex Jennings, Charlotte Rampling, Ben Miles, Philip Wright, Michael Gambon, Alexander John, Alison Elliott, Elizabeth McGovern.
Streaming on NETFLIX. Streaming on AMAZON. Available on DVD.
---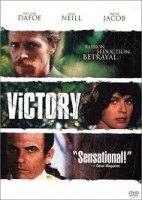 Victory (1996): Set around late 19th century – 1904 or so, in the Dutch East Indies.
Victory is an intense story of a man accused of murder and his struggle to keep himself and the woman he loves alive! In a remote Dutch East Indies seaport, Axel Heyst (Dafoe) lives in a prominent hotel. Al all-women orchestra plays in the hotel each night and the orchestra owner agrees to "sell" one of the girls, Alma, to the sinister owner of the hotel. When Alma begs Heyst to save her from a life of prostitiution, they escape to a tropic island…but not before Heyst is accused of murder! Also starring Rufus Sewell (A Knights Tale) – the suspense intensifies as the hotel owner points a bloodthirsty gang of bandits to the island, telling them their lost furtune lies hidden there!
Starring Willem Dafoe, Sam Neill, Irene Jacob, Rufus Sewell.
Streaming on NETFLIX. Available on DVD.
---
When Calls the Heart (2014): Set in the late 1800s and early 1900s in the Canadian West.
Adapted from the book by celebrated author Janette Oke (The Love Comes Softly series) comes a rigorous and romantic adventure as epic as the wide frontier. When Calls The Heart is "a beautiful story with roots in relationships, self-empowerment, and the enduring power of love" (Common Sense Media). Living in a 19th century coal town, Elizabeth will have to learn the ways of the frontier if she wishes to thrive in the rural west on her own. The historical Christian romance is directed by Michael Landon, Jr.
Elizabeth Thatcher (Krakow) is a strong-willed teacher who has foregone the life of the big city and found a job, a home – and a bit of unexpected romance with a handsome Mountie named Jack – in the small frontier town of Hope Valley. But life on the frontier can hand you many tough turns, and so it is for Jack and Elizabeth as they face their very different upbringings, the pressures put upon them by family, rival suitors and even various criminal counterfeiters and kidnappers in their quest to find their place in this remote and rugged land.
In Season 3 of this television miniseries from the Hallmark Channel, Elizabeth and Jack's romance in Hope Valley continues to develop as we follow the adventures of other townspeople. In particular, two newcomers arrive, changing the lives of both Frank and Abigail and challenging their relationship; Lee and Rosemary's bond deepens as they reconcile their strong personalities; and Bill Avery's future remains uncertain.
Starring Erin Krakow, Daniel Lissing, Jack Wagner, Lori Loughlin.
Streaming on NETFLIX. Streaming on AMAZON. Available on DVD.
---
---
Did Willow and Thatch miss any period dramas / costume historical dramas in the EDWARDIAN era that are on NETFLIX, and are available to stream right now?
If you enjoyed this post, you'll want to wander over to the Period Films List for the best costume dramas, heritage films, documentaries, period dramas, romances, historical reality series and period inspired movies, all sorted by era and theme. You'll be particularly interested in the Best Period Dramas: Edwardian Era List: A list of the top period films available on DVD and to stream that take place during the reign of King Edward VII, 1901 to 1910, and beyond Edward's death to include the four years leading up to World War I: Edwardian era (1901 to 1914). Costume period dramas filmed in England, UK and other countries set in that time period. Television mini-series, PBS, BBC, Masterpiece Theatre productions, historical dramas, heritage films.
You may also be interested in Period Dramas 2016: Edwardian Era, featuring the new costume dramas and period films to be released in 2016. Also see Willow and Thatch's SHOP, for other places to stream additional titles of period films.
For more costume and historical period dramas from all eras, streaming on NETFLIX in 2016, see The List: 100 Period Dramas Streaming on NETFLIX Right Now.