Last Updated on August 18, 2020
In 2020 PBS celebrates its 50th anniversary; in 2021 Masterpiece joins the party. We thought it a perfect time to look back on the period dramas that have aired on Masterpiece, season by season, one post at a time.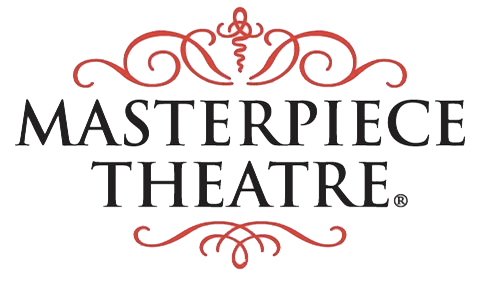 Masterpiece Theatre logo 1971 – 2007 TM and © PBS, Inc., all rights reserved
---
To help keep this site running: Willow and Thatch may receive a commission when you click on any of the links on our site and make a purchase after doing so. 
---
Below, we list the period drama line-up for the fifth season of Masterpiece Theatre, which aired in 1975 – 1976. 
Some of the earliest PBS Masterpiece programming is still available to stream or own, and in the following descriptions, we will let you know when it is (and we'll also link to the books that inspired the adaptations).
Let's take a stroll down memory lane, and see how the choice of British costume dramas and historical series on Masterpiece has evolved over the years. Titles are listed in order of their air date.
For some history of PBS Masterpiece, and the programming in other seasons, see this page.
---
---
Period Dramas on PBS Masterpiece Season 5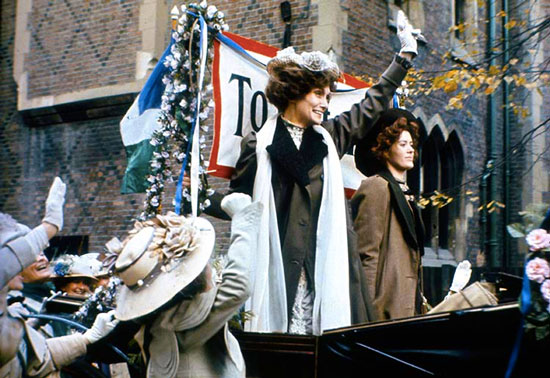 Shoulder to Shoulder (1974)
A six-part BBC mini-series about the women's‐suffrage movement in England, from the 1890s to 1919 as it was influenced by the Pankhursts: Richard, Emmeline, Christabel and Sylvia, and Annie Kenney.
The book Shoulder to Shoulder, that documents the lives and works of some of Britain's leading suffragettes, is by filmmaker and feminist Midge Mackenzie, who was instrumental in bringing the historical drama to TV, along with actress Georgia Brown, and TV producer Verity Lambert. "Shoulder to Shoulder" came to being after Brown had complained to the BBC about the lack of meaningful roles for women, and they told her to find a series she would like to be in.
Both the book and the series focused on the women's militant campaign; the historical drama is "seen through the eyes of the unhappy Sylvia, angry socialist, rejected daughter."
Episode 1: The first episode introduces viewers to Emmeline (Siân Phillips), Christabel (Patricia Quinn) and Sylvia (Angela Down), the women of the famous Pankhurst family and their efforts in the suffragette movement beginning in the late 1800s.
Episode 2: Emmeline works with the Women's Social and Political Union. She meets women from various backgrounds, all who have their own personal troubles. Follow along as the women work to gain voting rights while raising a family.
Episode 3: Although born into the ruling class of Britain, Lady Constance Lytton (Patience Collier) joined the Suffragette movement after meeting political activist Annie Kenney (Georgia Brown). Posing as working class seamstress, Lytton participates in protests and other Women's Social and Political Union actions, eventually serving time in various prisons and writing the influential book, Prison and Prisoners.
Episode 4: Christabel Pankhurst follows her mother Emmeline in the fight for Women's Suffragette movement. Using her flair for public speaking, Christabel leads militant actions and helps found the Women's Social and Political Union with fellow activist Annie Kenney. Christabel experiences several arrests and eventually moves to France and leads her political moves from exile.
Episode 5: Mrs. Emmeline Pankhurst is fed up with war. This prompts her to start the Women's Social and Political Union. However, not everyone is happy with the organization. The local police attempt to strong hand the group. But, Emmeline is not so quick to give up. The group fights protesters and police alike. Their goal, to stop the war.
Episode 6: The final chapter of the inspiring Masterpiece Theatre production reveals the conclusion of the efforts and sacrifices, as well as the culmination of the personal relationships of the famous Pankhurst women and their friends and fellow supporters of the suffragette movement.
Starring Sian Phillips, Patricia Quinn, Angela Down, Georgia Brown, Michael Gough, Judy Parfitt.
6 episodes
Not available at this time.
First aired on Masterpiece in 1975.
---

Notorious Woman (1974)
BBC's TV series about the incredible life of 1800s French novelist George Sand is explored with a particular focus on her romance with the famed musician Frédéric Chopin. Written by Harry W. Junkin, the British costume drama features characters like Balzac, de Musset, Wrirnee, Liszt, and Flaubert, and showcases the forward-thinking, men's clothes-wearing, sometimes home-wrecking Sand in a sympathetic light, surrounded by brilliant performances, sets and costumes.
Rosemary Harris won an Emmy for Outstanding Lead Actress in a Limited Series, in her role of the 19th century woman notorious for her private behavior and political beliefs.
Episode 1 – Misalliance: The first chapter in the story of Aurore Duprin, better known as George Sand (Rosemary Harris), one of the most controversial – and successful – French novelists of the 19th century begins when 18-year old Aurore marries Baron Casimir Dudevant (Lewis Fiander) and bears him two children.
Episode 2 – Success: Nine years into an unhappy marriage, Aurore has left her family and gone to Paris. There, her ambitions of becoming a writer are fueled.
Episode 3 – Conflict: Aurore Dudevant has now adopted a male pen name, George Sand, and begins to enjoy her literary success and the bohemian life in Paris with her lover, Jules Sandeau (Leon Vitali). She soon begins to adopt male dress and begins a series of romantic affairs.
Episode 4 – Trial: George's troubled marriage to Casimir Dudevant has now degenerated beyond all hope of repair. She officially ends their marriage, but remains the primary parent to her children, Maurice (Tim Desmond) and Solange (Angela Strachan). Her novels and plays have made her part of the artistic elite in Paris, including composer Franz Lizst (Jeremy Irons).
Episode 5 – Prelude: The now infamous George Sand meets the Polish composer Frederic Chopin (George Chakiris) in 1837 and begins to aggressively pursue the introverted and sickly composer. In spite of the dramatic differences in their temperaments and the warnings of friends, the two artists begin a lasting romance.
Episode 6 – Sonata: Sand and Chopin decide to move in together. Her son, Maurice (Graham Faulkner), now an adult disapproves of the relationship and her daughter, Solange (Georgina Hale), forms a bond with Chopin, which creates conflicts for George's romance.
Episode 7 – Resolution: Sand does not attend the funeral of her former lover, Chopin. As the French enter the Revolution of 1848, she begins to focus her writing on political causes such as socialism and women's rights, as well as founding a newspaper with a workers' collective.
Starring Rosemary Harris, Marina McConnell, Lewis Fiander, Jonathan Newth, George Chakiris, Sinéad Cusack, Jeremy Irons.
7 episodes
Not available at this time.
First aired on Masterpiece in 1975.
---

Upstairs, Downstairs (Season 4)
This Emmy Award-winning British drama series tells the story of the wealthy, aristocratic Bellamys and their loyal and lively servants.
Set in the turbulent years between 1903 and 1930, the popular British dramedy studies the relationships between characters against a rich historical backdrop: Patriarch and Member of Parliament Richard Bellamy; wife Lady Marjorie; caddish son James; free-spirited daughter Elizabeth; cousin Georgina Worsley; pragmatic parlour maid Rose; firm but friendly butler Mr. Hudson; saucy yet conservative cook Mrs. Bridges; ambitious footman Frederick; cheeky servant turned music hall performer Sarah; novice maid Daisy; dull-witted scullery Ruby.
Season 4 begins in 1914 with James fighting in the trenches during the Great War. Edward feels pressure to enlist, the servants draw the curtains tight, and Hazel takes in a family of Belgian refugees – who speak no English – at 165 Eaton Place.
Spanning 1914 – 1918, historical moments such as the sinking of the Lusitania are included in the season, along with the personal effect of war various members of the Bellamy household.
Starring Jean Marsh, Gordon Jackson, Angela Baddeley.
13 episodes
First aired on Masterpiece in 1976.
---

Cakes and Ale (1974)
Rosie, a pretty and softhearted barmaid, cares more for the needs of others then the social conventions of love and marriage. Rosie Gann (Judy Cornwell) marries a struggling young novelist (Mike Pratt) because he needs her. She deserts him and elopes with an old time lover (James Grout) when he needs her more. Rosie's heart of gold is related through the eyes of still another lover (Michael Hordern), a successful writer and identifiable projection of Somerset Maugham.
The BBC mini-series is based on the book by W. Somerset Maugham: "Cakes and Ale is a delicious satire of London literary society between the Wars. Social climber Alroy Kear is flattered when he is selected by Edward Driffield's wife to pen the official biography of her lionized novelist husband, and determined to write a bestseller. But then Kear discovers the great novelist's voluptuous muse (and unlikely first wife), Rosie. The lively, loving heroine once gave Driffield enough material to last a lifetime, but now her memory casts an embarrassing shadow over his career and respectable image. Wise, witty, deeply satisfying, Cakes and Ale is Maugham at his best."
Episode 1: We meet young Rosie, some of her lovers and her first husband.
Episode 2: Married life with a struggling young writer named Ted Driffield is just the challenge Rosie craves because Ted needs her more than her other lovers ever have. But when Ted becomes successful and his needs decrease as the needs of a former lover increase, Rosie is faced with a tough decision.
Episode 3: Rosie's first husband, Driffield, is now an accomplished writer marries his nurse. After his death, the woman intent upon downplaying Rosie's importance as his muse, through the writing of a biography. William a writer and former lover of Rosie's adds a twist at the end.
Starring Michael Hordern, Judy Cornwell, Mike Pratt, Barbara Atkinson, Lynn Farleigh, John Quarmby, Peter Jeffrey, James Grout.
First aired on Masterpiece in 1976.
---

Sunset Song (1971)
This BBC Scotland production is based on the 1932 novel by Lewis Grassic Gibbon, that chronicles the life of Chris Guthrie from farm girl, to minister's wife, to schoolteacher in Aberdeen. The tragic romantic saga explores the social impact of the First World War on a small Northeast Community in the fictional Mearns village of Kinraddie. Scottish actress Vivien Heilbron became famous for her role her as Chris Guthrie, and then starred in The Moonstone, the adaptation of Wilkie Collins' novel.
According to television director Moira Armstrong, "So successful was the six-part television serial made by BBC Scotland in 1970 that it became a set text in Scottish schools, was shown on Masterpiece Theatre in America, and was repeated 10 years later as one of the most popular dramas to be transmitted." In 2005 Sunset Song was named the "Best Scottish Book of All Time" at the Edinburgh International Book Festival. Sunset Song is the first in a trilogy of books referred to as A Scots Quair.
There is also a 2015 British period drama directed by Terence Davies, who was first introduced to the story through the 1971 BBC television adaptation. It stars Agyness Deyn, Peter Mullan, and Kevin Guthrie. We reviewed it here.
Episode 1: After the death of their mother, young farm girl Chris Guthrie (Vivien Heilbron) and her brother Will (Paul Young) try to run the family farm with their abusive father John (Andrew Keir).
Episode 2: Chris is left alone to run the farm with her father after her brother moves to Argentina with his new wife. After her father suffers a stroke and dies, Chris learns new information about her father's difficult life that changes her understanding of him.
Episode 3: Chris considers leaving her family's farm to become a teacher in Aberdeen. She then meets Ewan Tavendale (James Grant) and marries him. The young couple have a son and a happy life on the farm until World War I takes Ewan to the front lines.
Episodes 4 – 6: Ewan returns home on military leave and Chris notices that he has changed for the worse. Chris is not sad to see him return to military duty but then receives word of his fate, which will lead her into a new chapter in her life.
Starring Vivien Heilbron, Edith MacArthur, Paul Young, Andrew Keir, Alex McAvoy, Gerald Slevin.
Not available at this time.
First aired on Masterpiece in 1976.
---

If you enjoyed this post, wander over to The Period Films List. You'll also want to see The Ups and Downs of Upstairs, Downstairs and check out our list of Masterpiece Classics Streaming on Prime Video.