Last Updated on August 6, 2022
Rivaled only by Anne Boleyn, no queen holds such intense and enduring fascination in the modern imagination as Marie Antoinette, the last queen of France. Relentlessly criticized during her life, and ultimately blamed for the crisis that led to the French Revolution, the history of Marie Antoinette is filled with myths that have persisted for over two centuries.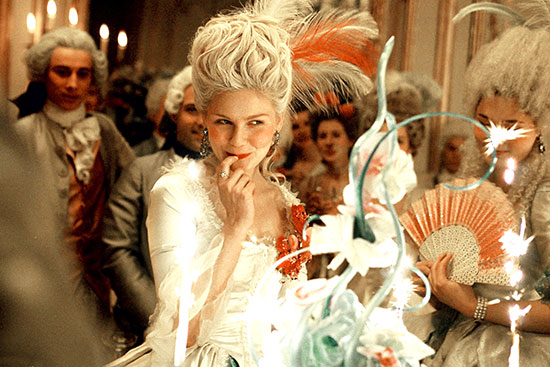 ---
To help keep this site running: Willow and Thatch may receive a commission when you click on any of the links on our site and make a purchase after doing so. 
---
Based on historian Antonia Fraser's biography of the tragic queen, Sofia Coppola's "Marie Antoinette" (2006) reimagines the life of a young Marie Antoinette for a 21st-century audience.
Featuring an affecting performance by Kirsten Dunst and irresistibly detailed costumes and production design, "Marie Antoinette" is a lavish, updated portrayal of the controversial queen.
In a series of articles for Willow and Thatch, Andreina Romero and Gabriela Mörken-Romero, hosts of the podcast Wigs and Candles, review classic and more recent period films, focusing in particular on the way period dramas provide a lens to explore the past and the lives of women through different historical times. To accompany episode two of the second season of their podcast, they review "Marie Antoinette" (2006).
---
---
A teenage girl prepares to leave her family and be shipped to a foreign country. On the long trip, she plays cards with her young female companions and stares longingly outside the window at the landscapes she passes.
It's 1770 and 14-year-old Maria Antonia, Archduchess of Austria (Kirsten Dunst, The Power of the Dog) is on her way to meet her future husband, Louis-Auguste, heir to the French throne (Jason Schwartzman, Saving Mr. Banks).
The moment she crosses the Austrian border and enters France, she must leave everything behind—her clothes, her friends, her dog. Standing in an open-air tent, she is promptly dressed in French clothes, thus becoming "Marie Antoinette," the dauphine and next queen of France.
She will henceforth be surrounded by ladies-in-waiting and courtiers her every waking moment, her life next to Louis-Auguste a spectacle for the benefit of France's absolute monarchy. It's a dynamic that Writer-Director Coppola exposes to maximum effect throughout the film, underscoring the perception the French public had of the young Marie Antoinette as an outsider, no matter her efforts to fit in.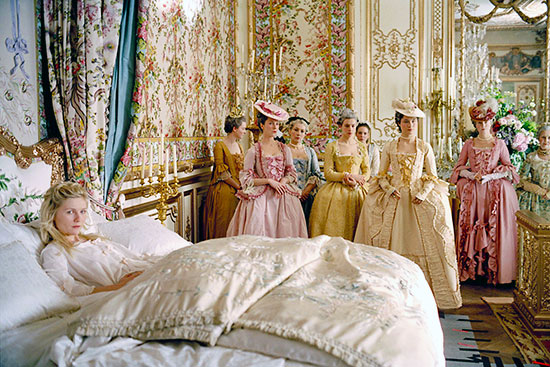 A brilliant scene shows Marie Antoinette soon after she arrives at the palace. She is awakened by the Countess of Noailles (Judi Davis, Impromptu) and a coterie of princesses and other noble women who are allowed to be close to the dauphine.
The Countess helps Marie Antoinette undress while explaining the rigorous etiquette of Versailles. After Marie takes off her night chemise, she stands naked as she waits for one of the princesses to start dressing her. As the princess is about to put on a clean chemise, another of higher ranking arrives and the privilege is given to her. As the second princess is about to dress Marie, Louis-Auguste's sister arrives, and the privilege must now go to her. Marie Antoinette can only stand, freezing, during this bizarre ritual; she's a stranger in a strange land.
---
---
Coppola cleverly exploits that sense of otherness and alterity throughout the movie, which is as much about Versailles's splendor and decadence as it is about Marie Antoinette's life.
Coppola also uses Marie Antoinette as a proxy for the viewer, particularly during moments where she tries to understand the many characters that populate Versailles, including the chief royal mistress of the king (the scandalous Comtesse du Barry, played by Asia Argento), and the gossipy courtiers and ladies from whom she must gain favor.
The movie, shot in Versailles–the palace allowed Coppola to film on Mondays when it was closed to the public–is astonishingly beautiful, with every room, prop, and piece of furniture bringing to life the height of 18th-century style. When Marie Antoinette takes her first walk inside the palace and is shown to her marital room, the scene doubles as a sumptuous tour that will delight any period drama aficionado, including the moment when Marie dares to peek behind a hidden door to discover yet another elegantly appointed room.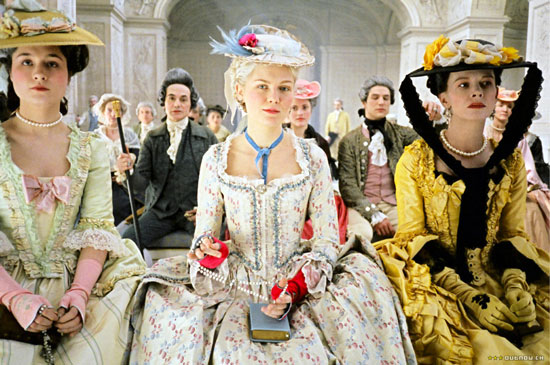 The costumes, which went on to win an Academy Award, were created by Milena Canonero who spared no detail with her designs. Importantly, the richly detailed costumes highlight Marie Antoinette's famous love of fashion and her role as a fashion supporter and innovator.
While the costumes and sets are anchored in magnificent period realism, the script and performances are more impressionistic, almost entirely devoid of the complex political context of Louis XVI and Marie Antoinette's reign. Rather, Coppola's preoccupation is with Marie Antoinette's feelings and her growth as a woman during her life in Versailles.
Always keeping Marie Antoinette at its center, the film rests squarely on Kirsten Dunst's performance of a generous, kind, and warm queen. And as she grows accustomed to her life of privilege, she is shown to be intelligent and playful in equal measures, quickly understanding that her role in court is a dual one: to produce an heir and to keep the king and the court happy.
As the film covers the early years of Marie Antoinette as a queen, it addresses Marie and Louis' inability to have children, explained by Louis' reluctance to consummate their marriage. If for modern sensibilities this sounds normal and healthy (Marie Antoinette was only 15 when she married), for the future king and queen of France this was an affair of state that put France and Austria's newly formed alliance in danger.
Once Louis and Marie do consummate their marriage (a full 7 years later), the film shows Marie Antoinette as a loving, tender mother, who never loses her effervescent spirit. The many dinners, balls, and dressing parties she regularly throws for herself and her favorite courtiers and ladies renders a feeling of unchecked privilege, of the happy days she will remember when all comes crashing down in a not too distant future.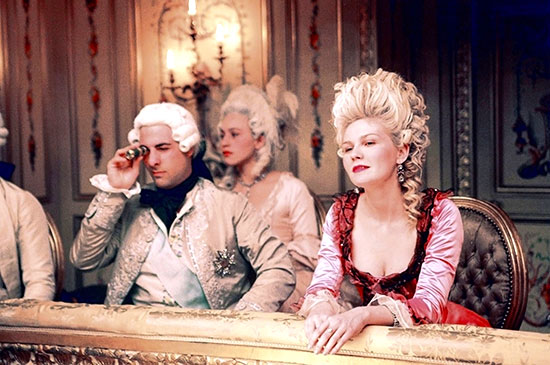 The mostly anachronistic soundtrack and dialogue reinforce the impression that we are watching a group of young, wealthy people living out the best moments of their lives. This dreamlike quality is further explored when Marie Antoinette falls in love and has an affair with the beautiful Count Fersen (Jamie Dornan, Death and Nightingales). Finally knowing true love, the young queen blossoms.
A delicious pastel color confection, "Marie Antoinette" is a sympathetic, sun-lit portrayal of something extremely difficult to capture: the inner life of a woman who, almost 230 years after her death, continues to fascinate and intrigue in equal measures. And in showing her feelings and inner life, Coppola's "Marie Antoinette" wholeheartedly succeeds.
Listen to the full Wigs and Candles podcast episode on "Marie Antoinette" here.
"Marie Antoinette" (2006) is AVAILABLE to STREAM
Rated PG-13
---
Wigs and Candles, launched in 2021, is a podcast about two sisters and their obsession with period film. Andreina Romero is a freelance writer and researcher whose work focuses on the importance of the arts in life. She also reviews books, music, and films in local publications and her personal blog. Gabriela Mörken-Romero leads people in a multinational company with a passion for art history, historical fiction, and world museums. Originally from Venezuela, Andreina and Gabriela host their podcast from Canada and Germany respectively.
---
If you enjoyed this post, wander over to The Period Films List. You'll especially like the Best Period Dramas: Georgian and Regency Eras list.