Last Updated on August 24, 2023
The PBS drama "Hotel Portofino" is like the classic Italian drink, the Negroni. Its exotic and glamorous red color delivers an alluring first hint of sweetness, but it unfolds with some serious complexity.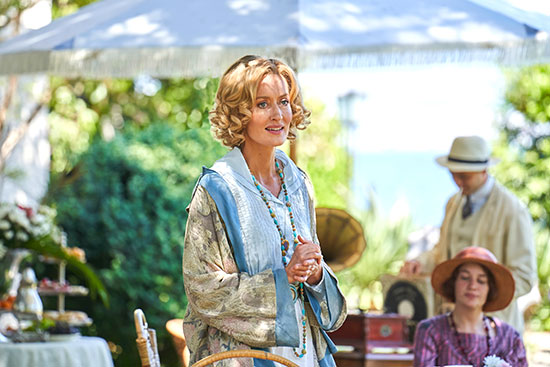 ---
To help keep this site running: Willow and Thatch may receive a commission when you click on any of the links on our site and make a purchase after doing so. 
---
Season 1 brings a six-part series set in the beautiful Italian seaside village of Portofino during the Roaring 1920s is a cocktail of romance and mystery, beauty and intrigue, and a cast of unconventional characters who represent the changing tides of history between the wars.
The Ainsworth family is experiencing their share of challenges after The Great War. Matriarch Bella Ainsworth is spirited and forward-thinking, eschewing England for the beauty of the Italian coast where she, her husband Cecil, and their children can start over after the traumas of war. Her entrepreneurial gifts are evident as the proprietor of a converted old country house overlooking the sea, now a gorgeous, sprawling hotel entertaining privileged guests from England, Europe, and America.
There's a dark underbelly to the luminous charms of the hotel and the idyllic seaside life. There are secrets, deceptions, and hidden passions. Guests bring their emotional baggage and drama to the hotel, and as the story unpacks over the course of several weeks, we also learn of the weight the family carries. Fascism's growing threat punctures the beauty of the languorous pace and the gorgeous scenery. The pace quickly mounts with a shocking and tantalizing art theft, a compelling whodunit with twists worthy of an Agatha Christie mystery….
Here then are five reasons to watch "Hotel Portofino." Cin-cin!
And here's one more reason to watch: On October 15, 2023, "Hotel Portofino" returns for a second season.
Season 2 begins in the summer of 1927 as Bella is still devoting her energy to Hotel Portofino, which has overcome teething troubles and is starting to prosper. Aside from her hotel duties, Bella is concerned for her children— Lucian, whose marriage to Rose might be facing trouble, and Alice, who needs a break from her responsibilities at the hotel. Bella's husband, Cecil, has not been seen since returning to England at the end of the previous summer. With Cecil's unannounced return to Portofino, the messy private lives of her children, and a visit from a travel guide that could make or break the hotel's future, Bella does her utmost to keep all the plates spinning.
---
---
The Costumes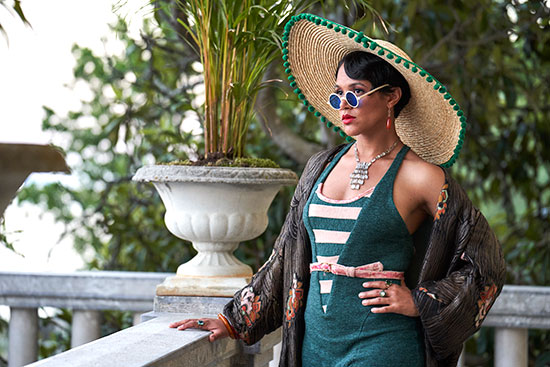 The period garb is absolutely delicious! The show moves effortlessly from classic 1920s bathing outfits, to yellow spats and three-piece suits. There are paisleys and diaphanous lacy frocks, topped with straw sun hats, perfect for a scorching day on the Mediterranean, and Jazz Age wide-legged pants (for the women), with vests for the men.
The palate is comforting with its sun-bleached colors, from dusty rose and Provencal yellows to washed-out greys and blinding sunny white outfits adorned with Art Deco patterns. The men look dapper in their classic khakis, a residual from The Great War. Lady Latchmere's heavy and dour black satin Victorian outfit, laced right up to her neck exemplifies her character. And of course there are crisp linen drop-waist dresses, bow ties and suspenders. When the mood turns playful, out come the sassy short dresses with sequins.
The Casting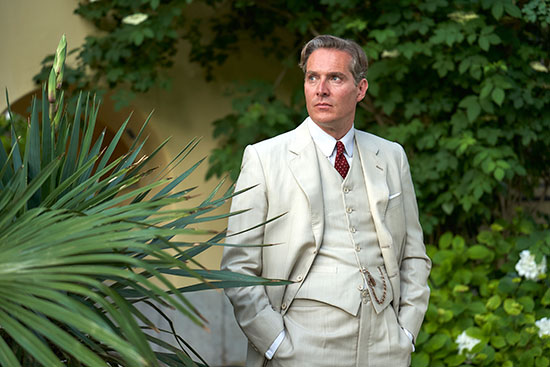 A diverse cast and seasoned stars make this series one to watch. British actress Natasha McElhone is a superb pick to lead the series. Tall, gorgeous, and elegant, she is a seasoned film, stage and screen actress who anchors the show as the emotional center of the Ainsworth family. Playing her husband Cecil Ainsworth is Mark Umbers (Home Fires), star of countless period dramas and also a seasoned stage, film, and TV actor. The dazzling Umbers is by turns superbly magnetic and menacing. 
Though she's been in other period dramas like "The Cazalets" and "The Hour," fans of the mini-series "Pride and Prejudice" (1995) will immediately recognize Anna Chancellor from her role as Miss Bingley. Once again, she brings a healthy dose of levity to her plum role. 
Pasquale Esposito (Gomorrah) is deliciously despicable as Portofino's top thug, Danioni.  Slender and small, he burrows his way into the lives of his marks and is perfectly cast as the show's central villain. 
Adam James (Belgravia) and Lily Frazer (Saint Maude) are cast as an American couple who perfectly recall Ernest Hemingway and Josephine Baker in their looks and style, and are just as passionate and fiery. 
---
---
The Collision of Worlds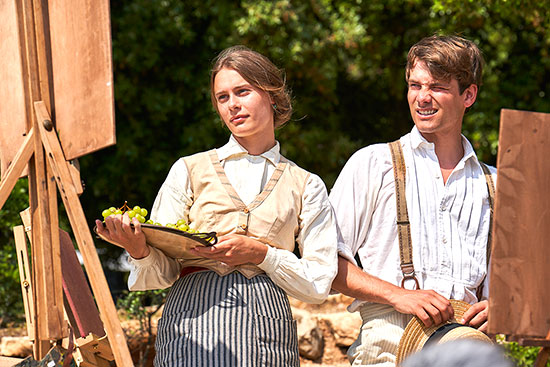 Writer / creator Matt Baker has done an ingenious job of overlaying story lines showing how the world is shifting, in three distinct ways. 
Since this is a British period drama, there must be a clash of class. There are the upper class well-to-do folks who only look classy but are down to their last penny, and will do anything to get more. Opposite them are the downstairs hotel help who have more good stock and sense than their employers, but must answer to their unscrupulous masters. 
It may be peacetime, but The Great War still casts its shadow, and the scars linger, literally and even physically. There are hints of unrest, another reality lurking below all that beauty. Mussolini's thugs are everywhere, even in a sleepy small Italian seaside town, and their power is growing. 
Finally, it's the end of Victorian and Edwardian era strict and stuffy ideas. A younger generation's post-war desire for passion and freedom, and fresh views of art, poetry, love, food, and politics, are taking hold. Whether it's a release from stifling gender roles, freely pursuing sexual desires, and the joys of too much champagne, to the simple pleasures of dancing, or (shock!) a liberated woman wearing a revealing bathing suit, the times, they are a-changing…. 
The Character Reveal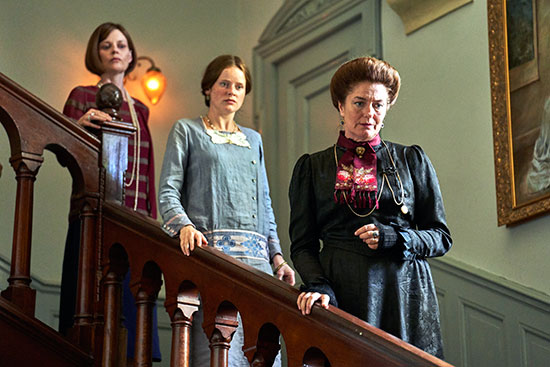 One of the show's recurring themes is that in order to be fully yourself, someone must be disappointed. "Do not be afraid of who you are" is a mantra. In this first season, many characters are in the process of serious self-discovery, whether it's coming to terms with their feelings–whether it's love or revulsion–to facing the truths about oneself no matter what the cost.
There are also plenty of characters who know exactly who they are and what they feel, and act against their true natures. There are salt-of-the-earth individuals moving alongside world class master manipulators. Who will be steadfast and who will capitulate?
We won't provide any spoilers, but there are plenty of gasp-worthy moments as characters give us their big reveals!
The Scenery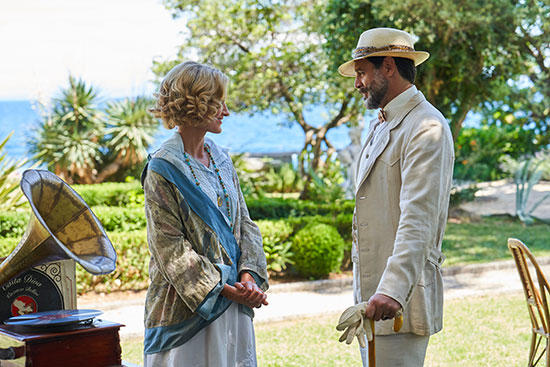 Punctuating the rich and evocative interiors are sweeping views of Portofino's dazzling coastline, from the beautiful pastel buildings that dot the coastline to the crystal clear waters that run from robin's egg blue to sapphire.
The narrow alleyways of Portofino, the exteriors shots of the hotel, tableaus of yellows and greens, the bustling town market, radiant gardens, hidden alleyways, and the unique hillside coastline that plunges sharply down to the sea are all breathtaking and transportive.
How soon can we book airline tickets to Milan?
---
Learn more about the series here. 
---
"Hotel Portofino" (Season 1) is AVAILABLE to STREAM
Rated TV-14
---
Ann Pryor is a media professional living in New York City, handling publicity and marketing campaigns for books and experts. Formally obsessed with actor Mark Rylance, she is an aficionado of soundtracks, foreign films, Off-Off-Broadway, and illustrated books.
If you enjoyed this post, be sure to see The Period Films List, with the best British, historical and costume dramas sorted by era. You'll especially like the Best Period Dramas: Interwar Era list. Also see 5 Reasons to Watch Enchanted April.