Last Updated on March 27, 2022
"Enchanted April" (1991) is a must-see for lovers of British period drama, and there's no better time to watch it than this time of year.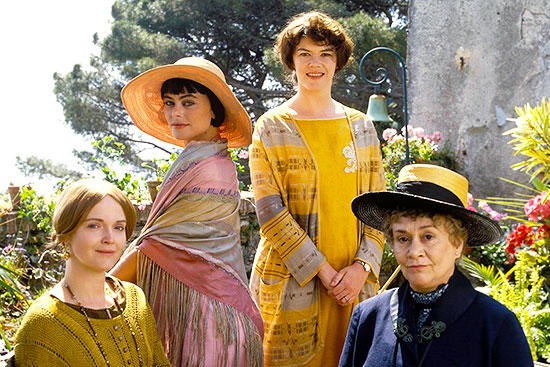 ---
To help keep this site running: Willow and Thatch may receive a commission when you click on any of the links on our site and make a purchase after doing so. 
---
Based on the beloved and groundbreaking 1922 bestselling novel The Enchanted April by Elizabeth von Arnim, the story is set after the Great War and tracks four restless women, each longing for freedom and self-discovery. They leave their uneasy lives in a grim and grey England for the warmth and abundance of the Italian Riviera, strangers at first warily circling each other in a sprawling seaside villa.
The initially incompatible and stand-offish strangers bloom individually and together into an unlikely sisterhood, set against a backdrop of sensual sun and sea. Finally free of their defined and constrained lives and the roles they must play within Britain's class system, the film tracks their surprising transformations.
"Enchanted April" received three Academy Award nominations and won two Golden Globe Awards. Director Mike Newell is an award-winning director best known for another beloved British film, "Four Weddings a Funeral," as well as period dramas including "Love in the Time of Cholera" and a remake of "Great Expectations" with Ralph Fiennes and Helena Bonham-Carter. Reaching the 30th anniversary this year of its UK and US release, here are five reasons to watch "Enchanted April."
---
---
The Casting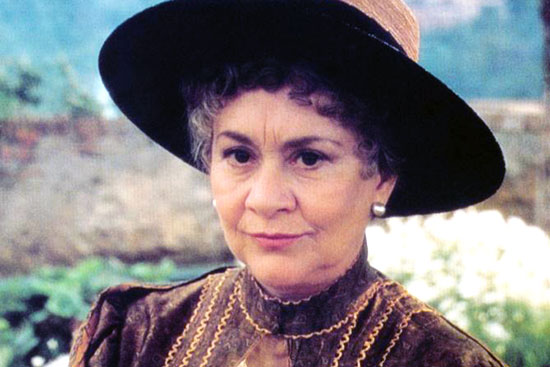 This is a Who's Who of British cinema. The film's stars include Academy Award nominee Miranda Richardson (Tom & Viv) as Mrs. Arbuthnot, a pious wife whose renowned author husband writes romance novels she disapproves of; Jim Broadbent (Moulin Rouge) as Mr. Arbuthnot, an odd, sweaty, shameless flirt; Josie Laurence (Marple) as Mrs. Lottie Wilkins, an unhappy housewife whose fear of a dreary life is more powerful than the ire of her husband; Alfred Molina (Chocolat) as Mr. Wilkins, angry and bereft at having been abandoned by his wife, and who undergoes his own radical transformation; and a young Polly Walker (who many will recognize as Portia Featherington in Bridgerton) as sexy Lady Caroline, sick of being objectified and man-handled by an endless array of London's buffoons.
The jewel of "Enchanted April" is Dame Joan Plowright (Tea with Mussolini) as the crusty and upper-crust Mrs. Fisher. Once married to Sir Lawrence Olivier, Plowright has won numerous acting awards throughout her life and has been acting steadily in theatre, film, and TV for decades. She gives a commanding performance as the bitter, name-dropping socialite who uses her age, wealth, and past as a weapon. Initially disapproving of her fellow travelers but finally giving way to contentment, Plowright steals the film with her Oscar-nominated role.
The Plot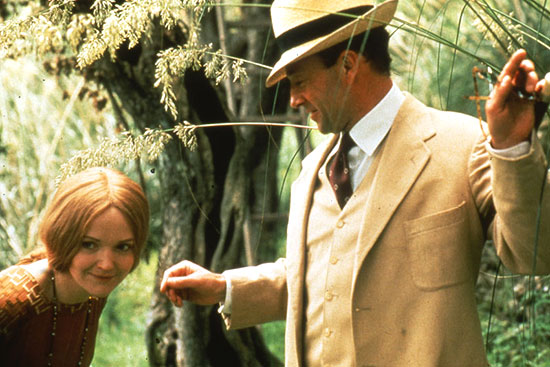 Mrs. Lottie Wilkins is childless and married to a penny-pinching solicitor who controls her and labors over every decision they make. He will not even allow her to buy flowers for herself. At a women's social club, she runs into Mrs. Rose Arbuthnot, also childless and unhappily married to a husband who no longer notices her. These two acquaintances, desperate for change, have both spotted an ad for a medieval Italian castle by the sea, available in April for a full month.
Propelled by their frustration and imagination, they find two other women – a beautiful and well-to-do young lady, and a scowling and disapproving matron – to help fray the costs. Wilkins and Arbuthnot depart London in the driving rain; they arrive in Italy at night, in a torrential downpour, met at their carriage station by a stranger who suddenly grabs their bags. Have they made a terrible mistake?
The Costumes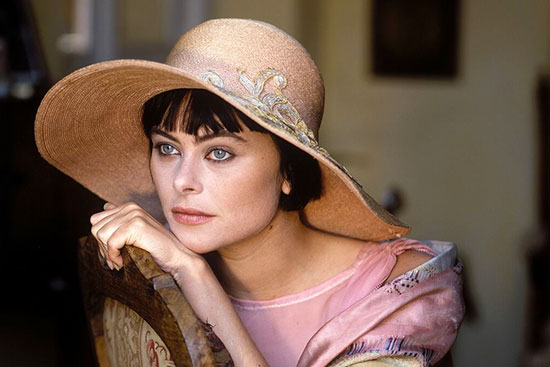 Cloche hats. Paisleys. Velvet jackets. Lady Caroline's ravishing purple satin sequined sleeveless dress. Waiters with period wigs! Hats adorned with gigantic, exotic feathers. Embroidered blouses. Lace hats. Pinstripe suits.
Costume designer Sheena Napier has worked in TV and film, working on period TV productions including "Poirot," "Marple," "Howards End," "Parade's End," and the wonderful Beatles film "Backbeat." Napier, who took home the Oscar for Best Costume Design, cleverly dresses the characters in blacks and drab browns for the film's opening English sequences, transitioning to creams, light pastels, floral patterns, and soft colors for the remainder of the film.
---
---
The Setting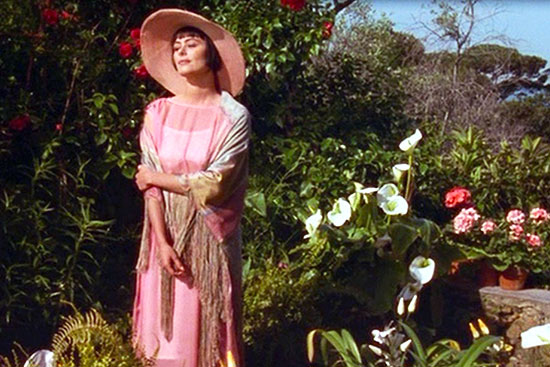 The transition from the dark brown sepia tones of London to the glorious pastel colors of Italy provides a delightful contrast. After journeying in the dark, the setting is suddenly lush with flowers and foliage, sunshine, and heavenly views from every window. The light, the air, gobs of color, the inspired vistas, and literal room to expand, explore, to find solitude and reflection in nature, are the ingredients for a classic transformation. It is a Roman Holiday for the soul – naps outside in the afternoon among the flowers, ocean swims without a care in the world.
The exterior shots were filmed on location at Castello Brown in Portofino, Italy, the same castle where writer von Arnim stayed and took inspiration for her book. Built in the 15th century, the castle is surrounded by gardens that slope down to the water, and breathtaking views of Portofino's marina.
The Women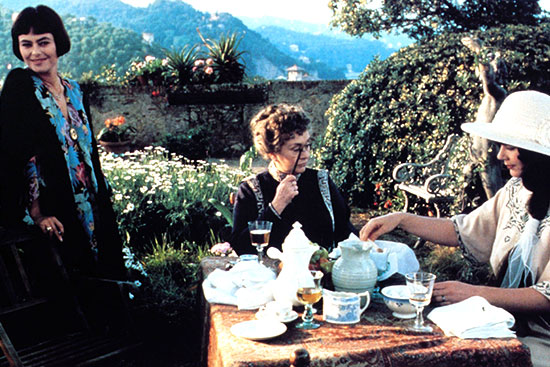 "Enchanted April" is a social comedy about redemption through sisterhood, the pursuit of individual passion, and the creation of a kind of feminine utopia. The film's husbands are calculating and controlling, while the women find harmony when they are finally free of societal constraints. Surrounded by nature, they find their true natures.
Isolated, frustrated, and bitter, the elderly Mrs. Fisher finds kinship and sisterly love. Her cold eyes transform and twinkle as she taps into feelings of excitement and rejuvenation. At last she puts her past behind her, no longer reminiscing about rubbing elbows with luminaries like Ruskin and Tennyson, and lives wholly in the present.
Lady Caroline wants to escape from grabby men, but finds herself unhappily liberated from the idea that not all men desire her. Her misconception that beauty is only skin-deep may lead her to love.
Conversely, the plain-Jane wives bloom into beauties. Rose Arbuthnot, whose husband once called her "a disappointed Madonna," bears a striking resemblance to a Raphael portrait painted on a wall in the castle. As she becomes more serene, she begins to glow from the inside out. And the quirky, quivering, eternally awkward Lottie Wilkins is the group's spiritual glue, a kind, forgiving, and passionate soul.
---
As of spring 2022, "Enchanted April" is streaming for free with ads on Pluto TV here.
"Enchanted April" (1991) is AVAILABLE to STREAM
Rated PG
---
Ann Pryor is a media professional living in New York City, handling publicity and marketing campaigns for books and experts. Formally obsessed with actor Mark Rylance, she is an aficionado of soundtracks, foreign films, Off-Off-Broadway, and illustrated books.
If you enjoyed this post, be sure to see The Period Films List, with the best British, historical and costume dramas sorted by era. You'll especially like the Best Period Dramas: Interwar Era list.