Last Updated on October 29, 2018
PERIOD DRAMAS ON NETFLIX STREAMING: GEORGIAN and REGENCY ERAS
Wondering what period dramas are available to watch online now? Here is a list of Georgian and Regency era period dramas that are currently available TO STREAM on NETFLIX and Amazon in the United States.
The TITLE links you to the film / movie / television miniseries STREAMING on NETFLIX.
The PHOTO links you to the  film / movie / TV miniseries STREAMING on AMAZON.
There are also text links.
Willow and Thatch spoke with NETFLIX Streaming who said that each film is licensed for a specific time period, so in the future some of these titles may become unavailable; similar agreements are in place for Amazon Video / Instant / PRIME. The titles are listed alphabetically.
This list is fairly comprehensive for full episodes of period dramas set in the Georgian era (1714 to 1837) and the sub-period Regency era (1811 to 1820) that are currently available to watch online on NETFLIX in the United States – some have been received better than others – but there's enough here that you should discover something you like, that you can watch right now.
Follow the Amazon links to view trailers.
"This was a period of great change, as cities grew, trade expanded and consumerism and popular culture blossomed. The Georgians witnessed the birth of industrialisation; radicalism and repression; and extreme luxury alongside extreme poverty." – Georgian Britain, British Library

---
---
A Royal Affair (2012): Set in 18th century Denmark.
The true story of an ordinary man who wins a queen's heart and starts a revolution. Centering on the intriguing love triangle between the ever more insane Danish King Christian VII (Mikkel Boe Følsgaard), the royal physician who is a man of enlightenment and idealism Struensee (Mads Mikkelsen) and the young but strong Queen Caroline Mathilda (Alicia Vikander), A ROYAL AFFAIR is the gripping tale of brave idealists who risk everything in the pursuit of freedom for their people… and above all, it is the story of a passionate and forbidden romance that changed an entire nation.
In Danish with English subtitles.
Starring Mads Mikkelsen, Alicia Vikander, Mikkel Boe Følsgaard.
Streaming on NETFLIX. Streaming on AMAZON. Available on DVD.
---
Amadeus (1984): Set in Vienna, Austria, during the latter half of the 18th century.
Based on a Viennese urban legend and hit Broadway play, recounts the downfall of 18th-century musical genius Wolfgang Amadeus Mozart. Gripping human drama. Sumptuous period epic. Glorious celebration of the music of Wolfgang Amadeus Mozart. A marvelous winner of eight Academy Awards.
Starring F. Murray Abraham, Tom Hulce, Elizabeth Berridge.
Streaming on NETFLIX. Streaming on AMAZON. Available on DVD.
---
Death Comes to Pemberley (2013) PBS: Set in 1803 England, six years after the events in Pride and Prejudice.
It is the eve of the Darcys' annual ball at their magnificent Pemberley estate. Darcy and Elizabeth, now six years married, are relaxing with their guests after supper when the festivities are brought to an abrupt halt. A scream calls them to the window and a hysterical Lydia Wickham tumbles out of a carriage shrieking, "Murder!" What follows is the somber discovery of a dead man in Pemberley woods, a brother accused of murder, and the beginning of a nightmare that will threaten to engulf Pemberley and all the Darcys hold dear. Adapted from P.D. James clever whodunit, Masterpiece Mystery!: Death Comes to Pemberley is a delicious homage to Jane Austen's beloved Pride and Prejudice. Elizabeth and Darcy never knew marriage would be like this!
Starring Anna Maxwell Martin, Matthew Rhys, Matthew Goode, Jenna Coleman.
Streaming on NETFLIX. Streaming on AMAZON. Available on DVD.
---
Empresses in the Palace (2011): Set in 1722 during the last imperial dynasty of China.
Set during the Qing Dynasty, sweeping drama EMPRESSES IN THE PALACE is an epic tale of love, betrayal and scandal told from inside the Imperial Harem – the story of one emperor and his countless women. In a world filled with treachery and corruption, who will truly win the Emperor's heart and reign supreme?
In Mandarin with English subtitles.
Starring Li Sun, Jianbin Chen.
Streaming on NETFLIX. Streaming on AMAZON. Available on DVD.
---
From Time to Time (2009): Set in 1805 and the 1940s in Britain.
From Julian Fellowes, the writer and creator of Downton Abbey, From Time To Time is a haunting ghost story spanning two world, two centuries apart. With World War II finally coming to an end and his Father still missing in action, Tolly is sent to stay with his estranged Grandmother in their ancestral home. There he discovers he can mysteriously travel between the two worlds and begins an adventure that unlocks family secrets laid buried for generations. He must solve these mysteries to safeguard their future and reunite the family once again.
Adapted from Lucy M. Boston's children's novel The Chimneys of Green Knowe (1958). The film was shot in Athelhampton Hall, Dorset.
Starring Maggie Smith, Timothy Spall, Carice van Houten, Alex Etel, Eliza Bennett, Elisabeth Dermot-Walsh, Dominic West, Hugh Bonneville, Kwayedza Kureya, and Pauline Collins.
Streaming on NETFLIX. Streaming on AMAZON. Available on DVD.
---
Great Expectations (2011) BBC / PBS: Set in 19th century England. Pip is born in the early 1800s, and it is probable that Pip encounters Magwitch around 1809 and again around 1825. Our narrator is telling his story in 1860, so the story also takes place in the Victorian era.
Pip, an orphan boy, meets an escaped convict, a mentally unhinged rich woman, and a bewitching girl, and is bestowed great expectations of wealth from a mysterious patron, in Charles Dickens's Great Expectations. Starring Gillian Anderson (Bleak House) as Miss Havisham, one of Dickens' most haunting and enduring creations, Great Expectations unites renowned actors David Suchet (Hercule Poirot) and Ray Winstone with emerging talents Douglas Booth and Vanessa Kirby. Adapted by Sarah Phelps (Oliver Twist), Great Expectations celebrates Charles Dickens in the year that marks the bicentenary of his birth. The television miniseries is a BBC – Masterpiece PBS coproduction.
Starring Douglas Booth, Ray Winstone, Oscar Kennedy, Shaun Dooley, Jack Roth, Claire Rushbrook.
Streaming on NETFLIX. Streaming on AMAZON. Available on DVD.
---
Mansfield Park (1999) BBC: Set in the early 1800s in England.
Fanny (Frances O'Connor), born into a poor family, is sent away to live with wealthy uncle Sir Thomas (Harold Pinter), his wife (Lindsay Duncan) and their four children, where she'll be brought up for a proper introduction to society. She is treated unfavorably by her relatives, except for her cousin Edmund (Jonny Lee Miller), whom she grows fond of. However, Fanny's life is thrown into disarray with the arrival of worldly Mary Crawford (Embeth Davidtz) and her brother Henry (Alessandro Nivola).
Mansfield Park is a 1999 British romantic comedy-drama film based on Jane Austen's novel of the same name, written and directed by Patricia Rozema. The film departs from the original novel in several respects. For example, the life of Jane Austen is incorporated into the film, as well as the issues of slavery and plantation life. The majority of the film was made at Kirby Hall in Northamptonshire.
Starring Frances O'Connor, Jonny Lee Miller, Alessandro Nivola, Hannah Taylor Gordon, Talya Gordon.
Streaming on NETFLIX. Streaming on AMAZON. Available on DVD.
---
Pride & Prejudice (2005): Set in 19th century England.
One of the greatest love stories of all time, Pride & Prejudice, comes to the screen in a glorious new adaptation starring Keira Knightley. The story is based on Jane Austen's novel about five sisters – Jane, Elizabeth, Mary, Kitty and Lydia Bennet – in Georgian England. When Elizabeth Bennett (Knightley) meets the handsome Mr. Darcy (Matthew MacFadyen), she believes he is the last man on earth she could ever marry. But as their lives become intertwined in an unexpected adventure, she finds herself captivated by the very person she swore to loathe for all eternity. Based on the beloved masterpiece by Jane Austen, it is the classic tale of love and misunderstanding that sparkles with romance, wit and emotional force. Critics are calling it "Exhilarating. A joy from start to finish" (Carina Chocano, Los Angeles Times).
Starring Keira Knightley, Matthew Macfadyen, Rosamund Pike, Jena Malone, Carey Mulligan.
Streaming on NETFLIX. Streaming on AMAZON. Available on DVD.
---
Quills (2000): Set in the 1790s in France.
QUILLS imagines the final days of the Marquis de Sade as a blistering black comedy thriller, a battle between lust and love – and between the brutality of censorship and the consequences of free expression. A fictional work that reconstructs the unknown fate of the Marquis de Sade, the writer and sexual deviant who was imprisoned in an insane asylum for the last 10 years of his life. The Marquis de Sade befriends the director of the asylum and shares affections with the asylum laundress. When a doctor is sent in to cure the Marquis of his supposed madness, the Marquis's rebellious character only grows stronger.
Starring Geoffrey Rush, Joaquin Phoenix, Michael Caine, Kate Winslet.
Streaming on NETFLIX. Streaming on AMAZON. Available on DVD.
---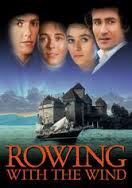 Rowing with the Wind (1988): Set in 1816 in Switzerland.
At a villa overlooking Lake Geneva in the idyllic summer of 1816, Percy Shelley, his mistress Mary, and her stepsister Claire visit Lord Byron. Byron challenges each to write a horror story, and Mary begins her novel, Frankenstein. She imagines the monster becoming real, and for the next six years, as tragedy befalls those around her, she believes the personification of her imagination is the cause. Against this backdrop, Claire has Byron's baby then is estranged from him and barred from her daughter. Byron and Percy continue their friendship, the one self-centered and decadent, the other wildly idealistic.
Starring Hugh Grant, Lizzy McInnerny, Valentine Pelka, Elizabeth Hurley, José Luis Gómez.
Streaming on NETFLIX. Available on DVD.
---
Scarlet and Black (1993) BBC: Set in the post Napoleonic-era.
The story of an ambitious but impoverished young man who seduces women of social class in order to improve his own prospects. This television drama series first aired in 1993 by the BBC. The miniseries is a faithful adaptation of the Classic novel Le Rouge et le Noir and is condensed into four episodes, each 50 minutes in length. A notable addition to the plot is the figure of Napoleon, which the protagonist, Julien Sorel, envisages during the main turning points of the story. Napoleon represents Julien's ambition in the serial, he compares himself with the French hero, seeing himself as an extraordinary individual.
Starring Ewan McGregor, Alice Krige and Rachel Weisz.
Streaming on NETFLIX. Streaming on AMAZON. Available on DVD.
---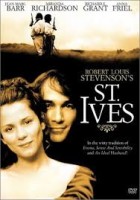 St. Ives (1998): Set during the Napoleonic Wars (1803 – 15).
A handsome, womanizing much-envied French Hussar (Jean-Marc Barr) is held prisoner in the Scottish Highlands during the Napoleonic wars falls in love with a local girl (Anna Friel). Based on St. Ives: Being the Adventures of a French Prisoner in England, by Robert Louis Stevenson, the irreverent tale revolves around the exploits of Captain Jacques St. Ives. ST. IVES is a "witty, romantic comedy in the spirited style of EMMA and AN IDEAL HUSBAND." The story is an exploration of the recurring theme of the polarity of human nature.
Starring Jean-Marc Barr, Miranda Richardson, Richard E. Grant, Anna Friel, Michael Gough.
Streaming on NETFLIX. Available on DVD.
---
The Journey of August King (1995): Set in 1815 in North Carolina, United States.
August King is a young man whose life is changed forever when he risks everything to help a beautiful woman on a courageous — and very dangerous — search for a new life. Desperate yet determined, the two set out on a harrowing journey towards freedom and find in each other the strength to overcome incredible odds. This passionate, uplifting celebration of the human spirit received outstanding acclaim from critics coast-to-coast.
Starring Jason Patric, Eric Mabius, Larry Drake, Thandie Newton.
Streaming on NETFLIX. Streaming on AMAZON. Available on DVD.
---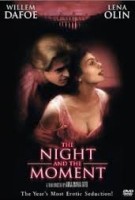 The Night and the Moment (1994): Set in the 18th century.
A writer (Dafoe) is invited to the house of a noblewoman (Olin) who adores free-thinkers. He attempts to seduce her but she insists that he tell her of his past love exploits. While doing so, he takes her through his time in prison where he was unknowingly incarcerated in the cell beside hers. You may want to watch it for the costumes, if nothing else.
Starring Ivan Bacciocchi, Jean-Claude Carrière, Axelle Cummings, Willem Dafoe, Clifford De Spenser.
Streaming on NETFLIX. Available on DVD.
---
The Nun (2013): Set in 18th century France around the 1760s.
Suzanne is a beautiful young girl with a natural talent for music, enjoying a quietly privileged life. Inexplicably sent off to a convent, she resists structure at every turn until she discovers that she is an illegitimate child. Left with no other option, she pronounces her vows and suffers the consequences of the sins of her mother. Still uncertain of her path and oppressed by aggressive and inappropriate Mother Superiors, Suzanne continues to resist imposed religious values and the dehumanizing effect of cloistered life. Based on the classic novel by Diderot.
"It's an affecting and frank take on the loneliness of faith as well as faithlessness, whose horrors come in odd contrast to the plush production values. The linen alone is lovely enough to make you weep." – The Guardian
In French with English subtitles.
Starring Isabelle Hupper, Pauline Etienne.
Streaming on NETFLIX. Streaming on AMAZON. Available on DVD.
---
Turn: Washington Spies (2014): Set in 1778. in the United States.
Based on Alexander Rose's book Washington's Spies, AMC's TURN tells the untold story of America's first spy ring. A historical thriller set during the Revolutionary War, TURN centers on Abe Woodhull, a farmer living in British-occupied Long Island who bands together with his childhood friends to form The Culper Ring — an unlikely team of secret agents who not only went on to help George Washington turn the tide of the war but also gave birth to modern spycraft.
Starring Jamie Bell, Seth Numrich, Daniel Henshall, Heather Lind, Meegan Warner, Kevin McNally, Burn Gorman, Angus Macfadyen.
Streaming on NETFLIX. Streaming on AMAZON. Available on DVD.
---
Wuthering Heights (1992): Set in England, the story spans roughly fifty years (the last half of the eighteenth century).
Cathy Earnshaw is Heathcliff's foster sister; more than that, she is his other half. When forces within and without tear them apart, Heathcliff wreaks vengeance on those he holds responsible, even into a second generation.
Emily Bronte's timeless tale of love and passion comes alive in this stirring film version starring Juliette Binoche and Ralph Fiennes. Shot on location in Yorkshire, this is the first screen adaptation to present Bronte's complete story of two generations of the Earnshaw and Linton families, as their lives and fortunes intertwine in a complex web dominated by the passionate relationship between doomed lovers Heathcliff and Cathy. Fiennes gives a dynamic performance as Heathcliff and Juliette Binoche dazzles in the dual roles of Cathy Earnshaw and Catherine Linton in a movie that captures all the power of the classic novel.
Starring Juliette Binoche, Ralph Fiennes, Janet McTeer, Sophie Ward, Simon Shepherd, Jeremy Northam, Jason Riddington, Simon Ward.
Streaming on NETFLIX. Streaming on AMAZON. Available on DVD.
---
---
You may also like Clueless (1995)
Clueless is an American coming-of-age comedy film, loosely based on Jane Austen's Regency period novel Emma. Cher's tidy world starts to unravel with the sudden appearance of two total Baldwins (hunks): a sexy and stylish new classmate, and Cher's square but cute "ex-stepbrother". Now Cher is about to learn that when it comes to love, she's …well, Clueless.
Starring Alicia Silverstone, Stacey Dash, Paul Rudd, Justin Walker.
Streaming on NETFLIX. Streaming on AMAZON. Available on DVD.
---
---
Did Willow and Thatch miss any costume historical dramas in the GEORGIAN or REGENCY eras that are on NETFLIX, and are available to stream right now?
If you enjoyed this post, you'll want to wander over to the Period Films List for the best costume dramas, heritage films, documentaries, period dramas, romances, historical reality series and period inspired movies, all sorted by era and theme. You'll be particularly interested in the Best Period Dramas: Georgian and Regency Eras List: A list of the top period films available on DVD and to stream that take place during the Georgian era (1714 to 1837) and the sub-period Regency era (1811 to 1820). Costume period dramas filmed in England, UK and other countries set in that time period. Television mini-series, PBS, BBC, Masterpiece Theatre productions, historical dramas, heritage films. Jane Austen adaptations
You may also be interested in Period Dramas 2016: Georgian and Regency Eras, featuring the new costume dramas and period films to be released in 2016. Also see Willow and Thatch's SHOP, for other places to stream additional titles of period films.
For more costume and historical period dramas from all eras, streaming on NETFLIX in 2016, see The List: 100 Period Dramas Streaming on NETFLIX Right Now.