Last Updated on March 13, 2019
BritBox has launched! This is a very good moment for lovers of British television and fans of period dramas.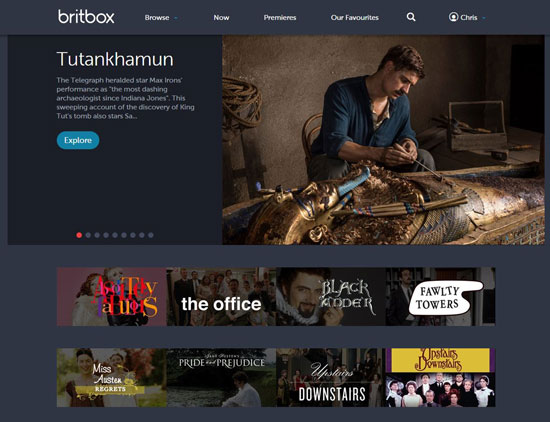 Thank you to BritBox for sponsoring this post. Sponsorship has allowed Willow and Thatch to explore the new British television streaming service in-depth. Below Willow and Thatch aims to provide answers to any questions you may have about the content and experience of BritBox at the time of its launch. If you still have questions after reading the article, just leave a comment below, so we can help. Ready? Here we go!
Let's take a close look at the new streaming service for Anglophiles.
Update: BritBox created an original period drama, a spin-off of TV series The Bletchley Circle, the show jumps ahead a few years to 1956 in America, where two of the original female code-breakers work to solve murder cases in San Francisco. Rachel Stirling returns as Millie, and Julie Graham as Jean. 
And there's more good news: BritBox is now available in Canada, in addition to being available in the US. The streaming service is expected to launch in the UK in the second half of 2019.

What is BritBox?
BritBox is a new subscription video-on-demand (SVOD) streaming service with the most comprehensive collection of British television available anywhere in the US. The service offers thousands of hours of programming at launch, including many exclusive shows from the BBC and ITV. BritBox offers the US premiere of ITV's historical drama mini-series Tutankhamun, and BBC's new literary adaptation of The Moonstone. You'll find some favorites like the 1995 BBC adaptation of Pride & Prejudice, and Lark Rise to Candleford, alongside iconic period dramas that are exclusive toBritBox, like the original Upstairs Downstairs and Brideshead Revisited.

---
---

Can I stream BritBox in the US?
Yes! BritBox is currently available in the US only. BritBox brings a wide range British programming to the US, a majority of which is not available anywhere else in the market.
A free trial of BritBox is available here through Amazon!
---
---

How does it look and work?
BritBox has a clean, minimal design that is intuitive and easy to use. My playback experience has been without issue.
---
---

What kind of content is on BritBox?
BritBox offers the biggest streaming collection of British TV, including exclusive premieres, hard-to-find gems, national treasures and everday British favorites. BritBox includes a mix of classic and new programming across all genres, with shows added regularly – uncut and commercial-free. There's plenty here for the whole family, with many titles rated TV-G, TV-PG and TV-14.
---
---

Cut to the chase! Which costume, historical and period dramas are available at launch?
Willow and Thatch is pleased to see that there are already a good number of period dramas available at launch, including some hard-to-find titles like My Family and Other Animals and Women in Love.
Here is some of the historical / period / costume drama content currently on BritBox:

The Adventures of Sherlock Holmes: Adapted from Conan Doyle's original stories and novels, Sherlock Holmes (Jeremy Brett), one of the world's greatest and most popular fictional detectives, investigates 13 baffling cases. 4 seasons. Rated TV-PG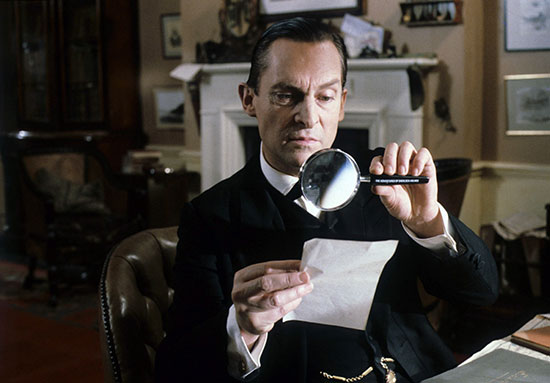 ---

Aristocrats: Based on a true story by Stella Tillyard, a chronicle of the turbulent lives of the Lennox sisters, daughters of the Duke of Richmond, in the eighteenth century. When the story opens, Caroline, the Duke's eldest daughter, is stubbornly determined to reject all suitors and it is beginning to cause embarrassment. 6 episodes. Rated TV-14
---

Banished: Banished is a story of survival set in the stark historical reality of the founding of the penal colony in Australia in 1788. British convicts live alongside their Royal Navy marine guards and their officers. A thousand prisoners are guarded by one hundred men, and with five men for every woman, tensions are high when the women are shared among the men. 7 episodes. Rated TV-14
---

Blackadder: This comedy is set in different historical periods and features the ill-fated exploits of the mean-spirited Edmund Blackadder and his dim sidekick Baldrick. Starring Rowan Atkinson. 5 seasons. Rated TV-PG
---

Bleak House: Gillian Anderson and Denis Lawson head a star-studded cast as acclaimed writer Andrew Davies turns his talents to one of Charles Dickens' most brilliant novels – arguably the greatest ever depiction of Victorian London. At its heart is the story of the icily beautiful Lady Dedlock, who nurses a dark secret, and merciless lawyer Tulkinghorn, who seeks to uncover it. 8 episodes. Rated TV-G
---

Bramwell: Eleanor Bramwell (Jemma Redgrave) sets out to prove her worth as a female doctor. Her father is eager for Eleanor to join him in his respectable private practice, but Eleanor decides to begin work in London's East End. A thoroughly enjoyable period series about a strong woman stepping outside the societal expectations in the late Victorian era. 4 seasons. Rated TV-MA
---

Brideshead Revisited: Set beginning in the 1920s this is the acclaimed adaptation of Evelyn Waugh's epic about a generation of wealthy, careless, independent men and women clinging to a way of life eroded by one war and soon to be swept away by another. Starring Anthony Andrews and Jeremy Irons. 11 episodes. Rated TV-MA
---

Cadfael: A Benedictine monk solves a series of mysteries. In the first series of this drama, Cadfael is a monk at the grand Shrewsbury Abbey during the 12th century, having turning his back on the great crusades where he served as both a soldier and a sailor. 4 seasons. Rated TV-MA
---

Cambridge Spies: Tom Hollander co-stars in this thrilling spy story about the most notorious double agents in British history. Cambridge students establish a spy ring fueled by youthful idealism in the years between 1934 and 1951. 4 episodes. Rated TV-MA
---

Charles II: The Power and the Passion: In 1660 after years in exile, Charles II is restored to the throne of England but is abandoned by his friend, the Duke of Buckingham. Rufus Sewell stars in a four-part dramatisation of the life of the charismatic monarch. 4 episodes. Rated TV-14
---

Cranford: The incomparable Judi Dench stars in this story of Cranford, a small-town hub of intrigue where everyone talks – and everyone is talked about. The town is on the cusp of change, and the lives of its residents push ever forward. 5 episodes. Rated TV-G
---

The Darling Buds of May: This popular British show follows the raucous adventures of the Larkin clan and the local tax collector. Ma and Pop Larkin have a large brood, living in 1950s rural England. They have six children — eldest daughter Mariette is played by a young Catherine Zeta-Jones. Mariette entrances tax collector Cedric, and the Larkins introduce Cedric — whom they call Charlie — to their way of life, which he finds much more compelling than work at the office. Features Catherine Zeta Jones in her breakthrough role. 3 seasons. Rated TV-PG
---

David Copperfield: In this dramatisation of the classic Charles Dickens novel, a young man attempts to overcome adversity after he is sent away by his stepfather. 2 episodes. Rated TV-G
---

Desperate Romantics: A BBC period drama following the Pre-Raphaelite brotherhood – the men who blew the art world apart. Starring Poldark's Aidan Turner! 6 episodes. Rated TV-14. Read more about the period series.
---

Emma: Romola Garai is Jane Austen's fickle heroine, fatally convinced she is good at matchmaking, but unaware she is playing a dangerous game that might finally force her to grow up. 1 season. Rated TV-G
---

Father Brown: GK Chesterton's classic clergyman-detective in action, brilliantly brought to life and set authentically in the 1920s. Father Brown's involvement with crime is through his calling as a priest, bringing him into contact with every level of society. Rated TV-14
---

Hawking: Benedict Cumberbatch stars in this remarkable story of Stephen Hawking's early years as a Ph.D. student at Cambridge, his search for the 'beginning of time' and his struggle against illness. Rated TV-PG
---

Hound of the Baskervilles: Who can rid the Baskerville family of its dreaded curse? Find out in this adaptation of the classic Sherlock Holmes story, starring Tom Baker and Terence Rigby, filmed on location on Dartmoor. 4 episodes. Rated TV-14
---

Lark Rise to Candleford: Rich, funny and emotional, the first season follows the relationship of two contrasting communities. Seen through the eyes of young Laura, their inhabitants endure many upheavals and struggles as the inexorable change comes; their stories by turns poignant, spirited and uplifting. A family-friendly favorite perfect for binge-watching. 4 seasons. Rated TV-G
---

Lennon Naked: This drama charts John Lennon's transition from Beatle to enduring and enigmatic icon, covering issues of fatherhood and fame during the traumatic period of 1967 to 1971. Rated TV-MA
---

Mapp and Lucia (Original): The first of two comedy drama series based on the books by E F Benson, Mapp and Lucia follows the rivalry between two society ladies in a small seaside town during the 1930s. 2 seasons. Rated TV-PG
---

Mapp and Lucia: The BBC adapts the social rivalry between two women in the 1930s when Lucia rents Mapp's house in a quaint village for the summer. The comedy drama is based on EF Benson's novels. Rated TV-PG
---

Miss Austen Regrets:  Approaching her fortieth birthday, Jane appears happily unmarried, until she reflects on previous suitors and life choices. Set between 1802 and 1820, the Georgian era period drama is based on the life and letters of Jane Austen. Starring Olivia Williams (Emma's Jane Fairfax, Anna Karenina's Countess Vronsky), also look for Downton's Hugh Bonneville as the Rev. Brook Bridges. 
---

Miss Marple: The long-running detective drama series featuring Agatha Christie's unassuming amateur sleuth solving a series of murders stars Joan Hickson. 10 seasons. Rated TV-PG
---

The Moonstone: Based on the detective novel by Wilkie Collins in which a man must find a stolen diamond to win the heart of the love of his life. When the story opens it is 1849, and Franklin Blake comes back to England after his father's death, forced to face the ghosts of the year before. The famous Indian Moonstone was stolen on the night of Rachel Verinder's 18th birthday, and Franklin seeks out Gabriel Betteredge, the Verinder family butler, for his help in finding the jewel. If he doesn't find it, then Rachel, the love of his life, will be lost to him forever. 5 episodes. Rated TV-G,
---

My Family and Other Animals: Mother (Imelda Staunton) leads the eccentric Durrell family as they uproot themselves from 1930s England and settle on the Greek island of Corfu. Matthew Goode co-stars. Wonderful period drama that is a must see – especially – but not only – for fans of The Durrells. Rated TV-PG
---

Oliver Twist: This gripping and emotionally powerful adaptation breathes new life into the popular Dickens story. Growing up in a workhouse, watching the suffering and cruelty endured by the boys at the hands of his masters, Oliver decides he wants more and sets out for London. There he meets the Artful Dodger, Nancy, Fagin and the boys and gets the first warm welcome of his life. 6 episodes. Rated TV-PG
---

Our World War: Tense combat drama series revealing experiences of British soldiers in World War One. 3 episodes. Rated TV-MA
---

The Passing Bells: World War I drama. At the outbreak of war, two teenage boys – one German and one British – defy their parents to sign up. 5 episodes. Rated TV-14
---

Poirot: David Suchet stars as Agatha Christie's fictional detective Hercule Poirot in this collection of murder mysteries where he pits his wits against crime and injustice, from England to the Mediterranean. 2 Seasons. Rated TV-PG
---

Pride and Prejudice: The definitive dramatisation of Jane Austen's classic story of social mores. Colin Firth in his wet shirt was the television moment of the 90s. This irresistible, sophisticated and sexy saga launched Firth and Jennifer Ehle to international fame. 6 episodes. Rated TV-G
---

Quirke: Noir crime series set in 1950s Dublin, based on the novels by Benjamin Black. 3 episodes. Rated TV-MA
---

Return to Cranford: Cranford returns, adding British luminaries Jonathan Pryce, Tom Hiddleston, and Michelle Dockery (Downton Abbey). Cranford's recent arrivals bring new love interests and thorny social situations. 3 episodes. Rated TV-G
---

The Sally Lockhart Mysteries: Heroine Sally Lockhart (Billie Piper) is recently orphaned and on the quest for the truth. Matt Smith (Doctor Who) co-stars, in his first professional role. The TV adaptations include The Ruby in the Smoke and The Shadow in the North. Based on the series of children's books by Philip Pullman. Rated TV-PG
---

Sharpe: Sean Bean stars in these dramas set during the Napoleonic wars of 19th century Spain. Fast-moving, hard-hitting action adventures based on Bernard Cornwell's best-selling novels. BritBox has the complete library of, and is the exclusive home to, the incredible adventures of Sharpe. 5 seasons. Rated TV-MA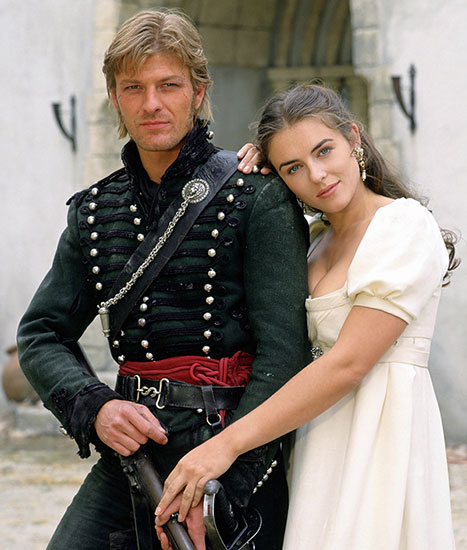 ---

Sherlock Holmes and the Case of the Silk Stocking: Holmes and Watson search for a serial killer. Under the cover of thick fog the murderer snatches the daughters of the aristocracy from their parents' homes. Rated TV-14
---

Sir Arthur Conan Doyle's Favourites: In 1927 Sir Arthur Conan Doyle selected his favourite Sherlock Holmes stories for London's The Strand Magazine. 9 episodes. Rated TV-PG
---

Small Island: In London in 1948, lives and loves entwine in Andrea Levy's award-winning story of Jamaicans and Londoners involved in the Second World War. 2 episodes. Rated TV-MA
---

Tess of the D'Urbervilles: On a fine May afternoon, the beautiful and innocent Tess Durbeyfield spies a handsome young stranger at a village dance, but he ignores her. Forced by family hardship to seek support from her 'relatives' the D'Urbervilles, apparently an ancient lineage, she falls under the spell of her manipulative 'cousin' Alec – with shocking and lasting consequences. The period series is based on the novel by Thomas Hardy, written by David Nicholls. 4 episodes. Rated TV-MA
---

Tutankhamun: The true story of Howard Carter's epic quest to discover the lost tomb of the Boy-King Tutankhamun, set against the sweeping backdrop of an Egypt caught in the violent spasms of World War One and Revolution. Set between 1905 and 1923. Season 1. Rated TV-14
---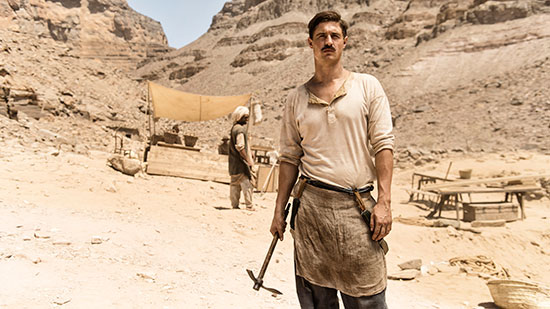 ---

Upstairs Downstairs (Original): This classic period drama series tells the story of 30 years in the life of the Bellamy family and their below stairs servants. Set between the years 1903 and 1930. This is British costume drama 101, and every new fan of the genre should give it a try. 5 seasons. Rated TV-PG
---

Upstairs Downstairs: Jean Marsh returns as maid Rose Buck, six years after the classic Seventies period drama ended. It is 1936, and 165 Eaton Place has a new family moving in. In this London townhouse the fates of the servants 'downstairs' and their masters 'upstairs' are intimately linked. 2 seasons. Rated TV-G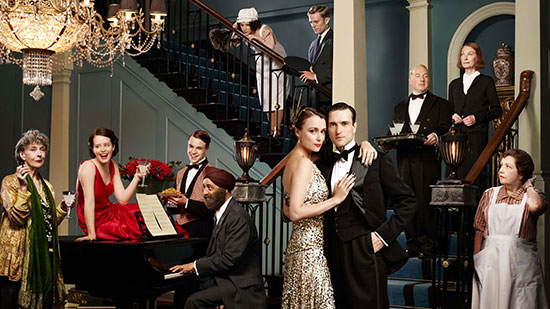 ---

Women in Love: An adaptation of DH Lawrence's novels The Rainbow and Women in Love, focusing on the lives of two sisters as they struggle with love, passion and commitment in the build-up to WWI. 2 episodes. Rated TV-MA
---

Wuthering Heights: An adaptation of Emily Bronte's haunting classic about the doomed love between Cathy and the tormented Heathcliff, whose heartbreak propels him into a quest for revenge that reaches across generations. 5 episodes. Rated TV-PG
---
---

How can I find more shows I want to watch?
BritBox curates its content through Categories (Premieres, Now, Classics, Just In, and Last Chance) as well as by Genre (Drama, Mystery, Comedy, Documentaries, and Lifestyle). And of course you can browse around.
---
---

Tell me more about the Premieres category.
Premieres include shows that are newly available in a month, new to streaming, or are first time stateside. You can sort them alphabetically, as well as by date added.
---
---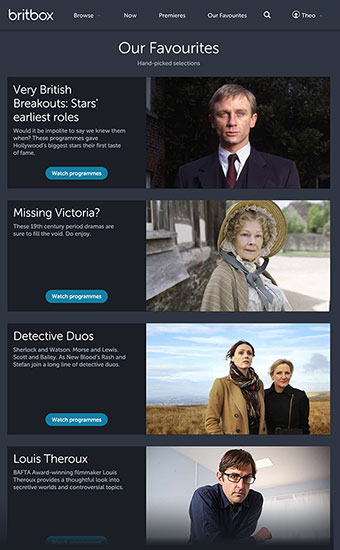 What's in the "Our Favourites" section?
These are hand-picked selections grouped together like "Very British Breakouts: Stars' earliest roles," and "Enjoying Victoria?" and "Sir Arthur Conan Doyle's Favourites."
There's also "A Stitch Through Time – Selected works of BAFTA- and Emmy-winning costume designer Andrea Galer" which currently includes Miss Austen Regrets, Jane Eyre, Bleak House and Sherlock Holmes and the Case of the Silk Stocking.
Fans of adaptations of literature will enjoy the "From Page to Screen" selections. 
---
---

How is the Drama genre divided?
You'll see a section with some suggestions of period dramas, literary adaptations, daytime drama, as well as contemporary dramas. You can also browse titles alphabetically, by what's new, and by what's leaving.
---
---

What is the "Now" category?
This will let you view shows like EastEnders, Emmerdale and more as soon as 24 hours after they air in the UK.
---

What about history documentaries and period docudramas?
Currently you'll find period related docs like The Genius of Palaces, A History of Ancient Britain, Ancient Rome: The Rise and Fall of an Empire, Britain's Greatest Generation, The Men and the Machines that Beat Hitler, Shakespeare in Italy, and Seven Wonders of the Industrial World.
---
---

What other programs are on BritBox that I might like?
There's plenty for fans of Royals to watch, like The Coronation of Queen Elizabeth II, Born to Royalty, and Royal London.
There are literary adaptations like the modern-set Canterbury Tales, cooking and home shows like Kirstie's Vintage Homes, comedies like The Vicar of Dibley and Fawlty Towers, and detective series like Rosemary and Thyme. The beloved comedy series Are You Being Served?, As Time Goes By, and Keeping Up Appearances, are exclusive to the service, as are British detective dramas Agatha Christie's Poirot: The Early Cases, Miss Marple, Inspector Morse, Sherlock Holmes and Cracker.

You'll also find Lifestyle shows that may be of interest, like Countryfile, The Great British Sewing Bee, The Great Chelsea Garden Challenge (Willow and Thatch is excited to watch this one), and The Great British Countryside. The Aristocrats, another lifestyle series (not the costume drama series Aristocrats which is also on BritBox) follows some of the most famous society families in Britain and Europe.
---
---

Is the news on BritBox?
Yes, BritBox does have some news content available – series like The Papers and Prime Minister's Questions, but they are not a news service. They want to bring you some of the news content that is currently not already available on other outlets in the U.S. such as BBC World News.
---
---

How often will new shows be added?
New episodes will appear almost daily for many shows in the "Now" category. Other premieres, including dramas, comedies, and documentaries, will be added every month.
---
---

Is this a repeat of BBC America content?
Nope. Their goal is to unlock access to more great British programs, adding to what you can already get on BBC America and other TV and digital outlets.
---
---

Where can I watch BritBox?
BritBox is available on responsive web (like your laptop computer), AppleTV, iPhone, iPad, and Android mobile phones and tablets. All you need is an internet connection to get started. No cable or satellite subscription required. Roku and Chromecast will be available shortly after launch. (Around launch day it sometimes takes a little while for the apps to propagate in the app stores, but if you want to sign up online you can start watching there while the apps finish populating in the stores.) BritBox will be adding more platforms in the coming months.
---
---

Will shows expire? 
BritBox needs secures licenses for the content and those licenses are granted for a limited period of time. If a license for a show has expired they can often extend it but sometimes they'll have to remove it from the service.
---
---

Are any of the shows available in HD?
Yes. Many programs are available in HD and they are marked with an HD badge.
---
---

Can I download the content? 
Not currently, but you can easily access BritBox on your mobile device with an internet connection.
---
---

What about watching on more than one device?
Not a problem – you can stream BritBox on multiple devices.
---
---

Can I suggest programs that I'd like to see streaming on BritBox?
Sure – you can email the folks at BritBox at suggestions-us at britbox dot com but be sure that what you are requesting is BBC or ITV content. You can also leave a comment here about what you'd like to see, and Willow and Thatch will make sure your voice is heard.
---
---

How much does it cost? 
$6.99 per month after your trial. Cancel any time. Subscribe now.
---
---

Is there a way to try it out for free? 
Yes indeed – you can start your free 7-day trial now here on the BritBox site. You can also get a free trial through Amazon here. 

About BritBox: BritBox is a new streaming video service offering the biggest collection of British television… ever. From current series to timeless dramas and comedies, from award-winning documentaries to soaps and lifestyle shows, BritBox virtually transports you across the pond and puts you square in front of UK television's greatest treasures. The service is created by two of Britain's content powerhouses, the BBC and ITV, and is only available in the US.
Be sure to wander over to the Best Period Films List for more suggestions of what costume and historical dramas to watch. You'll especially like the BBC Classic Drama List.
SaveSave