Last Updated on December 12, 2021
In 2021, Netflix added the sumptuous period drama "The Cook of Castamar" to its streaming service. Based on the 2019 Spanish novel "La cocinera de Castamar" by Fernando J. Muñez, this sweeping twelve-part series tells the story of a slow-burn romance between a talented cook and a widowed duke in the 18th century.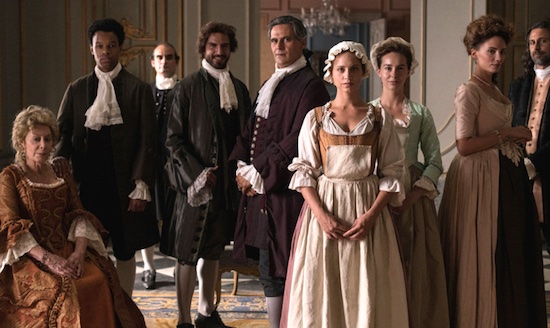 ---
To help keep this site running: Willow and Thatch may receive a commission when you click on any of the links on our site and make a purchase after doing so. 
---
Beautifully filmed with gorgeous costumes and lavish settings, the period drama deals effectively with issues that still plague society today: racism, sexual harassment and coercion, sexism, injustice, and homophobia.
Set against a counterpoint of characters who use sex for their own purposes and gain, the chaste romance between our hero and heroine grows to epic, fairy tale proportions. 
---
---
"The Cook of Castamar": Love and Fondant Icing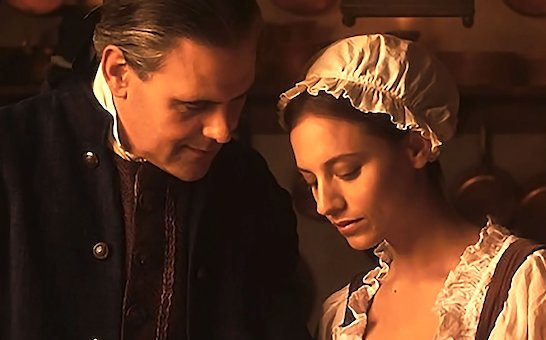 In 1720, on the outskirts of Madrid, an unlikely love story unfolds at the palace of Don Diego, the Duke of Castamar. The tall, handsome, and attractively mature Spanish actor Roberto Enriquez plays the Duke, and his love interest Clara Belmonte, the titular palace cook, is played by the luminous Michelle Jenner.
The two stars head a fascinating ensemble cast of characters that include the noblemen and women of Diego's circle and, in "Upstairs Downstairs" and "Downton Abbey" style, the servants who become Clara's friends — and enemies — in her kitchen.
The opening scene flashes back to the moment when Diego's heart is broken by the death of his beloved Duchess Alba: she tells him she is pregnant with his heir and is thrown from a horse. Twenty months later, Diego is still lost in a haze of grief and the alcohol he uses to dull the pain, refusing to leave the palace or return to society. His mother Doña Mercedes, his "Black brother" Gabriel, and his friend Alberto entreat Diego to end his mourning.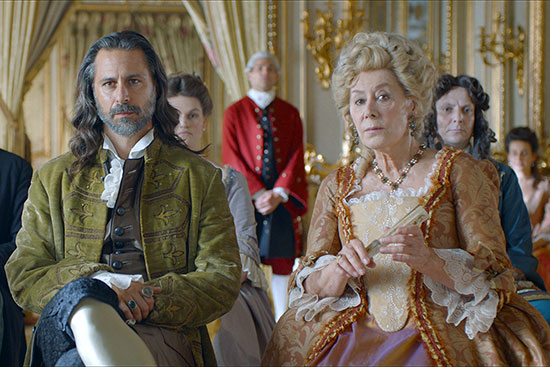 If that's not sufficient pressure, King Felipe V, grandson of Louis XIV and his Spanish queen María Teresa, insists that Diego's mourning has gone on long enough. The historical monarch, known to have suffered with manic depression, is portrayed by actor Joan Carreras in an acting feat that depicts the king as, by turns, pathetic, comical, delusional, haunted, and powerful. In the series, the king is remarried to his second wife Isabel, following the death of his beloved first wife María Luisa, paralleling the fictional duke's story.
Unable to refuse, Diego accepts a new position from the king as his Council Secretary and hosts a lavish gala at Castamar for all his friends and acquaintances, including King Felipe and Queen Isabel.
Thus, the stage is set for the plot line of the series: their efforts to convince Diego to remarry, preferably his mother's choice, the down-on-her luck Amelia Castro. Played by María Hervás, Amelia is both naïve and conniving, and frequently gives a nervous, tittering laugh. Complicating the picture are the two "evil" characters Sol Montijos (Marina Gatell) and Enrique de Arcona (Hugo Silva), who manipulate Amelia for their own reasons.
Above stairs, the aristocrats spend most of their time having sex. Sol escapes her loveless marriage to an elderly but wealthy and titled husband in a new affair with a young lover, Francisco (Maxi Iglesias). Alfredo (Jaime Zatarain) gives in to his latent homosexuality when he is seduced by a new young friend, Ignacio (Carlos Serrano-Clark). And the unscrupulous Enrique seduces Amelia so that she will deceive Diego and force him to marry her.
Below stairs, sex is both an escape from drudgery and a commodity used to buy advantage. Even the uptight, strict housekeeper has a sexual past. Our protagonist Clara arrives at Castamar and takes over the kitchen after her predecessor is sacked when she's caught in flagrante with another servant.
---
---
When Clara's concoctions send the aristocrats into raptures of sensual delight more powerful than their sexual encounters, Don Diego visits the kitchen to meet the new apprentice and appoint her head palace cook. Upstairs and downstairs collide: the moment their eyes meet, we know Clara and Diego are destined to fall in love.
Exemplars of fidelity and morality, Clara and Diego are separate from the sexual intrigue that surrounds them. Both believe in love that lives on beyond death. Diego is drawn to Clara, not sexually, but sensually through her exquisite recipes and delicious food. The period drama's sexiest scene, when Diego helps Clara to make fondant icing, is also the most chaste in the whole series.
Clara is often shown walking through the palace at night with a lighted candle, and her kitchen is lit by dozens of candles, reflected in her hazel eyes. We understand: Diego and Clara are lights in the darkness of illicit sex.
"The Cook of Castamar" is a deeply satisfying and moral tale about love, desire, and forgiveness of oneself and others. The evil pay for their crimes, the good are ultimately rewarded, and happily ever after is more than a fairy tale. 
---
Claudia Champagne holds a Ph.D. in British literature and is Professor of English and Chair of the Humanities Department at the University of Holy Cross in New Orleans. An avid reader of the classics, she has also travelled widely in the UK and Europe. Period dramas are her passion.
---
While the ending of Season 1 of "The Cook of Castamar" wraps things up nicely, there's sufficient material for a Season 2. However, as of the end of 2021, there's been no announcement that a second season is planned. Want another treat? Be sure to enter to win one of 12 lovely bundles in our 2021 Period Drama Gift Guide Giveaway. 
If you enjoyed this post, wander over to The Period Films List. You'll especially like the Best Period Dramas: Georgian and Regency Eras list.