Last Updated on July 27, 2022
Period dramas and history are kindred spirits. The new book The Scandalous Hamiltons lands on July 26, 2022; it's Bill Shaffer's true account of a Gilded Age grifter, a Founding Father's disgraced descendant, and a trial at the dawn of tabloid journalism.
Because we think you'll want to read The Scandalous Hamiltons, we are giving Willow and Thatch readers a sneak peek at the first chapter, and holding a giveaway of the new biography, along with a copy of the period drama "The Gilded Age" (Season 1) on DVD. See the end of the page for how to enter the giveaway.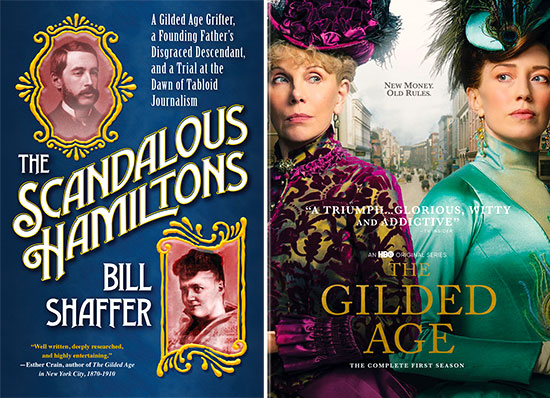 ---
To help keep this site running: Willow and Thatch may receive a commission when you click on any of the links on our site and make a purchase after doing so. 
---
An Alexander Hamilton heir, a beautiful female con artist, an abandoned baby, and the shocking courtroom drama that was splashed across front pages from coast to coast—this is the fascinating true story behind one of the greatest scandals of the Gilded Age . . .
It's a story almost too tawdry to be true—a con woman prostitute who met the descendant of a Founding Father in a brothel, duped him into marriage using an infant purchased from a baby farm, then went to prison for stabbing the couple's baby nurse—all while in a common-law marriage with another man. The scandal surrounding Evangeline and Robert Ray Hamilton, though little known today, was one of the sensations of the Gilded Age, a sordid, gripping tale.
When the salacious Hamilton story emerged in during Eva's trial for the August 1889 stabbing, it commanded unprecedented national and international newspaper coverage thanks to the telegraph and the recently founded Associated Press. For the New York dailies, eager to capture readers through provocative headlines, Ray and Eva were a godsend.
As lurid details emerged, the public's fascination grew—how did a man of Hamilton's stature become entangled with such an adventuress? Nellie Bly, the world-famous investigative reporter, finagled an exclusive interview with Eva after her conviction. Hamilton's death under mysterious circumstances, a year after the stabbing, added to the intrigue.
Through personal correspondence, court records, and sensational newspaper accounts, The Scandalous Hamiltons (Citadel Press, Kensington Publishing Corp.) explores not only the full, riveting saga of ill-fated Ray and Eva, but the rise of tabloid journalism and celebrity in a story that is both a fascinating slice of pop culture history and a timeless tale of ambition, greed, and obsession.
The Scandalous Hamiltons by Bill Shaffer is available HERE
Read the first chapter below, and see the end of the page for details about how to enter the giveaway. 
---
---
The Scandalous Hamiltons by Bill Shaffer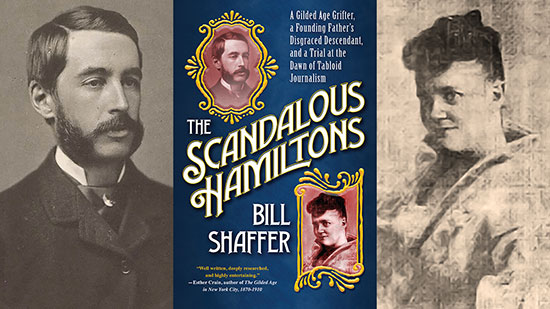 CHAPTER ONE
In the Woman's Power
On Monday, January 7, 1889, an unlikely couple crossed the Hudson River from Manhattan to Paterson, New Jersey, to be married. Robert Ray Hamilton and Eva Brill were improbable candidates to become husband and wife during the course of their four-year relationship they had maintained separate lives and spent as much time apart from each other as they had together. A wealthy attorney and real estate investor, Ray also represented the fashionable Murray Hill District in the New York State Assembly from 1884 to 1888 and spent a great deal of time in Albany, only seeing Eva when he returned to the city on weekends.
When Ray was away, Eva associated with a dubious collection of friends and acquaintances who were far removed from the stature of her soon-to-be husband. The birth of their first child out of wedlock, three weeks before their journey to Paterson, provided the impetus for Eva to convince Ray to marry her. After four years, Eva's ambition to become Mrs. Robert Ray Hamilton was about to triumph over Ray's indifference to legalizing their relationship.
The Pavonia Ferry ran between Jersey City and Chambers Street in lower Manhattan. The wood-clad steamer bobbed through the chop of the Hudson on its fifteen-minute journey across the river, briefly slowing to square up to its Jersey City terminal before the engines revved, smoke belched from its stacks, and the captain made his final push into the pier. In warm weather, passengers lined the open bow front of the Pavonia to see the blocky silhouettes of factories and ware houses that lined the Jersey waterfront come into focus as the ferry neared the shore. On a cold January day, though, a bench inside the cabin would be the seat of choice for a couple seeking shelter from the winter winds that blew up the Hud son from New York harbor.
Ray and Eva's trek to Paterson, two stops inland from the ferry on an Erie Railroad branch line, ended at the Market Street Methodist Episcopal Church. The forty-year-old, russet colored stone church in the center of town was topped by a hexagonal white steeple that rose to one of the highest points in the city. Neither Ray nor Eva were congregants of the Market Street church, but it was sufficiently out of the way as to not bring undue attention to the couple. The pastor, Reverend Edson Burr, (no relation to Aaron Burr) had never met Ray or Eva before they knocked on his door and asked to be married.
Reverend Burr held a Doctor of Divinity degree from Wesleyan University, was a staunch believer in the doctrines of his faith, and cherished every opportunity to preach the Gospel. Above all, he believed that a Christian minister had a responsibility to speak as a defender of truth. His obligation to the truth extended beyond the eyes of God for a wedding to be legally recognized in New Jersey the state required that the truth be told by all applicants. Accordingly, Reverend Burr was duty-bound to gather pertinent information from the couple standing before him.
Boyishly handsome, Ray looked ten years younger than thirty-eight, his age at the time of the wedding. Thin and of medium height, he had jet-black hair and a full mustache that extended fully across his upper lip and connected with bushy sideburns. Ray wore the sharply tailored, narrow suits popular at the time, his jacket properly buttoned over a crisp white shirt finished with a Warville collar and a Windsor tie firmly knotted against his neck. He carried himself with the confidence and manners befitting a gentleman of his upbringing. Timothy Sullivan, a friend and colleague of Hamilton's in Albany, described him as "that thoroughbred dude."
Complying with Reverend Burr's directive, Ray registered as Robert R. Hamilton, a lawyer by profession. He noted his birthplace as New York City and that he was the son of Schuyler Hamilton and Cornelia Ray.
Eva's appearance belied her impoverished childhood in eastern Pennsylvania coal country. She wore fitted jackets that tapered at her waist over long, pleated tulip-shaped skirts, her chestnut blond hair swept up under a matching hat. Strands of pearls encircled her long neck, her ensemble accessorized with jeweled brooches and earrings.
Eva entered her full name in the registry as Evangeline L. Steele, age twenty-nine, birthplace Tunkhannock, Pennsylvania, and stated that she was the daughter of William Steele and Lida Cheevers. As the average age for marriage at the time was twenty-six for men and twenty-two for women, Ray and Eva were anomalous to the couples Reverend Burr normally joined in matrimony. He asked if either of them had been married previously, to which they both answered no.
Reverend Burr also had an obligation to ensure that two witnesses were present to attest to the nuptials. As Ray and Eva had traveled to the Market Street church alone-no fam ily or friends accompanied them across the Hudson and no one met them upon their arrival in Paterson-Burr recruited his wife, Josephine, and his mother-in-law, Harriet Hill, to serve as witnesses to the marriage of these strangers from New York. With everything in order, Reverend Burr performed the ceremony, documents were signed, and the Certificate of Marriage was sent to the Bureau of Vital Statistics at Paterson City Hall.
If Ray had conformed to the expectations of his family and social circle, his wedding would have taken place at Calvary Church on Fourth Avenue in Manhattan, around the corner from Gramercy Park. The handsome Gothic Revival brownstone was home to congregants from some of the most prominent fam ily names in New York: Astor, Roosevelt, and Vanderbilt as well as Hamilton. The ceremony and reception would have been chronicled in gushing detail in the newspapers, the guest list filled with names plucked from the pages of the Social Register. Ray's bride would have hailed from another prominent New York family; she would not have been a woman of undetermined character. By contrast, Eva would likely have been married by a country preacher in rural Pennsylvania with a few family members and a scattering of townsfolk in attendance, the reception organized around a pot luck and moon shine.
Ray, born in 1851, was the eldest of three sons born to General Schuyler Hamilton, a decorated veteran of both the Mexican-American and Civil Wars, and Cornelia Ray, daughter of wealthy New Yorker, Robert Ray. His younger brother, Schuyler Hamilton Jr., was born in 1853—the youngest son, Charles Apthorp Hamilton, born in 1858, died of natural causes at age seventeen. The grandfather of Ray, Schuyler Jr., and Charles was noted historian and biographer John Church Hamilton, and their great-grandfather was Founding Father Alexander Hamilton.
Much was expected from Ray, Schuyler Jr., their cousins, schoolmates, and friends. Their families produced politicians, statesmen, financiers, respected legal minds, and leading businessmen. They went to the best schools and married the daughters of other wealthy and socially connected families.
Ray's generation came of age in the 1870s and 1880s, just as the spectacular riches of the Gilded Age became manifest, visible to rich and poor alike.
Eva's father, William Steele, was a hard-drinking woodcutter who moved his family of six children from one logging camp to another to find work. Anthracite coal was king in the northeast corner of Pennsylvania when Eva was born. It was dug out of the Appalachian hills and used to fire the mills that forged the steel rails used by the railroads to haul carloads of coal out of the Wyoming Valley and across the country. The industrialization of America was on full display around Tunkhannock, but the fortunes gained from coal mining and the railroads didn't line the pockets of local laborers—it was the barons associated with the likes of Ray Hamilton who reaped the benefits of the backbreaking work performed by men like William Steele.
The Hamilton family had a long association with Columbia College, beginning with Alexander's enrollment at King's College in 1774. Exactly one hundred years later, Ray graduated from Columbia Law School and was admitted to the New York City Bar. Eva was educated in a one-room schoolhouse in a hamlet in Sullivan County, Pennsylvania, until she left school at age fifteen. The consensus in the community was that she wasn't going to be bright.
But even though Eva lacked much of a formal education, she learned at an early age that men, regardless of their class, were beguiled by her bright eyes, curvy figure, and a smile that betrayed just a hint of mischief. Ray Hamilton was no exception.
The newlyweds chose not to linger in Paterson after the ceremony, returning to Manhattan by the end of their wedding day. While Ray had agreed to marry Eva on short notice, he made no provision for them to live under the same roof. Ray lived alone on West Fourteenth Street and Eva lived in a boarding house on East Thirty-Third Street an older widow, Anna Swinton, and her adult son, Joshua Mann, boarded in an adjacent room. Eva had left their infant daughter, Beat rice, in Mrs. Swinton's care while she traveled to Paterson for her wedding. When the newlyweds arrived back in the city, Ray went his way and Eva hers. Eva had no issue with this arrangement, as her new husband had made plans for them to begin an extended trip to California in March, with an eye to making their permanent home in San Diego.
San Diego had become more easily accessible to easterners via the transcontinental railroad four years before Ray and his new family set out on their journey. Only 5,000 people lived in the sleepy seaside town when the first California Southern trains arrived in 1885. The railroad brought an in flux of new residents, including real estate investors like Ray Hamilton, who rushed in to buy prime oceanfront property. Dilapidated clapboard buildings were torn down to build hotels and shops, omnibuses began to operate on freshly paved streets, and the nearby Sweetwater River was dammed up to supply fresh water to a population that had swelled to nearly 30,000 residents.
Ray's real estate portfolio was extensive, but limited to New York City. Deeds of Surrender for properties that were owned by the Hamilton family were routinely swapped between the General and his two sons. Ray also held an interest in the Prescott House, an elegant, six-story hotel at Broadway and Spring Street and owned undeveloped lots uptown on Twenty Ninth and Thirtieth Streets. He understood the influence of infrastructure on development and could afford to speculate.
Ray bought property as far north as Ninety-Third Street and Eighth Avenue when the success of the Ninth Avenue El, New York's first elevated train, spurred a building boom on the Upper West Side of Manhattan. And when the Brooklyn Bridge opened in 1883, connecting the City of Brooklyn with New York, Ray purchased farmland on the far side of the bridge in Gravesend, speculating that the area was ripe for new housing. By 1889, his holdings throughout the entire city of Brooklyn consisted of thirty-two homes and thirty-one vacant lots.
The stunning, undeveloped coastline of southern California, though, presented development opportunities that were not possible on the more densely populated East Coast. But for all of the promise of riches that San Diego held out to a savvy investor, Eva surmised that Ray's actual intention for their trip was to shield their clandestine wedding and new baby from his family and friends. He had kept his relationship with Eva a secret from the outset and informed no one, not even his father and brother, of his marriage and fatherhood. By spending an extended period of time almost 3,000 miles away from home, Eva reasoned that Ray could plausibly return to the East Coast and explain that he had met her in California where they married and had a child.
Duplicity and connivance came naturally to Eva. Over the course of her lifetime, she concocted stories that changed de pending on her audience, or the circumstances in which she found herself at any particular time. Facts were fungible; anecdotes were sometimes rooted in the truth and sometimes cut from whole cloth. Eva told some acquaintances that she was orphaned at a young age and adopted by the Steeles. To others, she said that her birth mother and father were weal thy and lived in Passaic, New Jersey. She described herself as an actress and a performer, but had no stage credits to sup port her claim.
The tapestry of fact and fiction that Eva had woven about her life was unneeded in San Diego. She arrived with a new husband, a new baby, and a new name—she knew no one in town and had no need to spin tales about her past.
Before their departure from New York, Ray and Eva had hired Mary Ann Donnelly, a wet nurse, to accompany them on their journey west. In the late 1800s, it was common for wealthy families to hire a wet nurse either because of a mother's inability to lactate, or an unwillingness to feed her own child. The only real alternative to breast milk at the time was cow's milk-infant formula did not come into widespread use until the beginning of the twentieth century.
Wet nurses were often held in low regard by the well-to-do who hired them, as they came from lower social classes, eager to overcome their desperate circumstances. They were generally perceived to be "coarse, unruly and ignorant and the physicians who recommended them to wealthy families admit ted that they had at least one virtue that overshadowed their many alleged vices—their milk saved babies' lives." During the course of the Hamiltons' stay in San Diego, Eva's relationship with her own coarse and unruly wet nurse, Mary Ann Donnelly, grew increasingly argumentative.
While Ray may have relished the fresh start for his new family in the West, Eva did not. Whether due to the change in climate, being so far from home, or adapting to her new role as a mother, she was unwell. Eva lost forty pounds and began drinking heavily. After only four months in southern California, a decision was taken to return east, summering at the Jersey shore before returning to New York at the end of August.
Lending credence to Eva's theory regarding Ray's real motivation for moving to San Diego, it wasn't until they had re turned to the East Coast that Ray informed his father of his marriage and fatherhood. The General in turn passed the news on to Ray's younger brother, Schuyler Jr.
The Scandalous Hamiltons by Bill Shaffer is available HERE
---
To enter the GIVEAWAY: The giveaway opens on July 24, 2022 and runs through August 7, 2022. Open to US only, age 18 and older. Enter on the pinned post on the Willow and Thatch Facebook page. A randomly drawn winner will be announced on Facebook after the close of the giveaway. (If you don't have a Facebook account, please email us when the giveaway is live, with a note saying why you'd like to win, or leave a comment below.)
1 Willow and Thatch reader will win a copy of The Scandalous Hamiltons by Bill Shaffer and "The Gilded Age" (Season 1) on DVD.
---
Bill Shaffer is the author of Emotion In Motion: 55 Baranger Displays (Vitra Design Museum). He has been published on designobserver.com and the online site of Cooper Hewitt National Design Museum, where he was a Smithsonian Fellow. Shaffer has also worked as a Research Assistant for Paul Goldberger on his latest book, Ballpark: Baseball in The American City, (Knopf, 2019) and for Laura Auricchio's contribution to A True Friend of The Cause: Lafayette and the Antislavery Movement, (Grolier Club, 2016). He holds an M.A., History of Design and Curatorial Studies from Parsons, The New School.
If you enjoyed this post, wander over to The Period Films List. You'll especially like the Best Period Dramas: Victorian Era list. Also see the Real People and Places of The Gilded Age TV Series.