Last Updated on June 10, 2023
To help you celebrate Independence Day, we've made a list of movies and television mini-series to watch: you'll find historical epics about our Founding Fathers, films about the Revolutionary War, and costume dramas set in the late 18th century in America, all perfect for watching over the Fourth of July.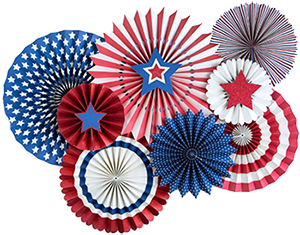 While many of these films are available to stream, others can only be found on DVD – or on TV  – so once you've familiarized yourself with the titles, keep a look out for them to crop up on your channels.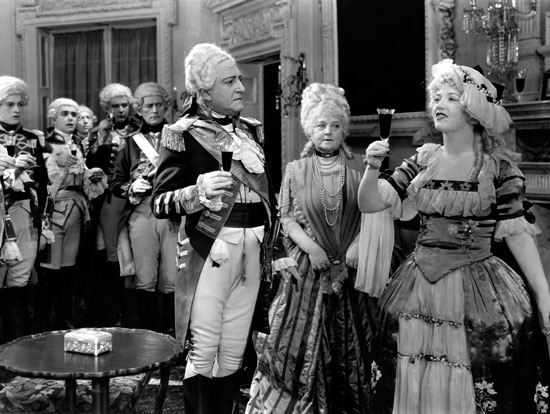 Some of these patriotic period dramas are more historically accurate than others, so if you are using these films for educational purposes about the 4th of July, you'll want to read the notes and do a bit more research before taking them as factual representations of the nation's beginnings.
---
---
Happy Independence Day, America!
---
---
1776 (1972)

A musical retelling of the American Revolution's political struggle in the Continental Congress to declare independence.
The nation's fathers harmonize their way through the founding of America in this musical adapted from a popular Broadway show. Colonial representatives gather in Philadelphia with the aim of establishing a set of governmental rules for the burgeoning United States. Benjamin Franklin and John Adams charge Thomas Jefferson with the work of writing a statement announcing the new country's emancipation from British rule.
Starring William Daniels, Howard DaSilva, Ken Howard, Blythe Danner.
Rated 16+
The Adams Chronicles (1976)

Winner of four Emmys® and a Peabody, the thirteen-episode miniseries by PBS commemorating the American Bicentennial created a sensation when it debuted in 1976. Lauded by contemporary critics as "the best and highest-rated series in the history of American public television," its vitality and historical integrity now prove timeless.
This lavish series dramatizes four generations of Adamses and 150 years of American history from the birth of the Revolution through the Gilded Age (1758 – 1893). You meet John Adams — passionate revolutionary and second president; John Quincy Adams — proud son of a famous father and sixth president; Charles Francis Adams — skillful minister to Great Britain during the Civil War; and Henry and Charles Francis Adams, Jr. — historian and railroad magnate, respectively.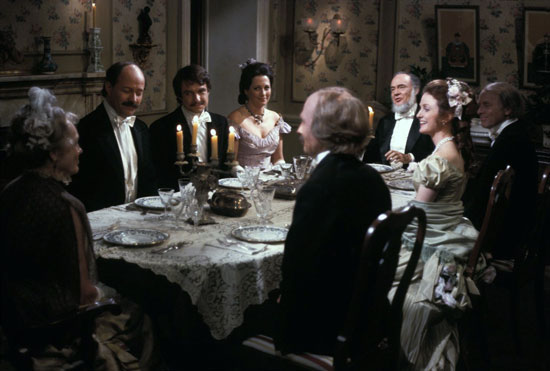 Going well beyond politics, this television masterpiece portrays these men as husbands, fathers, brothers, and sons, as well as leaders. Based on the family's personal diaries and correspondence, The Adams Chronicles not only educates as a true historical epic, but also captivates as a fully human family saga.
Starring Tim Wilson, Michael O'Hare, Wesley Addy, David Birney, George Grizzard, William Daniels, Nicholas Pryor.
Not rated
All For Liberty (2009)

It is 1775. Henry Felder, a Swiss-German colonist, lives with his family in the British colony of South Carolina. After many years of struggling with corrupt British rulers, Felder is urged by the new patriot governor to write Articles of Separation from the English King. Felder's old Indian fighting comrade forms a Tory militia to assist the Crown as the fight heats up.
A historically accurate portrayal of the period and the story of one man's willingness to stand up for his beliefs in order to protect his rights and freedom.
Starring Clarence Felder, Michael Easler, Chris Weatherhead, Bettina Beard, Delfloria Brown, Richard Bryant.
Dove Foundation Family Seal of Approval for age 12+
A More Perfect Union: America Becomes a Nation (1989)

America, 1786, ten years since the signing of the Declaration of Independence. England wages a new war of unfair trade and tariffs. Bickering and jealousy fracture the once united states. But a handful of brilliant men, James Madison, George Washington, and Benjamin Franklin, lead a political battle to create a new form of government, one that will establish the standard of self-government to the world. A More Perfect Union: America Becomes A Nation is the first comprehensive recreation of those stirring, heated debates during the sweltering summer of 1787.
Filmed on location at Independence Hall, Williamsburg, Virgina, and other historical sites, it dramatically chronicles how America became a nation and established those underlying principles that guard our freedoms today.
Starring Craig Wasson, Michael McGuire, Fredd Wayne, Morgan White, Derryl Yeager, Scott Wilkinson, Ivan Crosland.
Dove Foundation Family Seal of Approval for age 12+
---
April Morning (1988)

On the morning of April 19, 1775, the American Revolution began with the "shot heard 'round the world." A Hallmark Hall of Fame movie. 
This adaptation of the classic novel by Howard Feast takes place at the dawn of the American Revolution. Superstitious teenager Adam Cooper struggles to gain the approval of his intellectual and devout Christian father, Moses. When a lone rider warns the locals of approaching British troops, Adam surprises his father by joining the local militia. But Adam will have to come of age rapidly amid violence and death to survive the Battles of Lexington and Concord.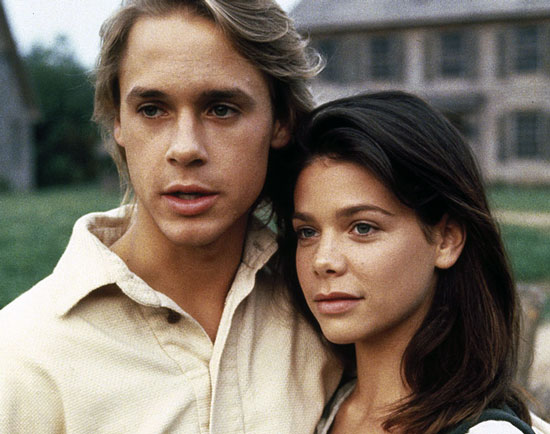 Starring Tommy Lee Jones, Robert Urich, Chad Lowe, Susan Blakely, Meredith Salenger, Rip Torn, Joan Heney, Nicholas Kilbertus, Griffith Brewer.
Rated 13+
The Awakening Land (1978)

Unschooled homesteader Sayward Luckett couldn't read her name if you showed it to her, yet she fell in love with and married agnostic, book-learned frontier lawyer Portius Wheeler. Now it's time to make a life with him in wild, wooded 1790s Ohio Territory.
There will be children, seven in all; joy and hardships aplenty; inconstancies of heart; and the enduring legacy of settling a new land. Based on Conrad Richter's trilogy of novels (he received a Pulitzer Prize for the third), this three episode miniseries nominated for 6 Emmy Awards celebrates the pioneering spirit as it chronicles Sayward's heroic, unadorned life.
Starring Elizabeth Montgomery, Hal Holbrook, Jane Seymour, William H. Macy, Chelcie Ross, Steven Keats, Louise Latham.
Not rated
Benedict Arnold: A Question of Honor (2003)

The gripping true story of one of America's first military heroes and the greed and ambition that led his name to be synonymous with traitor.
The most sullied figure of the American Revolution receives partial redemption in Benedict Arnold: A Question of Honor. Produced for the A&E network, this factual drama reveals the lesser-known circumstances of Arnold's dishonor, beginning in 1777 and chronicling his fall from greatness. The conquering hero of Saratoga and other victories of the Revolution finds himself in an impossible predicament, his allegiance torn between his British loyalist wife (Jane Brennan) and his paternally devoted commander, George Washington (Kelsey Grammer), as his Colonial detractors cast him into a tragic no-win scenario. Authentically detailed and blessed by playwright William Mastrosimone's poetic period dialogue, Benedict Arnold successfully explores the personal and political facets of a great soldier's downfall.
Aidan Quinn's expressive melancholy perfectly suits his title role, and Grammer transcends Frasier, lending appropriate gravitas–and some physical resemblance–to his portrayal of America's future president. Like A&E's earlier film The Crossing, this is compelling historical drama, entertaining, intelligent, and emotionally complex. –Jeff Shannon
Starring Aidan Quinn, Kelsey Grammer, Flora Montgomery, John Light, John Kavanagh.
Not rated
Centennial (1978)

The economic and cultural growth of Colorado spanning two centuries from the mid-1700s to the late-1970s are depicted in this twelve-episode mini-series. The first episode, Only the Rocks Live Forever begins in 1756 when a young Arapahoe child learns his father has been killed in battle. Based on the best-selling historical novel by Pulitzer Prize-winning author James Michener. At the time, the Centennial production was the most ambitious miniseries project ever attempted.
Starring Richard Chamberlain, Timothy Dalton Barbara Carrera, Robert Conrad, Mark Harmon, Andy Griffith, Raymond Burr.
Not rated
The Crossing (2000)

The Crossing is a stirring dramatization of General George Washington's surprise attack on the British Army's German mercenaries and the Battle of Trenton during the American Revolution. Based on the book by Howard Fast, The Crossing brings to life Washington's historic passage across the Delaware on Christmas night, and the lopsided fight that followed. 
In December 1776, the armies of General George Washington (Jeff Daniels) are near the point of collapse; short on money and supplies, ravaged by disease, their numbers thinned by desertion, and freezing in summer uniforms in the midst of a brutal winter, it seems all but impossible that the Colonial Army can hold out much longer against the British Army and their allied German Hessian forces. With imminent defeat a clear possibility, Washington and his troops organize for an audacious surprise attack against the British soldiers on Christmas Day, hinging on the crossing of the freezing Delaware River in the middle of a storm. 
Starring Jeff Daniels, Roger Rees, Sebastian Roché, Steven McCarthy, John Henry Canavan.
Not rated, but suitable for 13+ and for those interested in using the film for teaching, there is a lesson plan available here (which points out the historical inaccuracies as well). 
The Devil's Disciple (1987) BBC

In New Hampshire in 1777, Dick Dudgeon's father dies. Called back home to the unhappy family he revolted against years ago, Dick finds he has been named heir, much to the horror of his religious mother. And to complicate matters, the British, led by General Burgoyne, have arrived and are readying for an execution. As events reach a crisis, Dick finds he must confront his true nature, as must the village minister.
Based on the play by George Bernard Shaw.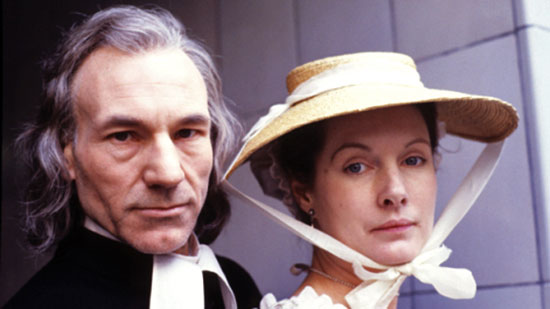 The Devil's Disciple is not generally considered one of George Bernard Shaw's best plays, but it may be among his most enjoyable. In a New England village during the Revolutionary War, disreputable and self-proclaimed Devil's disciple Richard Dudgeon finds himself inheriting the bulk of his father's estate, much to the fury of his estranged mother (Elizabeth Spriggs, Sense and Sensibility). But when British soldiers mistake Dudgeon for the Reverend Anthony Anderson and arrest him as a rebel, Dudgeon goes along with the error and consents to be hanged in Anderson's place–forcing Anderson's wife Judith to decide whether to save a man she loathes at the cost of her husband's life. The Devil's Disciple starts slowly, but the tension mounts steadily, as does the humor. The courtroom debate between Dudgeon and the cynical General Burgoyne is rife with Shaw's typical wit and paradoxes–but the rise of feeling between Dudgeon and Judith give the production an emotional kick many Shaw plays lack. –Bret Fetzer
Starring Elizabeth Spriggs, Patrick Stewart, Cheryl Maiker, Graham Turner, Ian Richardson, Mike Gwilym, Susan Woolridge.
Not rated
Drums Along the Mohawk (1939)

Classic account of a Revolutionary War era farmer's attempts to build a life for himself and his family in the mohawk valley. 
Lawless frontier. Indian attacks. Settlers protecting themselves the only way they know how-with guns and courage. In the years before the Revolutionary War, the East was as wild as the West would be one hundred years later. Henry Fonda delivers one of his most memorable performances ever as a young frontier leader protecting his family in the backwoods of New York state. Claudette Colbert so-stars as his spirited wife. With a fine supporting cast that also includes Edna May Oliver and John Carradine, this is one of John Ford's most exciting historical dramas.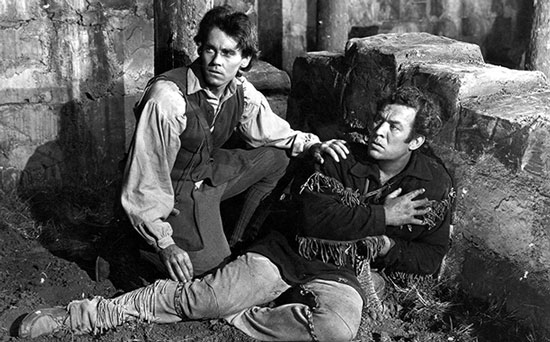 Starring Claudette Colbert, Henry Fonda, Arthur Aylesworth, Arthur Shields, Beulah Hall Jones, Edna May Oliver, Eddie Collins, John Carradine, Dorris Bowdon, Jessie Ralph.
Not rated
Felicity: An American Girl (2005)

In 1775, just before the Revolutionary War, Felicity and Elizabeth's friendship is put to the test when Felicity's family supports independence Elizabeth's family remains loyal to the king.
Starring Marcia Gay Harden, Kevin Zegers, David Gardner, Shailene Woodley, Katie Henney, Eulala Grace Scheel, John Schneider, Geza Kovacs.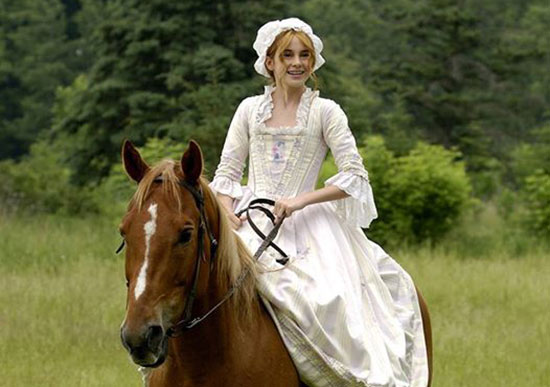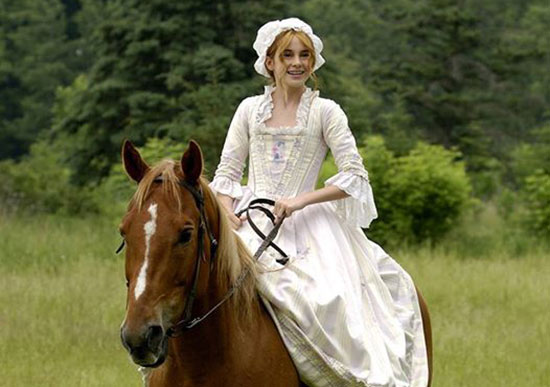 Not rated but suitable for the family.
Note: For younger children, try "Liberty's Kids: Est. 1776" (2002): The American Revolutionary War is seen through the eyes of an American teenaged lad, a young English lady, and a French boy, all 3 of whom work as reporters for Benjamin Franklin. Available to STREAM
---
George Washington (1984)

This riveting eight-hour miniseries stars Barry Bostwick as George Washington – the initially reluctant first American President who remains a symbol of diplomacy and strength to this day. Bostwick is accompanied by screen legend Patty Duke who plays the inimitable Martha Washington.
Chronicling Washington's life from age 11 to age 51, this unparalleled biopic of the America hero is based on the Pulitzer Prize-winning biography by James Thomas Flexner.
Nominated for six Primetime Emmys, the series explores key moments in Washington's life and career, including his involvement in the French and Indian War, the coming and commencement of the Revolutionary War, and the victory of the Independence from England.
Starring Barry Bostwick, Patty Duke, David Dukes, Jaclyn Smith, Lloyd Bridges.
Hawkeye: The First Frontier (1994)

Based on characters from the Leatherstocking Tales, a set of novels written by James Fenimore Cooper. The series takes place in 1755 Hudson Valley, New York during the French and Indian War.
In the new frontier, French and British forces battle for a stronghold in the Hudson Valley. Facing savage dangers and rugged terrain, Elizabeth Shield and her husband William have come to Fort Bennington to open a trading post in support of the British force, leaving behind the comfort and security of the old world. when their journey crosses paths with the hostile Iroquois, Elizabeth and William are rescued by Hawkeye, a nonconformist frontiersman and his native friend, Chingachgook.
William is double-crossed by his greedy brother who orchestrates his capture by the French. Elizabeth turns to Hawkeye for assistance in rescuing her husband while learning to survive her new frontier life. As her feelings for Hawkeye develop into more than friendship, Elizabeth must pray for the well-being of her husband, while holding vigil for the man she secretly loves. Against the breathtaking scenery of 18th century North America, Hawkeye delivers the adventure, beauty and hardship of frontier life in all 22 episodes of the series.
Starring Lee Horsley, Lynda Carter, Rodney A. Grant.
Rated G
The Howards of Virginia (1940)

A stirring romantic adventure set during the turbulent years of Colonial and Revolutionary America. Beautiful young Virginian Jane (Martha Scott) steps down from her proper aristocratic upbringing when she marries down-to-earth surveyor Matt Howard (Grant). Deeply in love, they move to the backwoods and begin to raise their family. Major differences emerge, however, when the conservative Jane and her Tory father rebel against Matt's staunch democratic ideals. Eventually, Matt joins the Colonial forces in the fight for freedom against England, and Jane and Matt are forced to choose between their love for each other and their political beliefs. Exciting and dramatic, The Howards of Virginia is a tumultuous tale of love and adventure.
With its straightforward retelling of events leading up to the American Revolution, The Howards of Virginia is a standard slice of patriotism from Hollywood's golden age. Adapted by noted screenwriter Sidney Buchman from Elizabeth Page's 1939 bestseller Tree of Liberty, this colonial melodrama is notorious for saddling Cary Grant with one of his most ill-fitting roles, and it's true that Grant's 20th-century style clashes with his portrayal of buckskinned rebel Matt Howard. Still, his performance is far from being "really bad" (as critic Pauline Kael harshly opined), and Martha Scott brings tenacious dignity to her role as Howard's pragmatic wife, who defies her aristocratic family to join her new husband in the wilderness of Ohio. The stirrings of rebellion clash with some thankfully outmoded Hollywood clichés (such as Howard's initial rejection of his mildly disabled son), but overall this remains a respectable and altogether engaging historical adventure, encompassing the early career of Thomas Jefferson and noteworthy for its meticulous attention to period detail. –Jeff Shannon
Starring Cary Grant, Martha Scott, Cedric Hardwicke, Sir Cedric Hardwicke, Alan Marshal.
Not rated
Janice Meredith / The Beautiful Rebel (1924)

It is 1774, the eve of the American War of Independence. Janice comes from a Tory household. She cavorts with American and British alike, is pursued by Charles Fownes, patriot and friend of General Washington. W.C. Fields is a comic, drunken British sergeant in this early silent film.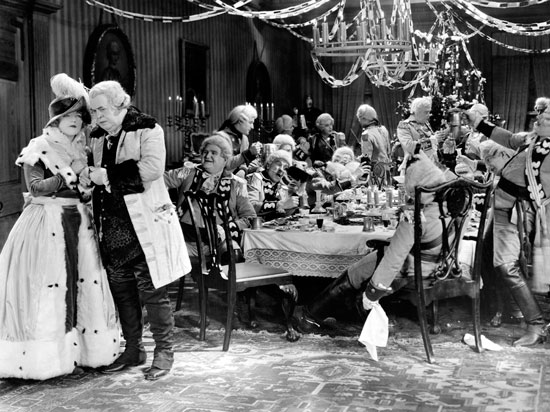 Starring Marion Davies, Holbrook Blinn, Harrison Ford, Macklyn Arbuckle, Joseph Kilgour, W.C. Fields.
Not rated
John Adams (2008)

John Adams chronicles the life of this remarkable historical figure, a man whose fiercely independent spirit, reverence for the rule of law and commitment to personal liberty profoundly influenced the values on which our country was founded. The miniseries also explores the extraordinary relationship between Adams and Abigail, his wife of 54 years, a partnership regarded as one of the most moving love stories in American history.
Adapted from David McCullough's Pulitzer Prize-winning biography, this lavish seven-part miniseries chronicles the life of Founding Father John Adams, starting with the Boston Massacre of 1770 through his years as an ambassador in Europe, then his terms as vice president and president of the United States, up to his death on July 4, 1826.
Adams, second president of the United States, is portrayed as a skilled orator and principled attorney whose preference for justice over anti-English passions earns enemies. But he also gains the esteem of the first national government of the United States, i.e., the Continental Congress, which seeks non-firebrands capable of making a reasoned if powerful case for America's break from England's monarchy. The first thing one notices about John Adams' dramatizations of congress' proceedings, and the fervent pro-independence violence in the streets of Boston and elsewhere, is that America's roots don't look pretty or idealized here. Some horrendous things happen in the name of protest, driving Adams to push the cause of independence in a legitimate effort to get on with a revolutionary war under the command of George Washington. But the process isn't easy: not every one of the 13 colonies-turned-states is ready to incur the wrath of England, and behind-the-scenes negotiations prove as much a part of 18th century congressional sessions as they do today.
Besides this peek into a less-romanticized version of the past, John Adams is also a story of the man himself. Adams' frustration at being forgotten or overlooked at critical junctures of America's early development–sent abroad for years instead of helping to draft the U.S. constitution–is detailed. So is his dismay that the truth of what actually transpired leading to the signing of the Declaration of Independence has been slowly forgotten and replaced by a rosier myth. But above all, John Adams is the story of two key ties: Adams' 54-year marriage to Abigail Adams (Laura Linney), every bit her husband's intellectual equal and anchor, and his difficult, almost symbiotic relationship with Thomas Jefferson (Stephen Dillane) over decades. Giamatti, of course, has to carry much of the drama, and if he doesn't always seem quite believable in the series' first half, he becomes increasingly excellent at the point where an aging Adams becomes bitter over his place in history. Linney is marvelous, as is Dillane, Sarah Polley as daughter Nabby, Danny Huston as cousin Samuel Adams, and above all Tom Wilkinson as a complex but indispensable Ben Franklin. –Tom Keogh
Starring Paul Giamatti, Laura Linney, Stephen Dillane Tom Wilkinson, Danny Huston, David Morse, Sarah Polley, Ebon Moss-Bachrach, Rufus Sewell, Justin Theroux, Guy Henry, Zeljko Ivanek.
Not rated but in general should be suitable for older children. The most difficult to watch scene is right at the start of the series. Highly recommended.
Johnny Tremain (1957)

America's greatest heroes live and fight again in this adventure of our country's struggle for independence in the 1770's. The film authentically recreates Paul Revere's ride, the Boston tea party, and decisive battles at Lexington and Concord.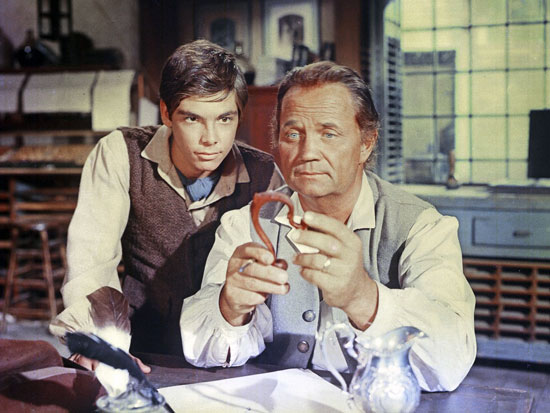 "This Walt Disney filmization of Esther Forbes' Revolutionary-War novel Johnny Tremain was appropriately released on July 4, 1957. New Disney discovery Hal Stalmaster plays the title character, an apprentice silversmith in 1773 Boston. An on-the-job injury prevents Johnny from finding a job, but he is welcomed with open arms at the headquarters of the Revolution. After standing trial on a trumped-up robbery charge brought about by British sympathizer Jonathan Lyte (Sebastian Cabot), Johnny is set free, whereupon he joins the Sons of Liberty during their execution of the Boston Tea Party. Later on, General Gage (Ralph Clanton), the officer in charge of the colonies, does his best to stem the activities of the Sons of the Liberty without resorting to violence but this becomes a moot point after the battle of Lexington Green. If the storyline of Johnny Tremain seems to be divided into two even halves, it is because the film was originally intended as a two-part installment of the Disneyland TV anthology. As it turned out, the film did receive TV exposure on Walt Disney Presents, divided (as planned) into two segments: "The Boston Tea Party" (first telecast November 21, 1958) and "The Shot That Was Heard Around the World" (December 5, 1958)." – Rotten Tomatoes
Starring Hal Stalmaster, Luana Patten, Jeff York, Sebastian Cabot, Richard Beymer, Rusty Lane, Walter Sande, Whit Bissell, Walter Coy.
Rated PG
John Paul Jones (1959)

The Scottish-born U.S. naval officer becomes a Revolutionary War hero and falls in love with a French noblewoman.
This expansive spectacle chronicles the adventures and life of the title 18th century naval hero who played a key role in the Revolutionary War. Ironically, at the time, his contributions were not always appreciated by the beleaguered new US government. After the war, the Congress shows their displeasure with Jones' constant badgering about maintaining a powerful navy by sending him to Russia to assist Catherine the Great (Bette Davis in a brief but arresting cameo). The courageous Jones does his best and saves the Queen in a series of battles on the Black Sea.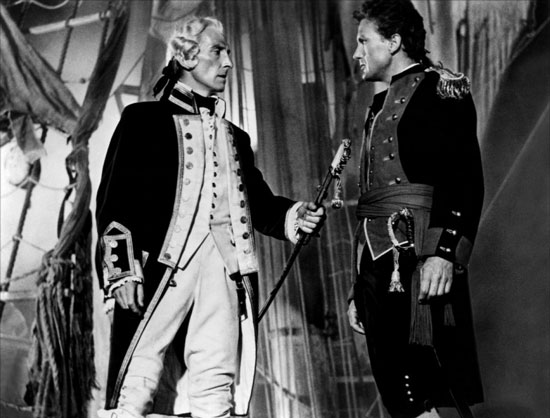 Starring Robert Stack, Charles Coburn, Macdonald Carey, Bette Davis, Jean Pierre Aumont, David Farrar, Marisa Pavan.
Not rated
The Kent Chronicles (1978)

The passionate pursuits of Philip Kent, patriot soldier, and of the determined men and women whose destiny propelled them into the struggles for American independence. Based on John Jakes's bestselling historical novels, (North and South), this star-studded Revolution-era romp follows the fortunes of a young Frenchman as he immigrates to America and crosses paths with historical heavyweights, including Paul Revere (William Shatner), Benjamin Franklin (Tom Bosley), Samuel Adams (William Daniels), and George Washington (Peter Graves).
Filled with adventure and romance, these three miniseries chronicle the saga of the Kent family in early America. In The Bastard, Frenchman Phillipe Charboneau adopts a new identity as Philip Kent in the colonies. In The Rebels, Kent fights in the War of Independence and strikes up a friendship with a dashing and reckless Virginian. The Seekers completes the story as Philip's sons and grandson forge a life on the western frontier and fight in the War of 1812.
The Bastard: Presented in two parts, the story begins in 1771, with 17-year-old French commoner Philippe Charboneau (Andrew Stevens) discovering that he is the illegitimate son of a British Duke. He goes on a long journey, girdling several countries, to claim his birthright, with his mother (Patricia Neal) along for the ride. Settling in America in 1772, our hero–now known as Phillip Kent–becomes involved with the American Revolution.
The Rebels: Philip Kent takes part in the American Revolution and the newly formed Congress.
The Seekers: The sons and grandchildren of Philip Kent make a life for themselves in America.
Starring Buddy Ebsen, Barry Sullivan, Harry Morgan, Lorne Greene, Donald Pleasence, Tom Bosley, Peter Graves, William Shatner, William Daniels, Andrew Stevens, Kim Cattrall, Cameron Mitchell, Donald Pleasence, Tom Bosley, Randolph Mantooth, Edie Adams, Neville Brand, Don Johnson.
Not rated but contains violence and sexual situations.
The Last of the Mohicans (1992)

Three trappers protect a British Colonel's daughters in the midst of the French and Indian War.
An epic adventure and passionate romance unfold against the panorama of a frontier wilderness ravaged by war. Academy Award winner Daniel Day-Lewis stars as Hawkeye, rugged frontiersman and adopted son of the Mohicans, and Madeleine Stowe is Cora Munro, aristocratic daughter of a proud British Colonel.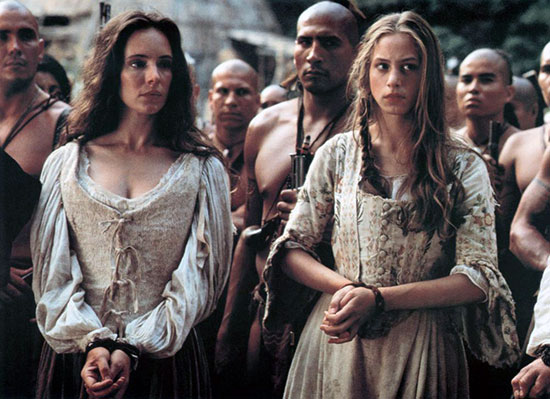 Starring Daniel Day-Lewis, Madeleine Stowe, Russell Means, Eric Schweig, Jodhi May, Steven Waddington, Wes Studi, Maurice Roëves, Patrice Chéreau.
Rated 13+
The Lives of Benjamin Franklin (1974)

The historical drama –winner of 5 Primetime Emmys including Outstanding Limited Series– is made up of four plays each showing Benjamin Franklin at a different stage in his life. In each of the four episodes, Franklin is played by a different actor. The television mini-series was originally broadcast by CBS and was directed by Glenn Jordan.
Starring Willie Aames, Beau Bridges, Eddie Albert, Richard Widmark, Melvyn Douglas, Brian Avery, Edward Bell.
Not rated.
Note: This doesn't seem to have been released on DVD or to and streaming service, but keep your eyes open for it to air on television.
---
Mary Silliman's War (1994)

The religious wife of a Connecticut attorney tries to free him from pro-British kidnappers in 1779.
Shot on location in Nova Scotia, the film relates the true story of a remarkable woman, whose husband, a patriot leader, was kidnapped from their home by a band of Tories — Americans loyal to the King of England. Left to fend for herself and their children as she sought her husband's release, Mary Silliman's story presents the War for Independence in a way that is fresh and engaging to a modern audience. Mary Silliman's War was produced by Heritage Films, under the auspices of The Institute for Early American History in Colonial Williamsburg, VA. It is based on the biography by Richard and Joy Day Buel, The Way of Duty: A Woman and Her Family in Revolutionary America.
The American Historical Association writes that "Mary Silliman's War also provides a remarkably persuasive—and long overdue—representation of a civilian experience of the Revolutionary War. It focuses on one rural community of colonial Americans—in a world that was indeed immediate and local—rather than on the distant military events of the Continental Army or the political concerns of the Continental Congress. That local focus helps to make the variety of political, economic, and social decisions that confronted individual Americans like Mary Silliman and her neighbors more palpable, and illustrates the extent to which the revolutionary conflict affected the lives of ordinary civilians, their families, and their communities." You can read more about the film here.
Starring Nancy Palk, Richard Donat, Diane D'Aquila, Joanne Miller, Allan Royal.
Not rated
The Patriot (2000)

In 1776 South Carolina, widower and legendary war hero Benjamin Martin (Mel Gibson) finds himself thrust into the midst of the American Revolutionary War as he helplessly watches his family torn apart by the savage forces of the British Redcoats. Unable to remain silent, he recruits a band of reluctant volunteers, including his idealistic patriot son, Gabriel (Heath Ledger), to take up arms against the British. Fighting to protect his family's freedom and his country's independence, Martin discovers the pain of betrayal, the redemption of revenge and the passion of love.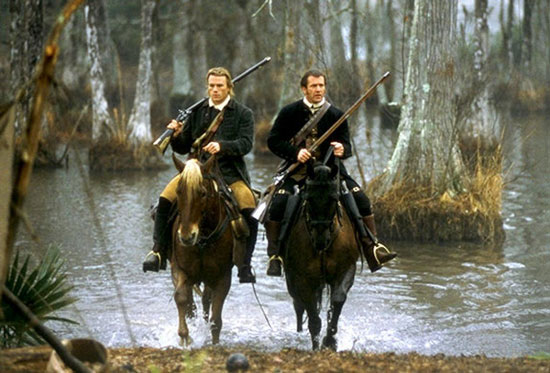 "A fable arguing the futility of pacifism, set against the backdrop of the Revolutionary War. It basically wants to be a summer action movie, with a historical gloss. At that, it succeeds. I enjoyed the strength and conviction of Gibson's performance, the sweep of the battle scenes, and the absurdity of the British caricatures. None of it has much to do with the historical reality of the Revolutionary War, but with such an enormous budget at risk, how could it?" – Roger Ebert
Starring Mel Gibson, Heath Ledger, Joely Richardson, Jason Isaacs, Chris Cooper, Tchéky Karyo, Rene Auberjonois, Lisa Brenner, Tom Wilkinson, Donal Logue.
Rated R
Note: FYI, this made TIME's Top 10 Historically Misleading Films list, partially for its portrayal of Swamp Fox. Director Spike Lee wrote that "The Patriot is pure, blatant American Hollywood propaganda. A complete whitewashing of history."
---
Revolution (1985)

A stirring chronicle of America's 18th century struggle for independence, set in the chaotic, emotionally charged days of the Revolutionary War.
The film didn't do well in the theaters, but BFI wrote that Al Pacino gave a "a soulful, restrained performance as a reluctant everyman drawn into revolutionary action" in this historical drama.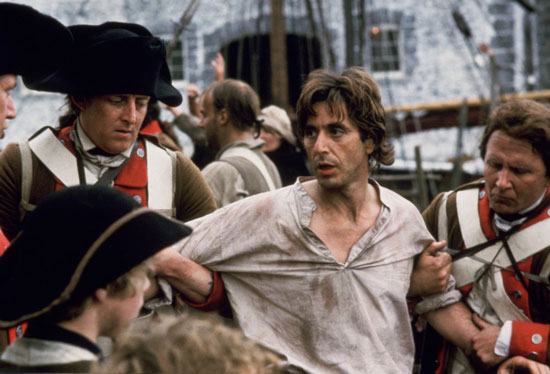 Starring Al Pacino, Donald Sutherland, Nastassja Kinski, Joan Plowright, Dave King, Steven Berkoff, John Wells, Annie Lennox, Dexter Fletcher, Sid Owen.
Rated PG
Available to STREAM. "Revolution Revisited" is also available to STREAM.
---
The Scarlet Coat (1955)

Colonial counter-intelligence officer Cornel Wilde poses as a deserter to ferret out a British spy in this action-packed Revolutionary War adventure.
When top-secret military information is recovered from the body of a spy, American counter-intelligence officer Major John Bolton realizes there's a highly placed turncoat in the ranks. Posing as a deserter, Bolton plays a dangerous game as he pretends to work for the British while attempting to ferret out the traitor's name. Shot on location in Sleepy Hollow and Tarrytown, New York, The Scarlet Coat is MGM at its swashbuckling best, an action-packed tale of duty, betrayal and honor.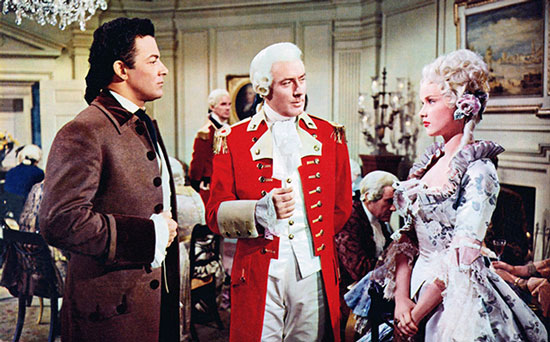 Starring Cornel Wilde, Michael Wilding, George Sanders, Anne Francis, Robert Douglas, John McIntire, Rhys Williams, John Dehner, James Westerfield, Ashley Cowan.
Rated 13+
Sons of Liberty (2015)

Before America was one nation, an aging generation of British loyalists maintained diplomacy with the King, but a defiant and radical group of young men would band together in secrecy to change the course of history.
Men who dubbed themselves "Sons of Liberty" helped spark the American Revolution; the young rebels from varied backgrounds struggled to find purpose in their lives but eventually became legends. The men started by seeking equality, but they found something even better — Independence. The featured firebrands in the historical drama miniseries include charismatic leader Sam Adams, artisan/militia-man Paul Revere, conservative lawyer John Adams, Gen. George Washington, and brilliant-but-mischievous diplomat Ben Franklin.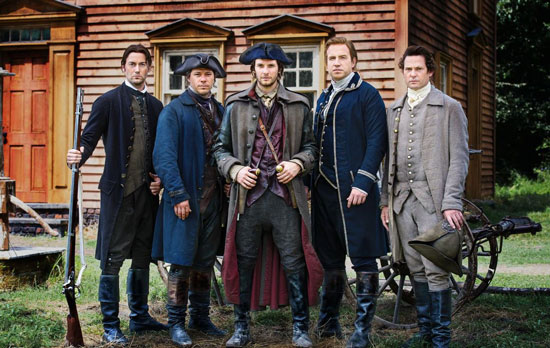 From the History Channel comes "a dramatic interpretation of events that sparked a revolution. It is historical fiction, not a documentary." There's a great rundown of the historical accuracy (and lack of) in the Journal of the American Revolution.
Starring Dean Norris, Ben Barnes, Ryan Eggold, Michael Raymond-James, Rafe Spall.
Rated TV-PG
TURN: Washington's Spies (2014)

Based on Alexander Rose's book Washington's Spies, AMC's TURN tells the untold story of America's first spy ring. A historical thriller set during the Revolutionary War, TURN centers on Abe Woodhull (Jamie Bell), a farmer living in British-occupied Long Island who bands together with his childhood friends to form The Culper Ring — an unlikely team of secret agents who not only went on to help George Washington turn the tide of the war but also gave birth to modern spycraft.
The series goes beyond the battlefront to a conflict involving everyday men and women, taking place in a cryptic world of double agents, covert operations and code-breaking. It revolves around Abe Woodhull, a young farmer torn between loyalty to his Tory background and respect for those who fight for the Patriot cause. Living on British-occupied Long Island, Abe joins a group of his childhood friends to form what becomes known as the Culper Ring, a spy network charged with sniffing out British military strategy. Under the direction of Gen. Washington, Abe and his fellow agents help turn the war to the Continentals' favor, and their daring efforts ultimately serve as the foundation for modern espionage.
Set beginning in 1775 at the dawn of the Revolutionary War.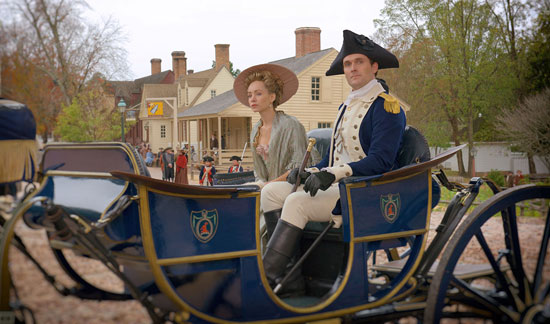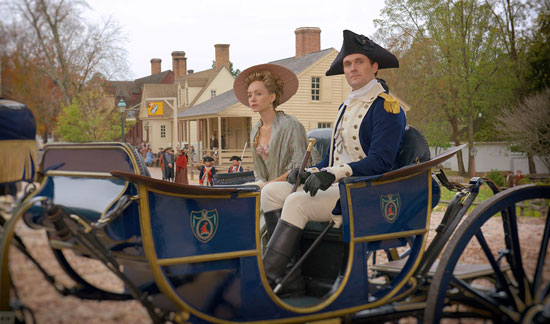 A dramatic interpretation of historical fact.. for a review that looks at the liberties taken, see the article here.
Starring Daniel Henshall, Jamie Bell, Seth Numrich, Heather Lind, Meegan Warner, Kevin McNally, Samuel Roukin, Burn Gorman, Angus Macfadyen.
Rated TV-14
Yankee Doodle Dandy (1942)

Brought to the White House to receive a Congressional Gold Medal from President Franklin Delano Roosevelt, Broadway legend George M. Cohan reflects on his life. Flashbacks trace Cohan's rise, from a childhood performing in his family's vaudeville act to his early days as a struggling Tin Pan Alley songwriter to his overwhelming success as an actor, writer, director and producer known for patriotic songs like "Yankee Doodle Dandy," "You're a Grand Old Flag" and "Over There."
James Cagney danced and sang his way to a well-deserved Oscar for his outstanding portrayal of vaudeville composer and performer George M. Cohan in this Oscar-nominated biography.
Starring James Cagney, Joan Leslie, Walter Huston, Richard Whorf, Irene Manning, George Tobias, Rosemary DeCamp, Jeanne Cagney, Frances Langford.
Not rated
The Young Rebels (1970)

As the Revolutionary War raged on around them, a trio of underground patriots (members of the Yankee Doodle Society, a secret guerrilla movement operating out of Chester, Pennsylvania) fight for American independence in 1777. Called "exciting, colorful, wholesome hour for parents and children alike" the series was "trying to be as truthful as possible on TV without losing our audience. It's a noble kind of TV series… we show the ugliness of war and the weariness of soldiers." The scripts were "concerned with the philosophy of the revolution and the moral wrongs that were committed" and drew its style and momentum for the youth movement of the 1960s.
Fifteen episodes aired on ABC.
Starring Richard Ely, Louis Gossett Jr., Alex Henteloff.
Not rated
Note: It doesn't appear that the series is available though traditional outlets, but watch for it to pop up on the television. You can read more about the production here.
---

Also, PBS has a series of dramatic documentaries on the Founding Fathers, including John Adams, Benjamin Franklin, Thomas Jefferson, Alexander Hamilton, and George Washington. Also see Lafayette: The Lost Hero and Liberty! The American Revolution as well as A Midwife's Tale. 
The History Channel produced the documentaries Founding Fathers, and Liberty: Heroes Of The American Revolution. A&E Biography produced John Paul Jones: Captain of the High Seas.
For the family: the historically accurate and amusing animated film Road to Independence (2007). The year is 1774 and John Adams, a brash, young lawyer from Boston has just been appointed to the 1st Continental Congress. He is obnoxious and not very well liked until he meets the quiet, pleasant young man named Thomas Jefferson. These men along with Ben Franklin, George Washington and Patrick Henry discover that 2/3 of American colonists have no interest in their "glorious cause." Undaunted they embark on one of history's most famous yet incorrectly told epochs.
If you enjoyed this post, be sure to see The Period Films List, with the best historical costume dramas sorted by era.