BBC has confirmed a second series of the period drama "Wolf Hall." The sequel will be adapted from Hilary Mantel's upcoming historical novel, "The Mirror and the Light."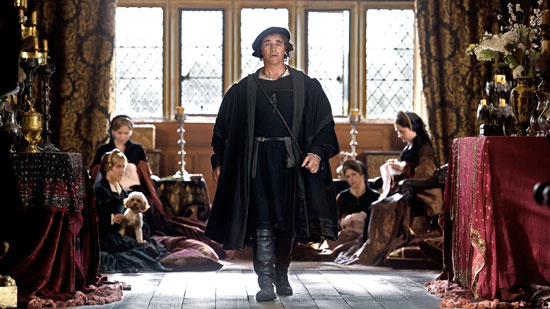 ---
To help keep this site running: Willow and Thatch may receive a commission when you click on any of the links on our site and make a purchase after doing so.
---
With The Mirror and the Light, Mantel traces the final years of Thomas Cromwell, the boy from nowhere who climbs to the heights of power, offering a defining portrait of predator and prey, of a ferocious contest between present and past, between royal will and a common man's vision: of a modern nation making itself through conflict, passion, and courage.
---
---
"The Mirror and the Light" (publishing March 5th 2020), is the third book in Mantel's Booker Prize-winning Tudor era trilogy about Thomas Cromwell, after Wolf Hall and Bring Up the Bodies.
Through 6-episodes, the 2015 BBC period mini-series adapted from Mantel's books, followed Thomas Cromwell's (Mark Rylance, Dunkirk) rise in social hierarchy from a blacksmith's son, to King Henry VIII's (Damian Lewis, The Forsyte Saga) chief minister.
The ever-loyal Cromwell serves a king who is obsessed with protecting the Tudor dynasty by securing his succession with a male heir to the throne. Cromwell must navigate deadly political intrigue, Henry VIII's tempestuous relationship with future queen Anne Boleyn (Claire Foy, The Queen), and the religious upheavals of the Protestant reformation.
Author Hilary Mantel said "When I began work on my Thomas Cromwell books back in 2005, I had high hopes, but it took time to feel out the full scope of the material. I didn't know at first I would write a trilogy, but gradually I realised the richness and fascination of this extraordinary life. Since then I have been on a long journey, with the good companionship of archivists, artists, booksellers, librarians, actors, producers, and – most importantly – millions of readers through the world."
In the final episode of "Wolf Hall," Henry's love for Anne Boleyn has given way to anger and distrust and he instructs Cromwell to rid him of his second Queen. Now we have news that the sequel will span the years following Boleyn's execution in 1536, to Cromwell's own death in 1540, when he was beheaded on orders of the king.
Mantel invites us to stay with her "as we walk the last miles of Cromwell's life, ascending to unprecedented riches and honour and abruptly descending to the scaffold at Tower Hill." We can expect the period drama to closely follow the synopsis of the upcoming book:
England, May 1536. Anne Boleyn is dead, decapitated in the space of a heartbeat by a hired French executioner. As her remains are bundled into oblivion, Thomas Cromwell breakfasts with the victors. The blacksmith's son from Putney emerges from the spring's bloodbath to continue his climb to power and wealth, while his formidable master, Henry VIII, settles to short-lived happiness with his third queen before Jane dies giving birth to the male heir he most craves.

Cromwell is a man with only his wits to rely on; he has no great family to back him, no private army. Despite rebellion at home, traitors plotting abroad and the threat of invasion testing Henry's regime to the breaking point, Cromwell's robust imagination sees a new country in the mirror of the future. But can a nation, or a person, shed the past like a skin? Do the dead continually unbury themselves? What will you do, the Spanish ambassador asks Cromwell, when the king turns on you, as sooner or later he turns on everyone close to him?
It's currently unknown if Mark Rylance will return as Thomas Cromwell, or when filming could start. With 8 Primetime Emmy Awards nominations, 2 BAFTA Awards for Best Drama Series and Best Actor wins, and the Golden Globe for Best Mini-series or Television Film to "Wolf Hall's" credit, the new adaptation has much to live up to – but there's every reason to expect that it will, with or without Rylance. The actor has recently completed work as Pope Pius IX in 19th century Italy in Steven Spielberg's "The Kidnapping of Edgardo Mortara."
In the US, "Wolf Hall" premiered on PBS Masterpiece (it was a Company Pictures and Playground co-production for BBC Two and MASTERPIECE in association with BBC Worldwide), so it's very possible that the "The Mirror and the Light" adaptation will find it's across-the-pond home on our favorite channel again. Fingers crossed.
---
Wolf Hall is AVAILABLE to STREAM
---
If you enjoyed this post, be sure to see The Period Films List,with the best British, historical and costume dramas sorted by era. You'll especially the Best Period Dramas: Tudor Era list.