Last Updated on January 28, 2020
In the dying days of the Edwardian era, "Parade's End" follows the conflicted relationship between conservative English aristocrat Christopher Tietjens, his beautiful but headstrong wife, Sylvia, and fearless young suffragette Valentine Wannop.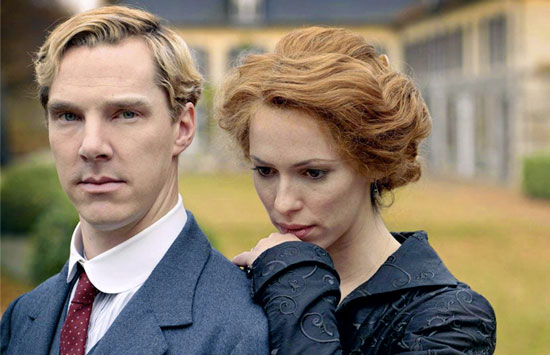 ---
To help keep this site running: Willow and Thatch may receive a commission when you click on any of the links on our site and make a purchase after doing so.
---
In the five-part BBC adaptation of Ford Madox Ford's tetralogy, the First World War is fast approaching England. Through its thematically rich drama, and with a stellar cast, the miniseries intertwines early 20th-century social politics with affairs of the heart.
---
---
Benedict Cumberbatch (Atonement, Imitation Game) plays Christopher Tietjens, the tight-laced second son of the Lord of the Manor Groby in Yorkshire. His wife Sylvia, played by Rebecca Hall (The Prestige, The Camomile Lawn), despises his pedantry and seriousness and lashes out by garnering lovers.
Valentine Wannop, played by Adelaide Clemens (The Great Gatsby), is a middle-class suffragette driven by her ideas of a progressive England who falls in love with married Christopher despite their social divide. The lives of these three disparate people converge disastrously as war ravages and transforms Europe.
Rebecca Hall plays Sylvia Tietjens with stunning wickedness. Cumberbatch's stalwart Christopher calls in our sympathy, even if he is excessively dull. In a particularly hateful mood toward her husband, Sylvia proclaims: "If I killed him, no jury would convict!"
Sylvia's exclamation throws into sharp relief the fractures in her marriage to Christopher: they married out of necessity, not love. While the former acts on impulse and functions according to her desires, the latter is calculated and restrained.
Christopher, with his starched collars and refusal to divorce his roving wife, represents the old order of English society. To his friend Macmaster he says "For a gentleman there is such a thing as… call it parade. I stand for monogamy. I, monogamy and chastity." Christopher's loyalty, however, does not compel Sylvia to fidelity. Sylvia embodies the independent spirit and liberalism that would seep into society at the end of the war.
Christopher first meets Valentine when he helps her and her fellow suffragette escape the police after they protest at a golf course for the wealthy elite. Christopher and Valentine's paths cross again when they breakfast with the latter's friend, Edith Duchemin, played by Anne-Marie Duff (The Virgin Queen, The Way We Live Now). Christopher and Valentine are attracted to one another, though neither can openly proclaim their feelings. Valentine is frustrated by Christopher's hesitation to express his feelings for her, but his moral principles and responsibility as an aristocrat impel him to silence.
In the grand rooms of stately homes and the desolate fields of war-stricken France, director Susanna White portrays lighthearted moments amid the high-brow dramatic scenes familiar in prestige period costume dramas. The visual contrast between the two is as equally jarring as the conflicting feelings the characters experience.
Christopher's rigid ways begin to wane once he enlists and fights beside soldiers of varying class. He daydreams of Valentine. At home, Sylvia wonders if she truly does love Christopher, despite her inability to remain loyal to him. And Valentine, ever the free-thinking revolutionary, loves a man with conventional values, though she herself hopes for radical change in England.
Amid the tumultuous romantic affairs is a lesson in history. Britain faced fundamental changes at the end of World War One: property-owning women over thirty won the vote, and domestic servants gained new professional prospects. The human loss during the war, paired with the shifting sense of identity among the working class, meant that things would never again be the same for the aristocracy.
In "Parade's End," a crumbling old world makes way for a liberated England. At last, tradition concedes to personal fulfillment, and duty bows to the needs of the heart.
---
Parade's End (2012) is AVAILABLE to STREAM.
Acclaimed playwright and screenwriter Tom Stoppard (Empire of the Sun, Shakespeare in Love) adapted the miniseries from four novels by Ford Madox Ford, which are AVAILABLE HERE. 
---
Kailey Rhone makes use of her English degree working as a production editor in the world of academic publishing. She can be found rewatching "Downton Abbey" and sipping on another cup of Earl Grey when she's not writing about the intersection of feminism and Jane Austen's novels. Her work can be found in Persuasions.
---
If you enjoyed this post, be sure to see The Period Films List, with the best historical and costume dramas sorted by era. You'll especially the the Best Period Dramas: First World War Era List. You'll also want to see Suffragette: The Story of Women & Power, and HBO Period Dramas You Can Stream for Free.