Just a quick post to remind you that Outlander Season 2 returns to Starz on April 9, 2016. Are we excited for 13 new episodes in 2016? Mais oui!
Minor spoilers ahead: All 13 episodes will reportedly run continuously, without  midseason "Droughtlander" to contend with. The first half of the season will take place in France, and we get to see Claire and Jamie settle into married life, prison cells behind them. There is a new bad guy, but he doesn't hold a candle to Black Jack Randall, thank goodness. And it looks as if marriage won't be without its trials.
I think Jamie's sanity has been saved. Physically, he's still recovering. He's still definitely damaged by it. He doesn't know quite how to deal with it, so he throws himself into this mission to try and stop fate, which is a pretty big undertaking. Basically, he kind of loses track of himself and of Claire. It does have a detrimental effect on their relationship and his psychology also it will sort of implode on them at some point. –  Sam Heughan
Claire's knowledge of the future will be even more of use, especially as "The story is also different in that it's much more political. It's much more conspiracy, it's much more lies and gossips and double dealing in Paris salons and so on, and building towards a war. It's all setting the stage for the Jacobite invasion of Scotland, and will history repeat itself." – Executive producer Ronald D. Moore
Word is that the costumes in Season 2 are breathtaking, and even shocking. In the first season, costume designer Terry Dresbach shared insider details about what the characters wore. Let's hope she continues the podcasts.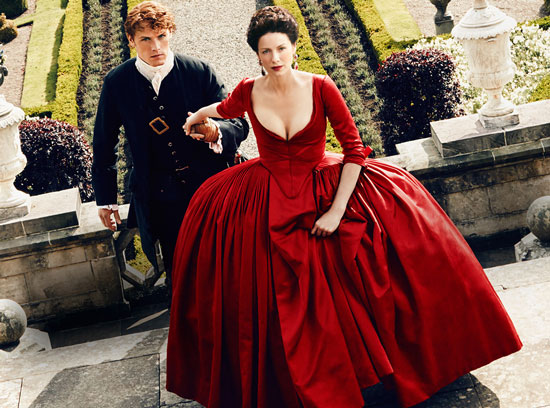 Ronald D. Moore discussed Season 2 with The Post and said, of Claire's experience in the French court, that she "had to penetrate a very different world, dealing with aristocrats. It's a nest of vipers and a bit of a challenge for Claire, who is used to speaking her mind." Lionel Lingelser plays King Louis XV.
As Jamie and Claire find themselves in the royal court among the aristocracy, we can expect an almost entirely new supporting cast. But not all the scenes in France will take place at court – Paris' L'Hopital des Anges will feature strongly in the first half of the second season, with Harry Potter's Frances De La Tour in the role of Mother Hildegarde. And some of the supporting characters from Season 1 will be back, including Murtagh (Duncan Lacroix), Dougal (Graham McTavish), Colum (Gary Lewis), Angus (Stephen Walters), and Rupert (Grant O'Rourke). You can meet some of the new cast here.
This video will catch you up on what happened in Season 1, but you could also binge watch the full season online, in part one and part two.
In this new video trailer from Starz for Season 2, we see how Jamie will have to navigate high society to stop Prince Charles and the Jacobite uprising, if he wants to save Scotland. And he does want to…a lot.
Now, no spoilers, but the second season isn't a direct adaptation of the 1992 book. Outlander Season 2 is as full of royal courts and sexual and political intrigue as the first season was full of passion, with both Balfe and Heughan displaying greater depth and intricacy now that their characters have been fully established. With its leads blooming, and the audience and market expanding, the Starz series eclipses the fate of being merely about frilly shirts and curly locks to explore a genuine love story that only the most hardened of hearts could resist. – Deadline
Extravagant Paris is vastly different than the rolling hills of Scotland. This video shows us the work that went into crafting this new world for Outlander Season 2.
Lastly, you can watch a video review of Season 2 from Deadline's Dominic Patten. And now we are good to go!
About the series: After serving as a British Army nurse in World War II, Claire Randall is enjoying a second honeymoon in Scotland with husband Frank, an MI6 officer looking forward to a new career as an Oxford historian. Suddenly, Claire is transported to 1743 and into a mysterious world where her freedom and life are threatened. To survive, she marries Jamie Fraser, a strapping Scots warrior with a complicated past and a disarming sense of humor. A passionate relationship ensues, and Claire is caught between two vastly different men in two inharmonious lives. "Outlander" is adapted from the best-selling books by Diana Gabaldon.

If you enjoyed this post, you'll want to wander over to the Period Films List – the best costume dramas, heritage films, documentaries, period dramas, romances, historical reality series and period inspired movies, sorted by era and theme. You may also be interested in the Georgian Era Period Dramas 2016 post, and be sure to see the Outlander Season 2 Gaelic Glossary.