Last Updated on September 5, 2023
In the PBS dramatic series "Little Bird" (2023), Bezhig Little Bird is adopted into a Jewish family at the age of five, being stripped of her identity and becoming Esther Rosenblum. As a young woman in her 20s, Bezhig longs for the family she lost and to fill in the missing pieces.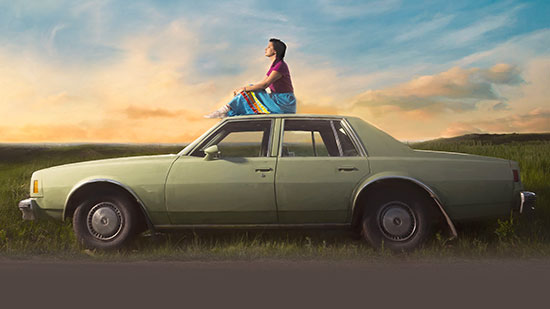 ---
To help keep this site running: Willow and Thatch may receive a commission when you click on any of the links on our site and make a purchase after doing so. 
---
Her quest lands her in the Canadian prairies where she discovers that she was one of the generation of children forcibly apprehended by the Canadian government through a policy, later coined the 60s Scoop.
Exploring universal themes of resilience in the face of trauma and loss, "Little Bird" airs on PBS in October 2023. Keep reading for airdates and times, and everything you need to know.
Watch the trailer at the end of the page.
---
---
What year is "Little Bird" set?
"Little Bird" is a double period piece. It opens in the 1960s, moving between 1968 and 1985.
Where and when can I watch "Little Bird" in the US?
"Little Bird" (2023) premieres on PBS Thursday, October 12, 2023, at 9 p.m. ET. (check local listings)
Is "Little Bird" based on a true story?
Yes. "Little Bird" sheds light on the 60s Scoop, a piece of Canadian history that is not widely known, when the government forcibly removed thousands of Indigenous children from their families.
PBS will also broadcast and stream "Coming Home," a 90-minute companion documentary providing historical context about the Sixties Scoop on October 12th at 10:00 p.m. ET (check local listings). Directed by Erica Daniels, "Coming Home" explores the connections between the ground-breaking movement for Indigenous narrative sovereignty and the impact of the child welfare system as experienced through the "Little Bird" series' Indigenous creatives, crew, and Sixties Scoop advisors. "Coming Home" provides a structuring through-line, interwoven with interviews with cast, crew, and community members revealing personal connections to the Sixties Scoop.
---
---
Who are the actors in "Little Bird"?
Led by Darla Contois who plays Bezhig Little Bird, the character-driven drama features a talented cast of Indigenous actors, including: Ellyn Jade; Osawa Muskwa; Joshua Odjick; Imajyn Cardinal; Braeden Clarke; Eric Schweig; and Michelle Thrush. Rounding out the cast is Lisa Edelstein who plays Esther's adoptive mother, Golda Rosenblum.
Where was "Little Bird" filmed?
"Little Bird" was filmed in and around Winnipeg, in Brokenhead Ojibway Nation on Treaty 1 territory and in Sioux Valley Dakota Nation.
---
---
How many episodes of "Little Bird" are there?
There are 6 episodes, each 1 hour long, in the limited series "Little Bird." See episode airdates and descriptions, and watch the trailer below.
Episode 1: LITTLE BIRD : Love is all Around
Premieres Thursday, October 12, 2023, 9:00 – 10:00 p.m. ET
1968: Bezhig Little Bird, her sister and brother are ripped away from their mother by police to be put up for adoption. Now, 18 years later, Bezhig, renamed Esther Rosenblum, doesn't feel a sense of belonging in her comfortable life.
Episode 2: LITTLE BIRD : So Put Together
Premieres Thursday, October 19, 2023, 9:00 – 10:00 p.m. ET
Esther finds her adoption papers, and a news clipping that evokes memories on the Long Pine Reserve, before she was adopted. Determined to learn more, she uproots her life, sacrificing everything in search of her family and who she is.
Episode 3: LITTLE BIRD : The Land that Takes You
Premieres Thursday, October 26, 2023, 9:00 – 10:00 p.m. ET
Patti Little Bird is desperate to get her kids back, but she doesn't know where they have been taken. Eighteen years later, Bezhig/Esther is desperate to find her family. Both women are lost, tangled in the exact same place, decades apart.
Episode 4: LITTLE BIRD : Burning Down The House
Premieres Thursday, November 2, 2023, 9:00 – 10:00 p.m. ET
Esther finds members of her family who help her put together the pieces of the past. She returns to Montreal to confront her adoptive mother about the revelations that shine a light on their life and change the way they look at the past.
Episode 5: LITTLE BIRD : I Want My Mom
Premieres Thursday, November 9, 2023, 9:00 – 10:00 p.m. ET
Esther returns to the prairies and continues her pursuit of uncovering her past. Reconnecting the severed ties of a broken family is not easy. When tragedy strikes, Esther realizes that she needs her mother, Golda, more than anything.
Episode 6: LITTLE BIRD : Bineshi Kwe
Premieres Thursday, November 16, 2023, 9:00 – 10:00 p.m. ET
The Little Bird family comes together to mourn death and celebrate life. Esther and Golda are both changed from this journey of self-discovery, but it has strengthened their bond. Esther has finally found what she's been looking for.
---
---
---
If you enjoyed this post, wander over to The Period Films List.