Last Updated on March 25, 2023
Anyone who watches frontier-set period dramas will recognize "Dreamland's" opening scene: the homesteaders have traveled countless miles to discover that the land they've staked everything on is no more than a "rotten promise."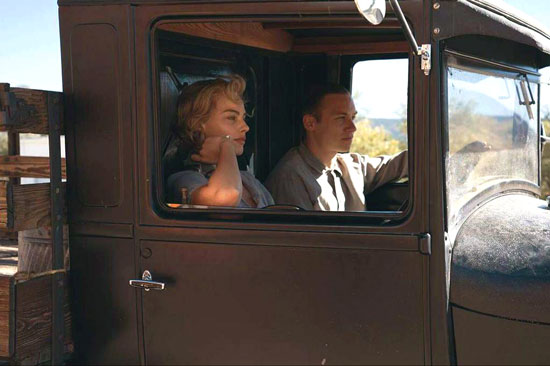 ---
To help keep this site running: Willow and Thatch may receive a commission when you click on any of the links on our site and make a purchase after doing so. 
---
The narrator tells us they are heartbroken, fearful, and at the mercy of the banks and impassioned preachers. All they can do is pray for rain.
This is a love story, just not yet.
---
---
In "Dreamland" (2019), Finn Cole (Peaky Blinders) plays Eugene, an innocent 17-year-old boy who lives in middle of nowhere 1930s Texas during the Great Depression. Like everyone else in town, Eugene brings a mask when he goes out, even to church, because the dust storms could kick up anytime, and they do. His homesteader dad left when Eugene was little, his mom (Kerry Condon, Better Call Saul) remarried a stern Deputy (Travis Fimmel, Vikings), and their farm is on the verge of foreclosure. Eugene starts dreaming his way out of this life, escaping through the adventures in his detective magazines.
Bank robber, maybe murderer, Allison (Margot Robbie, Mary Queen of Scots) is on the run, and the narrator speaks up again to say that this charismatic woman is headed straight for her brother Eugene. Allison is young, intelligent and beautiful, and like a page out of one of his detective stories. She plays him like a piano to save herself from being captured. Why wouldn't she? She's deeply wounded – physically, from being shot – and emotionally. Allison needs Eugene, and he's in love before he knows it, thrust headlong on a journey into manhood. Allison isn't in love with the kid, not yet, but "it's a long drive to Mexico."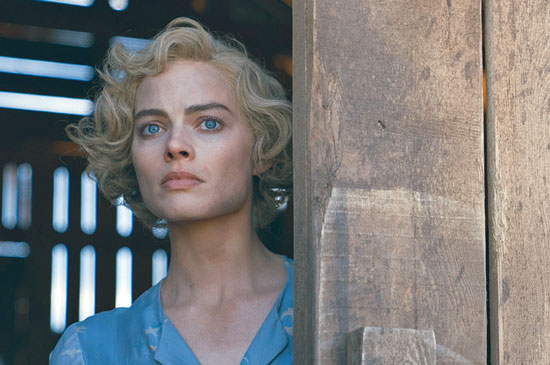 Eugene's little sister Phoebe (Darby Camp, The Christmas Chronicles), is curious and spunky like the prairie's young Laura Ingalls, and she knows what's going on. That's why twenty years later, she's able to narrate his story like a poet. It unfolds with suspense and her witty repartee, alongside foot stomping at the barn dance (to excellent banjo licks).
The film is an echo of Terrence Malick's Days of Heaven and pays homage to Bonnie and Clyde, but director Miles Joris-Peyrafitte gives "Dreamland" it's own cinematic language. Super 8-like footage anchors us to the character's memories, imaginings and desires. Wide shots of fading sunsets and canopies of stars set us free. Drought, storms, and rain are symbols punctuating the timeline of Eugene's life. This is all good, and even better is that Eugene and Allison's dynamic is honest and believable, and so are the period setting and costumes.
But best of all: living this through Phoebe's eyes, enveloped in her love of her brother Eugene. So that makes two love stories.
---
"Dreamland" is AVAILABLE to STREAM
Rated R; contains some language, violence, sexuality and brief nudity.
---

If you enjoyed this post, be sure to see Period Films List. You'll especially like the Best Period Dramas: Interwar Era List. Also see our review of the prairie-set movie Heartland.