Last Updated on August 6, 2022
The character of Cyrano first entered modern culture with Edmond Rostand's 1897 play, about a French cadet with twin gifts for wordplay and dueling who ends up wooing his beloved on behalf of someone else.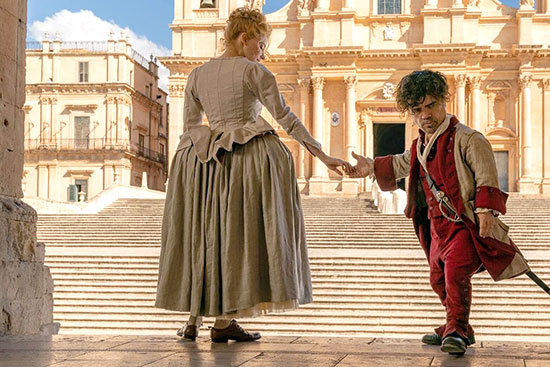 ---
To help keep this site running: Willow and Thatch may receive a commission when you click on any of the links on our site and make a purchase after doing so. 
---
Later adaptations have eclipsed the original, and now Joe Wright's 2021 musical version offers an entirely new, highly entertaining interpretation of the well-known love story.
---
---
In "Cyrano" (2021), beautiful, penniless Roxanne (Hayley Bennett) is being courted by the unappealing Duke de Guiche, but she's holding out hope that she'll be able to marry for love.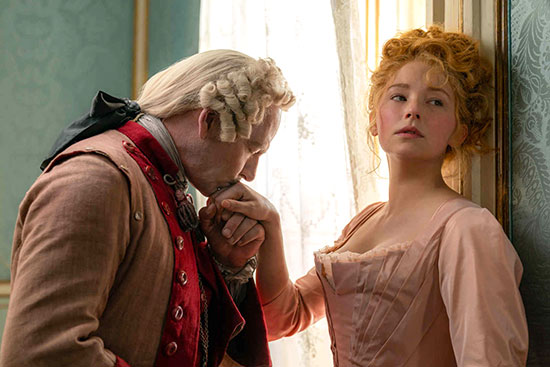 When she attends a performance with the Duke, she sees Christian (Kelvin Harrison, Jr.), a new army recruit, and immediately falls for him. Meanwhile, her childhood friend Cyrano (Peter Dinklage), is desperately in love with her and can't bring himself to tell her the truth.
In previous productions Cyrano is ashamed of his oversized nose, but here he's self-conscious about his stature. Before he can muster up the courage to reveal his true feelings to Roxanne, she confesses her feelings for Christian, and he promises to look out for the new recruit.
When Christian, in turn, admits that he doesn't know how to talk to a lady, Cyrano agrees to write love letters on his behalf. Roxanne, of course, falls more deeply in love with Cyrano's wit and eloquence, and Cyrano's anguish grows as he watches Christian court her.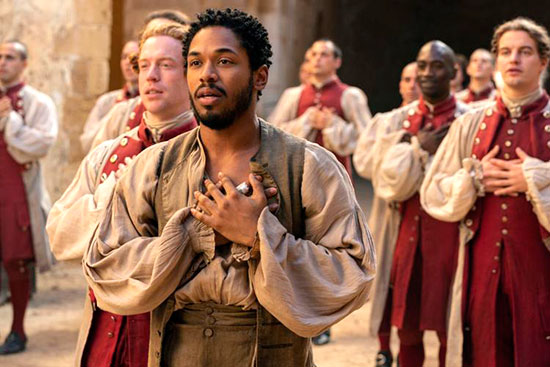 "Cyrano" is achingly romantic, thanks to Bennett and Dinklage's passionate performances. When Cyrano meets with Roxanne in private for the first time, he's too anxious to declare his love outright, and he leads her through a series of coyly-phrased questions so she'll be the first to admit her passion for him. Dinklage is heartbreakingly earnest in this scene, as he swings from mounting hope to absolute desperation when Roxanne reveals she's fallen in love with Christian.
Bennett imbues the vain and naïve Roxanne with a vital energy, like an adolescent discovering love for the first time. It's impossible to ignore her when she's onscreen. In a masterful piece of staging, she locks herself in her bedroom to read Christian's first letter, and together with the candlelight and Bennett's dreamy singing, the act of letter writing becomes almost erotic.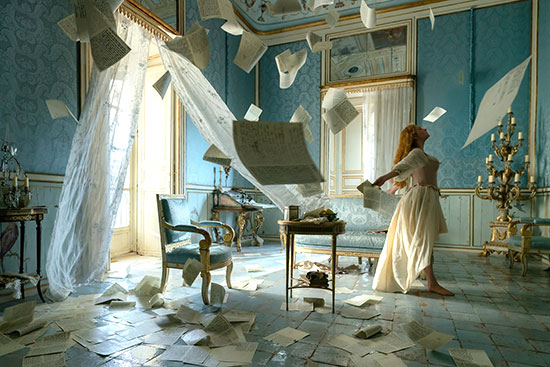 Perhaps we shouldn't be surprised, as this production is an intimate one for both leads. Playwright Erica Schmidt is married to Dinklage, who originated the role in the 2018 musical along with Bennett as Roxanne. When Bennett's partner, director Joe Wright, saw the performance, he immediately began planning to adapt it for the screen, with both Dinklage and Bennett reprising their roles.
Wright, whose period productions include the equally romantic "Pride & Prejudice" (2005), "Atonement" (2007), and "Anna Karenina" (2012), brings lush visuals and a strong sense of place to the film, without setting it in a specific time. Eschewing a strict adherence to the traditional 1640s Paris setting, Wright instead creates a fantasy Baroque France, where passersby might leap into coordinated dance moves to match the singer's emotional state.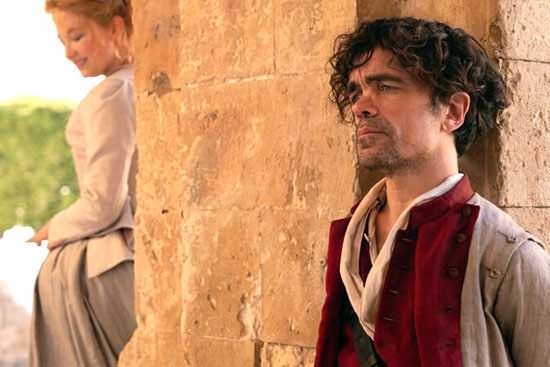 The distinctly modern songs, written by the band The National, are similarly anachronistic, and while some of the big numbers are less than memorable, they pair well with the visuals to create a timeless atmosphere. In this English-language period drama, Dinklage retains his American accent, Bennett adopts a hybrid American tinged with British inflections, and most of the other characters speak in a more expected British accent. But again, it all works.
"Cyrano" is a dreamy, lushly romantic interpretation of a classic story, and the very definition of escapist cinema. It's well worth your time.
---
"Cyrano" (2021) is AVAILABLE to STREAM
Rated PG-13
---
Abby Murphy writes young adult books about girls discovering their strengths. A member of SCBWI and The Historical Novel Society, she is represented by Laura Crockett of Triada US Literary Agency. You can visit her blog here, where she writes about reading, writing, history, and her incurable Anglophilia.
If you enjoyed this post, wander over to The Period Films List. For another romantic musical version of a classic tale, see our review of West Side Story (2021).