Last Updated on December 16, 2019
Jane Austen's birthday is December 16, 1775, so happy birthday Jane! With the following goodies, you can show your love for Jane, Austen-inspired costume dramas, find a gift for yourself or your favorite Janeite, and support Willow and Thatch, all at the same time.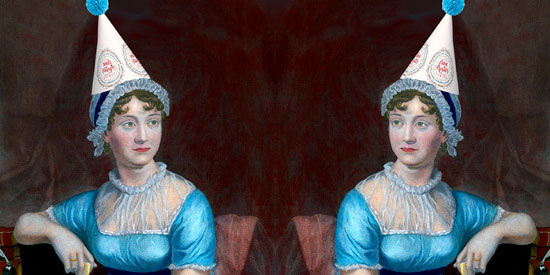 ---
To help keep this site running: Willow and Thatch may receive a commission when you click on any of the links on our site and make a purchase after doing so.
---
Keeping an independent site like this afloat in today's landscape requires all-hands-on-deck approach. To that end, we have designed a lovely Jane Austen Period Drama Adaptations roundel, which is available on a wide (a very wide indeed!) array of items that you can purchase for yourself or someone you love.
Jane Austen and her classic novels have inspired so many wonderful movie and television adaptations. The Jane Austen Period Drama Adaptations roundel, which is hand-drawn by calligrapher Larry Orlando, includes our favorites: "Pride and Prejudice," "Sense and Sensibility," "Persuasion," "Emma," "Northanger Abbey," and "Mansfield Park" on the outer ring.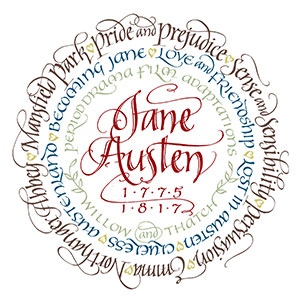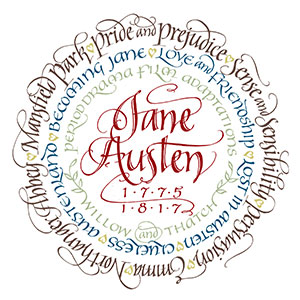 The next ring of the roundel includes "Love and Friendship," "Lost in Austen," "Clueless," "Austenland," and "Becoming Jane."
The inner ring reads "Period Drama Film Adaptations – Willow and Thatch" and the center "Jane Austen 1775 – 1817."
You'll find all the Jane Austen Period Drama Adaptations roundel gifts in the shop here, but let's look a some of the products that are available:
---
We have women's t-shirts galore! They come in different styles and colors, so you should be able to find just the thing, including long-sleeved t-shirts for fall.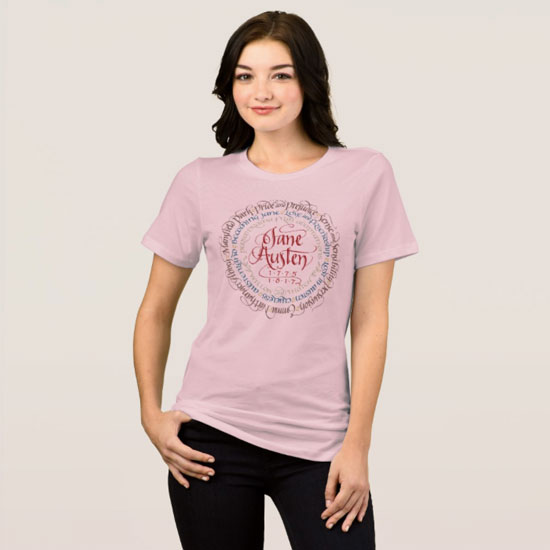 There are men's t-shirts as well, because we would never (ever) forget your Mr. Darcy. This one is an all-organic cotton classic t-shirt from American Apparel. Made from 100% organic, fine jersey cotton combed for a soft, smooth hand. The front design comes also comes in a larger size for him, and there is a black only print in case he's more minimal. Or edgy? Edgy Darcy?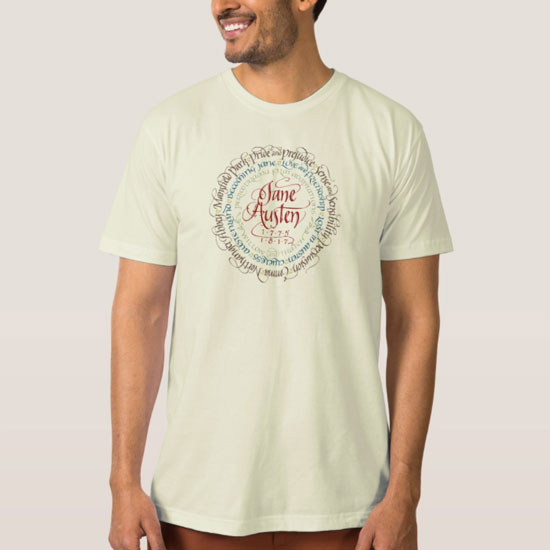 You'll find all kinds of sweatshirts for women, regular and hooded, so you can cozy up with your favorite Jane Austen literary adaptation.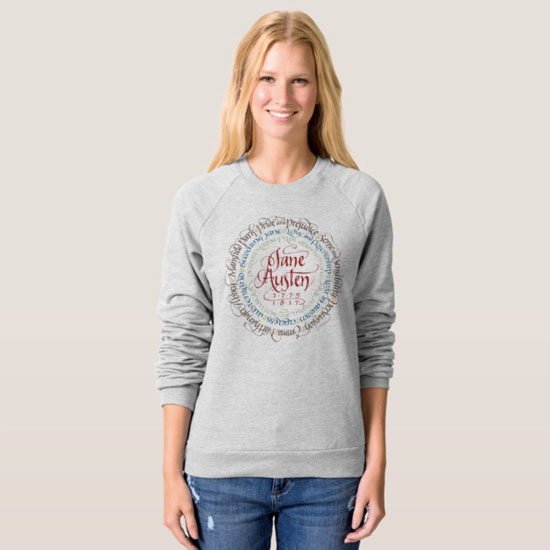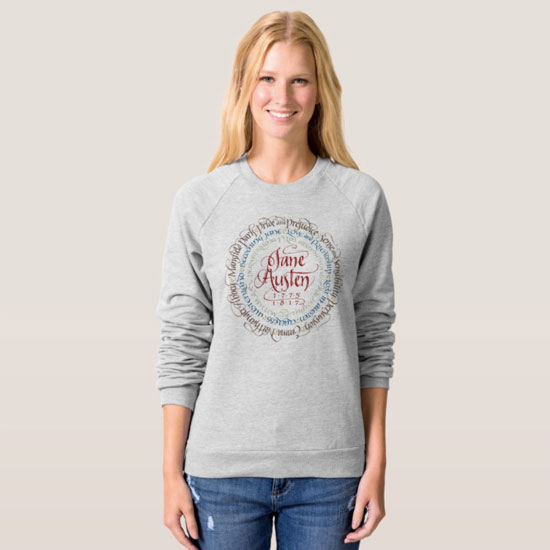 And there are sweatshirts for him too. You can choose to have the design on the front or on the back. Won't you two look (extra) cute together?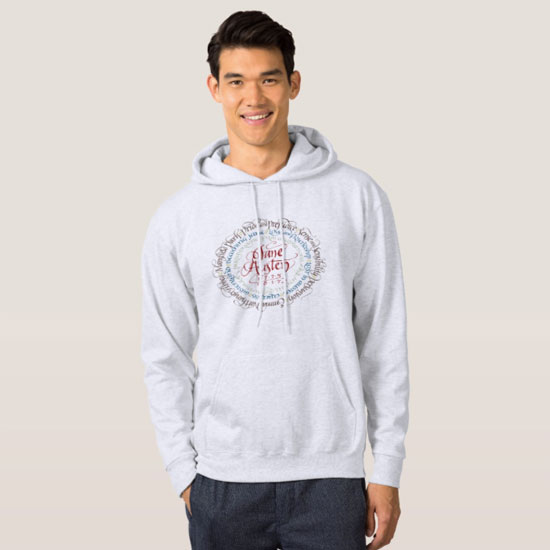 There are t-shirts and sweatshirts for boys and girls, and also this cute organic onesie for a newborn.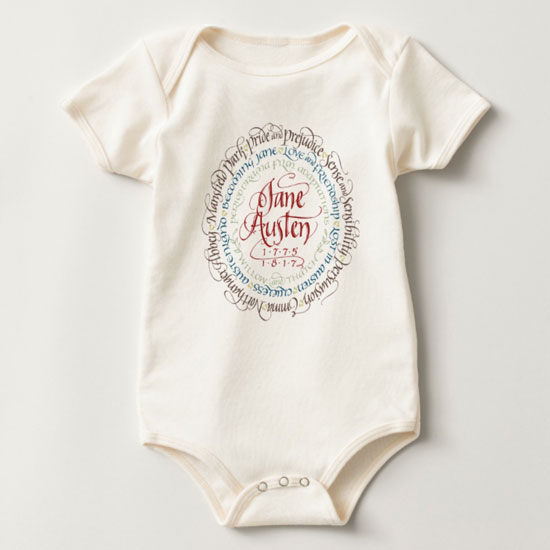 The baby's room will need this super-soft blanket made with baby-safe inks. Swaddle them up and start them on Austen while they are young!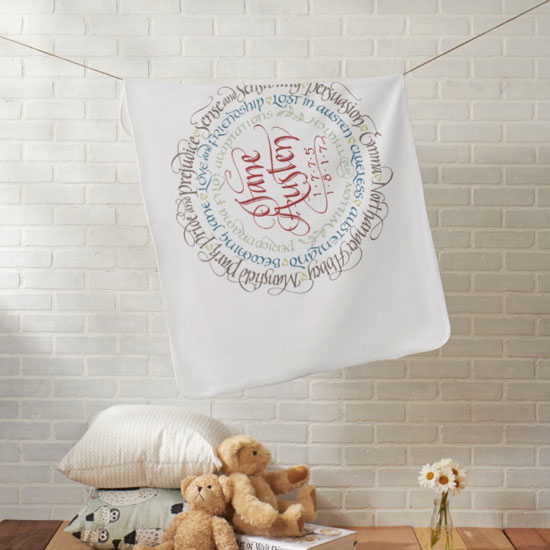 There's an assortment of watches for adults and kids (and a clock too), along with other accessories like a clutch purse and keychain.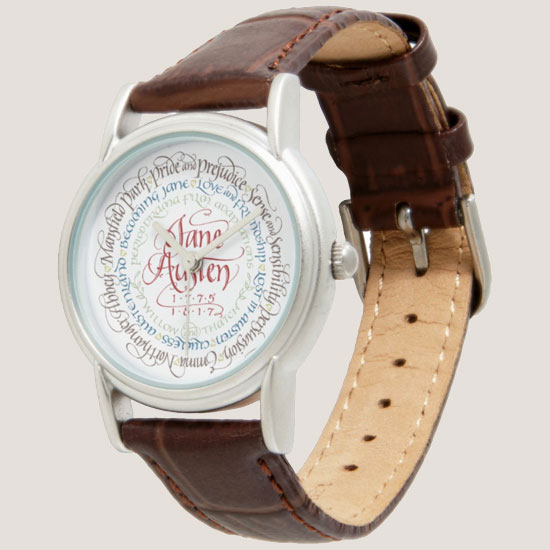 Tote bags! This one is a fancy handmade canvas bag, designed with a convenient interior pocket and two heavy duty straps that comfortably hang over your shoulder, but we also have some nice 100% cotton grocery totes.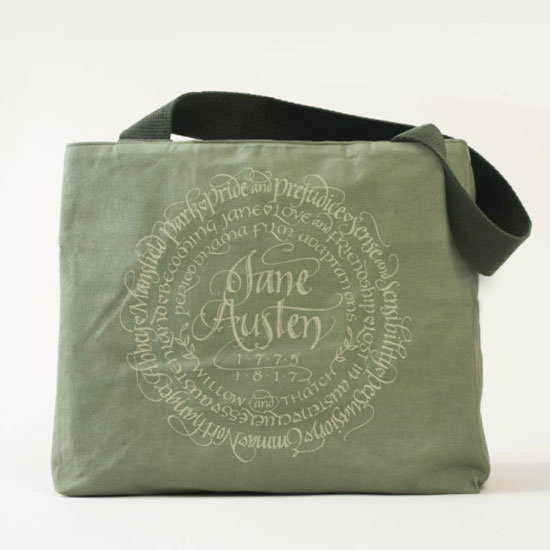 There are the prettiest protective sleeves for your devices, like your iPad or laptop. Made in California with a focus on environmentally sustainable production, the Rickshaw sleeve is a simple, stylish, and sustainable solution for protecting your devices. You can even change the colors if you like. There are also hard smart phone cases and the like.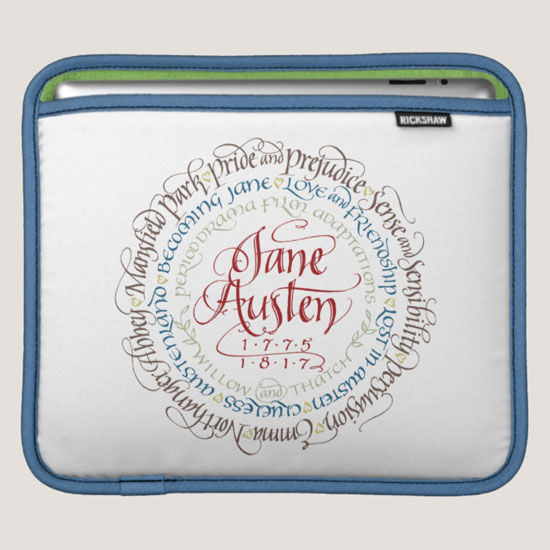 Back to school Jane Austen style is covered! We have everything from binders to notebooks to pens and pencils, erasers, notepads, stickers, magnets and more. These would also make fun gifts for friends in your book group, or a teacher's present. The erasers are pretty neat.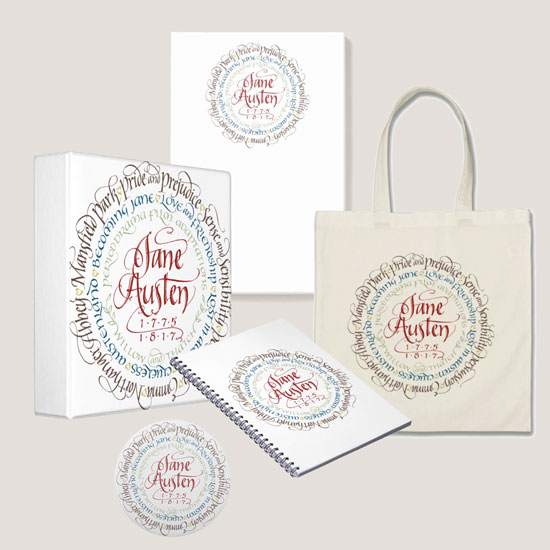 Because you love your tea, we have some really nice mugs, including a jumbo one for your desk, a demi size, and a bone china option for home (and teapot). When you are on the go, try one of these stainless steel travel cups or water bottles or insulated hot / cold bottles or thermal tumblers. 100% BPA and phthalates free.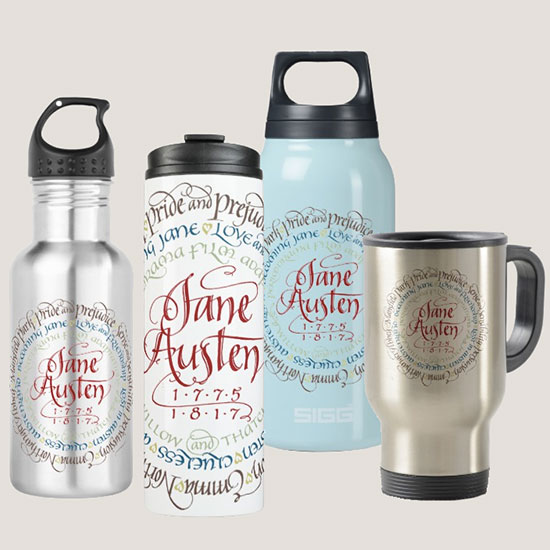 How about one of the throw pillows, or cotton fabric to sew your own? The pillows come in square, round and lumbar.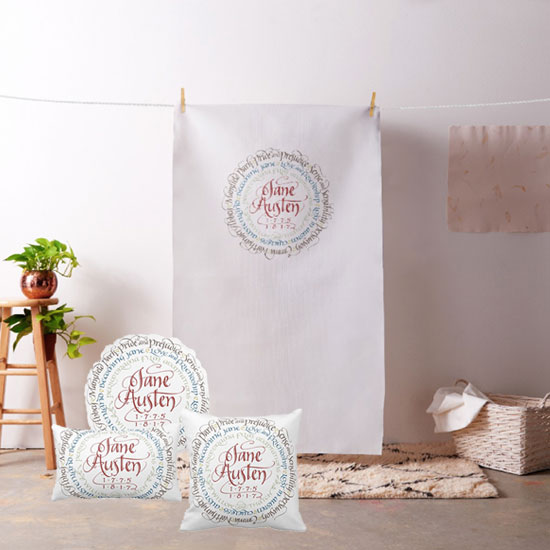 These oh-so-pretty iced sweets are individually wrapped chocolate dipped Oreos and Oreo pops, and premium shortbread cookies made from flour, butter, sugar, eggs, vanilla, cinnamon, nutmeg, ground ginger and salt. How about those for a tea party? (I'm not sure how well you'd be able to read the pops, but the other two should look – and taste –  fabulous.)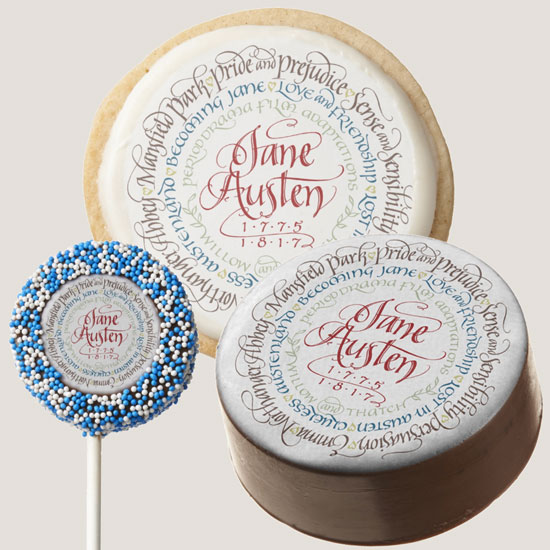 And in case you want to freshen up a dorm room, there's a wall decal made with eco-solvent inks, birch wood wall art, cabinet and drawer knobs, and even this dartboard! Crazy, right? I tried to cover all the bases so you'll find something you love. You should see the Doggie Ribbed Tank Top and Frisbee too!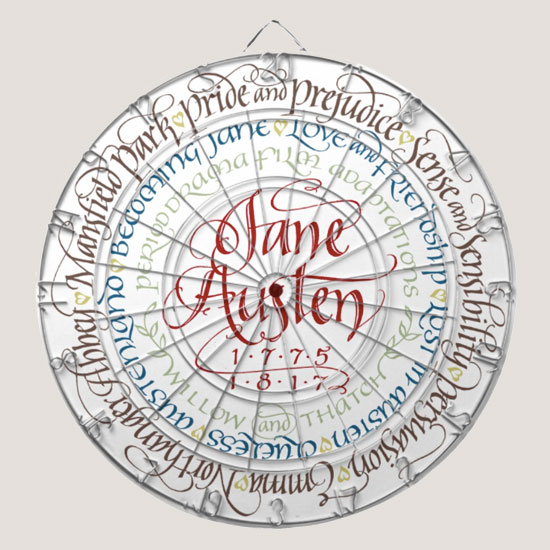 You can shop all the Jane Austen Period Drama Adaptations items that help support Willow and Thatch in the shop here. Thank you – and thank you Jane!
Be sure to wander over to the Best Period Films List for more suggestions of what costume and historical dramas to watch; you'll especially like the Georgian and Regency Era List. 
SaveSave
SaveSave
SaveSave
SaveSaveSaveSaveSaveSaveSaveSave
SaveSave
SaveSave
SaveSave
SaveSave
SaveSave
SaveSave
SaveSave
SaveSave
SaveSave
SaveSave
SaveSave
SaveSave
SaveSave
SaveSaveSaveSave
SaveSave
SaveSave
SaveSaveSaveSaveSaveSaveSaveSave
SaveSave
SaveSave
SaveSave
SaveSave
SaveSave
SaveSave
SaveSave
SaveSave
SaveSave
SaveSave
SaveSave
SaveSave
SaveSave
SaveSave
SaveSave
SaveSave
SaveSave
SaveSave
SaveSave
SaveSave
SaveSave
SaveSave
SaveSave
SaveSave
SaveSave
SaveSave
SaveSave
SaveSave
SaveSave
SaveSaveSaveSave