Last Updated on September 14, 2019
Shine your tiara and ready your hilariously acerbic quips, the "Downton Abbey" movie opens everywhere September 20th.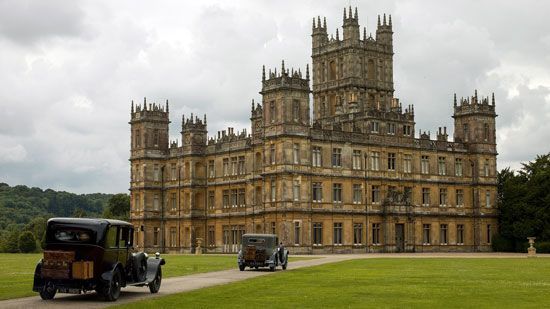 ---
To help keep this site running: Willow and Thatch may receive a commission when you click on any of the links on our site and make a purchase after doing so.
---
To prepare, let's go inside the opulence and storied history of Highclere Castle, the real setting of "Downton Abbey." Then, we look at other costume dramas that have been filmed at Highclere Castle, and some documentaries and books about the real Downton.

Highclere Castle History
Seventy miles west of London, set in 5,000 acres of pristine English countryside, Highclere Castle is one of the last aristocrat-owned farming estates in the United Kingdom. The house and lands have been in the Carnarvon family since it was purchased in 1679 by Sir Robert Sawyer, direct grandfather of the current Earl, who served as Attorney General to King Charles II and King James II. The original medieval home, built by Bishop William of Wykeham in 749, was rebuilt in the Georgian style by Sawyer as Highclere Place House.
In 1771, landscape architect Lancelot "Capability" Brown transformed the small formal gardens of Highclere for the 1st Earl of Carnarvon, and opened them up to the great expanse of the English countryside around the manor house.
Then in 1839, fresh from his redesign of Parliament House, architect Charles Berry renovated the house for the 3rd Earl of Carnarvon, into the familiar Gothic Revival style we see today, with its many high spires. After the glamorous facelift, the manor was appropriately renamed Highclere Castle.
---
---
The 5th Earl and Countess of Carnarvon
Much like the Crowley family's story in "Downton Abbey," George Herbert, the 5th Earl of Carnarvon, was deep in debt and found himself land rich but cash poor. In 1895, he married 19-year-old beauty Almina Wombwell, an illegitimate daughter of wealthy banker Alfred de Rothschild. Fortunately for the couple, it was a love match, and together with Almina's enormous inheritance, they were able to save the family estate and smooth over any social awkwardness for arose from her dubious heritage.
As dramatized in "Downton Abbey," during World War I, 75 men from the Highclere Castle staff went off to do their duty in Europe. Tragically, many grooms, game keepers, and gardeners never returned. In 1914, Lady Almina generously opened the house as a wartime hospital, allowing wounded warriors to recuperate in the glorious surroundings and peace of the countryside. (For more on the historical events dramatized in "Downton Abbey" see History in Downton Abbey Series & Film.)
Always the adventurer and excitement seeker, the 5th Earl suffered a terrible car accident. To recuperate, doctors urged him to find a warmer climate. So began his love affair with Egypt. Carnarvon and partner archaeologist Howard Carter excavated together for 16 years, and often planned their winter expeditions from the comfort and splendor of Highclere. In 1922, they famously discovered the undisturbed tomb of Egyptian Pharaoh Tutankhamun, complete with all its treasures and artifacts.
Unfortunately, a few months after the pinnacle of his archeological career, the 5th Earl died after a mosquito bite became infected, leading some to theorize about a mummy's curse, though experts conclude that his death had nothing to do with Tutankhamun's tomb. Lady Almina brought her husband's remains home to Highclere Castle where he is buried on Beacon Hill, overlooking his family's estate.

Highclere Castle Today
Today, Highclere Castle is the residence of the 8th Earl and Countess of Carnarvon, who have graciously opened their home to not only film crews, but to overnight visitors, tours, weddings, and many other events. On the Highclere website, the Earl and Countess said, "We never tire of this stunning home and inspiring landscape and we are delighted to share it with each and every visitor."
Visitors are treated to tours of not only the castle and gardens, but also the Egyptian Exhibition in the castle cellar from the expedition of the 5th Earl.
In Lady Carnavon's blog, she writes that "Visitors often write in to say Highclere is their 'dream' holiday trip and that coming here is on their bucket list. It is a treat for mothers and daughters, a special day out for a husband to give his wife, a romantic location for a marriage proposal, a convivial meeting place for friends. It leaves visitors with memories, smiles and thus new dreams."

TV Shows Featuring Highclere Castle
---
Go behind the scenes to the real Highclere Castle in these documentary specials and TV shows:
---
The Secrets of Highclere Castle (PBS)
100 years ago, the world of the British manor house was at its height. It was a life of luxury and indolence for a wealthy few supported by the labor of hundreds of servants toiling ceaselessly "below stairs" to make the lives of their lords and ladies run as smoothly as possible. It is a world that has provided a majestic backdrop to a range of movies and popular costume dramas to this day, including PBS' "Downton Abbey."
But what was really going on behind these stately walls? "Secrets of the Manor House" looks beyond the fiction to the truth of what life was like in these British houses of yesteryear. They were communities where two separate worlds existed side by side: the poor worked as domestic servants, while the nation's wealthiest families enjoyed a lifestyle of luxury, and aristocrats ruled over their servants as they had done for a thousand years.
The program talks to present-day British lords and ladies and to the descendants of those who lived and worked in manor houses across the country. A series of expert historians explain the true picture of how life was lived within the walls of these stately homes that had changed very little for centuries. It explains the hierarchy of the British establishment: led by the king with a supporting cast of dukes, earls and barons, each keenly aware of his or her place. It visits modern manor houses, where aristocratic families sometimes still rule over scores of servants, in homes with 100 and more bedrooms, and where the lord still enjoys a luxurious life of hunting, shooting and fishing among the beauty of rural Britain. And it details the true hardship of life as a "downstairs" servant: maids would carry 45 gallons of hot water along hidden servants' passageways to fill one aristocratic lady's bath, and a housemaid's day would start before dawn and last for 17 hours as she scrubbed floors, cleaned grates and carried coal — all for a wage of $15 a year.
But, precisely a century ago, a perfect storm of financial hardship and political and social change was threatening to engulf this traditional British way of life. Some impoverished British aristocrats married wealthy American heiresses to prop up and sustain their fading manor houses; the working classes were finding a voice and demanding both political power and better jobs; and the terrible disaster of World War I was looming in the wings. When war came, nothing in the life of the British manor house was ever the same again.
"The Secrets of Highclere Castle" is AVAILABLE to STREAM.
---
Mary Berry's Country House Secrets (BBC)
In this series, Mary Berry discovers the rich history of our nation's greatest stately homes through the prism of food.
In episode 1 of the 4-episode series, Mary Berry learns what it takes to keep Highclere Castle running in today's world, and creates a delicious spread including gamekeeper's stew in the estate's kitchen.
"Mary Berry's Country House Secrets" is AVAILABLE to STREAM.
---
The Manners of Downton Abbey (PBS)
What goes on behind-the-scenes to get the manners of 1900s Britain exactly right on "Downton Abbey"? Enter the world of English etiquette with host Alastair Bruce, historian, expert on royal ceremony and custom, and the historical advisor to the hit drama series.
This one-hour documentary features revealing interviews with leading cast members, including Hugh Bonneville, Michelle Dockery, Elizabeth McGovern, Laura Carmichael, Joanne Froggatt, Brendan Coyle, Sophie McShera and others. Discover the secrets of how the aristocratic set dined and dressed, how they married and made money, how they interacted with the servants, and above all why they behaved as they did. Illustrated with memorable moments from "Downton Abbey," the program shown on MASTERPIECE is a treat for fans and anyone fascinated with the customs of early 1900s Britain.
"The Manners of Downton Abbey" is AVAILABLE to STREAM.
---
More Manners of Downton Abbey (PBS)
Return to the world of manners with Alastair Bruce, Downton Abbey's historical advisor. Featuring exclusive interviews with the series' leading cast members such as Hugh Bonneville and Michelle Dockery, this documentary navigates the social protocol of aristocrats and servants in the 1920s and the age of jazz.
"More Manners of Downton Abbey" is AVAILABLE to STREAM.
---
Reel Destinations: Downton Abbey
Join Alicia Malone as she takes you inside "Downton Abbey" in the premiere episode of "Reel Destinations," a new series of free short films about filming locations, from Focus Features.
Watch "Reel Destinations: Downton Abbey" below.

Period Dramas filmed at Highclere Castle
---
Beyond "Downton Abbey," Highclere Castle served as a setting in these period dramas:
---
Agatha Christie's Marple: 4:50 From Paddington (2004): Miss Marple investigates the wealthy Crackenthorpe clan, believing a body to be hidden on their estate after a visiting friend witnesses a brutal strangling murder occurring on a passing train. Original title: "What Mrs. McGillicuddy Saw." AVAILABLE to STREAM
A Handful of Dust (1988): Based on the story by Evelyn Waugh. An upper-crust British marriage comes undone in this dark comedy. Brenda and Tony Last spend their days flitting between social engagements and renovating their monstrous mansion in the country. But when Brenda begins an affair with an idle young rake, their apparent life of ease takes a tragic turn. AVAILABLE to STREAM
Duel of Hearts (1991): In 1820s London, Lady Caroline Faye meets Lord Vane Brecon and is attracted to him. When she finds out that he is being accused of a murder he did not commit, she sets out to prove him innocent, and takes a position in his family castle as a companion to his mother. She discovers that the Brecon family is not only wealthy in land and fortune, but rich in secrets lurking behind the castle walls. Look for this to pop up on TV: starring Alison Doody, Michael York, and Geraldine Chaplin.
The Four Feathers (2002): Harry Feversham is a British officer with a bright future – until he resigns from his regiment. Harry is branded a coward, disowned by his family, his fiancee and his best friend. After hearing his regiment is attacked, he set out on a journey of redemption. Set during the British Army's Gordon Relief Expedition (late 1884 to early 1885) and based on the novel. AVAILABLE to STREAM
The Missionary (1982): Michael Palin and Maggie Smith star in this charming period comedy set in the early 20th century that puts a devout missionary into a precarious position. In 1905, devout Reverend Charles Fortesque returns to England from his missionary work in Africa and, despite plans to marry his childhood sweetheart, receives a most unusual assignment: minister to the local prostitutes. WATCH the TRAILER
Robin Hood: Prince of Thieves (1991): When Robin and his Moorish companion come to England and the tyranny of the Sheriff of Nottingham, he decides to fight back as an outlaw. AVAILABLE to STREAM
The Secret Garden (1987): In this Hallmark Hall of Fame adaptation of the classic, Mary is a spoiled girl living in living in nineteenth century India when her parents die and she is sent to live in England. She finds it to be a lonely place until she discovers a secret garden that was locked up after a tragic accident. Mary gets help from Dickon a local boy and Colin the heir to the manor to restore the garden. AVAILABLE on DVD

Books About Highclere Castle
---
For more information on life at Highclere Castle and its history, visit the website for Highclere Castle look for these books, and see the article Downton Abbey on Location:
---
At Home at Highclere: Entertaining at The Real Downton Abbey by Lady Carnarvon
Written by the current lady of the manor, this book gives complete access to the world-renowned historic country house and showcases the art of entertaining, past and present. Highclere Castle is the epitome of how we imagine the perfect English country house. Long the Carnarvon fami­ly's ancestral country seat, Highclere has welcomed royalty, statesmen, and notables from the worlds of business, academia, and the arts for shooting parties, elegant fêtes, and celebrations in the grand style. AVAILABLE HERE
---
Lady Almina and the Real Downton Abbey: The Lost Legacy of Highclere Castle by Lady Carnarvon
Drawing on a rich store of materials from the archives of Highclere Castle, including diaries, letters, and photographs, the current Lady Carnarvon has written a transporting story of this fabled home on the brink of war. Much like her Masterpiece Classic counterpart, Lady Cora Crawley, Lady Almina was the daughter of a wealthy industrialist, Alfred de Rothschild, who married his daughter off at a young age, her dowry serving as the crucial link in the effort to preserve the Earl of Carnarvon's ancestral home. Throwing open the doors of Highclere Castle to tend to the wounded of World War I, Lady Almina distinguished herself as a brave and remarkable woman.
This rich tale contrasts the splendor of Edwardian life in a great house against the backdrop of the First World War and offers an inspiring and revealing picture of the woman at the center of the history of Highclere Castle. AVAILABLE HERE
---
Lady Catherine, the Earl, and the Real Downton Abbey by the Countess of Carnarvon
The story behind Highclere Castle, the setting for Julian Fellowes's Emmy Award-winning PBS show, and the life of one of its most famous inhabitants, Catherine Wendell. In this transporting companion piece to the New York Times bestseller "Lady Almina and the Real Downton Abbey," Catherine, a beautiful and spirited American woman who married Lady Almina's son, the man who would become the 6th Earl of Carnarvon, presides over the grand estate during a tumultuous time for the British aristocracy. Following the First World War, many of the great houses of England faded as their owners fortunes declined in the new political and social world of the 1920s and 1930s. As war loomed, Highclere's survival as the family home of the Carnarvons was again in the balance—as was peace between the nations of Europe.
Using copious materials—including diaries and scrapbooks—from the castle's archives, the current Countess of Carnarvon brings alive a very modern story in a beautiful and fabled setting, paying particular attention to the staff who provide Highclere Castle with continuity between generations. AVAILABLE HERE
---
Rosemary Picado has worked as a magazine editor, newspaper columnist, and technical writer. She lives in California with her husband and cats. When she's not enjoying period dramas and history, she loves to work in her garden and travel.
---
If you enjoyed this post, be sure to see The Period Films List, with the best British, historical and costume dramas sorted by era. Also see our Spoiler-Free Review of the Downton Abbey Film, and Downton on Location.