Last Updated on December 18, 2022
If you are a loyal reader of Willow and Thatch, you love period dramas. You probably have a particular affinity for British costume television series. And you may even have a keen interest in Elizabethan era.

---
To help keep this site running: Willow and Thatch may receive a commission when you click on any of the links on our site and make a purchase after doing so. 
---
But sometimes, you are in the mood for something set in the present day. Something with intrigue, romance, and even fantasy, that keeps you on the edge of your seat. What if you could have all of this, plus a period setting, in one delicious series?
How, you ask? Time travel, of course. "A Discovery of Witches: The Complete Trilogy" delivers all this and more, and the full series is now available as a boxset on on DVD and Blu-Ray. Based on the All Souls Trilogy by scholar and professor of history Deborah Harkness, the series stars Teresa Palmer (Hacksaw Ridge) as Diana, and Matthew Goode (Downton Abbey) as Matthew.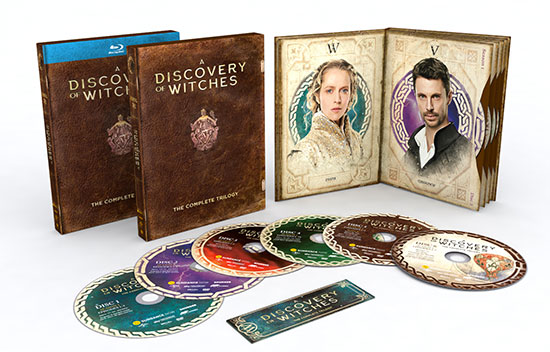 Because we think you'll want to watch the whole trilogy, we've partnered with the folks at AMC Networks to let you know about the new release, and give one reader the "A Discovery of Witches: The Complete Trilogy" on Blu-Ray or DVD. (The giveaway has ended.)
---
---
Over 3 seasons, "A Discovery of Witches" enchants. This is a story of epic proportions, about one woman on a quest of self-discovery. Along the away she finds her strength, true love, mortal danger, destiny, and Queen Elizabeth.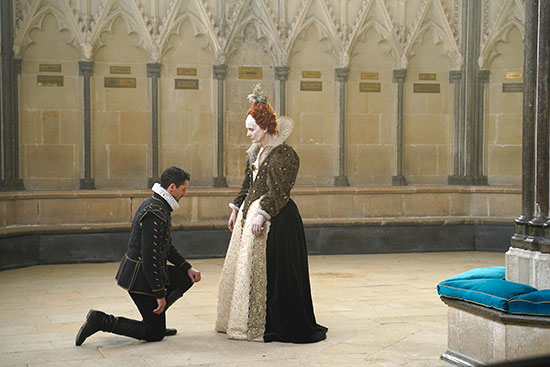 Things start normally enough, with Dr. Diana Bishop (Teresa Palmer), a young visiting research fellow at Oxford, getting in her morning workout, a shower, and a cup of something caffeinated to start her day. The feel-good soundtrack plays as Diana bikes a short commute on Oxford's historical grounds, where she's giving a lecture on alchemy. Quite suddenly we understand something which unsettles Diana: she has magical powers.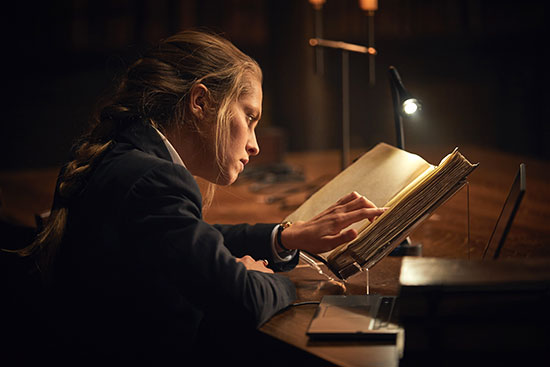 But even before we meet the brilliant American historian Diana, we know things aren't quite normal in present-day London.
A rather handsome man philosophizes about how there used to be creatures living openly, and now they — the demons, vampires and witches — have all but disappeared, and need to hide in plain sight. He says that the the world which was once full of wonders "belongs to humans now." The man, Matthew Clairmont (Matthew Goode), is an acclaimed geneticist, and he's also a rather charming vampire.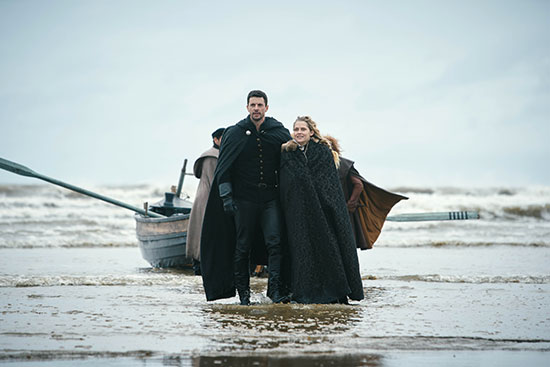 During her research at the Bodleian Library, the reluctant witch Diana unwittingly calls up an ancient magical manuscript which has been missing for centuries, and Diana finds herself confronted by Matthew, who is determined to get his hands on the book. But he isn't the only one who has spent hundreds of years looking for it. 
Diana and Matthew for a forbidden bond and travel back to the 16th century, a period in history that Diana has researched, and one Matthew has already lived through. What transpires takes viewers through an unforgettable adventure as together they seek to understand Ashmole 782, the awakened manuscript, secretly known as The Book of Life.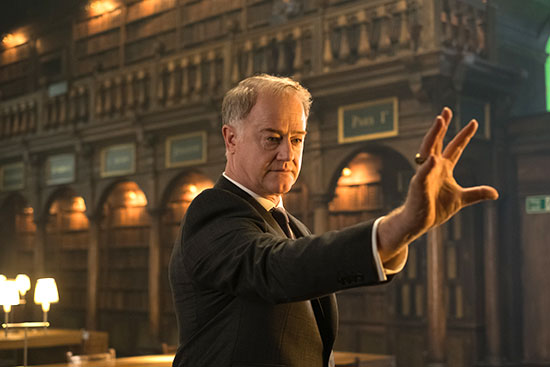 Across three distinctive and gripping seasons, Diana and Matthew's love for each other and their quest to solve the mystery of the book throws their world into dangerous turmoil as their journey takes them towards a thrilling and incendiary conclusion.
The compelling narrative, top-notch performances, and believable romance are likely to win over even those who lean more toward historical drama and away from fantasy and science fiction. Many of the characters from the 16th century we meet are based on real people, and viewers are treated to several scenes with Queen Elizabeth I (Barbara Marten), who plays an important role in pushing the story forward, as she has a hidden connection with Matthew.
With its portrayal of a society where those who live in it struggle to find connection, and a central theme about the importance of a supportive family and oneness, "A Discovery of Witches" creates an authentic world steeped in reality that viewers invest in.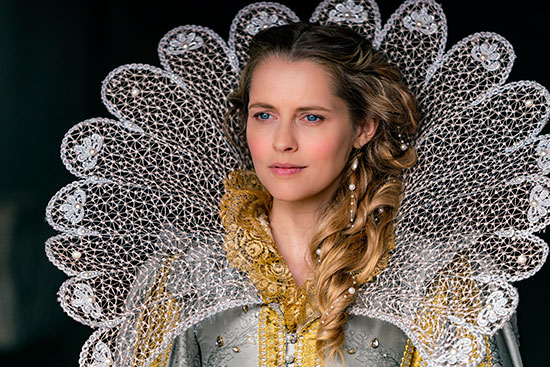 "A Discovery of Witches: The Complete Trilogy" includes all 25 episodes, over 80 minutes of bonus features on 6 discs and a collectible bookmark. The bonus features range from a deep dive into the characters to an exploration of mythology and TV magic, but the extras tied to Season 2 of "A Discovery of Witches" will be of particular interest to period drama fans.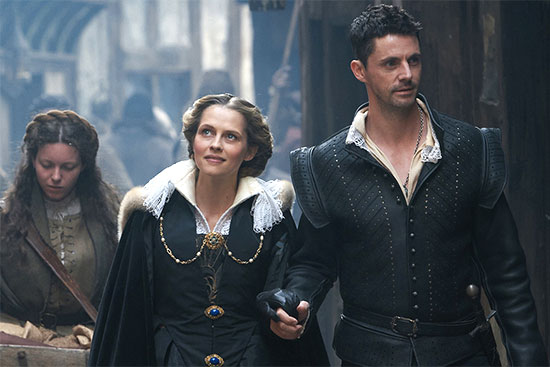 As the second season takes place in 1590s London, there is a segment on the exquisite recreation of Elizabethan London (with its dazzling costumes informed by existing works at The National Portrait Gallery), and a tour of the visually stunning, meticulously designed set.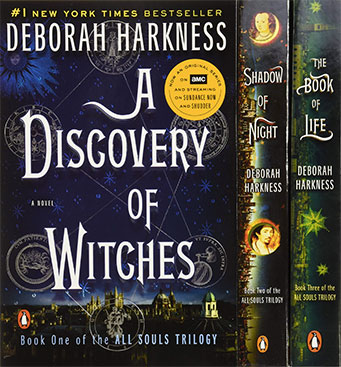 On DVD and Blu-Ray, "A Discovery of Witches: The Complete Trilogy" is one to own, as its passionate global fanbase knows. You'll want to watch it more than once to discover all the complexities and excitements that come with a many-faceted page-to-screen adaptation like this.
Alex Kingston (Upstairs Downstairs) stars as Sarah Bishop, Valarie Pettiford (The Blacklist) as Em, Trevor Eve (Death Comes to Pemberley) as Gerbert, Malin Buska (The Girl King) as Satu, Lindsay Duncan (Sherlock) as Ysabeau De Clermont, Owen Teale (Robin Hood ) as Peter Knox, Gregg Chillin (Da Vinci's Demons) as Domenico, Aiysha Hart (Colette) as Miriam, Edward Bluemel (Persuasion) as Marcus, Daniel Ezra (All American) as Nathaniel and Aisling Loftus (War & Peace) as Sophie.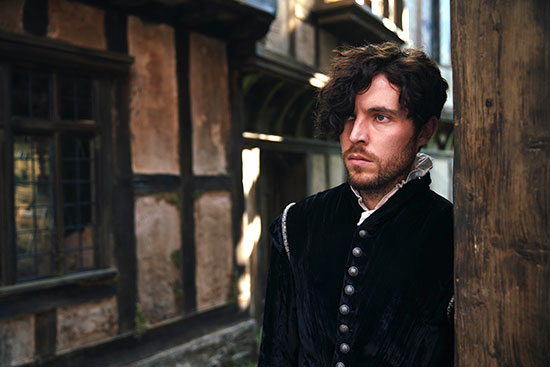 Fans of period dramas will also recognize guest stars Tom Hughes (Victoria) as Kit Marlowe, Shelia Hancock (The Boy in the Striped Pajamas) as Goody Alsop, Steven Cree (Outlander) as Gallowglass and James Purefoy (Vanity Fair) as Philippe De Clermont.
"A Discovery of Witches: The Complete Trilogy" releases on DVD and Blu-Ray on November 15, 2022. Find it here. Watch the trailers below.
The GIVEAWAY is now closed: 1 Willow and Thatch reader will win a copy of "A Discovery of Witches: The Complete Trilogy" on Blu-Ray or DVD. The giveaway opens on Tuesday November 15, 2022 and runs through Monday, November 28, 2022. Open to US only, age 18 and older. Enter on the pinned post on the Willow and Thatch Facebook page once it goes live in the afternoon of 11/15, where you'll find ways to receive more than one chance to win. A randomly drawn winner will be announced on Facebook after the close of the giveaway. (If you don't have a Facebook account, please email us with a note saying why you'd like to win, or leave a comment below saying that you'd like to enter.) Be sure to check your email to see if you won — winner must respond within one week after being notified, or we will need to draw a new winner.
---
If you enjoyed this post, you'll want to wander over to The Period Films List. You'll especially like the Best Period Dramas: Tudor and Stuart Eras List.