Last Updated on October 29, 2018
And just like that it is fall. The wind has picked up, the temperature has dropped, and for the first time in a while, my oven is on, because it is apple picking and baking season. Recently Willow and Thatch headed an hour and a half north of New York City to Fishkill Farms in Hopewell Junction, an ecological pick-your-own orchard, and then baked up some apple tarts and crisps. Recipe and results follow!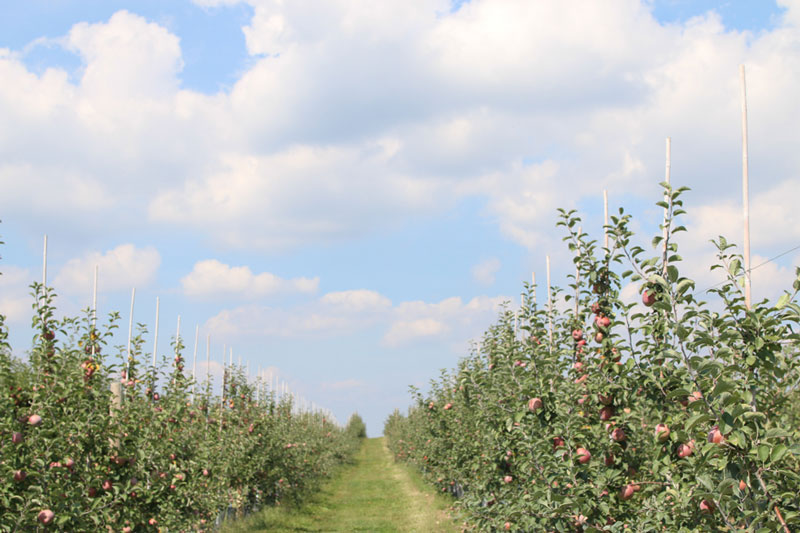 The trees were laden with multiple varieties of minimally treated and organic apples that were ready to pick. The orchard grows Paulared, Jonamac, Macintosh, Cortland, Macoun, Spartan, Empire, Mutsu, Jonagold, Idared, Fuji and Stayman Winesap apples; my bag was filled with two varieties good for baking, and one for eating. There were also all kinds of organically grown vegetables and herbs available to pick, like tomatoes, kale swiss chard, husk cherries (yum!), basil, sage, thyme and flowers, And they run a CSA (Community Supported Agriculture) with pick up options at their Fishkill farm store, and in Brooklyn, New York at the Old Stone House in Park Slope.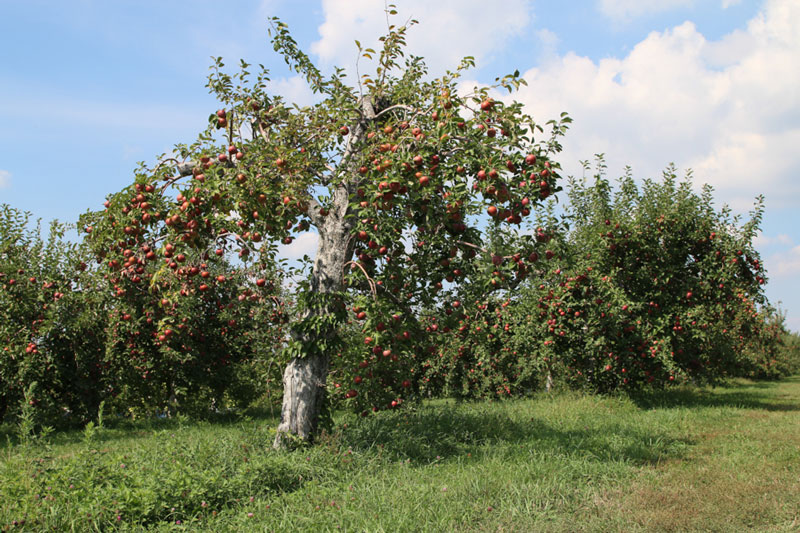 Twenty dollars filled one of their larger bags and purchased enough apples for two large apple tarts and two apple crisps, with lots of apples remaining for eating.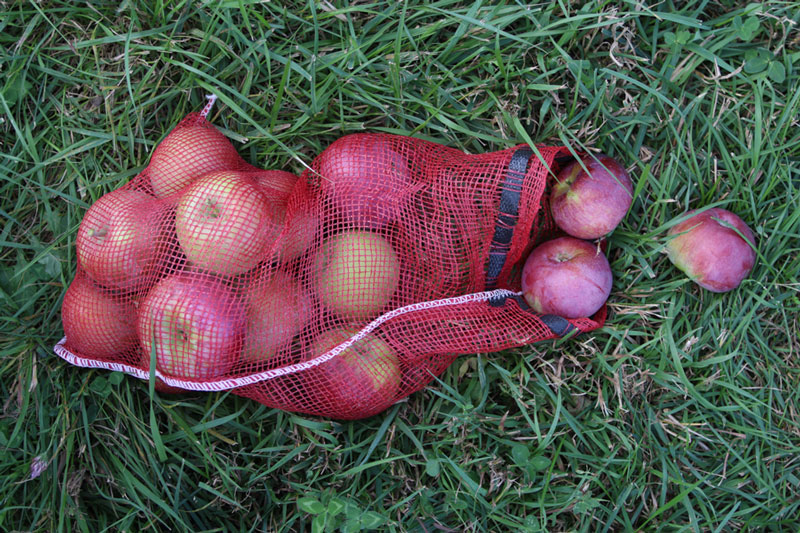 The view is stunning and even though the farm was filled with people, it is large enough that everyone can have their own peaceful experience. The focus is really on the agriculture and the environment, so it feels like a good old fashioned farm, and makes for a perfect unplugged family outing.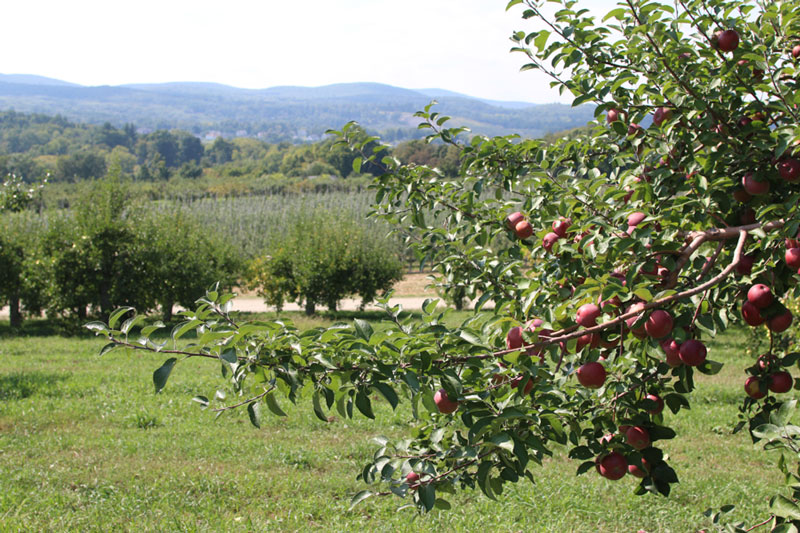 Best of all is that the farm allows dogs to join in the fun, as long as they are on a leash. Ruby loved it.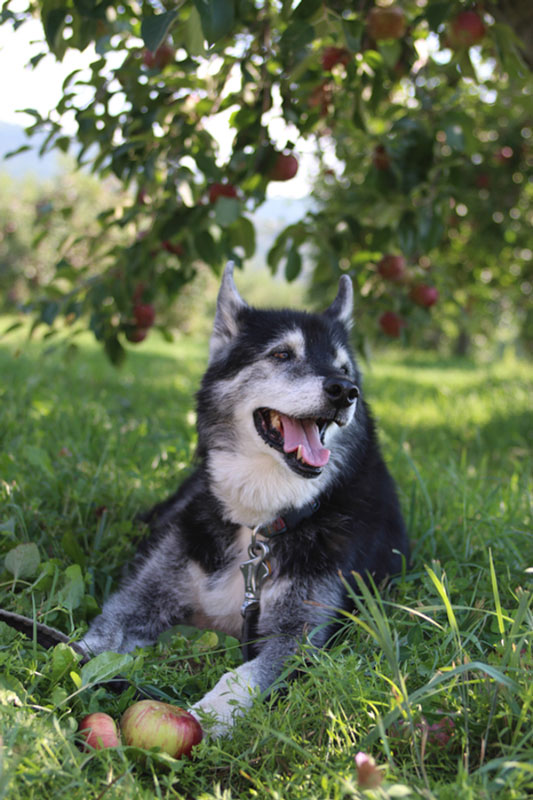 Some families set up picnics in the shade of the orchard and made a day of it, and others went to hear the bluegrass band near the farm stand, which has the best apple cider doughnuts. The line was long but worth it; you'll want to get two each so you don't have to get back in line. There were pumpkins and pies and pastured eggs and there was corn roasting on a wood fired grill, and the cider was fantastic.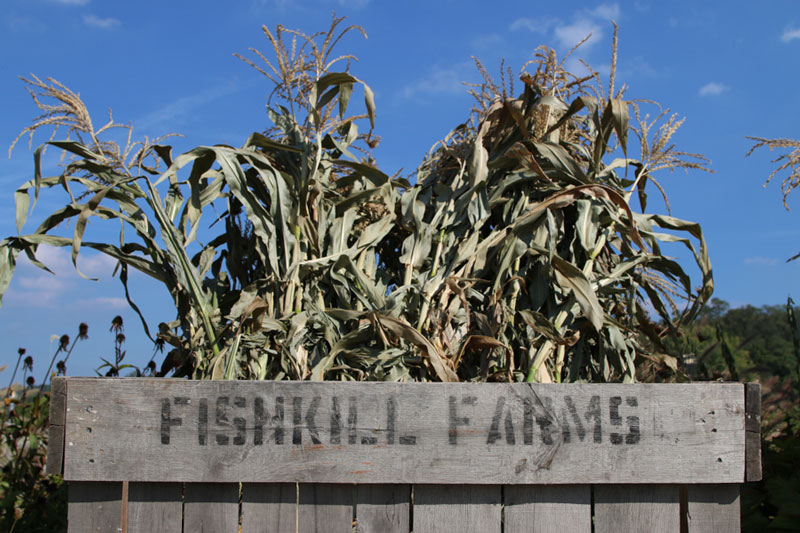 Other than the corn and sweets, there weren't any vegetarian options for dinner, but we found a Mexican restaurant nearby named Avocados that was surprisingly good.
Here are the apples at home; if you look closely you can see there is a grayish powder covering the apples – that's kaolin clay, a 100% non-toxic fine clay that Fishkill Farms uses to that camouflage the fruit from insect pests. It seems to work – there were very few spots on any of the apples we picked.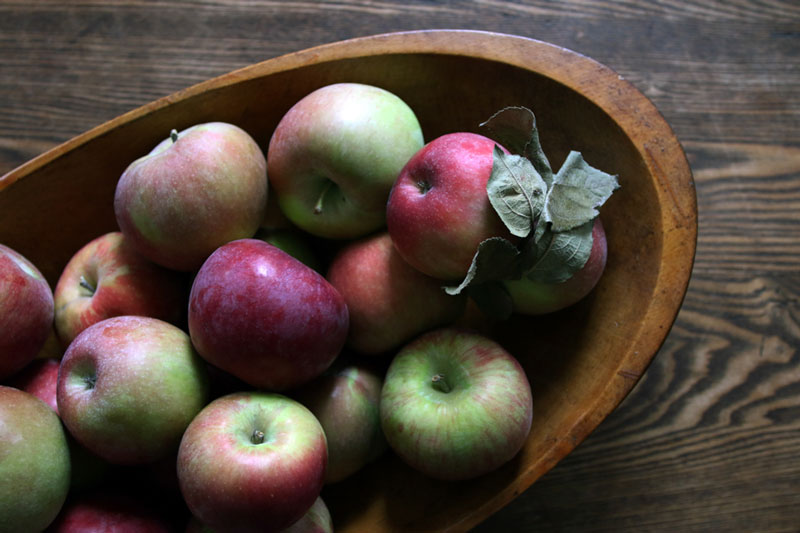 There were far too many apples to just eat, so Willow and Thatch got to making some pastry dough and washing, peeling and slicing the apples for some crisps and tarts. The recipe is at the end of this post, and uses a slightly sweet pastry (pate sucree) and a traditional old fashioned apple pie type of filling, and creates a perfect flavorful but lighter than apple pie treat.
This tree was picked clear of its fruit – maybe it was a peach tree. It would be nice to visit Fishkill Farms in the summer too, when it has pick-your-own strawberries, cherries and peaches and nectarines or for the cider donuts on the deck, in the winter. On to baking!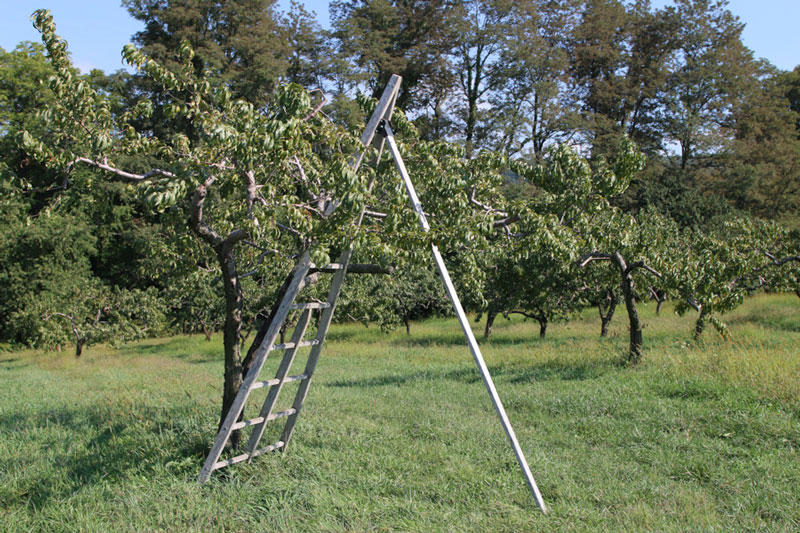 Before you start, some baking tips: To make the pastry, the unsalted chilled butter gets cut into small pieces, and the eggs are brought to room temperature. (At room temperature, eggs, butter, and milk bond and form an emulsion that traps air. During baking, the air expands, producing light, airy, evenly baked treats. Bring cold eggs to room temperature by placing them in a bowl of warm water for 15 minutes. Avoid using hot water or putting eggs on top of a hot oven—this will heat them unevenly, and the whites will start to set.)
It is also helpful to keep the other ingredients cool, including the water that you will use in the dough – a mason jar in the freezer works nicely for the purpose, and use filtered water if you can. If you want to learn more about the science of pie crust, this is a good article and for a list of the best apples for baking see this article.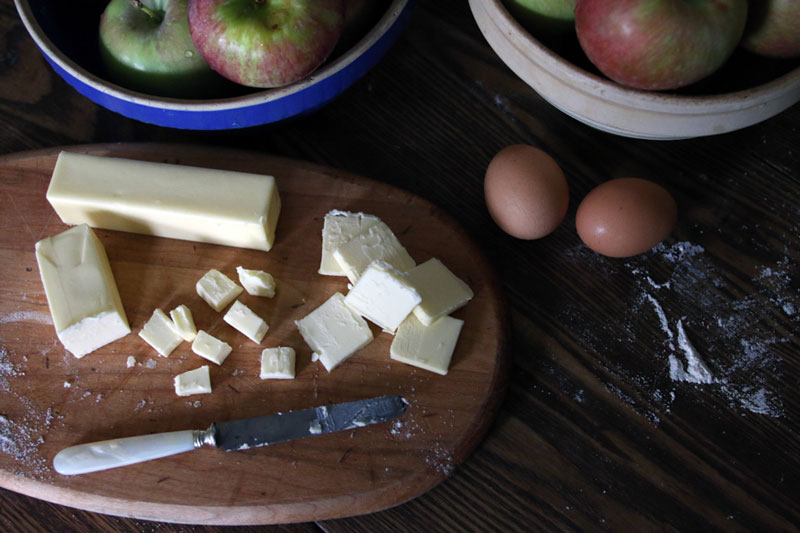 The pastry dough can be worked by hand – you could use a food processor but it really isn't necessary and this way you save on clean-up time and get a better feel for the dough. When you are mixing the flour and salt with the ice water and butter, the idea is to get the butter down to pea sized bits by working it into a meal, running it through your thumb and fingers. Just remember to do this quickly and not over-handle the pastry.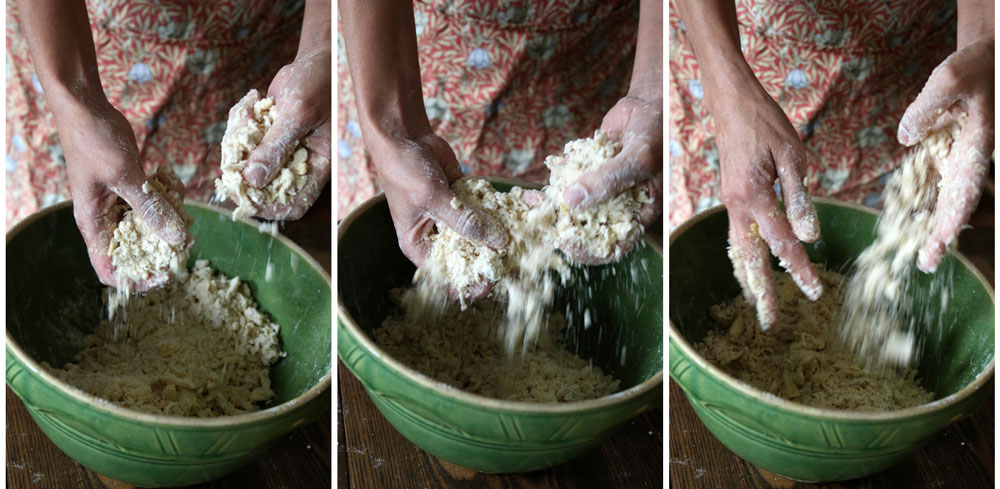 When the pastry holds together nicely, form it into two discs, wrap in Saran or an old clean plastic produce bag and refrigerate for at least an hour. It is tempting to put the pastry in the freezer to speed up the process, but try to resist and it will be a nicer dough that is easier to roll out. It doesn't need to be perfect or even to have everything uniform; it will mix in more when you roll it out. You are going for a light an flaky crust, not too dense, and all these steps will help you get there.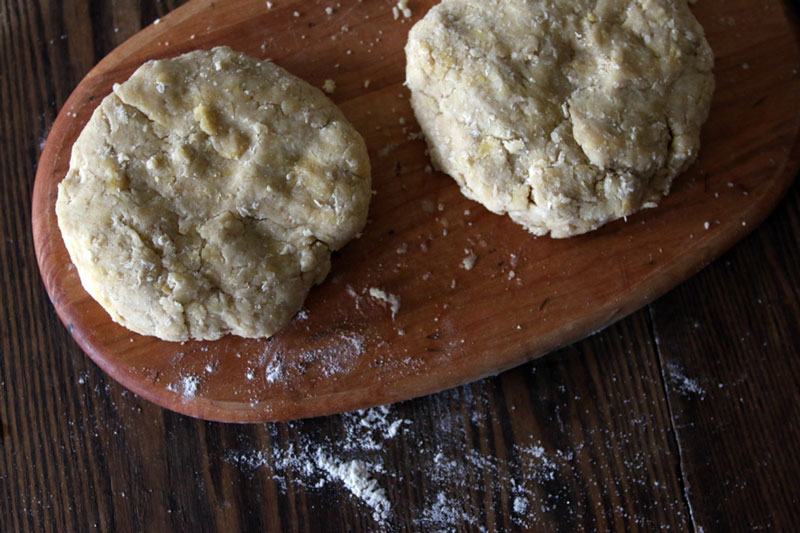 If you can use an all purpose flour that is organic, that would be lovely, but no matter what make sure it is fresh. Mine is kept inside of the antique crock, in the refrigerator.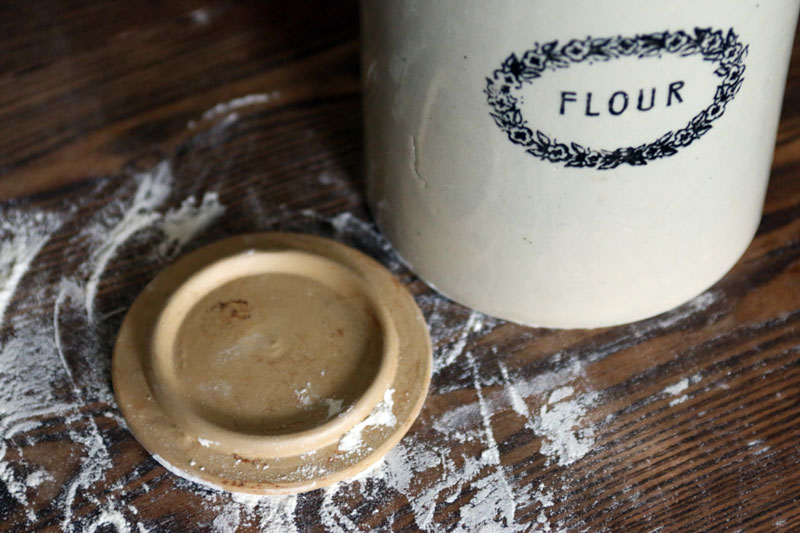 Enlist help for the apple peeling if you can – hands down this was the most labor intensive part of the process, as about twenty apples went into making the two crisps and the two tarts. Most importantly, work with a sharp knife so there is less waste. The good news is that you get to eat lots of apple while you peel and there is plenty of time to have yourself a cup of tea, or even listen to a period film. (Willow and Thatch finds that the dialogue from most of the BBC productions is so closely adapted from the novel it can almost be like listening to a book-on-tape, or whatever they are called now. And if the kids help peel, you could choose something from the one hundred plus movies listed in the Best Period Dramas: Family Friendly List.)
For the tarts, slice the apples thinly and as evenly as you can; this makes them tastier in a melt in your mouth kind of way, and you'll appreciate their semi-uniformity when you arrange them in the pan. Slice too thickly and they won't be cooked through. All my odd bits, chucks and uneven pieces went to the crisps, which you can cook longer and have more liquid (if you are using maple syrup) to help soften the apples. Hooray for crisps!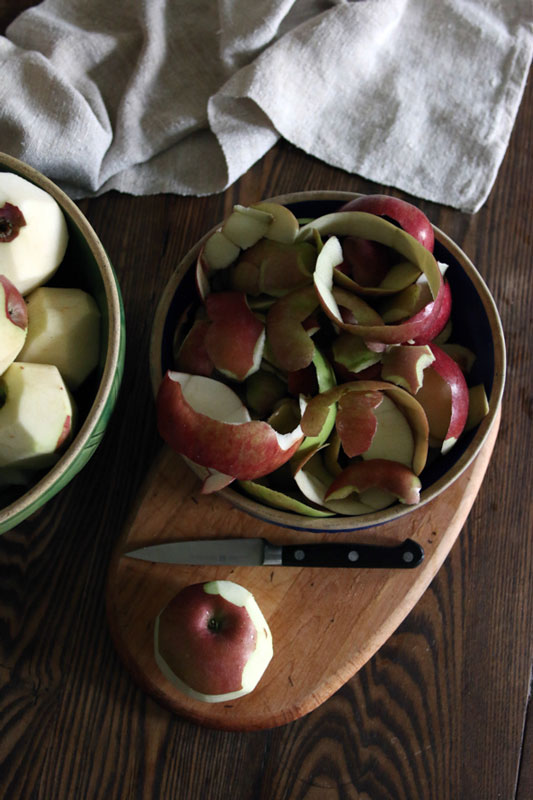 The topping for the apple crisps is so easy that you don't even really need a recipe – just mix together rolled oats (if you use gluten-free oats then you have yourself a gluten-free dessert) and safflower oil or butter, along with some sweetener like raw cane sugar or maple syrup, a little salt, and whatever you like for spices, in addition to cinnamon. Maybe some cloves or nutmeg? And a squeeze of lemon. Then mix it together by hand so it sort of holds together, and place it on top of the sliced apples that have been mixed with the sugar and spices. Dot with butter.
If you don't want to wing it, and prefer a recipe, Martha Stewart has a good one. They are just as nice without a bottom crust as with one, especially if you plan on serving your apple crisp with some vanilla ice cream. Have you tried the almond milk ice creams? Really good. Here are the apple crisps before baking.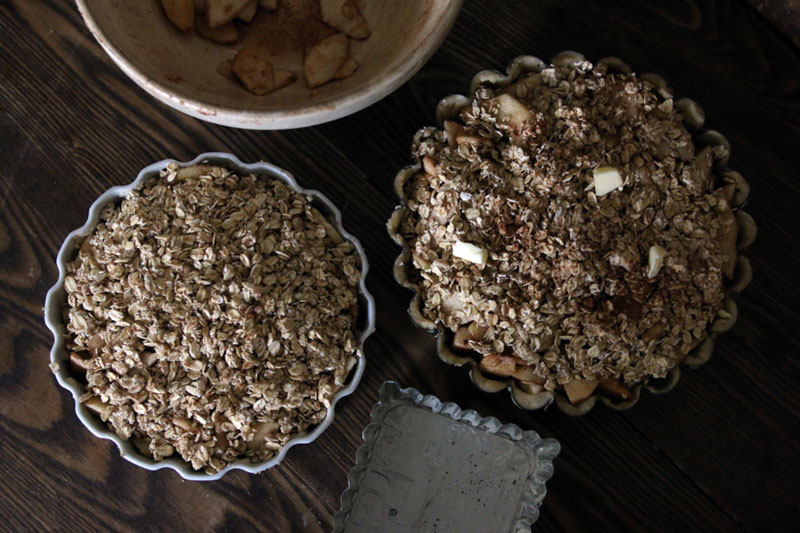 One of the tarts was made in an antique pie tin, the other in a French ceramic plate – both worked well. The tart pans have bottoms that are separate from the sides, so the tart can be lifted out easily and served on a nice vintage dish or wooden cutting board.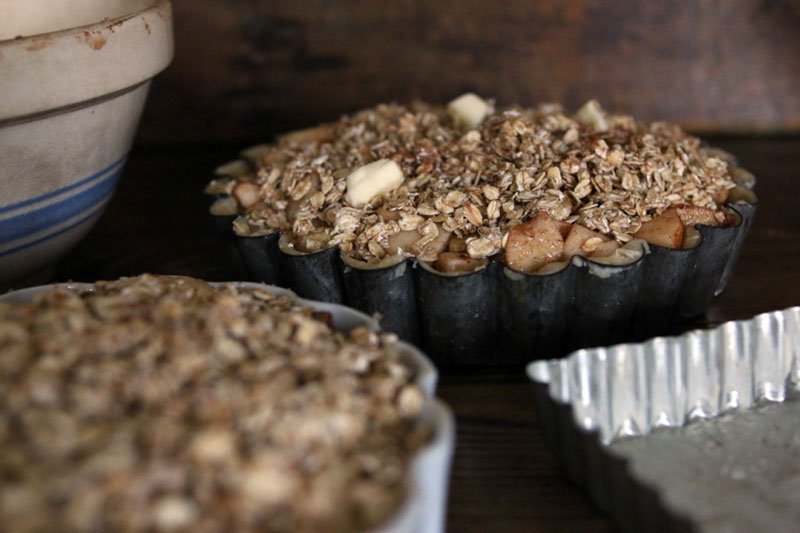 There aren't any photos of the process of rolling out the dough, but here a few tips: work quickly on clean, lightly floured surface surface, and try to avoid putting the flour on top of the dough, just under. Make sure the pastry isn't sticking by occasionally lifting it up and adding a dusting of flour beneath. Be mindful to not add too much flour, or your pastry can get tough and dry. If you made enough dough for two crusts, it is best to leave the second disc in the refrigerator while you shape the first. Keep any scraps and pop them back into the cooler, and you can make little shapes like leaves for decoration, cut by hand or with a cookie-cutter.
Tarts are almost as easy as crisps, because you don't need to flute the edges of your crust as you would do for a pie. Just drape the pastry into the form, press it in, and remove the excess dough. For my round tart, the extra pastry was folded over the apples and sprinkled with sugar to give more of a crust and a rustic look – even easier.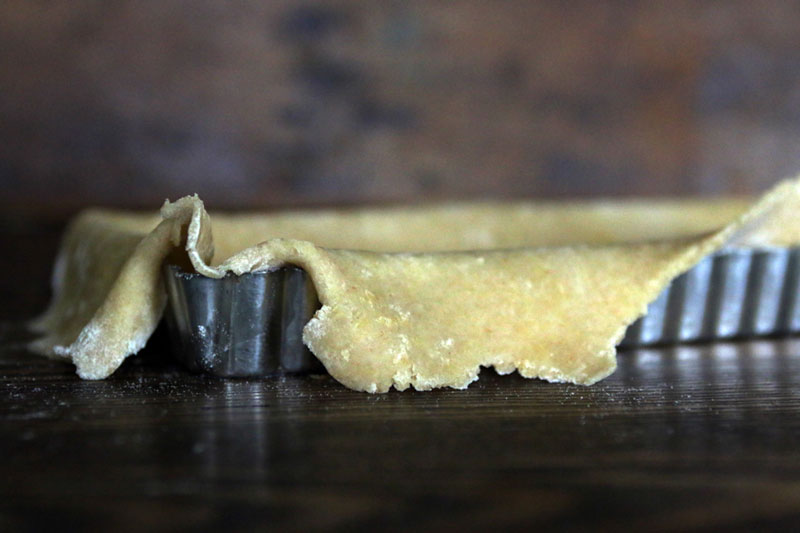 The apples get dotted with butter before the tarts get put in the oven. (Willow and Thatch thinks that everything should get dotted with butter, whenever possible, especially if it is fresh, organic pastured butter made with milk from cows living a life of eating grass and roaming around with other beautiful cows.)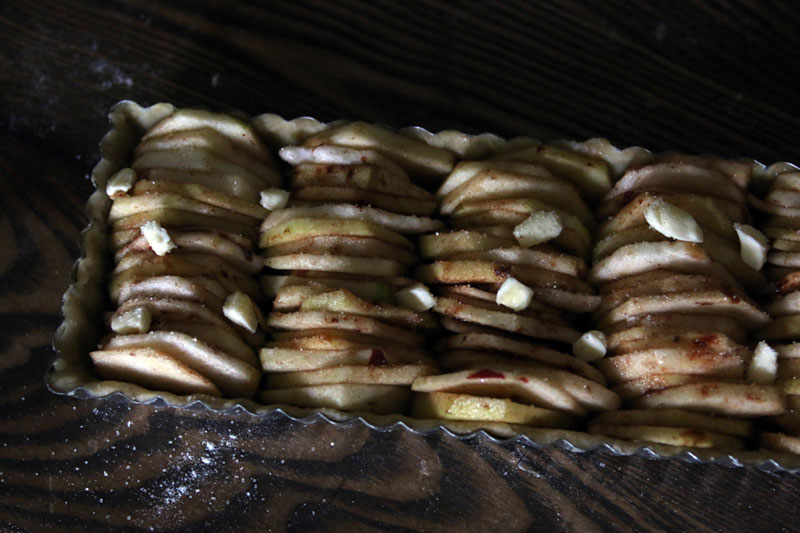 After baking, the last step is to warm some apricot preserves and brush it over just the fruit – it gives a nice gloss and also adds a bit of a contrasting tang, so there is a melody of flavors. Here are the finished rustic looking tarts, cooling on my very old wooden rack.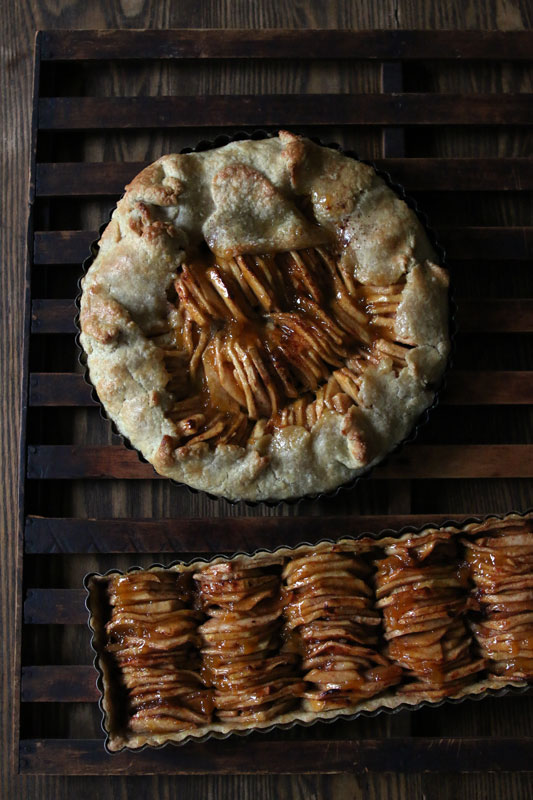 The tarts are getting saved for a party, but the crisp was fair game and is going fast. Nothing nicer than a warm crisp on a cool evening. Happy fall and happy apple pie / tart / crisp baking! Here is the recipe: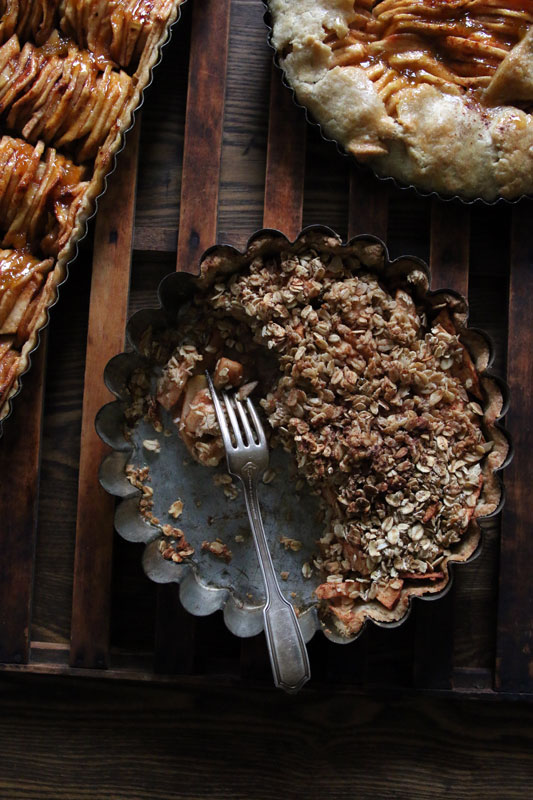 Recipe: This is for a sweet pastry crust and apple filling that can be used in pies, tarts and crisps, and makes two 8″ or 9″ tarts, each with a bottom crust. Extra apples can be made into a crisp.
Pate sucree: The pie crust recipe is from Martha Stewart and is like a traditional pate brisee pie crust, but with egg yolks and more sugar. To make it you'll need
2 1/2 C. all purpose flour
3 T. sugar
1 C. unsalted butter (2 sticks) chilled and cut into small pieces
2 large egg yolks
1/4 C. ice water
In the bowl of a food processor, combine flour and sugar. Add butter, and process until mixture resembles coarse meal, 10 to 20 seconds.
In a small bowl, lightly beat egg yolks; add ice water. With machine running, add the egg mixture in a slow, steady stream through the feed tube. Pulse until dough holds together without being wet or sticky; be careful not to process more than 30 seconds. To test, squeeze a small amount together: If it is crumbly, add more ice water, 1 tablespoon at a time.
Divide dough into two equal balls. Flatten each ball into a disk, and wrap in plastic. Transfer to the refrigerator, and chill at least 1 hour.
Apple filling: This classic old-fashioned recipe can be used for tarts and pies and crisps (for pies and crisps the apples can be thicker). For the apple filling for two tarts you'll need
Flour, for work surface
3 pounds assorted apples, peeled, cored, and cut into 1/8-inch-thick slices
1 freshly squeezed lemon's juice
1/4 cup cane sugar
1 teaspoon ground cinnamon
1/4 teaspoon ground nutmeg
1/8 teaspoon sea salt
1 tablespoon unsalted butter, cut into small pieces
later you will need
1 egg and a little water beaten, as a wash for the pastry
extra sugar for sprinkling on the dough
3 tablespoons apricot jam, warmed to be brushed on finished tarts
On a lightly floured work surface, roll out one pate sucree disc so that it is a couple of inches larger than the tart pan you will use. You'll want it to be about about 1/8 inch thick. Drape your dough into a tart pan that has been greased with butter; tart pans have lots of fluting and it is helpful to use the wrapper that comes around a stick of butter to help you get into all the areas of the pan. You can use your fingers or a knife to trim dough flush with the rim, and then press it to the sides, making sure it is uniform in thickness all the way around, or fold the extra pastry over the apples. If you have more apple prep to do, or if it is warm in your kitchen, cover with wrap and chill in the refrigerator for 30 minutes or so.
Preheat oven to 400 degrees. In a small bowl, whisk together the egg yolk and water or some soy milk; set aside. In a large bowl, carefully toss the apples with the lemon juice, granulated sugar, flour, cinnamon, nutmeg, and salt. Be gentle if your are using thinly sliced apples, you don't want them to break. Remove the tart shell from the refrigerator if it is in there, and fill with apple mixture. Dot with butter.
Beginning with the outside edge, arrange the apples in a slightly overlapping ring. Repeat to form another ring slightly overlapping the first. Continue until you reach the center. The apple slices will shrink slightly during baking, so it's good to lay each one close to the next.
Carefully brush the top of the dough with the reserved egg wash, and sprinkle generously with sugar. Cover and refrigerate until firm, at least 30 minutes. An unbaked tart can be frozen for up to 3 days, and can be baked right from the freezer without thawing.
Place tart plate on a baking sheet, and bake until crust just begins to brown, about 20 minutes. Rotate the pan and reduce oven temperature to 350 degrees and continue baking until crust is golden brown, apples have caramelized and the juices are bubbling, around 30 minutes more. If the crust begins to get too dark, drape a piece of aluminum foil over the top. Transfer to a rack to cool for 10 minutes.
Over low heat, warm the apricot jam in a saucepan and then using pastry brush (silicone or regular), brush the exposed apples with the preserves. If you like, you can add a dusting of powdered sugar, once the tart is completely cool and has been lifted out of the pan to show off the pretty edges. Slice and serve!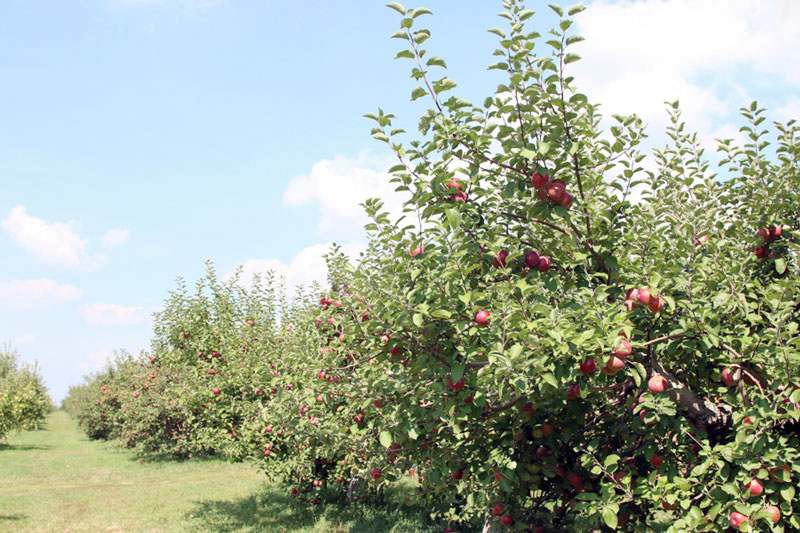 About the farm: Fishkill Farms is a historic apple orchard in the Hudson Valley that has been in the Morgenthau family for nearly 100 years. After leasing the farm to outside management for a period, Robert and Josh Morgenthau, the second and third generation of the farm family, took the operation back in 2007. Soon, a team began to develop, and Josh took over management of the farm. With the hard work and dedication of the team, Fishkill Farms has grown from a conventionally farmed apple orchard in need of new trees and new tractors, into a diversified, ecological farm with new orchards and infrastructures. Here are the additions to the farm in the past few years:15 acres of diverse vegetable plantings, pasture-raised hens, many acres of new fruit trees, farmer's markets nearby and in New York City, and a pick-your-own CSA. The mission of the farm has been to marry its historic identity as a family "u-pick" apple orchard, with the Fishkill Farms team's shared goals of diversification and environmental stewardship through sustainable farming methods.
Our farm currently comprises 60 acres of apples, 4 acres of pears, 20 acres of mixed vegetables, and 17 acres of summer fruits and berries. We also tend a flock of 1000 pasture-raised laying hens. Our largest crop is apples—we grow more than 50 varieties of apples, from McIntosh and Golden Delicious to Cox's Orange Pippin and Esopus Spitzenberg! Soon we will have varieties like Pink Lady, Cameo and Honeycrisp, and some unique heirlooms like Cox's Orange Pippin and Esopus Spitzenberg. We also grow a wide range of vegetables, from heirloom tomatoes and multicolored peppers to miniature eggplants, spicy greens, and sweet japanese turnips. All our annual crops are rotated seasonally with cover crops to keep the soil healthy.

Ecological Farming is about sustainability in an all-encompassing sense—food production that gives enough back enough to the land so it remains healthy. If done responsibly, farming helps cleanse the land, water and air we need to survive. And it is the increasing lack of these resources that motivates us to grow our crops the way we do. Our vegetables and berries to standards that go beyond organic– we usually do not spray them at all. They are certified by NOFA's "Farmer's Pledge" program.

Apples and orchard fruit are another story. From the day the blossom sets to the moment the apples mature over 100 days later, they are beset by a host of gnarly insect pests and devastating fungal diseases. Organic New York Apples? Hard yes, but impossible, no. If consumers are willing to give up some of the cosmetic perfection in exchange for local, chemical free fruit, organic orchard fruit is possible in New York. We are already managing 5 acres of our orchard organically, and plan to expand as we experiment with new organic techniques to maintain the quality of our fruit.

You can find our own fruits, vegetables and pasture-raised eggs for sale at our farm store. Our bakery turns out apple cider donuts and pies (homemade, using real butter and our own fruit when possible). We also carry gourmet cheeses from nearby dairies, local milk, preserves, grass-fed beef, and many more artisan New York food products (click here for a list of our producers). Our back porch, which has a stunning view of our orchard with the Hudson Valley and Catskills beyond, is open for picnicking during store hours.

Pick-your-own begins in June with strawberries. July brings cherries and berries. Late July and August mark the harvest of juicy, tree-ripe peaches and nectarines. The season culminates in the fall with more than a dozen varieties of classic NY apples, and pumpkin-picking.

Mid September through mid October, we have our Harvest Festival Weekends. We offer homemade food, donuts and cider, plus entertainment in the form of hayrides and live music on select days. The spectacular views, lovely fall weather, and the satisfaction of picking your own apples all combine for great family-friendly fun. We're a real farm and not a theme park, so we don't offer all the bells and whistles of some "agri-tainment" establishments. The heart of our identity as a productive farm and our mission of growing good food in harmony with nature is more important to us.

Our commitment to environmentally responsible farming sets us apart from most local farms. We grow low-spray fruit and recently became one of the only orchards in the region to offer pick-your-own apples grown according to organic standards (in select orchard blocks), though we are not certified. Our orchard is certified sustainably grown by Eco Apple.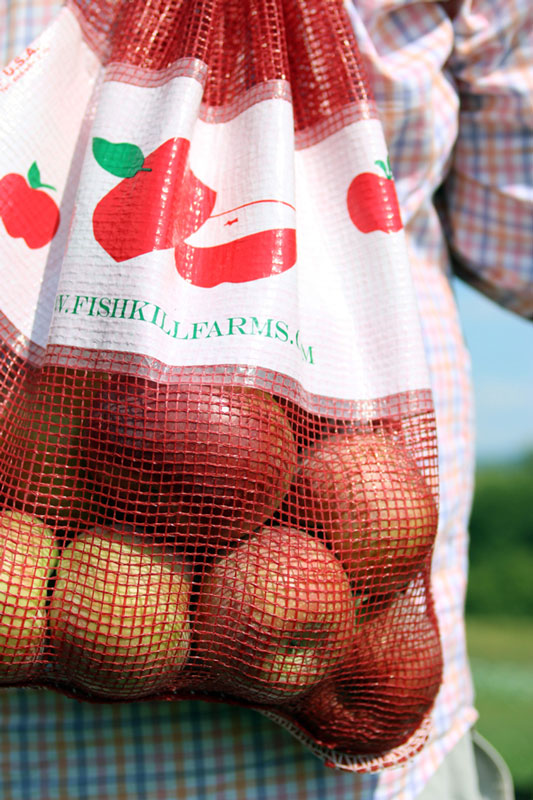 All photos copyright Willow and Thatch.