Last Updated on March 21, 2021
In "The Hanging Gale" (1995) BBC, the four brothers of the Phelan family battle to save their farm and their family from the ravages of the Irish Potato Famine in 1846, and from an English land agent who takes a dislike to them.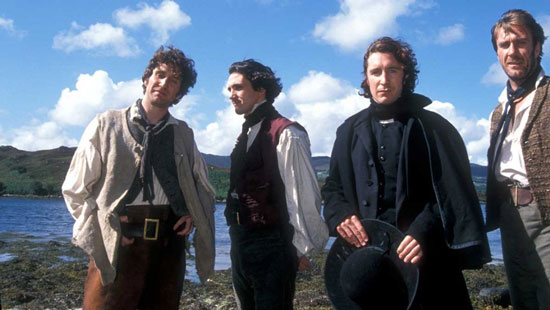 ---
To help keep this site running: Willow and Thatch may receive a commission when you click on any of the links on our site and make a purchase after doing so.
---
This riveting four-part television mini-series is set in a small community in County Donegal, Ireland, during the Great Famine. It opens with the arrival of the new land agent, Captain Townsend, played by Michael Kitchen (Foyle's War), who is a fair Englishman thrust into a tragedy.
When the blight strikes tenants under the British government and they cannot feed their families or pay their rent, mitigation is sought. However, Captain Townsend, the land agent, must follow the instruction of the landlord living in England and evict the tenants. The Phelan family becomes engulfed in not just hunger, but injustice, and a struggle to survive.
"The landlord was not a partner in the production of his land; he was simply a receiver of rent. Six months' credit was usually given for rent in arrears, after which, if the rent was not paid, the cattle were distrained and driven off to the pound, to be sold after a certain number of day's confinement. The peasants called this "the hanging gale." The agent was often the real master and the tenants were powerless in his hands." – A History of Ireland
An avid fan of period dramas, Cynthia G. Neale is a historical fiction author whose books center on this period of Irish history. Below, she gives us 5 Reasons to watch "The Hanging Gale."
The Hanging Gale is AVAILABLE to STREAM
5 Reasons to Watch The Hanging Gale
1. It's an enlightening drama that is realistic: This film does not glamorize or trivialize the tragedy of the Famine and is an accurate portrayal of a Catholic family living in 19th-century Ireland under British rule. By 1846 (the setting for this film), Ireland had been under domination of England for nearly seven hundred years. The land had been conquered, subjugated, and divided numerous times and the population was eight and a half million people. The rural poor were small landholding farmers who depended almost entirely on one single crop – the potato.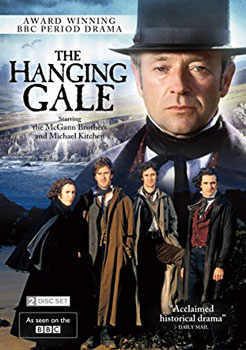 Three quarters of Ireland's cultivable land were grains that were grown and shipped to England and other parts of the world. These grains would be grown to pay tenant rent. On the remaining quarter of land, the tenants grew potatoes which were highly nutritious, thus creating a mono-cultural dependence. This film accurately portrays the Phelan family living on ancestral land and struggling to grow enough potatoes to survive. And when their entire crop is destroyed by what we know now as a fungus, they are unable to pay their rent.
Picturesque, achingly beautiful coastal landscape and the Phelans are on their knees in the rain and mud pulling up each potato plant to find squishy rot. The melodic Irish language is spoken at times between them, revealing unity and strength of a family and race. The raging anger of a people denied justice and food is powerfully depicted when the Phelans barricade their cottage and local villagers stand with them to protest the land agent and police from evicting and tumbling their home. You, as a viewer, are there with them feeling the loss. The cinematography is superb and presents the viewer with an extraordinary microscopic view of Ireland's majestic landscape juxtaposed with suffering.
---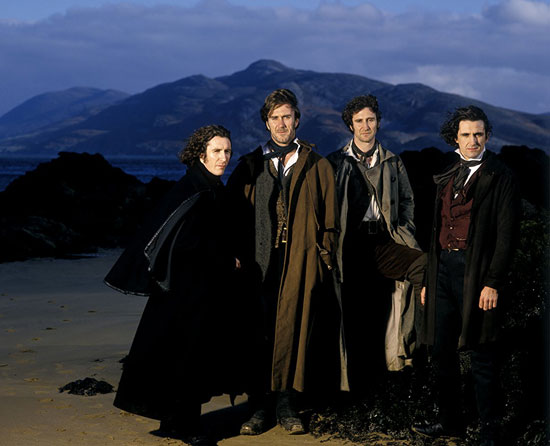 2. The story has the power to heal: The Phelan brothers are played by the four talented McGann brothers who searched for their Irish roots and then sought out the screenwriter, Allan Cubitt, to create a film based on their family history. This one family's story becomes the essence of a tragedy that struck a nation and altered it forever. When this widespread blight happens under British rule with a laissez-faire, let things take their course, policy, and the belief the Irish were lazy and rebellious, the Phelans express overwhelming shock and anger, but most of all love and devotion to one another and their fellow sufferers.

---
---
"It's easy to halve the potato where there is love" is an Irish saying and there is poignancy in the sharing of their food and when a cow is bled to mix with their food. The love of Sean for his wife in purchasing blue buttons for Maeve, although the price is dear, is romantically depicted. Loyalty amongst the Phelans abounds in small and large ways and in the end, we have had light shed on us that over a million people perished and this is why over a million people left Ireland. "All of us are asleep and by telling stories, we are awakened," a Jewish saying goes.
---
3. The casting and acting is excellent: Hailing from an ordinary Liverpool family, the McGann brothers are consummate actors who dominate the movie with persuasive acting and good looks. Their relationship as real-life brothers spills over into this film and the sparring and loyalty is genuine.
Liam, the young, compassionate priest, is played by Paul McGann (The Bletchley Circle, Doctor Who, Ripper Street).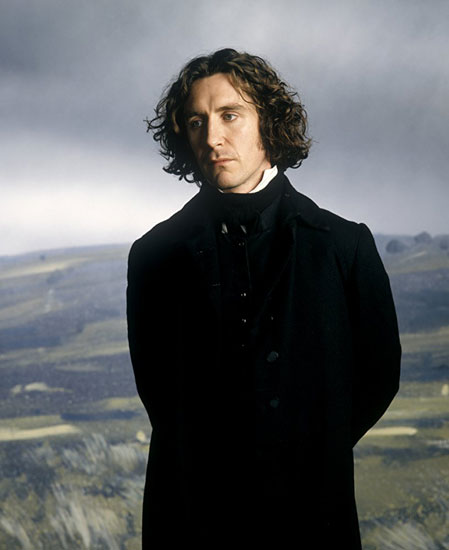 Sean, the hardworking farmer, is played by Joe McGann (Midsomer Murders, Madame Bovary).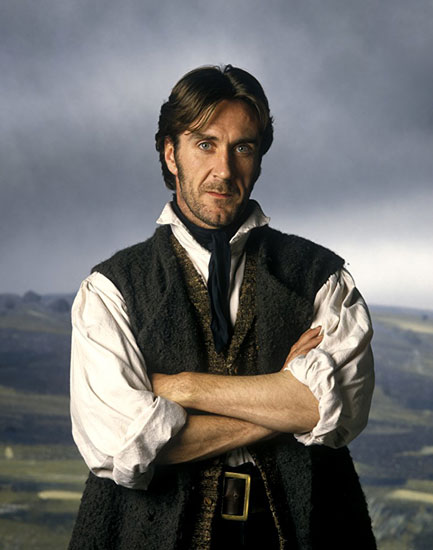 Daniel, the hot-headed schoolteacher who joins the Ribbon Men, is played by Stephen McGann (Call the Midwife, Catherine the Great).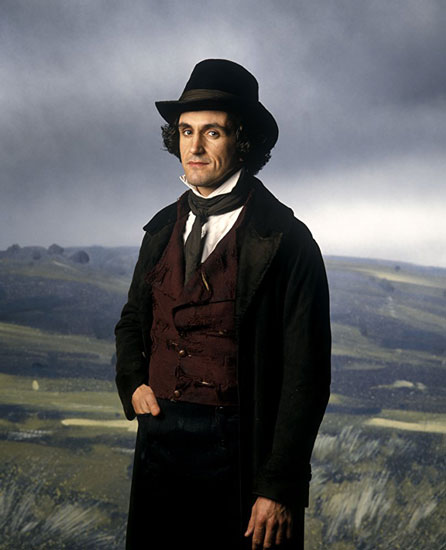 Conor, the quiet, sweet romantic who makes money in stick-fights, is played by Mark McGann (Shackleton, The Grand).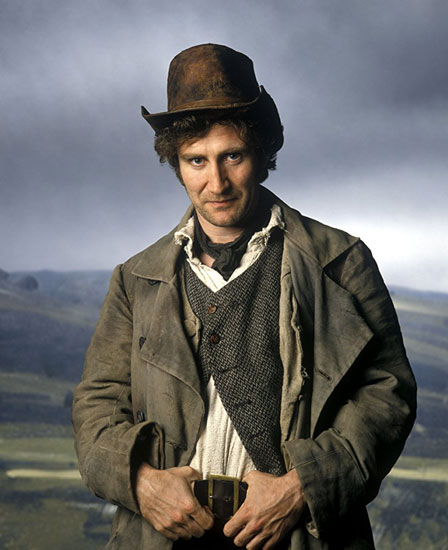 Captain William Townsend, the land agent, is played by Michael Kitchen (The Collection, Foyle's War, Lorna Doone, The Railway Children, Oliver Twist, Mrs Dalloway, The Buccaneers, Enchanted April). Kitchen is superb in his role-playing the middle-man with a heart, but still in need of enforcing law and order. Distinguished, gentle, lonely, but still the British agent not to be crossed, his role is nuanced enough for sympathy and dislike.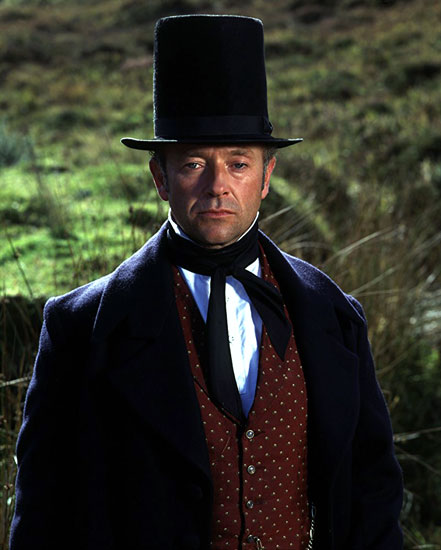 Sean's wife, Maeve Phelan (Fiona Victory), is the quintessential hardy and indomitable Irish woman who strives to keep her family alive and together. She wears a long-suffering and determined countenance throughout the film until circumstances deem otherwise.
Maeve's sister, Mary (Ballykissangel's Tina Kellegher), becomes a domestic for Captain Townsend and is privy to complexity on both sides. She reveals a myriad of emotions throughout her role living in the land agent's house as a domestic after her family's cottage was tumbled.
The casting of the villagers so thin and wan came about from ads and posters that were sent around the county asking for thin people for a film. Indeed, how real can a film get? This one does it well!
---
4. The series is a tear-jerker well worth the cry: A real-life story with real-life brothers whose family history contains this period of history that is also the history of America and the Irish who left during the Famine. You can't help but weep and become angry over the vicious cycle of suffering and despair engendered by colonialism and unbridled politics and greed. Watching this drama behooves us to be changed for good and to become strong and passionate for present day real-life drama.
---
5. There's romance: Yes, there is romance in the midst of a drama about great suffering! Above the hardscrabble struggle, comes the subtle day by day tender glances and touches between Maeve and Sean, and their quiet lovemaking late in the night leaves them with questions unanswered and hunger lingering. Conor, the brother who has always loved Maeve and quietly tells her so; Daniel and Mary are in love, but his rage gets in the way. And then there's the simmering attraction between Mary and Mr. Townsend after Mary becomes his domestic that makes you wonder, perhaps hope…
---
The Hanging Gale is AVAILABLE to STREAM
Note: The Northern Ireland BBC production is not rated, but is not suitable for young children. With truth-telling comes an intense and often grim story, and some of the scenes may be too much for those who are particularly sensitive. If you can get through the first ten minutes, you should be okay. 
---
Cynthia G. Neale is the author of the new release by Fireship Press, The Irish Milliner (set during the Civil War in New York City), Norah: The Making of an Irish-American Woman in 19th-Century New York and the young adult novels, The Irish Dresser, A Story of Hope during The Great Hunger (An Gorta Mor, 1845-1850) and Hope in New York City, The Continuing Story of The Irish Dresser.
Ms. Neale has also written a dessert and essay book, Pavlova in a Hat Box, Sweet Memories & Desserts. In addition to these works, Ms. Neale writes plays, screenplays, short stories, and essays. She holds a B.A. in Writing and Literature from Vermont College. Ms. Neale enjoys Irish set dancing, reading, painting, hiking, kayaking, creating events for food, dance, and fund raising. A native of the Finger Lakes region of New York, Ms. Neale currently resides in New Hampshire.
You can find her on Facebook, on Twitter, and at her blog. Keep reading for detailed information about her works of historical romance and historic fiction.  
---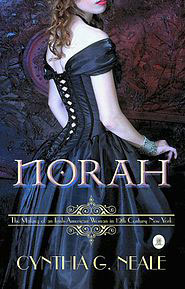 Norah – The Making of an Irish-American Woman in 19th-Century New York
You don't have to be Irish to appreciate Norah McCabe. Hers is an American story of self-creation through sheer grit and imagination. This historical novel paints an authentic and compelling picture of what it means to be young, poor, and female longing for a better life in 1850s New York City.
Scant historical attention has narrowly defined the Irish immigrant woman. And yet the rate of economic and social progress of Irish women far exceeded other immigrant women ethnicities. Norah McCabe heartbreakingly and quixotically stumbles and falls into her real self in this coming-of-age, adventurous, romantic, historical novel.
When she strives to strip herself of her impoverished past through such manifold schemes as buying her own used clothing store, 'A Bee in Your Bonnet' and promenading in Paris finery, she experiences corruption, exploitation, and enchantment in a city that is forever mythic and magical. Norah McCabe joins a rebel Irish organization to free Ireland from British rule, writes for an Irish newspaper, undergoes love's transformation, and suffers a ship wreck.
She seeks to understand the feminist movement, but ultimately is unable to cross the chasm between herself as an Irish immigrant woman and Protestant feminist ideology. The terrors and questions of life strike her down with mental incapacity and loss. Her solitary freedom is the colorful warp and weft in the fabric of who she has become — an Irish-American woman.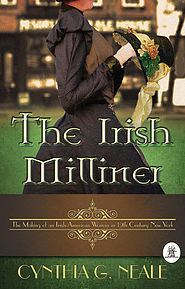 The Irish Milliner – The Making of an Irish-American Woman in 19th Century New York The Continuing Story of Norah McCabe
It is New York City and the Civil War is brewing. Norah McCabe, an Irish immigrant who escaped the Famine as a child, is now a young widow with a daughter. A milliner, struggling to survive in tumultuous times, Norah meets Abraham Lincoln, befriends the extraordinary African-American woman Elizabeth Jennings, and assists the Underground Railroad creating hats for runaway slaves. She falls headlong in love with Edward M. Knox, son of the famous hat-maker Charles Knox, but he is lace curtain Irish and she is shanty Irish. Edward joins the 69th regiment and leaves for battle. Can their love endure through class differences and war? And then Norah is thrust into the chaos of the Draft Riots. Norah's childhood sweetheart, Sean O'Connolly, leaves New York to avoid conscription and Norah misses both men. She eventually travels to Gettysburg as a journalist for the Irish-American newspaper. And it is on the ghostly, but reverent, fields of Gettysburg Norah McCabe remembers the Famine fields of Ireland and is transformed. But now where will Norah find her home? This is a story of survival, intrigue, romance, as well as exploring the conflict of Irish immigrants thrust into a war that threatened to destroy a nation. Mostly, it is about an Irish-American woman who could be any immigrant today, any woman today, seeking to create beauty and make sense of her life.
For young adults and others: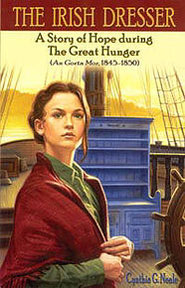 The Irish Dresser – A Story of Hope during The Great Hunger (An Gorta Mor 1845-1850)
When thirteen-year-old Nora McCabe crawls into the old dresser that sits next to the hearth holding a few pieces of her mother's china, she dreams of luscious cakes and fairies as hunger pains grip her. It is in the dresser that Nora finds hope when her father declares they must leave their beloved Ireland for America. Hidden in the magical dresser aboard the ship traveling to a new land, Nora lives an adventure that transforms her life and turns hope into reality.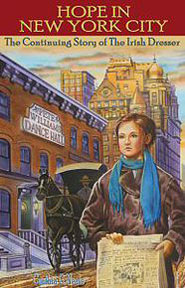 Hope in New York City – The Continuing Story of The Irish Dresser
A story of questioning where home is and learning that true belonging endures in the human spirit as well as in the love of family and friends.
This sequel continues the saga of Nora McCabe and her family now dwelling in New York City where they encounter poverty and racism as Irish Catholics and immigrants. Injustice and violence are a matter of course in this mysterious and alluring city filled with strange languages. Desperately homesick, Nora vows to save money and return to her homeland of Ireland. Meanwhile, she becomes a newsboy, meets Walt Whitman, visits Barnum's museum, meets new friends, and experiences an adventure. After purchasing a ticket to return to Ireland, the Astor Opera House Riot of 1849 occurs and her father disappears. Will Nora return to Ireland? Or can she stay and maintain her spirit while finding the true meaning of home?
This is an immigrant story–the kneading and mixing, the failure to rise again and again, but then rising to heights unimagined. It is a story of questioning where real home can be found, not in place, but in the soul.

If you enjoyed this post, be sure to see Period Dramas for St. Patrick's Day. Also see 5 Reasons to Watch Desperate Romantics, 5 Reasons to Watch the Movie Heartland, and be sure to wander over to The Period Films List, for historical and costumes dramas sorted by era. 
SaveSave
SaveSave
SaveSave
SaveSave
SaveSave
SaveSave
SaveSave
SaveSave
SaveSave
SaveSave
SaveSave
SaveSave
SaveSave
SaveSave
SaveSave
SaveSave
SaveSave
SaveSave
SaveSave
SaveSave
SaveSave
SaveSave
SaveSave
SaveSave
SaveSave
SaveSave
SaveSave