Willow and Thatch had a pleasantly full summer, and despite being in perfect accord with Jane Austen that "There is nothing like staying at home, for real comfort," there was no opportunity to stay put and watch Masterpiece Theatre's Poldark when the series (shown in eight parts in the UK, seven in the USA), debuted this summer. Thankfully, technology allowed for an epic immersion into the passionate and complex class-crossing lives of Capt. Poldark (The Hobbit's Aidan Turner, 32) and his Demelza (Death Comes To Pemberley actress Eleanor Tomlinson, 22) in 18th century Cornwall, England. If you also missed it the first go-around or want to watch again, you can stream season one of Masterpiece: Poldark here.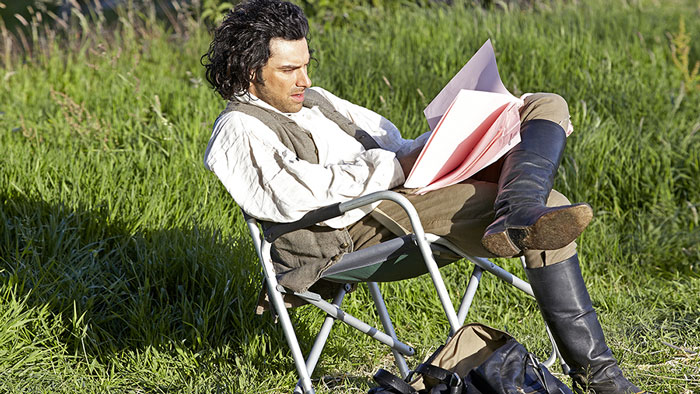 In the words of the servant character Jud, "Tidn't right, tidn't fair, tidn't fit, tidn't proper," but season one of Poldark is over, and the reports that the BBC has signed a £50 million deal to make five more series of Poldark to produce an installment of the period drama every year until 2020, are apparently not confirmed.
"It's not true," a BBC spokesperson told Express.co.uk. "We've only commissioned a second series so far that will take place in 2016. [There has been] no decision beyond that."
Tidn't friendly, tidn't civil. Sigh.
There is still reason to hope, with the immense audience support for the period drama, that all of the 12 Poldark novels written by Winston Graham between 1945 and 2002 will be adapted, at a rate of two per season. And – the second series is expected to run longer than the first, for a total of 10 episodes.
Poldark Season 2 begins September 25th with a 2 hour premiere at 8/7c on MASTERPIECE on PBS!
In the UK, Season 2 of Poldark will air beginning September 4, 2016.
To ease the wait for season two in 2016, there may be a temptation to watch the original BBC 1975 – 1977 release of Poldark. However, given that author Winston Graham so strongly disliked the 1970s adaptation that he "tried everything to stop the show from airing" and lacking the obvious bonus of a shirtless Aidan Turner, buying the U.K. Edition DVD of the 2015 Poldark may be the sensible way to go instead. That, alongside some indulgence in watching Colin Firth's lake scene in Pride and Prejudice, again, may stave off the distress of waiting. I digress; in fact, the current BBC's Poldark aims to be a family drama with wide appeal, not a bodice ripper. The new Downton Abbey, if you will.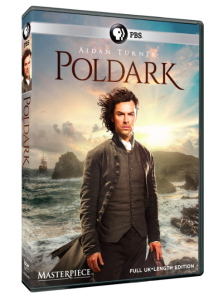 Masterpiece: Poldark (U.K. Edition) the DVD
480 minutes on 3 Discs, Region 1
Over 60 minutes of special features, including…
– Interviews with main cast, directors, writer & producer
– Episode 1 audio commentary
– Poldark: The Man, The Icon
– The Making Of Poldark
– The Women Behind the Man
This DVD features subtitles in English
Willow and Thatch's only minor caveat with the 2015 Poldark is that at times the production value seemed to be just a wee bit lower than tip-top, the manners a little modern, and the costumes of the miners a tad too new and well kept looking despite being inspired by paintings of workers of the period. These latter two details may get attention for the future episodes as word has it that improvements will come, especially in the special effects arena. But with that in mind, perhaps customs and costumes are not the types of changes that are included; producer Eliza Mellor has said from the start that she wanted the series to feel fresh and modern.
A close adaptation of the novels' engaging plot, visceral romance, breathtaking vistas of Cornwall, lush cinematography, exacting edits and excellent acting all around make the first season of Masterpiece Theatre's 2015 Poldark a must see.
Synopsis: Ross Poldark rides again in a swashbuckling new adaptation of the hit series that helped launch MASTERPIECE in the 1970s. Aidan Turner (The Hobbit) stars as Captain Poldark, who returns to Cornwall after the American Revolution to find that his fighting days are far from over. Feeling betrayed by everything he loves, Ross must rebuild his life, embarking on a risky business venture and finding love where he least expects it.
More on the 12 novel series Poldark, written by Winston Graham:
"Father was the author but my mother helped with the details because she was very observant. She saw everything and remembered it all. Dad would write something every day. Every afternoon he would have tea with my mother for an hour when he would bounce ideas at her."
In the first novel in Winston Graham's hit series, a weary Ross Poldark returns to England from war, looking forward to a joyful homecoming with his beloved Elizabeth. But instead he discovers his father has died, his home is overrun by livestock and drunken servants, and Elizabeth-believing Ross to be dead-is now engaged to his cousin. Ross has no choice but to start his life anew.
Thus begins the Poldark series, a heartwarming, gripping saga set in the windswept landscape of Cornwall. With an unforgettable cast of characters that spans loves, lives, and generations, this extraordinary masterwork from Winston Graham is a story you will never forget.
If you enjoyed this post, you'll want to wander over to the full (growing!) list of recommended best period films and romantic and historical costume dramas, all sorted by era and theme, in The Period Films List.