Here's who's joining Outlander for the upcoming fourth Season, along with a little of what to expect.
Season 4 of the period drama will be based on Diana Gabaldon's novel The Drums of Autumn, which is set in the American colonies between 1767 to 1770, as well as in Inverness and Boston from 1969 to 1971.
Some spoilers below; make sure you've finished season 3 before reading.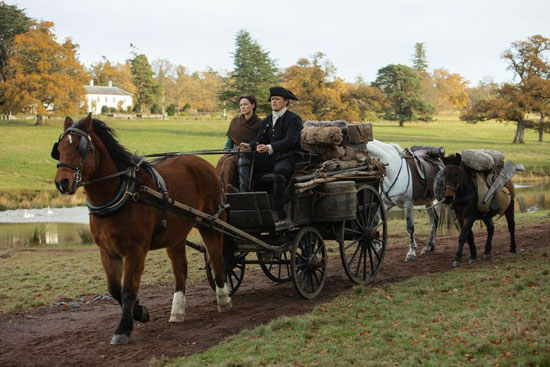 ---
To help keep this site running: Willow and Thatch may receive a commission when you click on any of the links on our site and make a purchase after doing so.
---
About the series: After serving as a British Army nurse in World War II, Claire Randall is enjoying a second honeymoon in Scotland with husband Frank, an MI6 officer looking forward to a new career as an Oxford historian. Suddenly, Claire is transported to 1743 and into a mysterious world where her freedom and life are threatened. To survive, she marries Jamie Fraser, a strapping Scots warrior with a complicated past and a disarming sense of humor. A passionate relationship ensues, and Claire is caught between two vastly different men in two inharmonious lives.
Starring Caitriona Balfe, Sam Heughan, Sophie Skelton, Maria Doyle Kennedy, Edward Speelers, Richard Rankin, Tim Downie.
Rated TV-MA
New viewers please note: there is some graphic violence beginning toward the end of the second part of the 1st season.

At the close of season 3 in the Starz period drama, Claire (Caitriona Balfe) and Jamie (Sam Heughan) discovered they had arrived on the shores of Georgia in the American colonies, but Balfe's time traveling character had already lived in the US, nearly 200 years earlier.
Claire had left 20th century America at the height of the civil rights movement, and her 18th century arrival coincides close to the inception of the United States of America, when slavery was active and the new settlers were precariously negotiating their relationship with the Native Americans.
Speaking about her character's arrival in 1700s America, Balfe said "It's very interesting to watch her wrap her mind around how to be a pioneer but also knowing what she knows and having the respect she does for the Native American culture. It definitely isn't without its problems and issues and having her figure out how to be a respectful pioneer."
In season 4, Claire and Jamie will busy building their homestead "Fraser's Ridge" in North Carolina, and Balfe says "There's this beautiful domesticity that's happening where we see them find their home for the first time and create it in the way that they want."
Outlander's showrunner Moore adds that viewers can expect "elements of Little House on the Prairie with elements of the frontier and wilderness. We're there at a time of tumult in the American colonies, there's slavery in the South, there are American Indians on the frontier, there's a rebellion that will blossom into the American Revolution, and they land smack-dab in the middle of all of this."
---
Read our review of the period series Jamestown.
---
We'll see the return of most of the characters who were still part of the show at the close of season 3, but there will be several new roles to fill in the 18th century.
Maria Doyle Kennedy (Catherine of Aragon in The Tudors) will play Jamie's plantation-owning Aunt Jocasta. She's the strong-willed younger sister of Jamie's late mother and uncles Colum and Dougal Mackenzie. "She sounds and looks like his mother," Heughan says. "Jamie really is a family man so for him this is a huge moment, but she's a MacKenzie and the MacKenzies are notoriously big players in politics so that definitely comes up. This season is about family and Jamie getting all the pieces in place before it gets thrown on his head."
Aunt Jocasta is friends with a wealthy lawyer in North Carolina, named Gerald Forbes, to be played by Billy Boyd (Pippin in The Lord of the Rings).
Natalie Simpson (who'll you'll see in the upcoming BBC adaptation of Les Misérables) takes on the role of Aunt Jocasta's seamstress and personal maid on the plantation. Jon Gary Steele, who is responsible for the sets, shared that the plantation set rivals the Paris sets in terms of beauty. "It's heavily detailed—even more than the Parisian sets, believe it or not." Speaking about the fourth season a s whole, he told TV Guide "It's my biggest build so far. It's huge. It might be the best looking year of all."
Edward Speelers (Downton Abbey's footman Jimmy Kent) takes on a critical role as an Irish-born pirate named Stephen Bonnet. He's our new antagonist, now that Tobias Menzies (Black Jack Randall) is gone and will play the new Prince Philip in season 3 of The Crown (but like in the book we could have flashbacks with Frank). Brace yourself, because Bonnet is worse than Black Jack Randall, a "pure psychopath and a narcissist" covered up by a charming veneer. Yikes.
(In less creepy news, this means we can add Outlander to our list of Downton's Cast Connections, because Maria Doyle Kennedy played Vera Bates in the series.)


Tim Downie (the Duke of Gloucester in The King's Speech) takes on the role of the ambitious, real life figure Governor William Tryon, who ran North Carolina until 1771.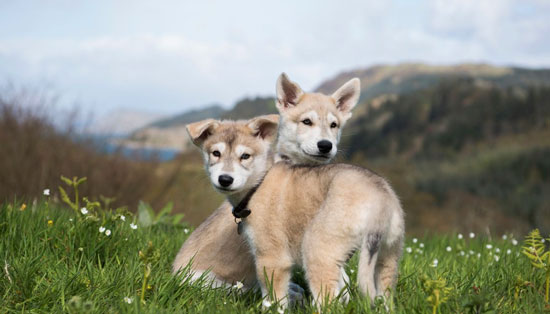 And there's a new, really cute character, Rollo; he's a dog that makes friends with Young Ian. The new addition to the Fraser family will be played by two Northern Inuit dogs.
Back in the 1960s, Simona Brown will play Gayle, a friend to Brianna (Sophie Skelton), Jamie and Claire's daughter. Caitlin O'Ryan will play Lizzie Wemyss, a young Scottish woman who goes on an adventure with Brianna. Roger (Richard Rankin) will be back, but his relationship with Bree will be more tumultuous than we've seen to date.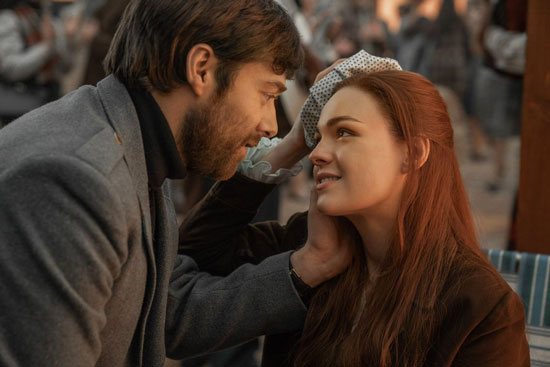 Outlander has been renewed for season five and six, and will follow Gabaldon's The Fiery Cross and A Breath of Snow and Ashes.
President of network Starz Chris Albrecht recently said that "Fans can rest assured their beloved Claire and Jamie will be back facing new challenges, adversaries, and adventures in seasons five and six as we delve into American history and continue the story of the Frasers as they settle in the New World."
Season 4 will be 13 episodes long, and is currently filming in Scotland.
Season 5 and 6 will reportedly each have 12 new episodes.
Outlander season 4 will premiere in November 2018 on Starz in the USA. Previous seasons are available to stream here.
Diana Gabaldon's Outlander series of novels is available here.
---
Willow and Thatch exists because of you: You can shop our Jane Austen Period Drama Adaptations merchandise, click on our links (like these that take you to Etsy and Amazon) and make purchases on those sites, and buy period-inspired products from the Lovely Things Shop. You can also continue to share our articles, or make a financial contribution here. All these things allow us to write feature articles, update The Period Films List, mail out our newsletter, maintain the website and much more. Thank you!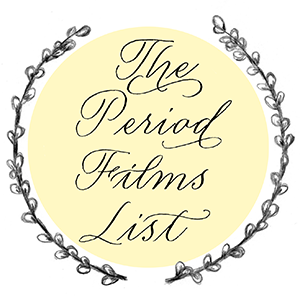 If you enjoyed this post, you may also like the Period Films List – the best costume dramas, heritage films, documentaries, period dramas, romances, historical reality series and period inspired movies, sorted by era and theme. Also be sure to check out our review of the period series Jamestown.