For a number of years, The Guernsey Literary and Potato Peel Pie Society by Mary Ann Shaffer and Annie Barrows was lost among my extensive collection of historical fiction. I was convinced that I wouldn't enjoy a story written in letter format, but how very wrong I was. Instead of simply enjoying the novel, I fell madly in love with it.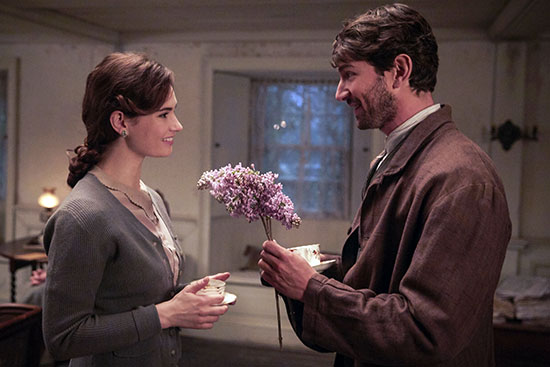 ---
To help keep this site running: Willow and Thatch may receive a commission when you click on any of the links on our site and make a purchase after doing so.
---
Ever since, the work has stood out to me among other Second World War stories. Novels such as Atonement by Ian McEwan and The Boy in Striped Pajamas by John Boyne are riveting in their grievous portrayal of life during war. The emotional rawness contained within each work—McEwan's vivid imagery of a London hospital in chaos as bleeding soldiers are wheeled in and Boyne's descriptions of children freezing in the yard of a German concentration camp—bears testament to the pain people experienced during war time.
I was enraptured by the storytelling in these novels, but ultimately my reading experience culminated with a feeling of hopelessness. The Guernsey Literary and Potato Peel Pie Society tells a story about the German occupation of Guernsey and how the Channel Islanders suffered starvation and violence. Nonetheless, Shaffer's and Barrows's humorous prose and focus on the impregnability of the human spirit made me feel that there's always hope, no matter how dire life may seem. For this reason, their novel is one I frequently come back to.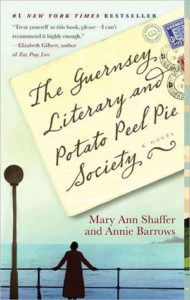 It took only one page for me to feel immersed in the story. The protagonist, Juliet Ashton, complains of writers' block to her friend and publisher, Sidney Stark. Juliet wrote a humor column called "Izzy Bickerstaff Goes to War" for a London newspaper, but by 1946 she wants to write a novel and not simply distract people as she did during the war. She writes to Sidney, "Dear as Izzy Bickerstaff is—and was—to me, I don't want to write anything else under that name. I don't want to be considered a light-hearted journalist anymore. I do acknowledge that making readers laugh—or at least chuckle—during the war was no mean feat, but I don't want to do it anymore."
Her exchanges with Sidney make it clear that she associates her column with a period of necessity and obligation to a fan base that needed laughter to survive the war. Juliet continues, "I can't seem to dredge up any sense of proportion or balance these days, and God knows one cannot write humour without them." Without necessity as the driving force, Juliet is compelled to look where her heart lies, and write about what matters to her in a post-war world.
---
---
In Mike Newell's film adaptation, Lily James (Downton Abbey, War and Peace) is buoyant, charming, and shines as readers' beloved Juliet Ashton. Within the first five minutes of the film Juliet is telling an audience how her first book, A Critical Biography of Anne Bronte, sold only twenty-eight copies worldwide. The crowd murmurs their surprise before a young woman asks if she plans on writing another book, to which Juliet describes English Foibles, a miscellany of English absurdity. In this moment, Lily James demonstrates her remarkable subtlety as an actor as she sighs in resignation and looks solemnly to the floor as the crowd laughs around her.
Later Sidney, played by Matthew Goode (Imitation Game, Brideshead Revisited) and Juliet tour a gleaming ivory flat that's nestled between buildings that were presumably destroyed during the war and are under reconstruction. Upon entering the flat, Juliet sharply inhales as she sees the ghost of her Oakley Street home that was demolished in the war. While Juliet is generally a cheerful character, it is in these expertly executed moments of vulnerability where we see Lily's depth. Like so many others, her character suffered through anxiety and fear for years. Writing proved an effective balm for her worries – and for her readers' worries as well – but now the positive effect, of humorous writing at least, is clearly beginning to wane.
Just as she does in the novel, Juliet meets an American called Markham "Mark" Reynolds, played by Glen Powell (Hidden Figures). There's a startling difference between the Juliet who looks despairingly into the void of memory and the Juliet who dances with a handsome man in a glittering club. In one scene, Juliet arrives to a party in a stunning gold dress before she follows Mark onto the crowded dance floor. Later in the night, she is sitting alone at a table and there's another moment of brief vulnerability as Juliet is clearly lost in thought as a balloon wafts to the ceiling. As Mark approaches she asks, "do you ever feel like we've emerged from a long, black tunnel into a carnival?" With a dashing smile, Mark replies, "do you not like carnivals?" This line, written by Kevin Hood, encapsulates the Markham Reynolds originated by Mary Ann Shaffer and Annie Barrows.
In the book, Juliet writes a letter to Sidney's sister, Sophie (who does not appear in the film), "have you noticed that there are some people – Americans especially – who seem untouched by the war, or at least, un-mangled by it? I don't mean to imply that Mark was a shirker—he was in their Air Corps—but he's simply not sunk under it. And when I'm with him, I feel untouched by the war, too." Not having directly experienced the chaos as did Juliet the inhabitants of London, Mark is removed from the damage caused by the war caused. Juliet's relationship with Mark suddenly loses its luster – does she truly love him or if has she grown accustomed to pretending she's unscathed by the war?

Amid the attempts to mask her residual misery from the war, Juliet receives a letter postmarked from Guernsey. The writer, Dawsey Adams, begins his letter explaining how he found her address written on the front cover of the Selected Essays of Elia by Charles Lamb. He asks Juliet if she could recommend any shops from which he can order more of his books, since the shops in Guernsey were destroyed.
In the novel Dawsey writes, "Charles Lamb made me laugh during the German Occupation, especially when he wrote about the roast pig. The Guernsey Literary and Potato Peel Pie Society came into being because of a roast pig we had to keep secret from the German soldiers, so I feel a kinship to Mr. Lamb." Juliet responds that she had sold the book to make room on her shelf. How could she have ever imagined that it would make its way to Guernsey? Juliet wonders how a book club starts with a roast pig, and what ensues is a friendship via letters as Dawsey proceeds to write about the birth of their book club, and other members of the society explain how they each sought refuge through literature.
Much like the novel, the film begets a sense of nostalgia for the restorative power of companionship that seems lost in an age of distractions. As Dawsey tells Juliet in the film: "Our Friday night book club became a refuge to us. A private freedom to feel the world growing darker all around you, but you only need a candle to see new worlds unfold. That is what we found in our society." Books and camaraderie provided the Guersney society with solace from despair and loneliness during the war.

Juliet is inspired to write about the society for a piece on reading for the London Times. In the novel she writes to Sidney, "I want to get out of London. I want to go to Guernsey. You know I've grown very fond of my Guernsey friends, and I'm fascinated by their lives under the Germans—and afterward… I want to know the stories of the people who were there, and I can never learn those by sitting in a library in London." Likewise, in the film, Juliet travels to the Channel Islands, escaping the prison that war made of her home. A freer Juliet arrives on the Guernsey shores. An assortment of bleached-white and worn red-brick houses scale the island hills, and a narrow stone walkway is the only path from the rough channel waters to the sandy stretch of beach. Juliet looks at the scenery in wonder, unable to fathom that war could come to such a beautiful island.
Although Mike Newell's adaptation features a portion of the historical complexity Shaffer and Barrow included in their work, and only half the number of characters, it is nonetheless a beautiful re-telling of the story. In the novel, every letter from the island tells a disparate story about the war and highlights how varied each experience was. After reading the book, I know more about the Second World War—specifically as it took place in the Channel Islands—and its effect.
I had hoped to see certain characters in the film that were in the book such as John Brooker, a former valet who hides his Jewish faith by pretending to be an English lord or Remy Giraud, a young French woman who experienced a German concentration camp alongside Elizabeth McKenna, a society member portrayed by Jessica Brown Findlay (Harlots, Victor Frankenstein). Nevertheless, I fell in love all the same with the characters I was able to see. Michiel Huisman (Game of Thrones, Black Book) is the stoic, warm-hearted Dawsey Adams. Downton Abbey alums Lily James, Matthew Goode, Penelope Wilton, and Jessica Brown Findlay all played their role to perfection.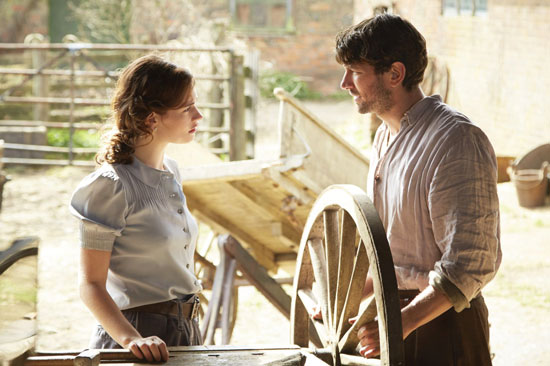 The costuming in the film, managed by Charlotte Walter, is cleverly used to demonstrate Juliet's sense of self as she travels from London to Guernsey. She is classy in London as she wears A-line navy skirts with tailored blazers and pancake berets that she tilts smartly atop her pinned-up hair. She's picture perfect with her swaths of solid color, but there isn't any individuality in her fashion. Her style remains uniform and feminine when she meets the literary society, and at one point one member, Isola Pribby, played by Katherine Parkinson (Easy Virtue, The Bleak Old Shop of Stuff) looks curiously at Juliet's fashionable jacket as she helps her into the meeting space.
As time passes, Juliet begins to relax, so does her style, making it easier for her to assimilate into Guernsey life. In a later scene, she wears a thick brown corduroy jacket as she kneels in Isola's muddy gardens and hoists piglets in Dawsey's farm pin. By the end of the film, Juliet's hair is loose over her shoulders and she's clad in a light blue summer dress with floral detailing. By the end of the film, Juliet's friendship with Dawsey and the other society members has transformed her, and she is visually much more of a natural aspect of Guernsey than London.
During the film's denouement, Dawsey reads a letter aloud from Juliet in which she writes, "Do you think it's possible for us to already belong to someone before we've met them?" This line isn't the novel, but its addition appeals to my sentimentality. First and foremost, The Guernsey Literary and Potato Peel Pie Society is about love, whatever that may look like: love for a story, love of a place, and ultimately love for each other. For this reason, Shaffer's and Barrow's story is both an education and a source of happiness for me. Admittedly, I knew very little about what Guernsey citizens faced. The film adaptation was an emotional supplement to the novel as I was able to see things such as the Nazis march in the streets, and not simply imagine it. Since reading the book and watching the film, I've only wanted to learn more about what happened all those years ago.
The Second World War exposed the most nefarious aspects of human nature. Nevertheless, a group of people coped with the depravity by reminding one another of the "private freedom" of reading, and the comfort that can be found in community. On the page and on screen, it's this unbreakable spirit that makes me return to the story.
The Guernsey Literary and Potato Peel Pie Society is AVAILABLE to STREAM. Rated TV-14
---
Kailey Rhone makes use of her English degree working as a production editor in the world of academic publishing. She can be found rewatching "Downton Abbey" and sipping on another cup of Earl Grey when she's not writing about the intersection of feminism and Jane Austen's novels. Her work can be found in Persuasions.
---

If you enjoyed this post, you'll want to wander over to The Period Films List. You'll especially like the Best Period Dramas: Interwar Era List and our post about the BBC mini-series Restless. Also see our list of Other Period Dramas starring the Downton Abbey Cast, and the news about the Downton Abbey Movie.