Last Updated on April 21, 2017
It was a time that was very complicated for this particular group of people, both the family and servants. Between 1912 and 1925 spans only 13 years, but nevertheless, their future at the end of that time looked completely different to the way it had looked at the beginning. Enormous numbers of people had to make that adjustment. People whose career had been in service, which we have to remember was the biggest employer in the country at the beginning of the series.

By the end of it, they knew that their futures were not at all secure because the market that remained, those increasingly few people who did have household servants, were getting fewer and fewer. These men and women were only really qualified to do these jobs that were vanishing every day and that was another part of the adjustment. So in a sense we needed to deepen the characters to absorb the changes that are coming. I think that's enriched the performances. – Julian Fellowes, writer and creator of Downton Abbey
As mentioned in the Downton Abbey UPSTAIRS 2016 post, while the UK watched, over here in the States most of us tried to avoid news of Season 6. But at last the time has come for us to watch on PBS' Masterpiece, so now we can catch up on what is happening DOWNSTAIRS at Downton in 2016 with each of the characters. There are very minor spoilers here of the most general variety, more like teasers, courtesy of ITV. We've earned them.
Downton Abbey Season 6 (the final season of the costume drama) premieres in the US Sunday, January 3, 2016 at 9/8c on PBS Masterpiece.
We return to Downton Abbey in 1925, a time when those DOWNSTAIRS navigate social changes which put their futures in jeopardy.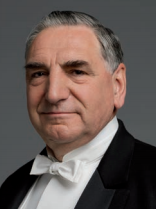 Mr Carson (Jim Carter): The quintessential butler. Ever loyal to the Crawley family but soon to be a husband, he finds himself caught between the needs of the Crawleys and the expectations of Mrs Hughes. Like Lord Grantham, Carson is unsettled by signs of change to the way of life he holds so precious. Nonetheless, he must be responsible for leading the reorganisation of staff at Downton Abbey, and in turn will face challenging realisations concerning his own future.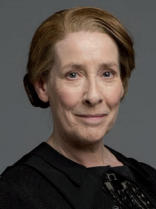 Mrs Hughes (Phyllis Logan): Stalwart housekeeper Mrs Hughes is tough and unsentimental, but also fair, decent and wise. Her gentle, loving friendship with Carson has endured over the years, and their surprise engagement was met with the delight of those above and below stairs. However, confusions and disagreements threaten their union, and Carson's perpetually high standards will push Mrs Hughes' patience to its limits.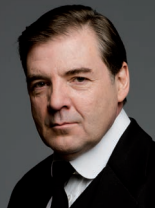 John Bates (Brendan Coyle): Valet and former prisoner. Tested time and time again, Bates and his devoted wife Anna are still in a state of limbo as they wait to hear if a case is to be made against either of them for involvement in Mr Green's death. The couple dream of starting the family they long for, but as their trials continue Bates must be a tower of strength for Anna if they are to remain hopeful that a happy future awaits them.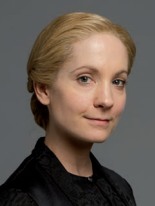 Anna Bates (Joanne Froggatt): Lady's Maid to Lady Mary. Married to her cherished Mr Bates, stoic and patient Anna is on bail for involvement in Mr Green's death. Honest and reliable, she has often come to Mary's aid in times of need, and in this series she may need to accept help in return. Anna longs to start a family with Mr Bates, but it seems the odds are stacked against them finding the happiness they deserve.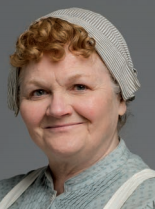 Mrs Patmore (Lesley Nicol): The cook. Mrs Patmore is still firmly in charge of the kitchen and kitchen staff and religiously defends her rights and privileges, against all comers. She is shrewd and observant of the dynamics amongst the staff, and is especially protective of Daisy. Mrs Patmore is fully supportive of anything that brings Daisy happiness, even if Daisy finds it difficult to show the same generosity – particularly when Mrs Patmore and Mr Mason strike up a friendship. This series, Mrs Patmore's new business venture leads to an unexpected scandal and brings the Crawleys to her aid.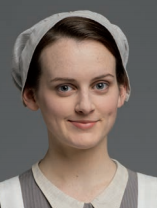 Daisy Mason (Sophie McShera): The assistant cook. Daisy is still at the beck and call of Mrs Patmore but is looking ahead to a future outside service. With the help of Mr Molesley, Daisy furthers her education and her mind opens up to new possibilities. Daisy's left-leaning politics lead her to question authority with increasing fervour and her outspoken opinions land her in trouble with Mr Carson. Though an accomplished student, Daisy still has much to learn in matters of the heart, and Mrs Patmore's guidance is often needed.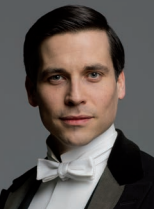 Thomas Barrow (Robert James-Collier): The under-butler. Occupying a position now thought of by many to be superfluous, Thomas will come under immense pressure as he is forced to consider what the future may hold. Although his approach to life in service has typically been characterised by scheming and manipulation, his efforts to mentor and befriend the newest footman, Andy, reveals a softer side, even if his advances are apparently unwelcome. Thomas realises that Downton is the only place he's put down roots, but as he struggles to overcome his defensive loneliness, and the isolation this has forced on him, wonders if he really belongs anywhere.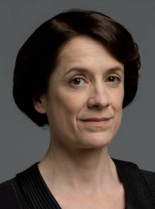 Phyllis Baxter (Raquel Cassidy): Cora's Lady's Maid and childhood acquaintance of Thomas. Baxter is loyal and honest, but is haunted by a dark past. When forced to confront painful memories of Peter Coyle, a thief and her tormentor, she will rely heavily on the unceasing support of Molesley to find strength. Thoughtful and kind, she is alone amongst the servants in her sympathy for Thomas and she proves to be his only friend at a desperate time.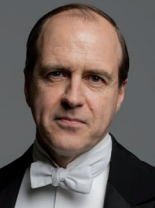 Joseph Molesley (Kevin Doyle): Footman. Molesley has seen his fair share of ups and downs, but in Baxter he has found a friend and confidante from whom to draw strength.
Molesley is also a support to Daisy, and his interest in her education encourages him to acknowledge that he may have another calling in life besides service – but is it too late, and is he up to it anyway?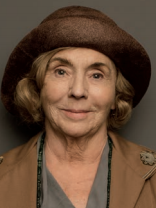 Gladys Denker (Sue Johnston): Lady's maid to Violet. Mischievous and calculating, Denker is never far from trouble. As a relentless antagonist of Spratt, she's ever watchful for an opportunity to incriminate her colleague. Denker's schemes are rarely undetected by Violet, and are often the cause of amusement, rather than consternation. However, when Denker over steps a line, she finds her position in question, with Spratt as her only means of help. But if anyone knows how to get out of a scrape, it's Denker.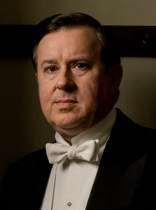 Septimus Spratt (Jeremy Swift): Butler at the Dower House and Nemesis of Denker, Spratt is always armed with a dry comment or sharp word against her in their struggle for power. Sly and territorial, he'll need to be more resourceful than ever when Denker discovers an embarrassing misdemeanour, and threatens him with exposure if he doesn't bend to her will. Spratt is a man of hidden talents, and conceals anything that might jeopardise his favour with Violet, but of course, a secret is never a secret for long, when Denker's about.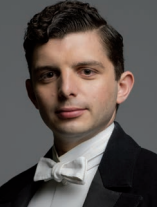 Andy Parker (Michael Fox): Footman. Andy joined the servants for Rose's wedding last year and is a diligent new addition to the team. Thomas is keen to show him the ropes, and Andy is initially wary of his advances until Thomas becomes the unlikely guardian of a secret of which Andy is terribly ashamed. London born and bred, Andy embraces his new life in the country and following Mr Mason's guidance, shows an aptitude for farming alongside his work in service. But the path of true love never does run smooth. Not at Downton, anyway.

So that's a sneak peek at what's happening DOWNSTAIRS at Downton in the final season!
If life DOWNSTAIRS at Downton interests you, may also want to know about these books that look carefully at what it was really like to be in service in England during and around the post-Edwardian era.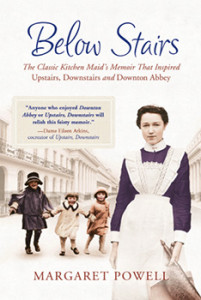 Below Stairs: The Classic Kitchen Maid's Memoir That Inspired Upstairs, Downstairs & Downton Abbey: Brilliantly evoking the long-vanished world of masters and servants portrayed in Downton Abbey and Upstairs, Downstairs, Margaret Powell's classic memoir of her time in service, Below Stairs, is the remarkable true story of an indomitable woman who, though she served in the great houses of England, never stopped aiming high. Powell first arrived at the servants' entrance of one of those great houses in the 1920s. As a kitchen maid – the lowest of the low – she entered an entirely new world; one of stoves to be blacked, vegetables to be scrubbed, mistresses to be appeased, and bootlaces to be ironed. Work started at 5.30am and went on until after dark. It was a far cry from her childhood on the beaches of Hove, where money and food were scarce, but warmth and laughter never were. Yet from the gentleman with a penchant for stroking the housemaids' curlers, to raucous tea-dances with errand boys, to the heartbreaking story of Agnes the pregnant under-parlor maid, fired for being seduced by her mistress's nephew, Margaret's tales of her time in service are told with wit, warmth, and a sharp eye for the prejudices of her situation. Margaret Powell's true story of a life spent in service is a fascinating "downstairs" portrait of the glittering, long-gone worlds behind the closed doors of Downton Abbey and 165 Eaton Place.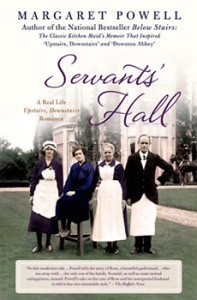 Servants' Hall: A Real Life Upstairs, Downstairs Romance: The sequel to New York Times bestseller Below Stairs, Servants' Hall tells a gripping real-life tale reminiscent of Downton Abbey's Lady Sybil and Tom Branson. Powell tells the true story of Rose, the under-parlourmaid to the Wardham Family at Redlands, who took a shocking step: She eloped with the family's only son, Mr. Gerald. Servants' Hall is Margaret Powell at her best―a warm, funny and sometimes hilarious memoir of life at a time when wealthy families like ruled England.
Going from rags to riches, Rose finds herself caught up in a maelstrom of gossip, incredulity and envy among her fellow servants. The reaction from upstairs was no better: Mr. Wardham, the master of the house, disdained the match so completely that he refused ever to have contact with the young couple again. Gerald and Rose marry, leave Redlands and Powell looks on with envy, even as the marriage hits on bumpy times: "To us in the servants' hall, it was just like a fairy tale . . . How I wished I was in her shoes."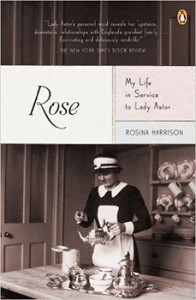 Rose: In 1928, Rosina Harrison arrived at the illustrious household of the Astor family to take up her new position as personal maid to the infamously temperamental Lady Nancy Astor, who sat in Parliament, entertained royalty, and traveled the world. "She's not a lady as you would understand a lady" was the butler's ominous warning. But what no one expected was that the iron-willed Lady Astor was about to meet her match in the no-nonsense, whip-smart girl from the country. For 35 years, from the parties thrown for royalty and trips across the globe, to the air raids during WWII, Rose was by Lady Astor's side and behind the scenes, keeping everything running smoothly. In charge of everything from the clothes and furs to the baggage to the priceless diamond "sparklers," Rose was closer to Lady Astor than anyone else. In her decades of service she received one £5 raise, but she traveled the world in style and retired with a lifetime's worth of stories. Like Gosford Park and Downton Abbey, ROSE is a captivating insight into the great wealth 'upstairs' and the endless work 'downstairs', but it is also the story of an unlikely decades-long friendship that grew between Her Ladyship and her spirited Yorkshire maid.
There's also Servants: A Downstairs History of Britain from the Nineteenth Century to Modern Times by Lucy Lethbridge and Up and Down Stairs: The History of the Country House Servant by Jeremy Musson.
And you'll probably love the original, classic costume drama Upstairs, Downstairs (1971) that was set in the Edwardian era and shown on Masterpiece Theatre, as well as the remake Upstairs, Downstairs (2010) BBC mini-series period drama that featured a new family and their servants at the London townhouse at 165 Eaton Place in 1936.
If you enjoy period reality shows, Manor House explores class relations as they might have been in the Edwardian era.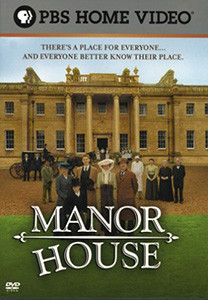 MANOR HOUSE takes a fascinating look at the grand British class system of the early 1900s. Resembling prior cultural-reality series THE 1900 HOUSE and FRONTIER HOUSE, this unique series includes three distinct classes: aristocratic family, upper servants, and lower servants, who must act according to etiquette, not just the rigors or technical realities of the time. Nineteen contemporary Britons were selected from 8,000 applicants.
Following in the tradition of Upstairs, Downstairs and Robert Altman's 2001 Edwardian comic feature Gosford Park
MANOR HOUSE
takes a fascinating look at the grand and grueling British class system of the early 1900s. This new series is another adventure in placing contemporary people into the lifestyle of a previous historical era, as in prior cultural-reality series 1900 HOUSE and FRONTIER HOUSE. However, this series is different, as there are distinct classes: the aristocratic family, the upper servants and the lower servants, all of whom must deal with each other according to the etiquette of the time. Within the house there is an intricate pecking order, which firmly places everybody in a set social position and decides every aspect of life–who can initiate conversation, who has pudding at lunch, who can have a bath and when. MANOR HOUSE brings to life the social status, interaction and class behavior of a bygone era.

After the first episode of Season 6 of Downton Abbey airs in the US, you'll want to listen to an all-new episode of the MASTERPIECE Studio podcast. Beginning on January 4, the day after the premiere of the final episode of Downton Abbey on Sunday, January 3 at 9pm ET, "MASTERPIECE Studio" will release new Downton Abbey themed episodes every Monday following the Sunday night broadcast. Interviews include Hugh Bonneville, Michelle Dockery, Elizabeth McGovern, Jim Carter, Allen Leech (shown above, right), Phyllis Logan, costume designer Anna Mary Scott Robbins, and executive producer, Gareth Neame.

In case you missed it, you can also go see what is happening UPSTAIRS at Downton Abbey in 2016. If you enjoyed this post, you'll want to wander over to the full (growing!) list of recommended best period films and romantic and historical costume dramas to watch, all sorted by era and theme, in The Period Films List.
---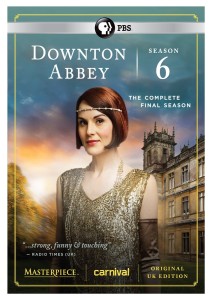 Masterpiece: Downton Abbey Season 6 on DVD will be released on January 26, 2016.
You can pre-order it now. Rejoin the Crawley family for a sixth and final season of the award-winning Downton Abbey, featuring intimately interlaced stories centered on the English country estate.
Downton Abbey is a British period drama television series created by Julian Fellowes. The series, set in the fictional Yorkshire country estate of Downton Abbey, depicts the lives of the aristocratic Crawley family and their servants in the Edwardian and post-Edwardian eras (1912 and 1925) —with the great events in history having an effect on their lives and on the British social hierarchy.