Last Updated on April 23, 2017
In 2016, the BBC surveyed 177 film critics from around the world to find the 100 greatest motion pictures made since the year 2000. The responses came in from film critics from every continent except Antarctica: "Some are newspaper or magazine reviewers, others write primarily for websites; academics and cinema curators are well-represented too."
According to the BBC, twenty languages are spoken across the top 100 films, but over half are in English and 35 of the films were from US born directors.
While the films in the BBC poll weren't limited to the period drama genre, many historical movies were chosen among the best dramas and documentaries released over the last 16 years. In fact, over one-quarter of the movies on the list are period. The film critics were voting for movies made for the big screen, so your favorite costume drama television series weren't in the running.
Here we look at the 28 feature-length period dramas and historical movies that made the cut. Willow and Thatch is including movies from the survey which are take place up until 1970. The number next to the title of a film corresponds to the movie's ranking in the BBC poll of the top 100 greatest motion picture films of the 21st century. Let's count them down.
*While there are certainly some great period dramas on this list, overall Willow and Thatch thinks the results are surprising, and you may too. Perhaps we need a list made by fans of the genre. Do you love a period drama that was shown in theaters (which was made between 2000 and 2016), that you think is missing from the list?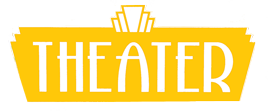 95. Moonrise Kingdom (2012)
Set on an island off the coast of New England in the summer of 1965, two twelve-year-olds fall in love, make a secret pact, and run away together into the wilderness. As various authorities try to hunt them down, a violent storm is brewing off-shore — and the peaceful island community is turned upside down in more ways than anyone can handle.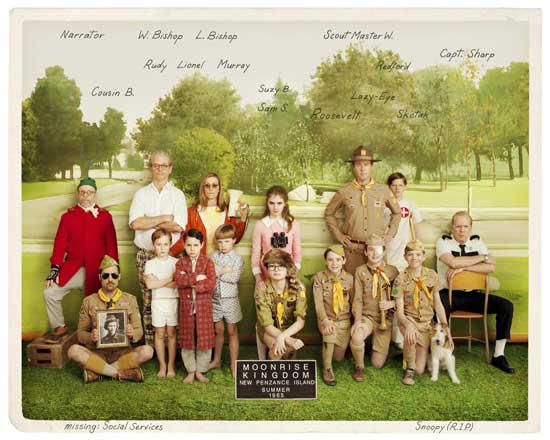 Starring Bruce Willis, Edward Norton, Bill Murray, Frances McDormand, Tilda Swinton, Jared Gilman, Kara Hayward, Jason Schwartzman, Bob Balaban.
Directed by Wes Anderson.
Rated PG-13
---

92. The Assassination of Jesse James by the Coward Robert Ford (2007)
Everyone in 1880s America knows Jesse James. He's the nation's most notorious criminal, hunted by the law in 10 states.
Brad Pitt stars as legendary outlaw Jesse James in this Western drama based on Ron Hansen's best-selling novel The Assassination Of Jesse James By The Coward Robert Ford. A charismatic, superstitious and moody man, Jesse James (Pitt) presides over a ragtag gang of outlaws who fear his quick temper and even quicker shooting ability. Young Robert Ford worships Jesse and joins the James Gang, only to become resentful of his hero. Intent on taking Jesse's place, the young upstart hatches a plan to kill the fastest gun in the West. But after gunning Jesse James down, Robert Ford lives out the rest of his days tormented by the cold-blooded killing of his former mentor.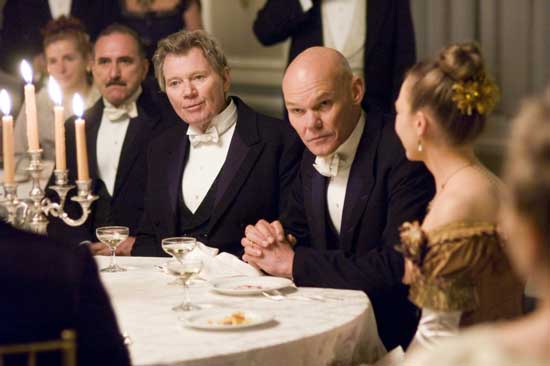 Starring Brad Pitt, Casey Affleck, Sam Shepard, Mary-Louise Parker, Paul Schneider.
Directed by Andrew Dominik.
Rated R
---

90. The Pianist (2002)
The Pianist was adapted by U.K. playwright/screenwriter Ronald Harwood from the autobiography of Wladyslaw Szpilman, a Polish Jew who detailed his survival during World War II. A celebrated composer and pianist, he played the last live music heard over Polish radio airwaves before Nazi artillery hit. During the brutal occupation, he eluded deportation and remained in the devastated Warsaw Ghetto. There, he struggled to stay alive even when cast away from those he loved. He would eventually reclaim his artistic gifts, and confront his fears, with aid from the unlikeliest source — a German officer who helped him hide in the final days of the war.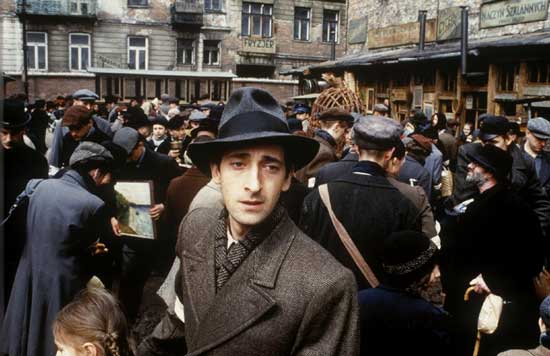 Roman Polanski himself escaped the Cracow Ghetto, at the age of 7, through a hole in a barbed-wire fence. The film is Polanski's most personal statement, the one he has waited four decades to make, a testament to the belief that the triumph of the human spirit is wedded to the transforming power of art.
Polanski has received four Academy Award nominations over the years, including for directing the period drama Tess.
Starring Adrien Brody, Emilia Fox, Michal Zebrowski, Ed Stoppard, Maureen Lipman, Frank Finlay, Jessica Kate Meyer, Julia Rayner, Wanja Mues, Richard Ridings.
Directed by Roman Polanski.
Rated R
---

86. Far From Heaven (2002)
Julianne Moore and Dennis Quaid star in this seductive story of a seemingly perfect family, and the forbidden desires that threaten to tear them apart. Cathy Whitaker (Moore) has it all – a lovely home, two wonderful children and a handsome husband (Quaid), who is successfully climbing the corporate ladder. But Cathy's idyllic existence is just an illusion, and she is eventually forced to choose between living a lie or following her heart. Set in 1957.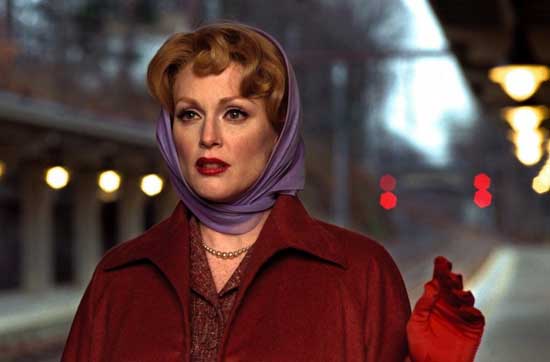 "Its themes, values and style faithfully reflect the social melodramas of the 1950s, but it's bolder, and says out loud what those films only hinted at. The movie benefits enormously from its cinematography by Ed Lachman, who faithfully reproduces the lush 1950s studio style…it has a genuine dramatic impact; it plays like a powerful 1957 drama we've somehow never seen before." – Roger Ebert
Starring Julianne Moore, Dennis Quaid, Dennis Haysbert, Patricia Clarkson, Michael Gaston.
Directed by Todd Haynes.
Rated PG-13
---

82. A Serious Man (2009)
Larry Gopnik (Michael Stuhlbarg) is a physics professor at a 1960s university, but his life is coming apart at the seams. His wife (Sari Lennick) is leaving him, his jobless brother (Richard Kind) has moved in, and someone is trying to sabotage his chances for tenure. Larry seeks advice from three different rabbis, but whether anyone can help him overcome his many afflictions remains to be seen.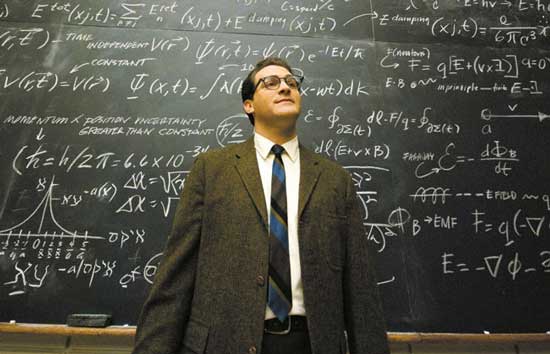 "Joel and Ethan Coen make movies like nobody else's, but even by their standards A Serious Man is in a class by itself: a complete original that's one of the brothers' best. After a deeply weird Yiddish folk-tale prologue set in 19th-century Poland (and framed in the old 1.33:1 format), the picture shifts to the region and era of the Coens' own upbringing, a Minneapolis suburb in 1967. Larry Gopnik (a superbly concentrated portrait in comic anguish by Michael Stuhlbarg) is a college physics prof facing a welter of crises and distractions: review by the tenure committee, son Danny's bar mitzvah, a cryptic-verging-on-sinister protest from a Korean-American student, the alienation of wife Judith's affections by widower Sy Ableman, the ongoing encroachment of brother Arthur and his sebaceous cyst–and don't even mention the proto-Nazi who lives next door. All these, and more, form a screenplay of such intricacy that the blackly comic tensions of one shaggy-dog narrative strand leap synapse-like to another; the movie becomes a symphony of metaphysical dread." – Richard T. Jameson
Starring Michael Stuhlbarg, Richard Kind, Fred Melamed, Sari Lennick, Aaron Wolff, Jessica McManus, Peter Breitmayer, Brent Braunschweig, David Kang
Directed by Joel and Ethan Coen.
Rated R
---

69. Carol (2015)
In an adaptation of Patricia Highsmith's seminal novel The Price of Salt, CAROL follows two women from very different backgrounds who find themselves in an unexpected love affair in 1950s New York. As conventional norms of the time challenge their undeniable attraction, an honest story emerges to reveal the resilience of the heart in the face of change.
A young woman in her 20s, Therese Belivet (Rooney Mara), is a clerk working in a Manhattan department store and dreaming of a more fulfilling life when she meets Carol (Cate Blanchett), an alluring woman trapped in a loveless, convenient marriage. As an immediate connection sparks between them, the innocence of their first encounter dims and their connection deepens.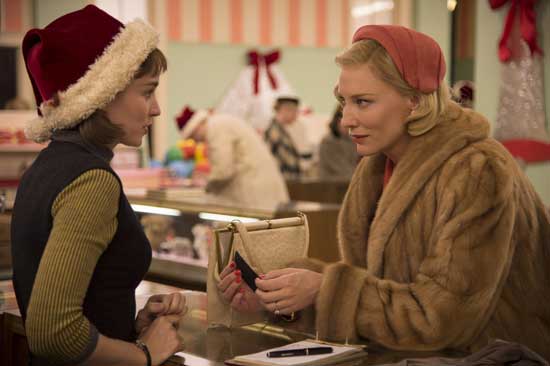 Starring Cate Blanchett, Rooney Mara, Sarah Paulson, Jake Lacy, John Magaro, Cory Michael Smith, Carrie Brownstein.
Directed by Todd Haynes.
Rated R
---

63. The Turin Horse / A torinói ló (2011)
On January 3, 1889 in Turin, Italy, Friedrich Nietzsche steps out of the doorway of number six, Via Carlo Albert. Not far from him, a cab driver is having trouble with a stubborn horse. The horse refuses to move, whereupon the driver loses his patience and takes his whip to it. Nietzsche puts an end to the brutal scene, throwing his arms around the horse s neck, sobbing. After this, he lies motionless and silent for two days on a divan, until he loses consciousness and his mind. Somewhere in the countryside, the driver of the cab lives with his daughter and the horse. Outside, a windstorm rages. Immaculately photographed in Tarr s renowned long takes, The Turin Horse is the final statement from a master filmmaker.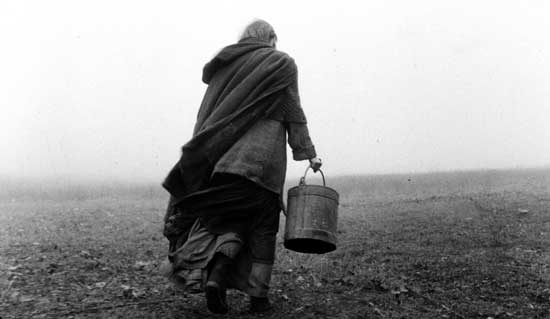 "The rigors of life can grind you down. The rigor of art can have the opposite effect, and The Turin Horse is an example — an exceedingly rare one in contemporary cinema — of how a work that seems built on the denial of pleasure can, through formal discipline, passionate integrity and terrifying seriousness, produce an experience of exaltation. The movie is too beautiful to be described as an ordeal, but it is sufficiently intense and unyielding that when it is over, you may feel, along with awe, a measure of relief. Which may sound like a reason to stay away, but is exactly the opposite." – New York Times
Starring Janos Derzsi, Erika Bok, Mihaly Kormos, Risci.
Directed by Béla Tarr and Ágnes Hranitzky.
In Hungarian with English subtitles.
Not rated.
---

62. Inglourious Basterds (2009)
Brad Pitt takes no prisoners in Quentin Tarantino's high-octane WWII revenge fantasy Inglourious Basterds. As war rages in Europe, a Nazi-scalping squad of American soldiers, known to their enemy as "The Basterds," is on a daring mission to take down the leaders of the Third Reich.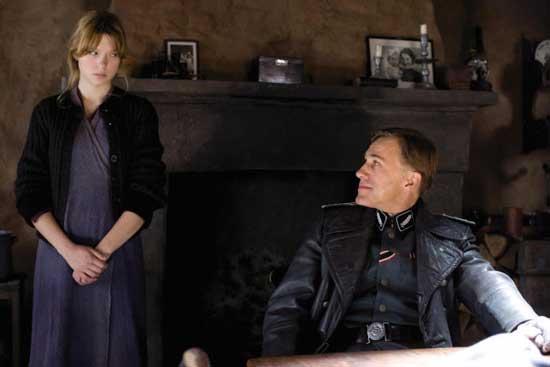 "Quentin Tarantino's Inglourious Basterds is a big, bold, audacious war movie that will annoy some, startle others and demonstrate once again that he's the real thing, a director of quixotic delights. For starters, he provides World War II with a much-needed alternative ending. For once the basterds get what's coming to them." – Roger Ebert
Starring Brad Pitt, Melanie Laurent, Christoph Waltz, Michael Fassenbender, Eli Roth.
Directed by Quentin Tarantino.
Rated R
---

56. Werckmeister Harmonies / Werckmeister harmóniák (2000)
During the Soviet occupation of Hungary at the end of the Second World War, a mysterious circus excites a small Hungarian town into a rebellion when a promised act doesn't perform.
The film can perhaps be seen as an allegory of post-World War II Eastern European political systems – told as a black-and-white cinematic poem. It examines the brutalization of a society, its political systems and ethics through the metaphor of a giant, decaying, circus whale and its star performer, "The Prince", who makes rousing speeches.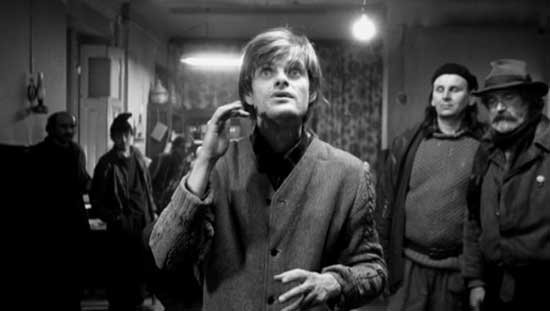 "Bela Tarr's Werckmeister Harmonies is maddening if you are not in sympathy with it, mesmerizing if you are. If you have not walked out after 20 or 30 minutes, you will thereafter not be able to move from your seat. "Dreamlike," Jim Jarmusch calls it. Nightmarish as well; doom-laded, filled with silence and sadness, with the crawly feeling that evil is penetrating its somber little town. It is filmed elegantly in black and white, the camera movements so stately they almost float through only 39 shots in a film of 145 minutes." – Roger Ebert
Starring Lars Rudolph, Hanna Schygulla, Peter Fitz.
Directed by Béla Tarr; Ágnes Hranitzky is co-director.
In Hungarian with English subtitles.
Not rated.
---

55. Ida (2013)
After encountering a long lost relative, a young novitiate nun in 1960s Poland discovers a shocking family secret dating back to the terrible years of the Nazi occupation, and embarks on a revelatory journey to uncover the mystery of her own past.
"I can't recall a movie that makes such expressive use of silence and portraiture; from the beginning, I was thrown into a state of awe by the movie's fervent austerity. This compact masterpiece has the curt definition and the finality of a reckoning—a reckoning in which anger and mourning blend together. Set in 1961, during the Stalinist dictatorship, the movie pushes still further into the past; almost every element in the story evokes the war years and their aftermath…(this is) a movie that breathes history in every frame." – The New Yorker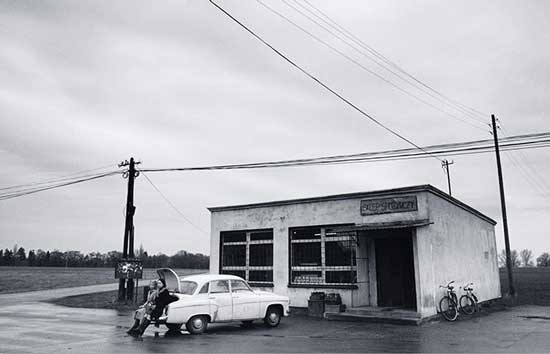 Starring Agata Kulesza, Agata Trzebuchowska, Dawid Ogrodnik, Jerzy Trela.
Directed by Pawel Pawlikowski.
In Polish with English subtitles.
Rated PG-13
---

53. Moulin Rouge! (2001)
In the year 1900, the story follows a poet (McGregor) who defies his father by moving to Monmarte, France. He falls into the world of Toulouse-Lautrec (Leguizamo) and his entourage, and is drafted to write a nightclub spectacular. In this seed world of sex, drugs and electricity, he begins a passionate but ultimately doomed love affair with the club's highest paid star and courtesan (Kidman).
"In a breathtaking swirl of movement and color, the heady, voluptuous, delirious world of Paris' celebrated nightclub/dance hall is brought to vibrant life. Like everything else in the picture, the Moulin Rouge here is a reinterpretation of the real thing designed with an eye to giving it contemporary relevance. (Catherine) Martin's efforts on the production design and — with Angus Strathie — on the costumes cannot be overpraised." – Vanity Fair
Starring Nicole Kidman, Ewan McGregor, John Leguizamo, Jim Broadbent, Richard Roxburgh.
Directed by Baz Luhrmann.
Rated PG-13
---

50. The Assassin / Cìkè Niè Yinniáng (2015)
In this beautifully filmed historical martial arts epic set in ninth-century China, an exiled assassin must choose between love or duty when she receives orders to kill a man from her past. Declared a modern masterpiece by critics around the world.
The plot is based on a seventh-century Chinese folk tale about a female assassin charged with restoring balance to the crumbling Tang Dynasty court. The drama mostly plays out in hushed, painterly tableaux: silk curtains flutter and fall, candles glow, fires crackle softly in the grate. Every scene, every shot, has been composed with total, Kubrickian precision, and calibrated for maximum, breath-quickening impact.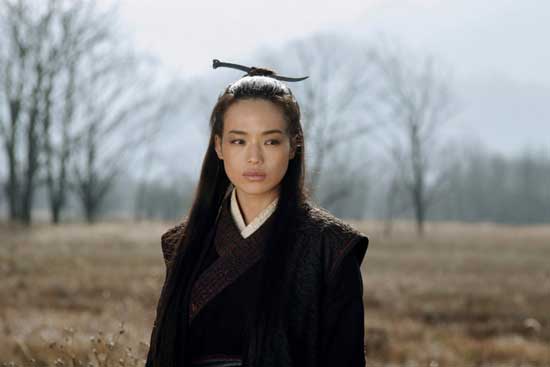 "Moviegoers attending "The Assassin" in the hopes of seeing another auteur-driven martial arts epic along the lines of "Crouching Tiger, Hidden Dragon," "House of Flying Shadows" or "The Grandmaster" are likely to come away from it feeling a little disappointed—those who dig the genre because of the bloodshed will be appalled to discover that it is practically gore-free. However, if they are at the film because they want to be transported to another time and place by a world-class filmmaker working at the peak of his powers, they're likely to find themselves as enraptured as I was by what Hou has come up with this time around." – Peter Sobczynski for Roger Ebert
Starring Shu Qi, Chang Chen, Satoshi Tsumabuki, Chang Shao-huai.
Directed by Hou Hsiao-hsien.
In Mandarin with English subtitles.
Not rated.
---

48. Brooklyn (2015)
An Irish immigrant lands in 1950s Brooklyn, where she quickly falls into a romance with a local. When her past catches up with her, however, she must choose between two countries and the lives that exist within.
"People have spoken about how understated and old-fashioned Brooklyn is, to the extent that it might come across as a pleasant innocuous entertainment. Don't be fooled. Brooklyn is not toothless. But it is big-hearted, romantic and beautiful." – Roger Ebert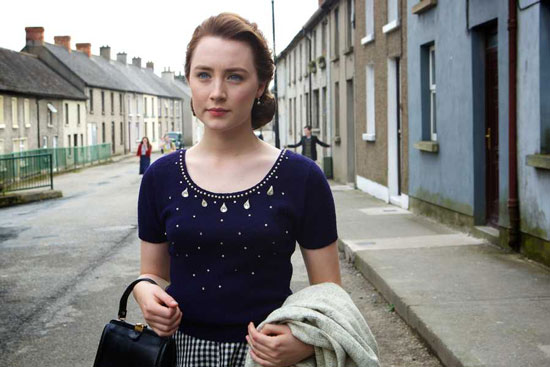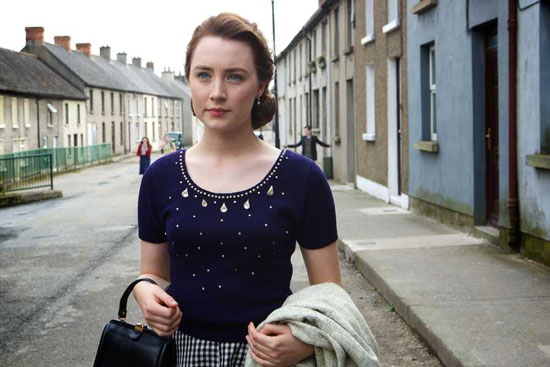 Starring Saoirse Ronan, Domhnall Gleeson, Emory Cohen, Jim Broadbent.
Directed by John Crowley.
Rated PG-13
---

44. 12 Years a Slave (2013)
12 Years a Slave is based on an incredible true story of one man's fight for survival and freedom. In the pre-Civil War United States, Solomon Northup (Chiwetel Ejiofor), a free black man from upstate New York, is abducted and sold into slavery. Facing cruelty as well as unexpected kindnesses, Solomon struggles not only to stay alive, but to retain his dignity. In the twelfth year of his unforgettable odyssey, Solomon's chance meeting with a Canadian abolitionist (Brad Pitt) will forever alter his life. An adaptation of the 1853 slave narrative memoir Twelve Years a Slave by Solomon Northup.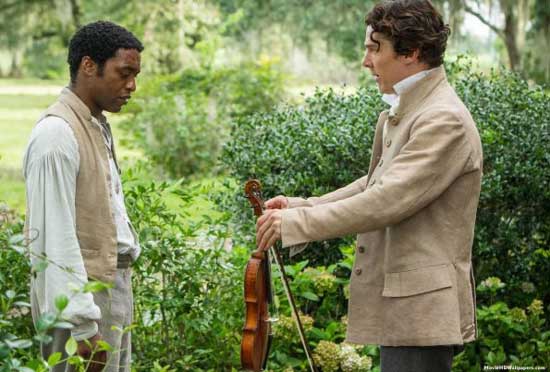 "12 Years a Slave isn't simply a masterpiece, it's a milestone. This, at last, really is history written with lightning." – The Telegraph
"Maybe it had to take a British filmmaker to depict clearly the United States' greatest failing: the horrors of centuries of slavery. In 12 Years a Slave, Solomon Northup is a free man living in New York until he's kidnapped and sold in Louisiana as a slave. He's owned by masters relatively kind and harrowingly brutal, but even under the best conditions, the movie never loses sight of Northup's condition as property, that his well-being and very life are at the whim of his owners. There's no hype here, nor any hemming or hawing; each scene is captured simply but vividly, letting the cruel facts of life in the pre-Civil War era speak for themselves. The movie's power lies in the unsettling details and psychological contortions slavery inflicts on everyone involved, black and white. Performances are fantastic throughout, including supporting work from Paul Dano, Paul Giamatti, Sarah Paulson, Lupita Nyong'o, Brad Pitt, and particularly Alfre Woodard as a slave who's gained a position of comfort and clings to it with haughty entitlement. But it's Ejiofor who anchors the movie; his mix of intelligence and fundamental decency carries 12 Years a Slave to a moving conclusion." –Bret Fetzer
Starring Chiwetel Ejiofor, Benedict Cumberbatch, Brad Pitt, Dwight Henry, Dickie Gravois, Bryan Batt, Ashley Dyke, Kelsey Scott, Quvenzhané Wallis, Cameron Zeigler, Tony Bentley, Scoot McNairy, Taran Killam.
Directed by Steve McQueen.
Rated R
---

40. Brokeback Mountain (2005)
From Academy Award-winning filmmaker Ang Lee comes an epic American love story. Set against the sweeping vistas of Wyoming and Texas, the film tells the story of two young men – a ranch-hand and a rodeo cowboy – who meet in the summer of 1963, and unexpectedly forge a lifelong connection, one whose complications, joys, and tragedies provide a testament to the endurance and power of love.
The film is based on the short story by Pulitzer Prize-winning author Annie Proulx and adapted for the screen by the team of Pulitzer Prize-winning author Larry McMurtry and Diana Ossana.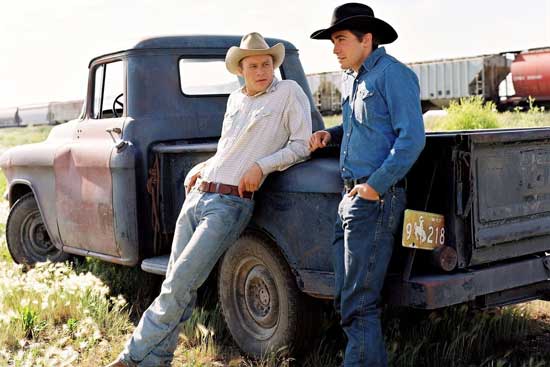 "Brokeback Mountain could tell its story and not necessarily be a great movie. It could be a melodrama. It could be a "gay cowboy movie." But the filmmakers have focused so intently and with such feeling on Jack and Ennis that the movie is as observant as work by Bergman. Strange but true: The more specific a film is, the more universal, because the more it understands individual characters, the more it applies to everyone. I can imagine someone weeping at this film, identifying with it, because he always wanted to stay in the Marines, or be an artist or a cabinetmaker." – Roger Ebert
Starring Heath Ledger, Jake Gyllenhaal, Linda Cardellini, Anna Faris, Anne Hathaway, Michelle Williams, and Randy Quaid.
Directed by Ang Lee.
Rated R
---

39. The New World (2005)
This epic adventure is set amid the encounter of European and Native American cultures during the founding of the Jamestown Settlement in 1607. Inspired by the legend of John Smith and Pocahontas, this story is a sweeping exploration of love, loss and discovery — both a celebration and an elegy of the America that was and the America that was yet to come. Against a historically accurate Virginia backdrop, two strong-willed characters — a passionate and noble young native woman and an ambitious soldier of fortune – are torn between the undeniable requirements of their civic duty and the inescapable demands of the human heart.
"This singular vision of early seventeenth-century America from Terrence Malick is a work of astounding elemental beauty, a poetic meditation on nature, violence, love, and civilization. It reimagines the apocryphal story of the meeting of British explorer John Smith (Colin Farrell) and Powhatan native Pocahontas (Q'orianka Kilcher, in a revelatory performance) as a romantic idyll between spiritual equals, then follows Pocahontas as she marries John Rolfe (Christian Bale) and moves to England. With production designer Jack Fisk's raw re-creation of the Jamestown colony and Emmanuel Lubezki's marvelous, naturally lit cinematography, The New World is a film of uncommon power and technical splendor, one that shows Malick at the height of his visual and philosophical powers." – The Criterion Collection
Starring Colin Farrell, Q'orianka Kilcher, Christopher Plummer, Christian Bale, August Schellenberg, Wes Studi, David Thewlis, Yorick van Wageningen, Raoul Max Trujillo.
Directed by Terrence Malick.
Rated PG-13
---

38. City of God / Cidade De Deus (2002)
The streets of the world's most notorious slum, Rio de Janeiro's City of God, are a place where combat photographers fear to tread, police rarely go and residents are lucky if they live to the age of 20. In the midst of the oppressive crime and violence, a young boy will grow up to discover that he can view the harsh realities of his surroundings with an artistic eye. In the face of impossible odds, his brave ambition to become a professional photographer becomes a window into his world and ultimately his way out.
The film begins in the 1960s and ends in the early 1980s.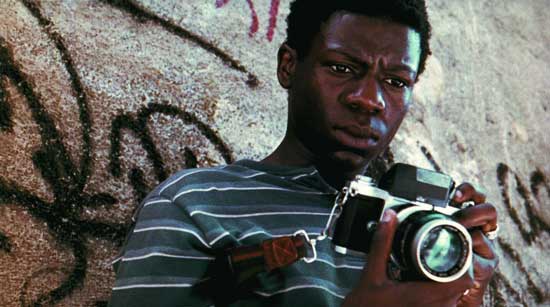 "The technique of that shot–the whirling camera, the flashback, the change in colors from the dark brightness of the slum to the dusty sunny browns of the soccer field–alert us to a movie that is visually alive and inventive as few films are. The film is not all grim and violent. Rocket (the narrator) also captures some of the Dickensian flavor of the City of God, where a riot of life provides ready-made characters with nicknames, personas and trademarks." – Roger Ebert
Starring Alexandre Rodrigues, Leandro Firmino, Phellipe Haagensen, Douglas Silva, Jonathan Haagensen, Matheus Nachtergaele.
Directed by Fernando Meirelles and Kátia Lund.
In Portuguese with English subtitles.
Rated R
---

35. Crouching Tiger, Hidden Dragon (2000)
An epic set against the breathtaking landscapes of ancient China, Crouching Tiger, Hidden Dragon combines the exhilarating martial arts choreography by Yuen Wo-Ping with the sensitivity and classical storytelling of an Ang Lee film. The result is something truly unexpected: romantic, emotionally powerful entertainment.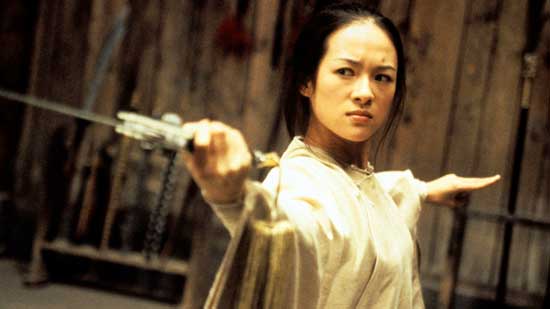 "This is not a martial-arts film, at least not in the usual sense… It was directed by Taiwanese-born filmmaker Ang Lee, but a cursory look at his résumé — Sense and Sensibility (1995), a Jane Austen comedy of manners; The Ice Storm, a dark look at disordered relationships in 1970s America; Ride With the Devil, a Civil War tale — reveals little beyond the fact that the director doesn't like to repeat himself. The story is said to be set in 19th-century China, but its roots are older, reaching for a mythic age of larger-than-life heroes and superhuman derring-do." – Decent Films
Starring un-Fat Chow, Michelle Yeoh, Ziyi Zhang, Chen Chang, Sihung Lung, Pei-Pei Cheng, Fa Zeng Li, Xian Gao.
Directed by Ang Lee.
In Mandarin with English subtitles.
Rated PG-13
---

34. Son of Saul (2015)
October 1944, Auschwitz-Birkenau. Saul Ausländer is a Hungarian member of the Sonderkommando, the group of Jewish prisoners isolated from the camp and forced to assist the Nazis in the machinery of large-scale extermination.
While working in one of the crematoriums, Saul discovers the body of a boy he takes for his son. As the Sonderkommando plans a rebellion, Saul decides to carry out an impossible task: save the child's body from the flames, find a rabbi to recite the mourner's Kaddish and offer the boy a proper burial.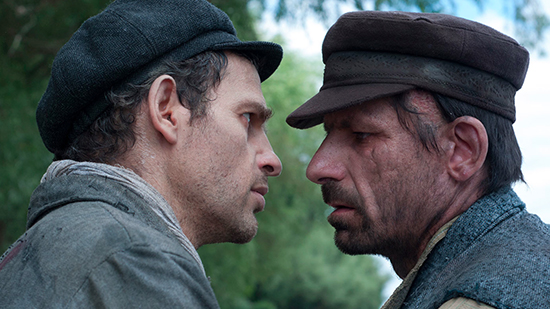 "Son of Saul is an ambitious film carried out in an economical manner, plunging its viewer directly into the heart of a concentration camp. Our aim was to take an entirely different path from the usual approach of historical dramas, their gigantic scope and multi-point of view narration. This film does not tell the story of the Holocaust, but the simple story of one man caught in a dreadful situation, in a limited framework of space and time. Depicting an accurate world as truthful to history as possible, the events and places of the horror are shown in fragment, leaving room for the imagination of the viewer. Thus, the Inferno we journey through cannot be entirely assessed by the eyes of the viewers, only partially reconstructed in their minds. The multi-language dialogue in this Babel of nations participates in conveying the organic, continuous feeling of human perception caught in the midst of inhumanity.
In such a dark story, I also believe there is a great deal of hope: in a total loss of morality, value and religion, a man who starts listening only to a faint voice within him to carry out a seemingly vain and useless deed finds morality and survival inside." – László Nemes
Starring Géza Röhrig, Levente Molnár, Urs Rechn.
Directed by László Nemes.
In German, Hungarian, Polish, Yiddish, Russian with English subtitles.
Rated R
---

24. The Master (2012)
Haunted by his past, WW-II veteran and drifter Freddie Quell (Joaquin Phoenix) crosses paths with a mysterious movement led by The Master (Phillip Seymour Hoffman) and his wife (Amy Adams).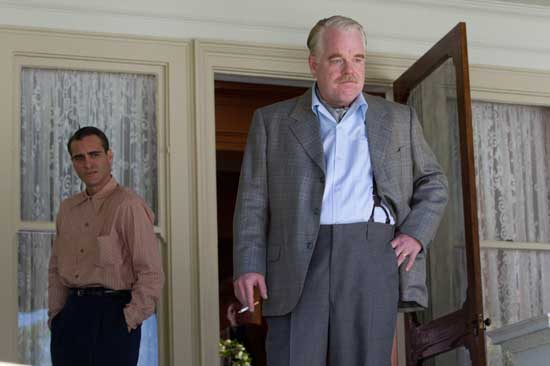 "Paul Thomas Anderson's ambitious, powerful and ultimately elegiac masterpiece centres on the question of whether man is, in fact, an animal. Tormented alcoholic Freddie Quell returns from World War Two and struggles, unsuccessfully, to conform to post-war America's social evolution. Eventually he finds some sort of deliverance in the company and teachings of the leader of an urban cult, Lancaster Dodd. Much has been made of the analogies between Scientology and Dodd's cause, but the real point of the film is an exploration of thought and consciousness, and whether submission to belief systems can genuinely tame atavism. It all ends cryptically – and hauntingly. A mysterious phone call, a wistful serenade, an unseen goodbye. Repeat viewings confirm that this singular creation of Dodd was indeed Hoffman's apotheosis, which would be apt, and even funny, if it weren't so, so sad." – Ali Arikan, Dipnot TV
Starring Joaquin Phoenix, Philip Seymour Hoffman, Amy Adams, Laura Dern, Price Carson, Mike Howard, Sarah Shoshana David, Bruce Goodchild, Matt Hering, Dan Anderson.
Directed by Paul Thomas Anderson.
Rated R
---

21. The Grand Budapest Hotel (2014)
The Grand Budapest Hotel recounts the adventures of Gustave H, a legendary concierge at a famous European hotel between the wars, and Zero Moustafa, the lobby boy who becomes his most trusted friend. The story involves the theft and recovery of a priceless Renaissance painting and the battle for an enormous family fortune — all against the back-drop of a suddenly and dramatically changing Continent.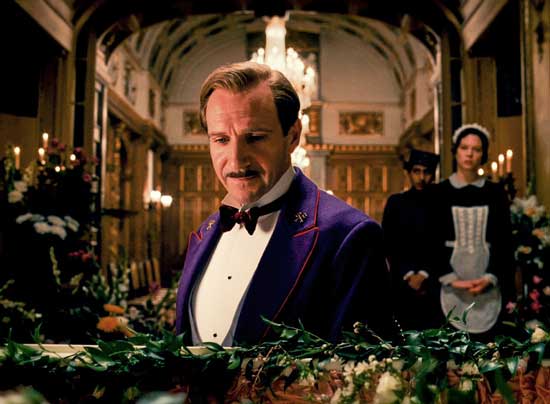 "The Grand Budapest Hotel is the 21st Century's farewell salute to the century before. It vaults backwards in time from today to 1985 to 1968 to 1932, where Ralph Fiennes' concierge Monsieur Gustave welcomes us to proper civilisation with a nod. We know Gustave's immaculate world is ticking towards destruction, first by war, then by decades of neglect. Inevitably, the lazy and impersonal present will win, mass-producing not just our hotels, but our cinemas and the blockbusters on their screens. Wes Anderson has spent his career fussing over wallpapers. The Grand Budapest Hotel ennobles his craftsmanship; suddenly, Gustave's decadent lamps represent mankind's hope to outshine the darkness. This oddball tragicomedy enlists us in the fight for beauty. Sir, yes, sir." – Amy Nicholson, MTV
Starring Ralph Fiennes, F. Murray Abraham, Mathieu Amalric, Adrien Brody, Willem Dafoe, Jeff Goldblum, Harvey Keitel, Jude Law, Bill Murray, Edward Norton, Saoirse Ronan, Jason Schwartzman, Léa Seydoux, Tilda Swinton, Tom Wilkinson.
Directed by Wes Anderson.
Rated R
---

18. The White Ribbon (2009)
On the eve of World War I, strange accidents in a small Protestant village in Northern Germany involve the children and teenagers of a choir run by the schoolteacher and their families. The abused and suppressed children of the villagers seem to be at the heart of this mystery as these events gradually take on the character of a punishment ritual.
The setting is the fictitious village of Eichwald, Germany, from July 1913 to 9 August 1914, where the local pastor, the doctor and the baron rule the roost over the area's women, children and peasant farmers.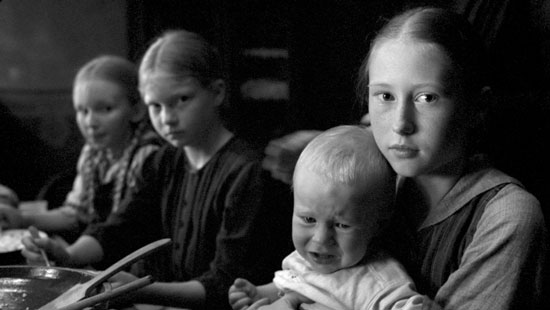 "'A group of children act together as silent perpetrators of crimes' is an already disturbing premise. By setting the story in a north German village in the months prior to World War One, Haneke not only challenged the myth of childhood innocence but also delivered a fictional prequel to the upcoming events in Germany. The crisp black-and-white photography adds to the feel of an allegory but parallels are only slightly suggested (as in the purging of the "unwanted" that takes place). With any Haneke film, guilt and malice are in the air and no one in particular is to be blamed. Though it appears to look at the past, The White Ribbon speaks to this century's audiences: an unsettling view of the danger of righteousness, an ominous threat that always seems to recur." – Fernanda Solórzano, Letras Libres Magazine
Starring Christian Friedel, Ernst Jacobi, Leonie Benesch, Ulrich Tukur, Ursina Lardi, Fion Mutert, Michael Kranz.
Directed by Michael Haneke.
In German with English subtitles.
Rated R
---

17. Pan's Labyrinth (2006)
In this fairy tale, a small family in Spain moves into an old house in 1944 after the rise of Fascism. Their eldest daughter, armed with only her imagination, discovers a mysterious labyrinth and meets a faun who sets her on a path to saving herself and her ailing mother.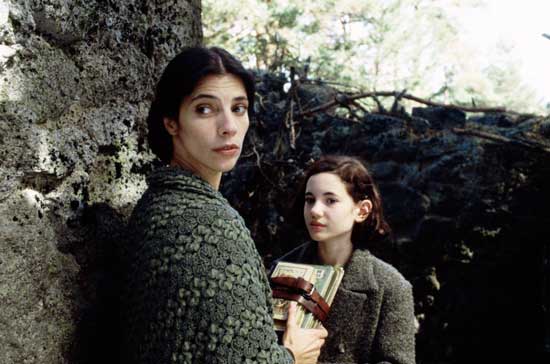 "Pan's Labyrinth is one of the greatest of all fantasy films, even though it is anchored so firmly in the reality of war. On first viewing, it is challenging to comprehend a movie that on the one hand provides fauns and fairies, and on the other hand creates an inhuman sadist in the uniform of Franco's fascists. The fauns and fantasies are seen only by the 11-year-old heroine, but that does not mean she's "only dreaming;" they are as real as the fascist captain who murders on the flimsiest excuse. The coexistence of these two worlds is one of the scariest elements of the film; they both impose sets of rules that can get an 11-year-old killed." – Roger Ebert
Starring Ivana Baquero, Sergi López, Maribel Verdú, Doug Jones, Ariadna Gil, Álex Angulo, Manolo Solo, César Vea, Roger Casamajor.
Directed by Guillermo Del Toro.
In Spanish with English subtitles.
Rated R
---

12. Zodiac (2007)
The hunt is on for a serial killer in San Francisco. Few cases in the history of true crime are as intriguing as that of Zodiac, a bizarre gunman in an executioner's hood, who taunts the police with dozens of letters containing eerie messages and cryptograms. Director David Fincher captures the story of the infamous killer who terrorized the city in the late 1960s.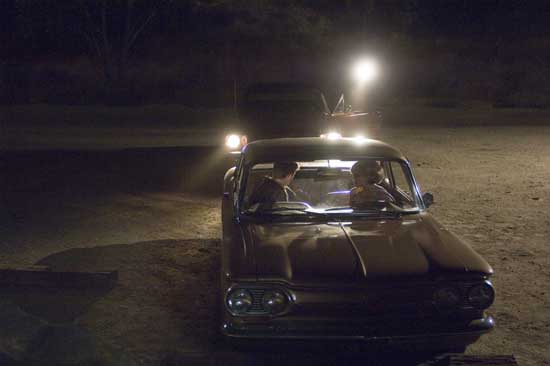 "David Fincher, famed for doing dozens of takes, might know something about obsession. Zodiac, his meticulous, gorgeous and haunting true crime movie, is a deep dive into obsession, following a newspaper cartoonist who becomes consumed by the 1970s Zodiac murders. Featuring astonishing performances from a pre-resurgence Robert Downey Jr and a pre-Nightcrawler Jake Gyllenhaal, Zodiac pulses with jittery energy while luxuriating in its own peculiar slow burn to nowhere. Gloriously detail-driven, Zodiac drags viewers into a compulsive world where the smallest hint can be the biggest clue, and it presents the obsessive's worst nightmare: that, in the end, answers are utterly unattainable." – Devin Faraci, BirthMoviesDeath
Starring Jake Gyllenhaal, Mark Ruffalo, Anthony Edwards, Robert Downey Jr., Brian Cox, John Carroll Lynch, Richmond Arquette, Bob Stephenson, John Lacy, Chloë Sevigny.
Directed by David Fincher.
Rated R
---

11. Inside Llewyn Davis (2013)
An aspiring singer-songwriter navigates the 1960s folk-music scene in New York City's Greenwich Village.
"He's a messy haired loner strumming an acoustic guitar, struggling to show the world he's got talent. No one cares, and no one wants to listen. Set in the Greenwich Village folk scene of the 1960s, the Coen brothers' Inside Llewyn Davis is an achingly melodic tribute to an unloved underdog. Davis (Oscar Isaac) is striking out on his own after his musical partner goes solo. Along his dour journey, he'll find others vying for similar success and others just trying to survive, in a very Coen-esque manner. Inside Llewyn Davis is a solemn song for anybody trying to become somebody." – Monica Castillo, The New York Times' Watching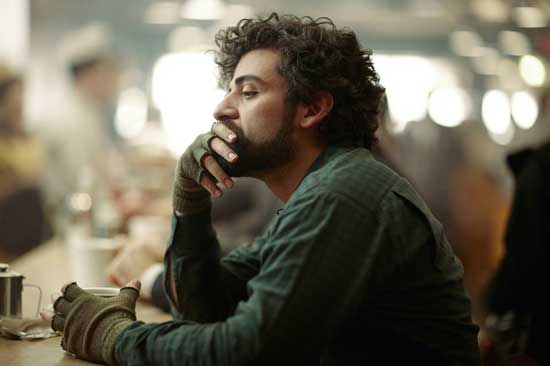 Starring Oscar Isaac, Carey Mulligan, Justin Timberlake, Ethan Phillips, Robin Bartlett, Max Casella, Jerry Grayson, Jeanine Serralles, Adam Driver.
Directed by Joel and Ethan Coen.
Rated R
---

7. The Tree of Life (2011)
The Tree of Life is the impressionistic story of a Midwestern family in the 1950's. The film follows the life journey of the eldest son, Jack, as he tries to reconcile a complicated relationship with his father.
"Like a great poem, The Tree of Life opens itself to a thousand interpretations, as director Terrence Malick takes a spiritual and lyrical journey through time, from a dusty 1950s childhood in Texas back to the beginnings of the cosmos itself. This strange new pillar in the cathedral of US cinema stars Brad Pitt as an authoritarian father and Jessica Chastain as a tender and deeply religious mother of three sons. Emmanuel Lubezki's cinematography is sun-dappled, or oozes images of boiling lava, dinosaurs and exploding planets, all to a soundtrack of Preisner's Requiem — in this case a requiem to a dead son. The joys and aching losses of parenting become transcendent, even Biblical, in Malick's hands." – Kate Muir, The Times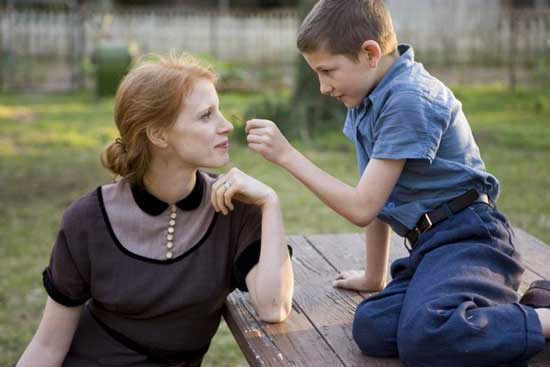 Starring Brad Pitt, Sean Penn, Jessica Chastain, Hunter McCracken, Laramie Eppler, Tye Sheridan, Fiona Shaw, Jessica Fuselier, Nicolas Gonda.
Directed by Terrence Malick.
Rated PG-13
---

3. There Will Be Blood (2007)
A sprawling epic of family, faith, power and oil, There Will Be Blood is set on the incendiary frontier of California's turn-of-the-century petroleum boom. The story chronicles the life and times of one Daniel Plainview (Daniel Day-Lewis), who transforms himself from a down-and-out silver miner raising a son on his own into a self-made oil tycoon.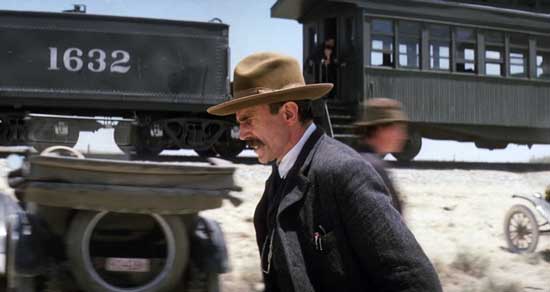 "From its near-wordless opening scene, Paul Thomas Anderson's There Will Be Blood feels like something forged, not filmed. Daniel Day-Lewis, as turn-of-the-century prospector Daniel Plainview, grunts, spits and scrapes his way into a hole under baked Western earth; he strikes silver, drags his half-broken body to certify his claim, winds up discovering oil. The rest of the movie – a sprawling, half-mad testament to greed, industry, moral hypocrisy and ballyhoo at their most elementally American – could be watched with no sound at all and still be perfectly understood. But that would mean missing Jonny Greenwood's musical score – one of the finest, most disquieting ever written." – Ann Hornaday, The Washington Post
Starring Paul Dano, Daniel Day Lewis, Ciarán Hinds, Martin Stringer.
Directed by Paul Thomas Anderson.
Rated R
---

2. In the Mood for Love (2000)
Voted the 2nd best of the top 100 films by all the critics, this was also the highest rated film by the 55 female critics who participated in the BBC poll.
Hong Kong, 1962: Chow Mo-wan and Su Li-zhen move into neighboring apartments on the same day. Their encounters are formal and polite—until a discovery about their spouses creates an intimate bond between them. At once delicately mannered and visually extravagant, Wong Kar-wai's In the Mood for Love is a masterful evocation of romantic longing and fleeting moments.
With its aching musical soundtrack and exquisitely abstract cinematography by Christopher Doyle and Mark Lee Ping-bin, this film has been a major stylistic influence on the past decade of cinema, and is a milestone in Wong's redoubtable career.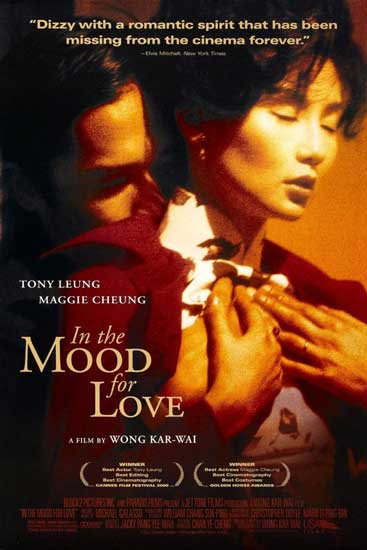 "Wong Kar-wai is one of world cinema's most notorious perfectionists, but he earned every moment of editing-room indecision with In the Mood for Love, the rare movie that draws much of its melancholy power from what it leaves off-screen. We never see the faces of the spouses whose affair pulls two lonely neighbours (Tony Leung and Maggie Cheung, both impossibly gorgeous) into their delirious romantic spiral. We never see the sex scene that Wong shot but omitted, all the better to heighten the erotic charge of every swaying hip and every voluptuous swirl of the camera. And we never hear the lost, whispered words at the climax, which would be superfluous in any case: never before has a film spoken so fluently in the universal language of loss and desire." – Justin Chang, Los Angeles Times
Starring Tony Leung Chiu-wai, Maggie Cheung Man-yuk.
Directed by Wong Kar-wai.
In Cantonese, Shanghainese with English subtitles.
Rated PG
---

What do you think? Are these the best dramas set in another era, that were made between the year 2000 and the start of 2016? Or are these results skewed because the reviewers were voting for the best films across many genres, and not just period dramas?

Which films made for cinema (no television mini-series allowed!) do you think would have made the cut of the top 25 films if only historical and costume dramas were in the running? 
---
The BBC list also includes the following films that are period related or set in the 1970s and 80s.
100. Carlos (Olivier Assayas, 2010) Set in 1970s and 80s.
75. Inherent Vice (Paul Thomas Anderson, 2014) Set in 1970s.
68. The Royal Tenenbaums (Wes Anderson, 2001) Time period unclear but with multiple visual references to 1970s and 80s.
66. Spring, Summer, Fall, Winter…and Spring (Kim Ki-duk, 2003) Set over multiple decades.
14. The Act of Killing (Joshua Oppenheimer, 2012) A documentary which challenges former Indonesian death-squad leaders to reenact their 1960s era mass-killings in whichever cinematic genres they wish.
10. No Country for Old Men (Joel and Ethan Coen, 2007) Set in the 1980s.
Short descriptions of the films are either the official synopses, and/or are from Amazon or IMDB.

You can see the full list of 21st Century's Greatest Films from the BBC poll here. If you found your way here hoping for a list of British costume dramas, period romance and literary adaptations from the BBC, see Best Period Dramas: BBC Classic Drama Collection and The Period Films List, with the top historical dramas sorted by era. 
In April, 2017, the Radio Times revealed the best television dramas of the 21st Century, as voted for by its readers, and there was a period drama category. Call the Midwife was voted the winner of the Best Period Drama, and runners-ups were Poldark, North & South, Downton Abbey, Wolf Hall.