Last Updated on April 22, 2017
Because you love period romance, Willow and Thatch is giving away a copy Darcy's Hope: Beauty from Ashes, the latest work of historical fiction by Ginger Monette. The new romance is a WWI era Pride and Prejudice variation.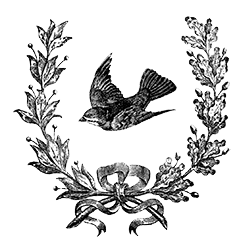 Darcy's Hope: Beauty from Ashes
Escape to the era of Downton Abbey and experience all the drama of World War I alongside literature's iconic Elizabeth Bennet & Fitzwilliam Darcy. You'll watch their tender love unfold as they learn to work together and reconcile their differences amidst the carnage of war.
1916. World War I has turned French chateaux into bloody field hospitals, British gentlemen into lice-infested soldiers, and left Elizabeth Bennet's life in tatters.
Her father is dead and her home destroyed. Never again will Elizabeth depend on a man to secure her future!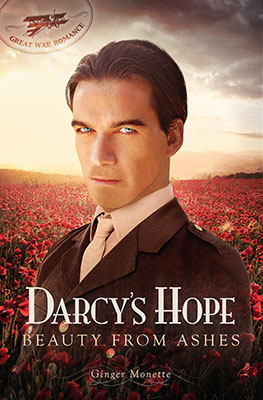 But when an opportunity arises to advance her dreams of becoming a doctor, she is elated— until he arrives….
Heartbroken. Devastated. Captain Fitzwilliam Darcy is left rejected by the woman he loved, and reeling from the slaughter of his men on the battlefield. "Enough!" Darcy vows. "No more sentimental attachments!"
But arriving at a field hospital to pursue a covert investigation, Darcy discovers his beloved Elizabeth training with a dashing American doctor and embroiled in an espionage conspiracy.
With only a few months to expose the plot, Darcy is forced to grapple with his feelings for Elizabeth while uncovering the truth. Is she indeed innocent? Darcy can only hope….
---
---

In honor of Veterans Day, one Willow and Thatch reader will win a physical copy of Darcy's Hope – Beauty from Ashes, a wholesome First World War era historical romance that includes a cameo appearance by John Thornton (of Gaskill's North & South), and has a happy ending. Another reader will receive Monette's Tree of Life – Charlotte & the Colonel, A Pride & Prejudice Companion as an eBook.
World War I – known at the time as "The Great War" – officially ended when the Treaty of Versailles was signed on June 28, 1919, in the Palace of Versailles outside the town of Versailles, France. However, fighting ceased seven months earlier when an armistice, or temporary cessation of hostilities, between the Allied nations and Germany went into effect on the eleventh hour of the eleventh day of the eleventh month. For that reason, November 11, 1918, is generally regarded as the end of "the war to end all wars." – U.S. Department of Veterans Affairs
The Giveaway is now closed and we have two winners! Stacie H won the Tree of Life ebook, and Melinda W. won the copy of Darcy's Hope!
To enter the GIVEAWAY leave a comment below.
For an additional entry:
1) Share any post (or the Period Films List) from the Willow and Thatch website on any of your social networks.
2) Leave a comment below saying which post you shared, and why (to help Willow and Thatch better understand what you enjoy about the site). To be eligible for the extra chance to win, your comment must include the link where you shared the post.
You can enter the historical fiction giveaway until 11:59 EST,  November 30, 2016. Good luck!
---
---

Ginger Monette and Willow and Thatch on historical romance, period dramas and the First World War era:
WAT: What inspired you to catapult Darcy and Lizzy forward from the early 1800s to the early 1900s?
GM: Downton Abbey! Julian Fellowes' creations have numerous similarities with Jane Austen's characters: a house full of girls with no heir, an entailed estate, a landowner living in a grand house, a crotchety female matriarch, and high society characters falling in love with, well, those not so high society. It was remarkable to me how little British culture had changed in 100 years. I could see Darcy dining with the Crawleys with little change in decorum. Besides, the turbulence of the Western Front seemed a fitting and colorful setting for a romance between two characters known for clashing. And so a plot was born.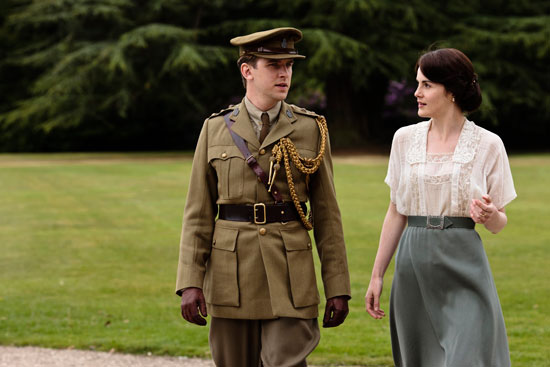 WAT: Did Downton Abbey inspire any specific scenes in Darcy's Hope?
GM: Not any specific scenes, but the inspiration for the whole story came from Matthew Crawley going off to war and the strain it put on relationships. The war turned everyone's life upside down, and the soldiers on the Front as well as their loved ones at home faced each day with fear. Fear of who might be injured or killed. Fear of an invasion or bombing. And a fearful uncertainty of how and when it would all end. I thought it would make a very rich and dramatic backdrop in which to set Lizzy and Darcy, two characters already known for having an "explosive" relationship.
WAT: Writers get the inspiration for their novels from many places. Is this the first time you have been inspired by a period drama?
GM: No. My first book, Tree of Life – Charlotte & the Colonel has a few scenes inspired by period drama.
One was inspired by the 2007 version of War and Peace. Near the end of the movie, Pierre and Natasha are reunited in a memorable embrace. I 'stole' the scene for a poignant reunion of an estranged couple in my story.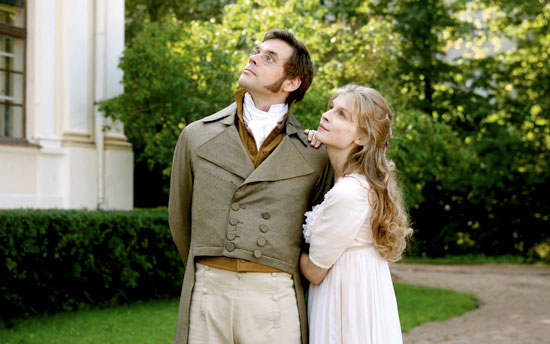 Another was inspired by my all time favorite period drama scene–the train station scene at the end of North & South. (What lover of period romance hasn't watched that a hundred times??)
Also, Downton Abbey inspired several specific scenes in Darcy's Hope at Donwell Abbey, the sequel to Darcy's Hope – Beauty from Ashes, which debuts in January 2017.
WAT: What other historical / costume / period dramas do you watch?
GM: I really love period drama—as long as it has a happy ending : ) 
My favorite is probably North & South, closely followed by the 2005 version of Pride & Prejudice.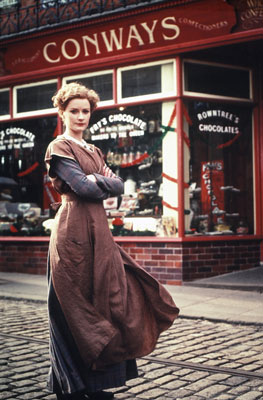 Some others I particularly enjoyed include Northanger Abbey, Jane Eyre (with Toby Stephens), Emma (with Jonny Lee Miller), Mansfield Park (again Jonny Lee Miller), Anne of Green Gables (Megan Follows), Lark Rise to Candleford, When Calls the Heart, Gone with the Wind, Little Dorrit, Poldark (Aidan Turner), Horatio Hornblower, Amazing Grace, Lorna Doone, and Young Victoria. 
When I was researching WWI for Darcy's Hope, I watched every WWI era period drama I could find to help me immerse myself in the culture, clothing, manners, etc.
Some memorable ones include The Wingless Bird (inspired a dress in Darcy's Hope), Birdsong (heart wrenching!), Anzacs, Anzac Girls, The Crimson Field, Passchendaele (another tear-jerker), The Passing Bells, The Cinder Path, War Horse, In Love and War, and probably a few more.
Goodness that is a lot of movie watching!!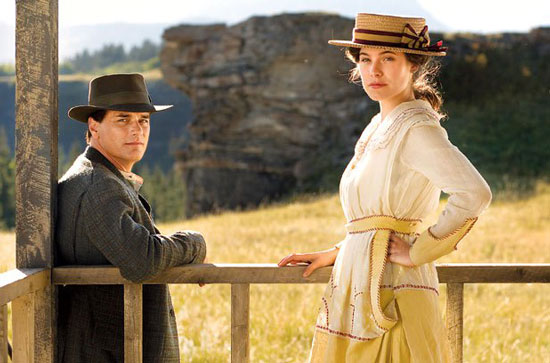 (Not all of the WWI dramas mentioned above are family friendly, but are perfect for watching in honor of Veterans Day. Originally founded as Armistice Day, it is a day to reflect upon the heroism of those who died in our country's service. November 11 is the anniversary of the signing of the Armistice that ended World War I. In 1954, the holiday was changed to Veterans Day in order to include all veterans in all wars. The WWI films mentioned above are linked to where you can stream them or purchase them on DVD.)
WAT: I'm watching Testament of Youth now, which opens with a scene on Armistice Day and then looks back; I think it's really powerful. Did you have chance to see it while you were writing Darcy's Hope?
GM: I was mostly finished writing Darcy's Hope when I watched it. But it drove the point home just how much the women at home suffered. Even if they didn't lose their loved ones, the fear was ever present—which is an enormous strain.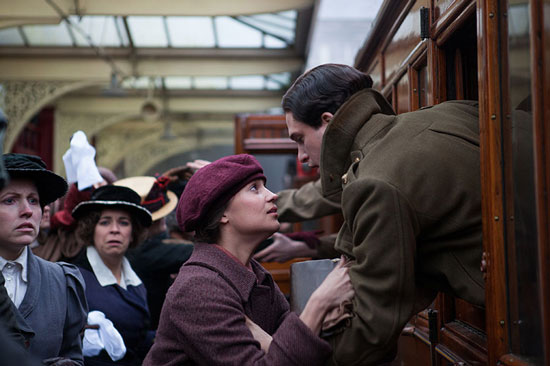 The movie also exemplifies the clash between the old guard (her parents) who wanted to maintain the status quo of societal norms, and the next generation (Vera), pressing for release. The war provided women with unprecedented opportunity and they seized it—and succeeded. This ushered Britain into a new era. It was the beginning of real change for women, and the beginning of the end of the rigid class system that had dominated Britain for centuries.
WAT: Right. On a different note, do you think of the First World War era as being as romantic as the Regency period?
GM: That's a tough question. In some ways, the WWI era may have been more romantic. 
The immediacy of war definitely added an element of romance. Couples learned to live in the moment. All too often a beau went off to war and didn't return. The soldiers saw so many of their comrades die, they developed a fatalist attitude and fully expected to die. This affected the choice they made. Many married on a whim, or engaged in 'risky' or spontaneous behavior with the 'eat drink and be merry for tomorrow we shall die' mentality. 
In addition, accepted norms of male/female decorum were much more relaxed by WWI. Men and women of close acquaintance often called each other by their first names, kissing/embracing in public was accepted (and became more accepted with so many couples being separated by war), and men and women generally had more contact with the opposite sex. If nothing else, the relaxed culture made it easier to write a romantic story!
It was only a matter of time until Downton Abbey met Pride and Prejudice, and thankfully, under Ginger Monette's skillful hand, this variation flourishes into a story filled with great intrigue, an engrossing romance, and a captivating setting, that is all cast within a WWI story that proved for me to be a real page-turner. – Just Jane 1813
WAT: There is certainly a lot of romance in Darcy's Hope. When it comes to period dramas, do you have some favorite romantic moments?
GM: Hands down, my favorite romantic period drama moment is the train station scene in North & South. (I bet that answer didn't surprise you!)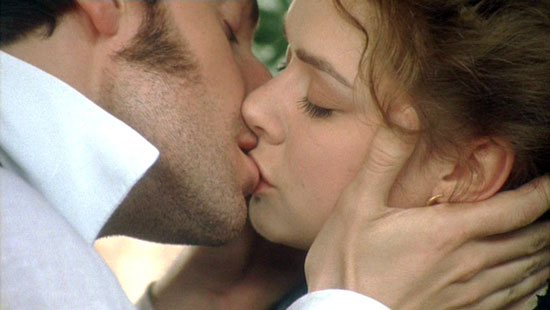 I also think the Darcy/Lizzy scene when he comes across the meadow at the end of the 2005 version of Pride & Prejudice is incredibly romantic. The tails of Darcy's greatcoat billowing behind him, his rumpled hair, open shirt, and simple declarations of love—mmm-mmm! Watched that a hundred times too. 
WAT: Now that you've done so much research on World War I, can we expect more novels set in this era?
GM: Yes. Darcy's Hope – Beauty from Ashes continues in Darcy's Hope at Donwell Abbey (yes, that's the home of George and Emma Knightley's descendants), due out in early 2017. In the sequel, readers will experience the full resolution of the mystery, and our beloved couple's love will face a tragic test.
In addition, I'm planning a Great War Romance series. Several of the characters that readers encounter in Darcy's Hope will have stories all their own including Colonel Fitzwilliam, John Thornton (yes, John Thornton from North & South), Robert Knightley and a few more.
Ginger Monette accurately and successfully brings to life a forgotten period of history–The War to End All Wars. This is more than just another retelling of Jane Austen's Pride and Prejudice. This is an immersion into a world that was far more murky and horrible than any before. Where nineteenth century manners and strategies failed against twentieth century cynicism and arms. Where stubbornness, greed, and arrogance trumped patriotism, honor, and even common sense. An engrossing read.  – Jack Caldwell, author of The Three Colonels and The Plains of Chalmette
WAT: How did you research such a broad topic?
GM: With the only sources I could trust as historically accurate—diaries. What made research difficult was that diaries aren't written to instruct a future audience (complete with topic headings and index). Consequently, their vantage point assumes an acquaintance with their present culture—social mores, current news, general ways of doing things, roles of occupations, etc. As a result, all those little details must be gleaned from hints here and there—and that requires hours and hours of reading. I read six hours a day for nine months and compiled over 200 pages of typed notes.
As you can guess, historical accuracy was important to me. And although I tried to keep the romance between Darcy and Lizzy the story's primary focus, I hope readers will finish Darcy's Hope with a taste of what it would have been like at a field hospital near the Front.
Readers may also be interested to know that the chateau-turned-field-hospital in my story is based on one that actually existed, even down to the swans in the water feature! The Messines Ridge blast and Darcy's "going over the top" at the Battle of the Somme were actual events. Also, chaplains really did occasionally assist in the operating room, and the two outlandish stories told by the colorful Scotsman are true as well.
WAT: Can you envision any of your novels being adapted into period dramas? Which would be most exciting for you to see on screen?
GM: Absolutely! I have a dream that my Great War Romance series will be adapted into a mini-series. Although Darcy's Hope ~ Beauty from Ashes and its sequel Darcy's Hope at Donwell Abbey are the only two completed, I have ideas for several more WWI novels. Many will be the stories of characters introduced in Darcy's Hope. Some of them include John Thornton, Robert Knightley, Colonel Fitzwilliam, Dr. Scott, Dr. Frazier, and maybe even Colonel Brandon.
Thanks so much for hosting me on Willow and Thatch!
WAT: My pleasure.
You can purchase Darcy's Hope here. The story will continue in Monette's next novel, Darcy's Hope at Donwell Abbey, coming in February 2017. In the sequel, readers will experience the full resolution of the mystery, and our beloved couple's love will face a new, tragic test.
---
---
About Tree of Life – Charlotte & the Colonel, A Pride & Prejudice Companion with a spiritual twist: Darcy's attachment wasn't the only one smouldering beneath the surface that Easter at Hunsford…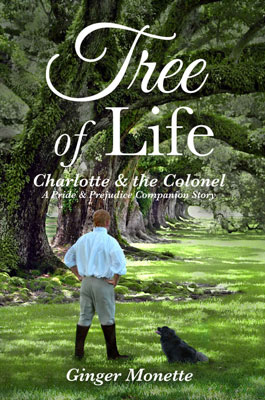 On the verge of proposing to his cousin Anne, the gritty Colonel Fitzwilliam discovers his beloved childhood friend Charlotte living less than half a mile away, married to the odious Mr. Collins.
A harrowing battle escape a year later leaves the colonel with a life-threatening injury that plunges him into despondency. But three words from his doctor lead to a profound spiritual encounter and launch him on a journey to become more than just the second son of an earl.
Suddenly finding himself responsible for Rosings estate, he is forced to wrestle with his affection for Charlotte while struggling to learn lessons of trust and forgiveness—lessons which have far reaching implications for family and friends.
Just when he thinks Charlotte may be within his grasp, a summons to Waterloo changes everything.
In this compelling companion to Jane Austen's Pride & Prejudice, follow the forging of a man's character through waiting, war, a woman, and three simple words.
Suitable for older teens and adults due to innuendo and mild language befitting a soldier. Contains Christian content.
---
About Ginger Monette: Author Ginger Monette once aspired to plan marketing strategies for consumer-related products, but ended up as a hotel sales director. Later she became a mom and homeschool curriculum consultant.
History came alive for her in homeschooling her three children through reading quality historical fiction rather than dull textbooks. But if she had been told she would one day write novels of her own, she would have laughed aloud.
"I fell in love with Pride & Prejudice after watching the 2005 movie adaptation. When a storyline began to consume my thoughts, the words made their way to my laptop and Tree of Life was born–along with a love of writing."
In 2015 Ginger took the grand prize in Charlotte-Mecklenburg Library's 2015 "Picture This" contest for her flash fiction piece Flanders Field of Grey. She enjoys speaking to groups on a variety of topics from how to choose curriculum to World War I.
Ginger lives with her husband, three teenaged children, and two spoiled dogs in Charlotte, North Carolina.
Be sure to visit the other spots on the Darcy's Hope – Beauty from Ashes blog tour for a chance to win a Downton Abbey ornament.
---
---

If you enjoyed this post, you'll also want to see the post with the full list of Downton Abbey's actors in other period dramas. And be sure to wander over to The Period Films List, with the best historical dramas sorted by era.